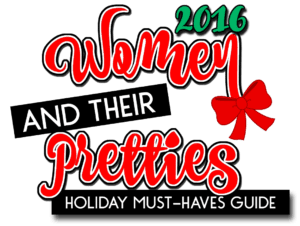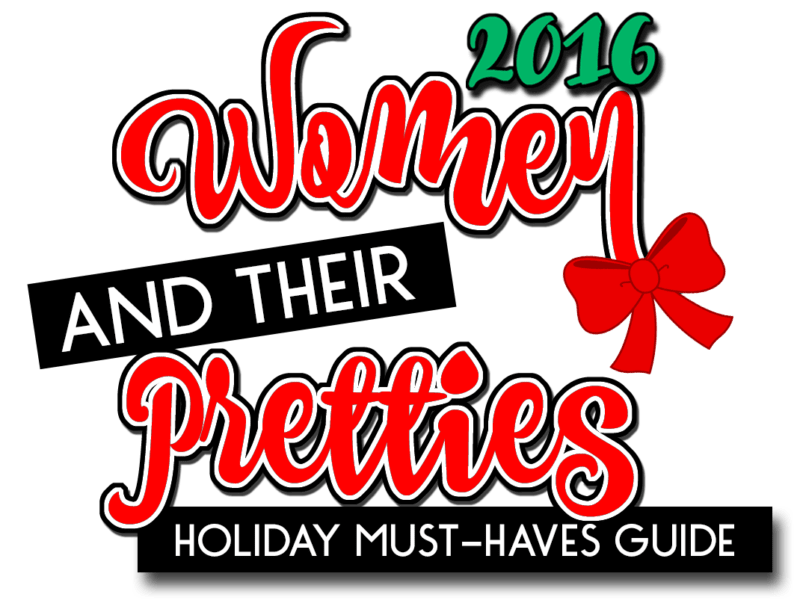 Welcome back to another Women and Their Pretties gift guide. This is our third annual holiday gift guide and this year we're back with all new categories! I've handpicked all of the items for this guide especially for my audience. The guide is aimed towards the lovely ladies, but we have gift ideas for kids and men, too. I've picked out all of the pretties and put them in this easy-to-shop guide just for you. Does something interest you? Click on the listing for purchasing options and more details. You can view the full holiday gift guide here.
The Women and Their Pretties Holiday Must-Haves Guide contains affiliate links, which basically means that for every purchase you make, I will get a little bit of extra income – a girl's gotta get paid! Rest assured that you're getting the best deals and gift-ideas through Women and Their Pretties. Happy shopping, my pretties!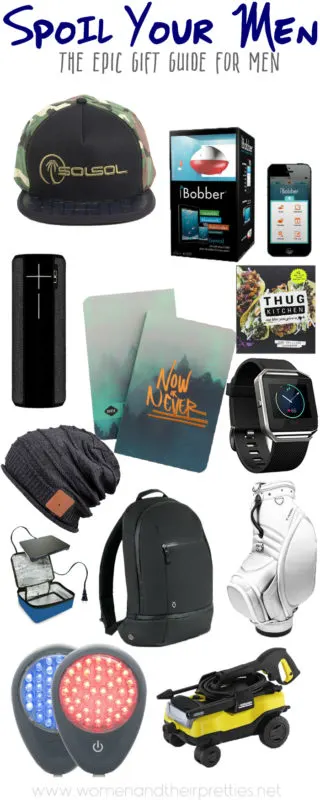 As Pictured: SolSol Solar Power Hat // iBobber Bluetooth Smart Fish Finder // Thug Kitchen Cookbook // Denik Now or Never Notebook // UE Boom Wireless Bluetooth Speaker // FitBit Blaze Watch // Vessel Mini-Staff Custom Golf Bag // Vessel Signature Backpack // Wireless Bluetooth Beanie // HotLogic Mini Personal Portable Oven // Kärcher Pressure Washer // Clear Rayz For Him
1. Poweraid® SOLSOL™ The Solar Hat that Charges
Poweraid® SOLSOL™ Collection The Solar Hat that Charges… Special Note: Not Currently Available for iPhone 7 or IOS10.. coming in January 2017 Charges Android Smartphones, iPhone 5, 6, iPad2, Tablets, Speakers, Go Pro, headphones, etc. 1 Yr Mfg. Warranty SOLSOL™
2. iBobber Bluetooth Smart Fish Finder
iBobber is the ultimate in portable fishing tools. Its perfect for fishing trips, in your RV, on your boat for those tight spots, in your car with your collapsible rod or in your tackle box along with your other critical fishing gear. It's even a great asset to conservationists looking to log water temp, depth and bottom structures in multiple locations over time.
3. Thug Kitchen Cookbook
Thug Kitchen started their wildly popular website to inspire people to eatsome goddamn vegetables and adopt a healthier lifestyle. Beloved byGwyneth Paltrow ('This might be my favorite thing ever') and with half a million Facebook fans and counting, Thug Ki
4. Denik Now or Never Journal
The journals are perfectly-perfect bound (yes, we used perfect twice). We use a top secret glue which helps the binding resist extreme cold and heat and allows the book to flex and bend… Creating a durable, functional and beautiful piece of art. Fold it up, stick it in your pocket, toss it in a bag, make it yours. It will last.
5. UE Boom Wireless Bluetooth Speaker
UE BOOM 2 is the 360-degree wireless speaker that blasts loud, insanely great sound with deep, powerful bass in every direction–everywhere you go. It was designed to get wet, muddy, and beat up. PartyUp allows you to wirelessly connect to up to 50 Ultimate Ears speakers and takes your party where no other sound system can go. Caves. Mountains. Lakes. Rooftops. You name it. It's waterproof*, shockproof and crafted from the sexiest and most uninhibited premium materials in the known universe. And with Siri + Google Now voice integration***, you just open your mouth and use your words — so instead of reaching for your phone, you can pick up UE BOOM 2 so nothing comes between you and the music. *IPX7-rated waterproof (up to 30 minutes and a depth of 1 meter). ** Requires latest firmware & software update.
6. FitBit Blaze Watch
Get fit in style with Fitbit Blaze—a smart fitness watch that helps you maximize every workout and every day. With advanced technology in a versatile design, this revolutionary device is built to track your workouts, monitor your performance stats, and gauge your progress. PurePulse continuous heart rate and multi-sport modes enhance every exercise, while next-generation features like Connected GPS and FitStar workouts on your wrist help you take your fitness to the next level. All-day activity and sleep tracking and call, text & calendar notifications help you track your day with ease. And interchangeable band and frames and customizable clock faces on the hi-res color touchscreen let you personalize your style for every occasion. With all this and more, Fitbit Blaze has everything you need to reach your goals, packed into one sleek time piece.
7. Vessel Mini-Staff Custom Golf Bag
The Mini-Staff Custom Golf Bag is a fully-sized, full-featured staff bag designed for players who also enjoy riding and using push cart. A step down in size from our most popular bag — the Original — the Mini-Staff Custom Golf Bag gives you all the features of a staff bag in a compact size.
8. Vessel Signature Backpack
The sophisticated, croc-embossed leather exterior creates a timeless backpack. Designed to upgrade your standard backpack to a sleek, premium carryall. Features a main laptop sleeve compartment, a spacious interior and adjustable bottom compartment with waterproof zippers.
9. Wireless Bluetooth Beanie
Style and Tech Combine: 100% Soft Acrylic,double knitted beanie,keep your head warm and allows you to listen to your music without having to wear additional headphones,the bluetooth stereo headset brings you great sound quality,style and comfort,perfect for gym,fitness,workout,exercise,outdoor sports such as running, skiing, skating, hiking, camping, dog walking, holiday traveling and so on
10. HotLogic Mini Personal Portable Oven
Revolutionizing the hot meal experience! The patented Hot Logic Mini is a personal portable oven great for the office, the job site, the campsite or anywhere you have an outlet. Now you can enjoy fresh-cooked hot meals, reheated meals or perfectly cooked prepackaged meals anywhere. The Hot Logic Mini slowly and evenly heats your meal to preserve moisture and enhance flavor. No super-hot overcooked edges, no frozen centers and no worries about sharing a dirty microwave.
11. Kärcher Pressure Washer
The award-winning Follow Me is the only 4-wheel pressure washer on the market! It follows you as you clean around vehicles, home exteriors, driveways and more. The compact, horizontal design delivers optimal stability and takes up very little storage space. Thanks to its 4-wheel design with steerable front wheels, you'll never have to interrupt your cleaning again to reposition the pressure washer behind you. The Follow Me includes an onboard detergent tank that automatically dispenses detergent in low pressure mode. Its Quick Connect system allows you to quickly and easily set up or store the unit. Other features of the K3 Follow Me include a large on/off switch, integrated storage for spray wands, the high pressure hose and power cord, a complete "motor stop" function when the unit is not in use and an ergonomic trigger gun with child safety lock. A Family Handyman Magazine's Editor's Choice for 2015. Our best-selling electric pressure washer in North America.
12. Baby Quasar Clear Rayz For Him
Clear Rayz combines two distinct wavelengths of light (red and blue) that when used as directed, helps kill the acne bacteria (p. acnes) that causes inflammatory acne and heal the skin, giving men the confidence that comes with a clear complexion.