Welcome to the 2016 Family Fun Night Guide! Mama Smith's and Women and Their Pretties are bringing you everything that you need for a successful night with the family! From games, to snacks, we have it all! Each gift on this guide was personally tested and/or approved by one or the both bloggers. Please enjoy and remember to keep coming back because new items are added daily! This guide may contain affiliate links.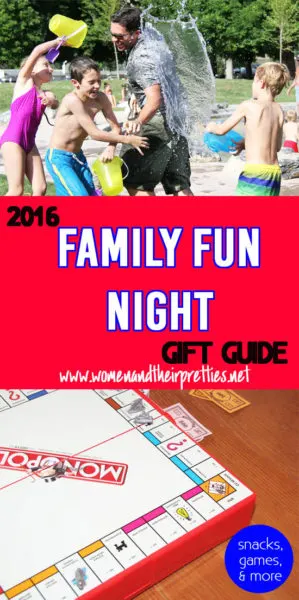 Gold Emblem & Gold Emblem Abound Snacks
It wouldn't be a movie night without having your favorite popcorn and treats to snack on – and CVS has a variety of tasty options from both our Gold Emblem and Gold Emblem Abound lines to meet the taste buds of all movie-goers. From Gold Emblem Abound Heavenly Light Popcorn (also available in black pepper and white cheddar flavors), to CVS Gold Emblem Abound Cranberry Almond Rice Pop Clusters, to Gold Emblem Veggie Chips. They truly have something for everyone to enjoy and are a must have for any family movie night!
---
Mini Beer Pong
Mini Beer Pong is a twist on the popular game of Beer Pong. In Mini Beer Pong, players use finger-flickin' catapults to shoot tethered balls into one ounce cups from the comfort of their favorite chair for a nostalgic yet sophisticated happy hour with no hassle. This game is a lot of fun for the over 21 crowd and is a great addition to any family get together! It can even be played using juice or soda for the younger crowd that wants to enjoy it as well!
---
Fast Flip
Fast flip is a fast-paced matching race that develops high level visual processing skills while you quickly spot and count different fruits on the cards. Our special formula ensures that there is always only one solution between cards, creating a fun and addicting game for all. Play with the cards alone or mix up your game with included tokens for more exciting and exhilarating fun. My 4 year old loves this game – and my 3 year old is really good at it too – a great game for a family fun night!
Purchase Here
Connect on Social Media: Facebook / Twitter
---
Dr. Eureka
Dr. Eureka, designed by the award winning Roberto Fraga, is a tactile problem solving and brainteasing matching game. Players pass colorful molecules between test tubes to match the pattern on a challenge card, building both cognitive processing and dexterity skills. Play it alone or at a party with friends, Dr. Eureka is your best bet for some crazy molecule juggling fun!
Purchase Here
Connect on Social Media: Facebook / Twitter
---
Carmelli Playoff Foosball Table (Anthem Sports)

The Playoff is a quality-built, action-packed foosball table constructed from CARB-certified environmentally safe materials. The combination of 1/2" chrome plated tubular steel rods with ergonomic handles and ABS molded durable players is great for increased ball control and enhanced table action. It was easy to put together and is quite sturdy and durable. This table is tons of fun for all ages!
Purchase Here
Connect on Social Media: Facebook / Twitter
---
Good Thins
Good Thins are a new product from Nabisco that make a great snack for any family fun night (or movie night!). They come in eight delicious varieties and a "no" list (no artificial flavors, colors, cholesterol, partially hydrogenated oils or high fructose corn syrup) that you can feel good about. They are made from potatoes, Rice, and Chickpea. The potato varieties include Sweet Potato, Spinach & Garlic, and Original. The rice varieties include Simply Salt, Veggie Blend, and Poppy & Sesame Seed. And the chickpea variety is Garlic & Herb. They are all delicious – and everyone is sure to find at least one flavor that they love!
Find Where to Purchase Here
Connect on Social Media: Facebook / Twitter
---
Finding Dory Campbell's Soup
With intricate, die-cut pasta shapes, fans can fill theirs soup spoons with mini "Finding Dory" characters including Dory, Nemo, and Destiny. The special edition Healthy Kids & Charming Shapes Pasta with Chicken Soup does not contain added MSG, artificial flavors or artificial colors. Where's Dory? With help from friends, Dory the forgetful fish embarks on a quest to reunite with her mother and father. Join in the search by finding the hidden Dory on the label! These soups are the perfect addition to any family fun night!
Available at Target and grocers nationwide
Connect on Social Media: Facebook / Twitter
---
Bumkins Swim Diaper
Bumkins new reusable Swim Diapers are every mom's must-have for summer! Durable and waterproof, they keep any diaper contents tightly contained to prevent spills. They're available in a variety of sizes and fun prints, including DC Comics, Dr. Seuss, Disney and more! Plus, the wet/dry bags keep wet clothes away from other summer bag items while containing the mess, while the splat mats are perfect for the beach and clear travel bags for goggles! These are a must have for families with little ones while planning your Family Fun Nights that involve water!
Purchase Here
Connect on Social Media: Facebook / Twitter
---

Giant Inflatable Soccer Ball
Get ready for some bouncing, rolling, kicking, chasing fun! This amazing giant soccer ball is four feet in diameter and is made from thick, puncture-resistant vinyl. A reinforced double valve system eliminates air loss for hours of entertainment and exercise.
Purchase Here
Connect on Social Media: Facebook / Twitter
---
Starnight Laser Dancers
StarNight Laser Dancers shower your home with thousands of green and red shimmering star lights. It's as easy as plug and point. Instantly, big, bold, breathtaking lights decorate your home right before your eyes. They make any occasion a star kissed celebration. Each StarNight Laser Dancers projects thousands of pin-point star lights on you home, your shrubs and trees, or your landscape. They are water-proof and weather proof to stand up to any weather – guaranteed or your money back. Starnight Laser is a product that can be used year-round, however, it can get plenty of use this summer especially. It's great for hosting parties, BBQs, holiday events etc. It can even be used to simply spruce up an indoor or outdoor setting in general!
---
Ziploc Slider Bags
When it comes to summer entertaining, Ziploc brand bags are a must. Whether it's marinating meats, serving up perfectly crisp crudité, or storing leftovers straight from the grill, Ziploc is with you at every step! I don't know about you, but I recently noticed that Ziploc brand slider bags have a flat bottom. Because the zipper stays on top, these bags my go-to tool for marinating meats, or storing liquids in the fridge without the fear of leaks. They are easy to stand and fill, plus the easy to seal zipper means there is no fuss when opening and closing the bags.
Find out where to buy in stores / Purchase on Amazon
Connect on Social Media: Pinterest / Facebook
---
Pie Face
The exciting Pie Face game is filled with fun and suspense, and somebody's bound to get splatted! Just put some delicious whipped cream from home or the wet sponge on the "hand" of this hilarious game unit and start turning the handles. It could go off at any time, so keep your fingers crossed and hope you're not the one who gets a splat in the face! You score a point for every time you turn the handle without getting pie-faced, and the one who scores 25 points wins. Take some risks and hope for the best in this hilarious Pie Face game! This is a favorite in our house – my girls just laugh and laugh whenever we play. Definitely a family favorite!
Purchase Here
Connect on Social Media: Facebook / Twitter
---
Rooster Run
Get ready to hunt for love, as you dig up worthy worms to woo the hearts of the hens on the farm! Rooster Run is a twist of a memory game where you are a strapping young rooster ready to peck your way to that dear hen's prize worm and win her heart. Flip over earth tiles to find the perfect dinner. After you find two worthy worms, end the round by calling out "Cock-a-doodle-doo!!" and score points for correct matches. But don't be too hasty! If you call out too soon without your prize worm, prepare for heartbreak and lose your dinner!
Purchase Here
Connect on Social Media: Facebook / Twitter
---
Gigamons
Enter a realm where magic reigns and the world's elements are creatures with mythical abilities! On your turn, you will look at 2 of the face-down Elemons on the table, revealing them to all players. When you find a pair of Elemons, you will earn them and also invoke their unique special power, giving you an advantage for the rest of the game. Every three of the same Elemon you find, will summon the corresponding Gigamon to your side. And when you have 3 Gigamons, you win the game! Gigamons is a game artistically designed to engage the player's imagination and carry them away to a new world.
Purchase Here
Connect on Social Media: Facebook / Twitter
---
Finding Dory Operation
In this fun spin on the classic game, Operation, players must help Dory and Hank rescue their friends from the Touch Pool at the Marine Life Institute. Collect all the fish and avoid the buzzer to help Dory save the day! My girls love this version and it is certainly a fun way to pass the time – especially on a rainy day. This game is fun for the whole family! Includes 12 plastic fish that need to be rescued.
Purchase Here
Connect on Social Media: Facebook / Twitter
---
X-Men Apocalypse Blu-ray
OSCAR® Winner Jennifer Lawrence*, Michael Fassbender and James McAvoy lead a powerhouse cast in director Bryan Singer's extraordinary follow-up to X-Men: Days of Future Past. After thousands of years, Apocalypse – the world's first and most powerful mutant – has awakened to find a world led by humans. Intent on cleansing the Earth of mankind, he recruits a group of mutants to create a new world order. In a desperate race to save humanity, Professor X (McAvoy) leads the young X-Men in an epic showdown – against an unstoppable enemy – that will determine the fate of the world.
---
The BFG Blu-ray
Disney and Amblin Entertainment, in association with Walden Media, present the fantasy adventure film "The BFG," the first-ever motion picture adaptation of Roald Dahl's resonant tale of childhood, the magic of dreams and the extraordinary friendship between a young girl and a big friendly giant. Directed by three-time Academy Award® winner Steven Spielberg, the film reunites the director with his Oscar®-nominated collaborator on "E.T. the Extra-Terrestrial," Melissa Mathison, who adapted the children's author's timeless adventure for the big screen. This magical tale of an extraordinary friendship loaded with exciting extras will brighten the holidays for the whole family!
Bringing "The BFG" to Life

– Ruby Barnhill (Sophie) hosts a phizz-whizzing journey through the making of "The BFG." This behind-the-scenes documentary details the film's progression through interviews with Roald Dahl's daughter Lucy Dahl, screenwriter Melissa Mathison, executive producers Kathleen Kennedy, Frank Marshall and Kristie Macosko Krieger, and numerous members of the talented cast and crew.

The Big Friendly Giant and Me

–

Sophie wasn't the first "bean" in Giant Country—many illustrations were created as if drawn by a little boy who was there long before Sophie. This charming, in-world short will bring the drawings to life with animation and narration, recounting the friendship and the dreams shared between the boy and the Big Friendly Giant.

Gobblefunk: The Wonderful Words of The BFG

– A whoopsey-splunkers tutorial on the meaning of the gloriumptious gobblefunk in "The BFG."
Giants 101 –

Jemaine Clement (Fleshlumpeater) and Bill Hader (Bloodbottler) introduce us to the loathsome giants in "The BFG," along with movement choreographer/motion capture performer Terry Notary, who collaborated with the actors and Director Steven Spielberg prior to filming to develop their movements and character traits.

Melissa Mathison: A Tribute

– An homage to

Melissa Mathison, the extraordinary, Oscar®-nominated screenwriter of "The BFG" and "E.T.," whose talent and heart were as immense as the giants in "The BFG."
John Williams: Scoring A Dream

–

A journey through the film's concept art and memorable moments, interwoven with the sights and sounds of legendary composer John William's scoring session.
Gobblefunk: The Wonderful Words of The BFG and Melissa Mathison: A Tribute
---
Elena of Avalor: Ready to Rule
Disney's
newest princess comes to DVD with the release of
Elena of Avalor: Ready to Rule
just in time for the Holidays! Join Elena as she learns about being a princess who will one day become a queen and rule her kingdom. She's saved her kingdom from an evil sorceress who was trying to destroy Avalor, but that was the easy part! Elena's journey leads her to understand that her new role requires thoughtfulness, resilience and compassion, the traits of all truly great leaders.
Purchase Here (available for purchase 12/6)
---
Lego Star Wars Freemaker Season One
Taking place between
THE EMPIRE STRIKES BACK
and
RETURN OF THE JEDI
, this new Lego
Star Wars
series follows a family of scavengers who build and sell starships from battle debris strewn throughout the galaxy. When their youngest discovers a natural connection with the Force through an ancient artifact – the Kyber Saber –he and his family are thrown into an epic struggle against the Empire to restore peace and freedom to the galaxy. The Freemakers explore new worlds, meet new and familiar characters and discover the strength of family.
Bonus Features: The Freemaker Adventures: Meet the Freemaker Family –

Get to know the members of your favorite family of celestial scavengers – and meet the actors who bring them to life – in this fun collection of clips, behind-the-scenes footage and cast interviews!

Freemaker Salvage and Repair –

Visit the shop with the finest salvage in the galaxy as Rowan, Kordi and Zander take you on a tour of the family business.