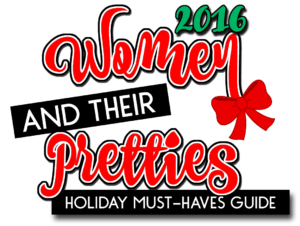 Welcome back to another Women and Their Pretties gift guide. This is our third annual holiday gift guide and this year we're back with all new categories! I've handpicked all of the items for this guide especially for my audience. The guide is aimed towards the lovely ladies, but we have gift ideas for kids and men, too. I've picked out all of the pretties and put them in this easy-to-shop guide just for you. Does something interest you? Click on the listing for purchasing options and more details. You can view the full holiday gift guide here.
The Women and Their Pretties Holiday Must-Haves Guide contains affiliate links, which basically means that for every purchase you make, I will get a little bit of extra income – a girl's gotta get paid! Rest assured that you're getting the best deals and gift-ideas through Women and Their Pretties. Happy shopping, my pretties!
See something you like? Click the item to check it out!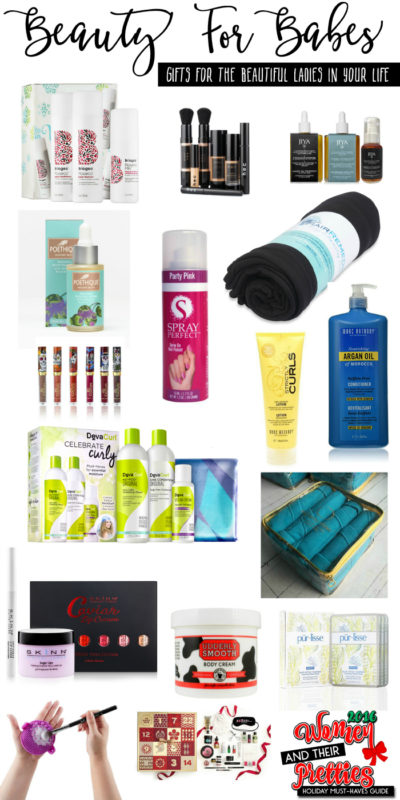 As Pictured
:
Briogeo Rosarco™ Repair Collection Winter Hair Revival Kit
//
High Endurance Cosmetics
//
Jiya Beauty
//
Hair Remedie
//
Spray Perfect
//
Poethique
//
Dia de los Muertos Collection
//
Marc Anthony Hair Products
//
The Sleep Styler
//
DevaCurl – Celebrate Curly
//
Purlisse Beauty
//
Udderly Smooth Body Cream
//
Skinn Cosmetics Perfect Pout Trio
//
Palmat – Practk
//
Ultimate Cheeky Surprise Advent Calendar
More About The Products
1. Briogeo Rosarco Tepair Collection
This holiday gift set features a full-size Rosarco Repair Shampoo, Rosarco Repair Conditioner, and Rosarco Milk™ Reparative Leave-In Conditioning Spray at value. Each formula is infused with Briogeo's signature blend of ultra-nourishing rosehip, argan, and coconut oils to effectively restore silky sheen to dry, brittle, and overall lackluster hair. Coconut oil penetrates the hair shaft to nourish and repair from the inside out, sealing the uplifted cuticle to lock in moisture and reduce environmental impurities. Argan oil provides extensive conditioning to restore luster and provide anti-frizz properties, while antioxidant rich rose oil shields strands from UV and free-radical damage. Infused with Briogeo's signature blend of ultra-nourishing rosehip, argan and coconut oils, the Rosarco Milk Reparative Leave-In Conditioning Spray effectively restores hair's softness, strength, manageability, and moisture levels, while acting as a heat protectant and detangler. The antioxidant rich rose oil in this product also helps protect against hair's exposure to UV rays. Perfect for use on wet or dry hair, this non-greasy formula seals the hair cuticle to lock in moisture, restore luster, and provide anti-frizz benefits without leaving behind product buildup. www.Sephora.com
2. High Endurance Cosmetics
One should never have to sacrifice beauty for a busy life. Founded by a marathon runner & mom, our products are made to last. Whether playing sports, chasing after kids, working a long shift, or outside on a warm day, makeup should be made to endure. www.highendurancecosmetics.com
3. Jiya Beauty
Beauty for the modern minimalist. This Luxury Hair Treatment, Nourishing Body Oil and Rejuvenating Face Oil come together in a perfect trifecta! www.JiyaBeauty.com
4. Hair Remedie
Hair Remedie Frizz Eliminating Towel is a three layer t-shirt fabric and cloth in one. Both outer layers are a super soft t-shirt fabric that leaves hair smooth and frizz-free. The inner layer is an ultra-absorbent cloth that allows hair to dry faster than a regular towel and more gently. www.hairremedie.com
5. Spray Perfect
Spray Perfect is an easy to use spray-on nail polish in vivid colors! A carefully applied base coat, allowed to dry, ensures the color adheres to your nails and not to your skin so that all the other spray simply washes away! A top coat seals for extended wear. Spray Perfect makes perfectly colored nails a simple spray away! www.buysprayperfect.com
6. Poethique Radiance Boosting Serum
Soft and silky, our Radiance Boosting Serum is powered by extracts of three varieties of wild plums and caviar limes. The caviar lime's alpha hydroxy-acids gently exfoliate the skin while the wild plum extracts balance and protect the new skin. With continued use, skin becomes brighter, more radiant. www.Musely.com
7. LA Splash Dia de los Muertos Collection
Turn heads this fall with the new Dia de los Muertos collection. Our high pigment metallic matte lippies will leave you breathless, with 6 unique shades you are sure to find the perfect shade for you. www.shop-lapsplash.com
8. Oil of Morocco Deep Hydrating Conditioning Treatment
Indulge your hair with this restorative Sulfate Free, Deep Hydrating Weekly Treatment. Argan Oil, Keratin and Grape Seed Oil combat damage, breakage, split ends, dryness, dullness and frizz. This therapeutic remedy deeply penetrates leaving hair hydrated, restored, fortified and nourished with added strength and luster. Improves manageability. Safe for color treated hair. www.ulta.com
9. The Sleep Styler
For less than the cost of one blowout you can wake up to healthy and styled hair day after day with The Sleep Styler. The best part is the more you use it the healthier and shinier your hair will be. www.thesleepstyler.com
10. DevaCurl Celebrate Curly
Want to deliver essential moisture and define your curls? This limited edition kit features our best selling products for your curly routine. www.devacurl.com
11. Pur-lisse Blue Lotus + Seaweed Treatment Sheet Mask
This natural fiber mask infused with Blue Lotus, Seaweed and restorative Asian botanicals delivers antioxidants and minerals to your skin. This power blend fights soothes & nourishes while White Mulberry brightens and Anise fruit provides continuous moisture, leaving skin healthy, beautiful and radiant. www.purlisse.com
12. Udderly Smooth Body Cream
Perfect for normal to dry skin, Udderly Smooth Hand cream moisturizes to soften and sooth rough dry skin. Leaves skin soft and smooth with a light fresh scent. Never greasy. www.getudderlysmooth.com
13. Skinn Cosmetics Perfect Pout Trio
Caviar Lip Cream 6-Piece Collection – Saturate your lips with our long-wearing ultra-luxe Caviar Lip Creams. Formulated with Caviar Extract, your lips will appear firmer, smoother and younger, giving you an extraordinary level of hydration. Champagne wishes and caviar dreams never looked this good!
Invisible Lip Liner – Kiss feathering good-bye and lock your lipsticks, lip stains, and lip gloss in place with this Invisible Lip Liner! This versatile anti-feathering tool creates an invisible layer that glides on easily, diffusing the appearance of fine lines while simultaneously defining the lip shape without an obvious line to create that sexy pout!
Sugar Lips – Give your pout a little polish! Your dry lips and laugh lines deserve a little massage—so exfoliate them daily with this indulgent scrub. Made with real sugar and a special butter blend, flaky, chapped lips and fine lines will soon become kissably soft and smooth. Muah!
14. Palmat
Say goodbye to dirty makeup brushes! The Palmat™ is a 2-in-1 brush cleaning tool that deep cleans your brushes to keep them just like new. Works great for those with a large brush collection or those with only one makeup brush. Small and portable, perfect for traveling! www.practk.com
15. Ultimate Cheeky Surprises Advent Calendar
Give the gift of 24 days of cheeky surprises this holiday – our highly anticipated ultimate advent calendar is back and even more beauty full than ever. Each drawer contains a treat from bestsellers to brand new body care, skincare, makeup and accessories ranges. www.thebodyshop-usa.com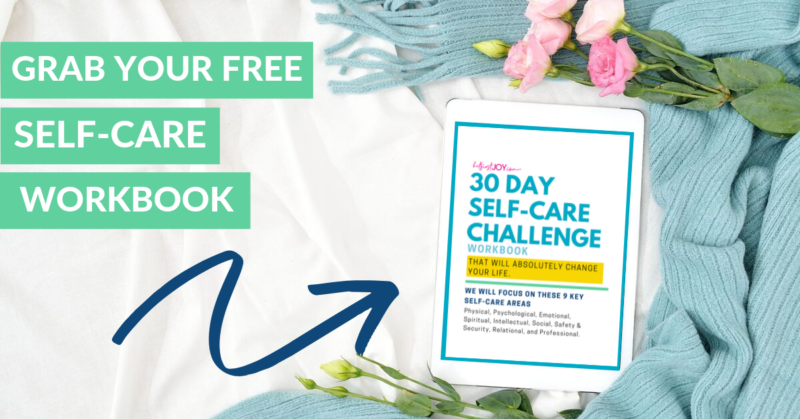 DISCLOSURE
As an Amazon Associate I earn from qualifying purchases. This post may contain affiliate links and/or promotional products, all opinions expressed are that of But First, Joy only. Read my full disclosure.