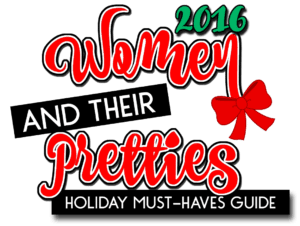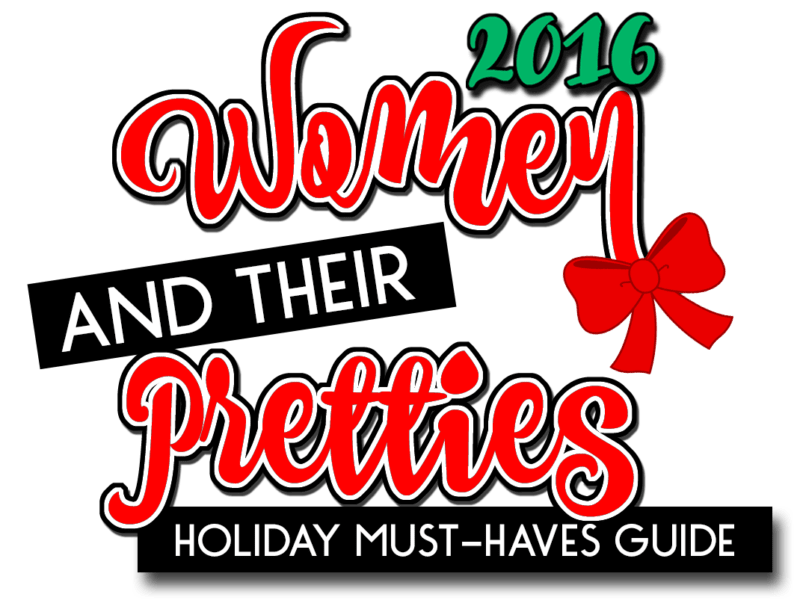 Welcome back to another Women and Their Pretties gift guide. This is our third annual holiday gift guide and this year we're back with all new categories! I've handpicked all of the items for this guide especially for my audience. The guide is aimed towards the lovely ladies, but we have gift ideas for kids and men, too. I've picked out all of the pretties and put them in this easy-to-shop guide just for you. Does something interest you? Click on the listing for purchasing options and more details. You can view the full holiday gift guide here.
The Women and Their Pretties Holiday Must-Haves Guide contains affiliate links, which basically means that for every purchase you make, I will get a little bit of extra income – a girl's gotta get paid! Rest assured that you're getting the best deals and gift-ideas through Women and Their Pretties. Happy shopping, my pretties!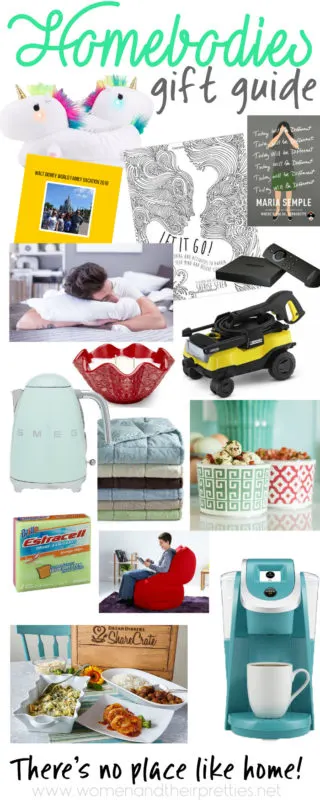 As Pictured
:
Light-Up Unicorn Slipper for Adults
//
Custom Photo Books
//
Let It Go Coloring Book
//
Today Will Be Different book
//
Amazon Fire TV
//
Slumbr Pillows
//
Electric Pressure Washer
//
Bijou Holiday Candles
//
Smeg Retro Electric Kettle
//
Downlite Bedding Blankets
//
Dipping Bowls – Dip a Di Duo
//
Keurig Brewing System
//
Yogibo Bean Bag Chair
//
Brillo Pads
//
The ShareCrate
1. Twinkle Tootsies Light-Up Unicorn Slippers For Adults
Twinkle Tootsies light-up unicorn slippers are the comfy cute slippers of your dreams.
Unicorns have always been cool to those in the know, but these days, the magical creatures are hotter than ever. We think it's because we all need occasional reminders that we can be magical creatures too. If that rings true for you or someone you know, Twinkle Tootsies are the perfect choice.
2. AdoramaPix Custom Photo Books, prints, and more!
As life gets spread out and time gets spread thin, it becomes even more vital to beautifully preserve and present special moments. Bring it all to the table with the most delight-inducing Photo Books available.
3. Let It Go Coloring Book
More than just pages for you to color, "Let it Go" is a journey to happiness. We know coloring provides a meditative form of relaxation for many people and can calm stressed nerves on busy days. This book however, is different in it's approach – in addition to 40 coloring pages, it also offers 11 unique activity pages that will push your brain towards happiness and inspirational positive thoughts.
4. Today Will Be Different book
A brilliant novel from the author of Where'd You Go, Bernadette, about a day in the life of Eleanor Flood, forced to abandon her small ambitions and awake to a strange, new future.
5. Amazon Fire TV
With over 7,000 apps, games, and Alexa skills, Amazon Fire TV gives you access to all your favorite subscriptions and streaming services.
Watch over 300,000 TV episodes and movies, including live TV. Kick back with sports, news, music, and games.
6. Slumbr Pillows
Whether you scrunch, fluff or flatten, the Slumbr Pillow Menu has just the right pillow for how you sleep. Awake rested and ready to go.
7. K 3 Follow Me Kaercher Electric Pressure Washer
The award-winning Follow Me is the only 4-wheel pressure washer on the market! It follows you as you clean around vehicles, home exteriors, driveways and more. The compact, horizontal design delivers optimal stability and takes up very little storage space. Thanks to its 4-wheel design with steerable front wheels, you'll never have to interrupt your cleaning again to reposition the pressure washer behind you. The Follow Me includes an onboard detergent tank that automatically dispenses detergent in low pressure mode. Its Quick Connect system allows you to quickly and easily set up or store the unit. Other features of the K3 Follow Me include a large on/off switch, integrated storage for spray wands, the high pressure hose and power cord, a complete "motor stop" function when the unit is not in use and an ergonomic trigger gun with child safety lock. A Family Handyman Magazine's Editor's Choice for 2015. Our best-selling electric pressure washer in North America.
8. Bijou Holiday Candles
Gather friends and family near as you burn this rich and warm candle. Tangy mandarin orange is spiced with cloves, cinnamon, nutmeg, anise and just a hint of musk. Keep it in the dining room as you prepare Thanksgiving supper.
9. Smeg Retro Electric Kettle
Known for their wonderfully retro appliances, Smeg has launched a joyfully designed small kitchen appliance collection based on the curved and compact lines of postwar design. Incorporating a 1950s-era aesthetic, Smeg's nod to the past is the star of today's kitchen, incorporating all the current advances in technology. With its charming bullet shape and fun chrome metal accents, the bright red kettle goes beyond basics with a soft-opening lid to manage steam release and a swivel base that goes full circle.
10. Downlite Bedding Snuggly Soft Throw Blankets
Take a break from blistering Winter with these extra plush down throws. These throws measure 50 inches by 60 inches and feature snooze-inducing soft down to keep you snug.
11. Dipping Bowls – Dip A Di Duo
One of each of the most popular Dip-a-di-do-da's. Dishwasher safe. Not for use in the microwave or oven.
12. Keurig Brewing System
YOUR FAVORITES. YOUR WAY. The K200 series brewer allows you to brew a 4-cup carafe with the same ease and convenience of brewing a single-serve cup – all at the touch of a button. It's so smart, and so simple! And nothing like a typical coffee maker. The Keurig 2.0 K200 brewer also features revolutionary Keurig 2.0 Brewing Technology, designed to read the lid of each K-Cup or K-Carafe pod to brew the perfect beverage every time. There's even a separate setting for specialty beverages such as hot cocoa, chai, and mochas. Choose from more than 500 varieties of coffee, tea, specialty beverages, and even iced beverages – from over 75 brands you know and love. Just look for the Keurig logo on your favorite varieties of K-Cup and K-Carafe pods.
13. Yogibo Midi Lounger
Bean bag and lounge chair. Filled with near-frictionless beads and wrapped in a super-durable cover. Conforms to your body's shape and supports you in a way you've never felt before. Lightweight and easy to move.
14. Brillo Pads
Estracell Sponge Wipes wipe up counters and tabletops, washes dishes and cleans walls and floors. Independent test results demonstrate that bacteria will not feed and survive on the sponge fibers of Estracell sponge material…Naturally. Also, the unique cell structure rinses cleaner and dries out faster, eliminating the perfect breeding condition for bacteria and fungal growth. These qualities make Estracell…More Sanitary.
15. The ShareCrate
Send wholesome, homemade meals to any doorstep! It's easy to do!
Pick your ShareCreate: Three wholesome dinners available in 2 sizes.
Your ShareCrate arrives: Meals are sent directly to their front porch.
Bless Others: Easy, homemade dinners are ready to cook and enjoy.
NOT PICTURED, but still pretty awesome:
16. A Wholesome Glow's Luxury Standard Boxed Gift Set
A Wholesome Glow's Luxury Standard Boxed Gift Set features six signature products including the homemade Bath Bar, Blueberry Tea & Mint Body Scrub, Lavender & Chamomile Milk Bath, Body Cream, Hair & Body Oil and Tub Tea. A Wholesome Glow uses quality ingredients such as raw milk, alfalfa, mint, cedar, red clover, lavender and wild flowers that come directly from Twin Mills Farm or from surrounding areas. The products are all-natural and free of harmful ingredients such as parabens, sulfates and phthalates.