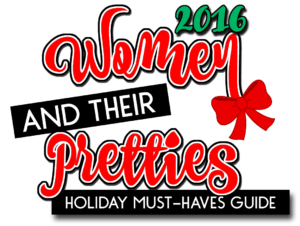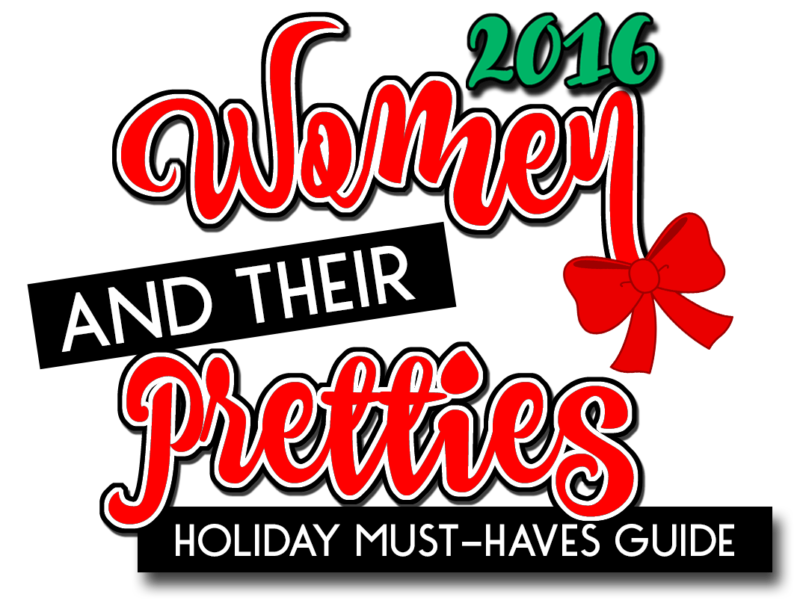 Welcome back to another Women and Their Pretties gift guide. This is our third annual holiday gift guide and this year we're back with all new categories! I've handpicked all of the items for this guide especially for my audience. The guide is aimed towards the lovely ladies, but we have gift ideas for kids and men, too. I've picked out all of the pretties and put them in this easy-to-shop guide just for you. Does something interest you? Click on the listing for purchasing options and more details. You can view the full holiday gift guide here.
The Women and Their Pretties Holiday Must-Haves Guide contains affiliate links, which basically means that for every purchase you make, I will get a little bit of extra income – a girl's gotta get paid! Rest assured that you're getting the best deals and gift-ideas through Women and Their Pretties. Happy shopping, my pretties!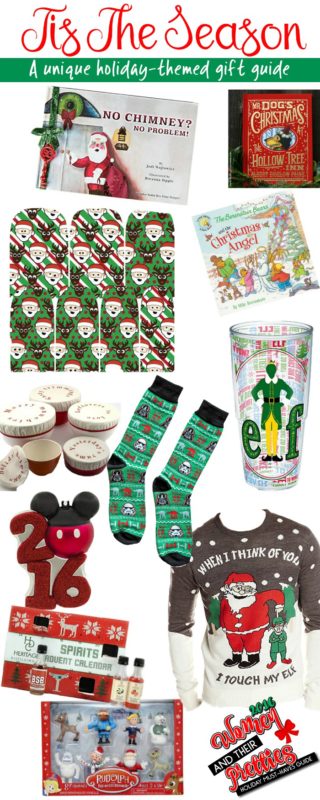 As Pictured: No Chimney, No Problem Book // Mr. Dog's Christmas Book // Christmas Nail Wraps (Glow-In-The-Dark)// The Berenstain Bears And The Christmas Angel // Elf Tervis Tumbler // Star Wars Ugly Sweater Socks // Holiday Bowl Covers // Christmas 2016 Disney Ornament // When I think of you, I touch my Elf Sweater // Spirits Advent Calendar // Rudolph Playset
More holiday gift ideas: Holiday Cheer Wine Charms
1. No Chimney, No Problem Book & Key Set
It's Christmas Eve and one little girl just has to ask, "If our house has no chimney, how will Santa get in?" She has several imaginative ideas, but none are quite as magical as the surprise that awaits in the attic. No Chimney? No Problem! holds the key to this mystery. The book and Santa key gift set comes complete with: 28 page 12″ x 8″ hardcover copy of the story; 18″ green ribbon bookmark with a Velcro® tab that doubles as a door hanger (approximately 9″ drop) when removed; and 3 ½" decorative red key ornament featuring Santa's initials, "SC".
2. Mr. Dog's Christmas Book
Meet the mischievous but kind-hearted Mr. Dog: a worldly raconteur who delights in telling tales of Santa Claus's visits to Mr. Man's house. His friends at the Hollow Tree Inn—Mr. Crow, Mr. 'Coon, and Mr. Possum—have never heard of Santa Claus. They're mesmerized by Mr. Dog's descriptions of the jolly old man and, naturally, they'd like to entice Santa to the Hollow Tree. So Mr. Dog decides to play along. His generosity, creativity and careful planning result in a joyous celebration for all, capturing the essence of Christmas as a time for love and giving.
3. VandalEyes Christmas Nail Wraps
Santa and Rudolph are on a mission to spread joy on December 25th with gifts from the North Pole! The duo continues to travel through the fiercest of snowstorms, land silently on rooftops, and shimmy down fireplaces without being detected. However, the difficulty of accomplishing this covert mission increases with every passing year. With the help of Cue Gadgets, a gadget matchmaker service, Santa and Rudolph now sport newly engineered eyes that grant them the ability to see in the darkness. This gloss-finish manicure created in collaboration with VandalEyes paints their new likeness in time for the holidays!
4. The Berenstain Bears And The Christmas Angel
In this newest Berenstain Bears Living Lights book, Brother, Sister, and Honey are in a hurry to get out into snow-covered Bear Country to build a snowbear. But when Honey gets bored and makes a snow angel, Brother and Sister have a better idea! The cubs make a Christmas Angel, and get a little lesson about God's angels from Mama and Papa Bear.
5. Elf Tervis Tumbler
Each tumbler features double-wall insulation that keeps hot drinks hot and cold drinks cold. Tervis has been proudly made in America since 1946 and features a lifetime guarantee. This Elf movie Tervis Tumbler is bound to make all of your pretty little Christmas elves happy this year!
6. Ugly Christmas Sweater Socks – Star Wars
Star Wars Ugly Sweater Pattern Darth Vader/Stormtrooper Men's Crew Christmas Socks. Super cute and super comfy for all of your holiday fun!
7. Great Useful Stuff Holiday Bowl Covers – Set of 5
Say Goodbye to plastic wrap and hello to eco-food storage! Protect your leftovers (and the environment) with our new Eco-Friendly Bowl and Casserole Covers. Each cover is finely woven, ensuring protection and freshness of your leftovers.
8. Mickey Mouse Disney 2016 Hallmark Ornament
Disney fans will be delighted to remember the magic of 2016 with this classic Mickey Mouse ornament.
9. 3 Santas Men's Touch My Elf Ugly Christmas Sweater
Double jacquard crew neck Christmas sweater with Santa and one of his elves. We all need an ugly Christmas Sweater this holiday season!
10. Spirits Advent Calendar
24 days of minis is the perfect way to celebrate this holiday season. The Spirits Advent Calendar includes 11 HDC products in random order. Each day pop open your mini of the day and cheers to a very spirited season.
11. Rudolph The Red Nose Reindeer Playset
All the main charcaters in figural form from he classic 1964 Rankin / Bass "Rudolph the Red-Nosed Reindeer". 2 inch PVC figurines of Rudolph, Yukon, Hermey, Sam the Snowman, Charlie-in-the-Box, Santa, Clarice, all in this convenient gift set.
NOT PICTURED, but still pretty awesome:
12. Simply Charmed Holiday Cheer Wine Charms
This Christmas set is great when you are throwing a larger party, or makes a great gift for the hostess! They look elegant on stemmed or stemless glasses and will add a unique touch to your holiday entertaining.
13. Paper Mart Holiday Gift Wrap
Paper Mart has the largest selection of gift wrap, ribbons, bows, and gift bags! You will find all of your gift wrapping needs from Paper Mart, in any color or style that you could possibly imagine.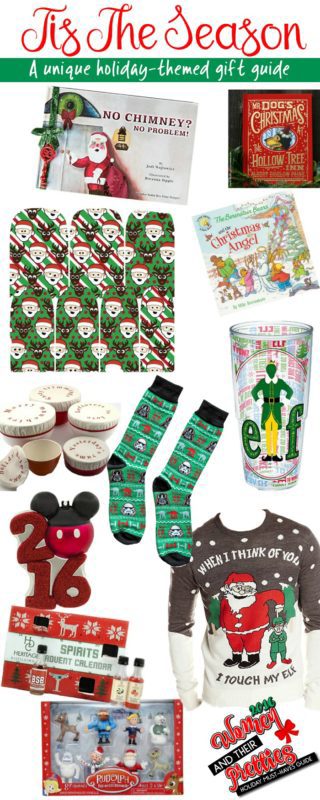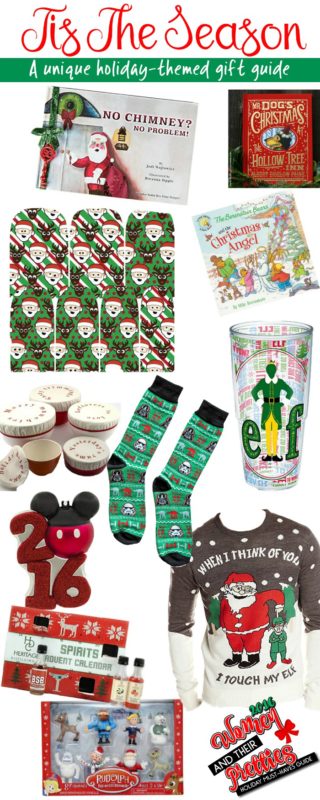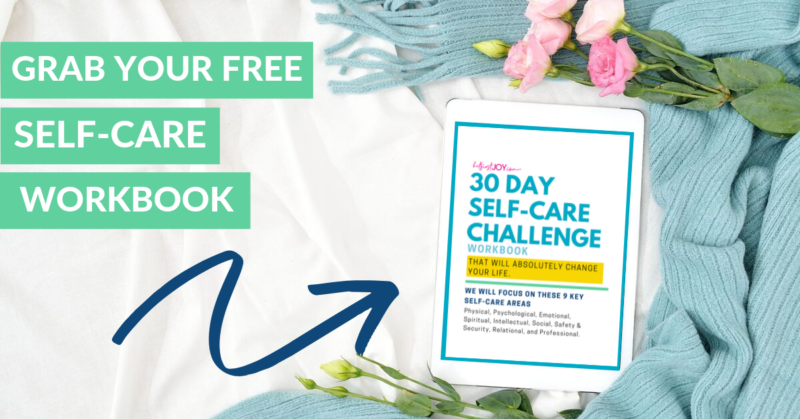 DISCLOSURE
This post may contain affiliate links and/or promotional products, all opinions expressed are that of But First, Joy only. Read my full disclosure.