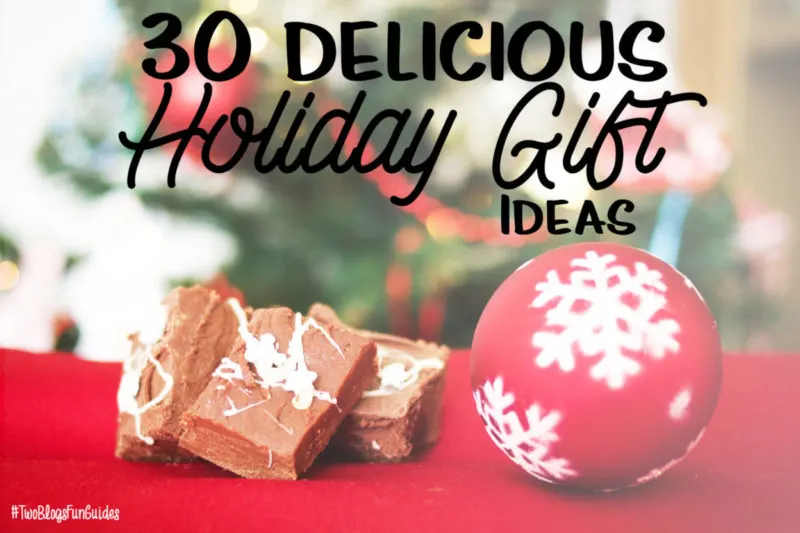 Mama Smith and Women and Their Pretties are back again with a scrum-diddly-umptious holiday gift guide. We've searched the best candy shops, snack brands, and foodie destinations to bring you the top 25 Delicious Holiday Gift Ideas. These gifts are perfect for the foodies in your life or even for your holiday parties. Please take your time to scroll through the delicious holiday treats!
1. Box of Winter Wonderland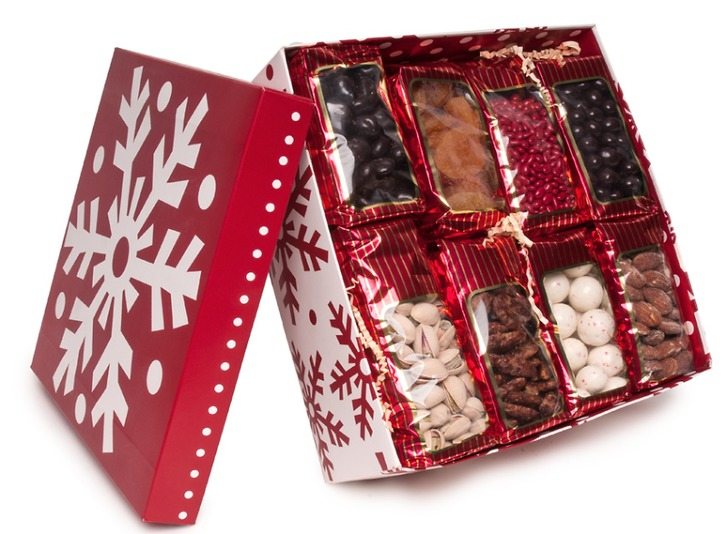 Gift some holiday cheer with our Box of Winter Wonderland! Nuts.com packs nearly four pounds of tasty goodies into a festive snowflake box to make any gathering a little more glorious. The Box of Winter Wonderland includes Roasted and Salted Almonds, Chocolate Nonpareils, Salted Pistachios (In Shell), Dark Chocolate-Covered espresso beans, Dried Apricots, Peppermint Malted Milk Balls, Dark Chocolate Cashews and red and green Chocolate-Covered Sunflower Seeds. This is a foodie's dream come true!
Get it on Nuts.com
2. Sugar Bowl Bakery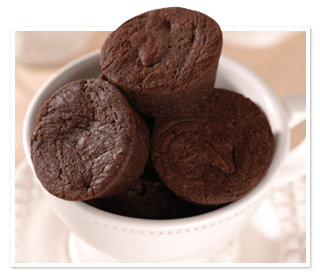 In the mood for chocolate? Gobble up one of our Petite Brownie Bites, little bite sized pieces of chocolate heaven, right out of the box or warmed up. Even better, savor one with a tall glass of cold milk or a bowl of creamy vanilla ice cream. Serve these delicious brownies during your holiday gift togethers or give them as a gift to your friends, family, and coworkers. I promise they will thank you later.
Get them at a retailer near you.
3. Mrs. Freshley's Salted Caramel Swiss Rolls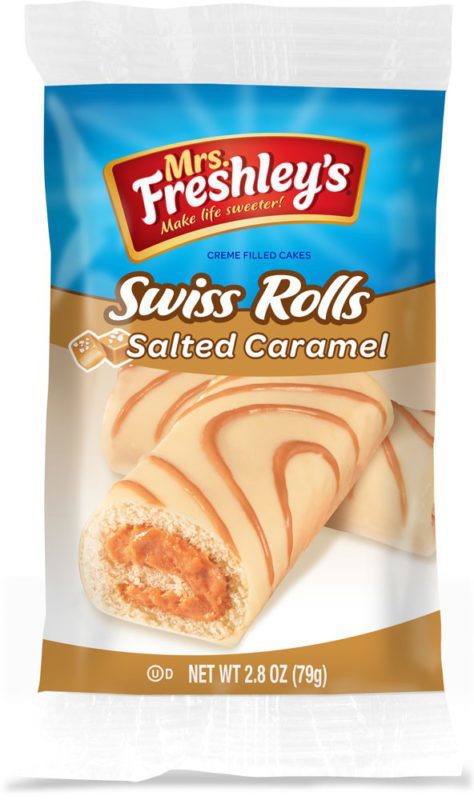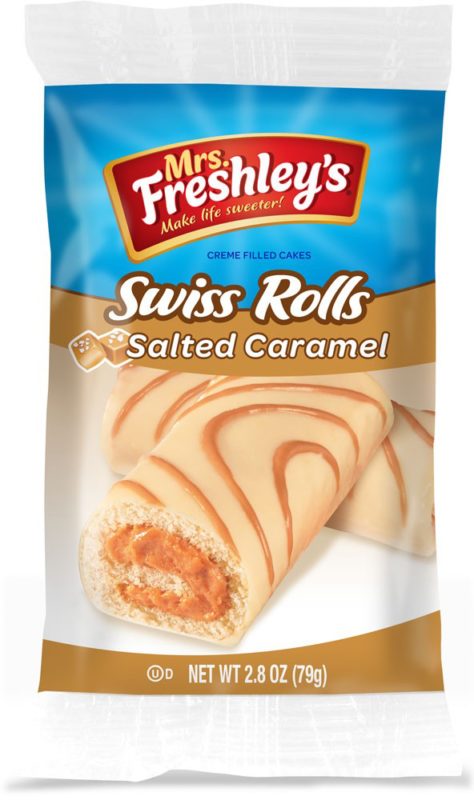 If you like cakes, and if you like creme, then you are going to love these delicious offerings from Mrs. Freshley's. These new Salted Caramel Swiss Rolls will have your sweet tooth on overdrive! They are perfect for the holiday season. Stuff them in stockings, gift baskets, and treat jars.
Visit MrsFreshleys.com to learn more / Check out Mrs Freshley's holiday recipes
4. Community Coffee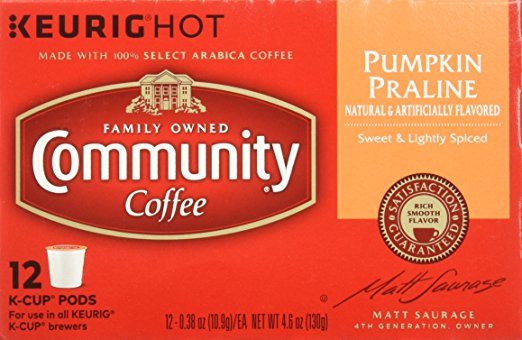 Community Coffee is one of my favorite k-cup brands (they have ground coffee, too) for the holidays. The seasonal flavors are perfect for the holidays. They are all delicious, unique, and fit right into holiday themes. For example, the Pumpkin Praline is great for Halloween, Thanksgiving, and Fall. That's actually a favorite of mine, right next to the Bread Pudding coffee. Nom Nom Nom.
Visit CommunityCoffee.com or purchase on Amazon.com
5. Sour Jacks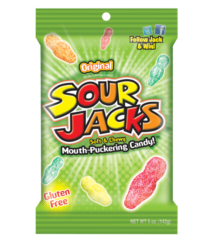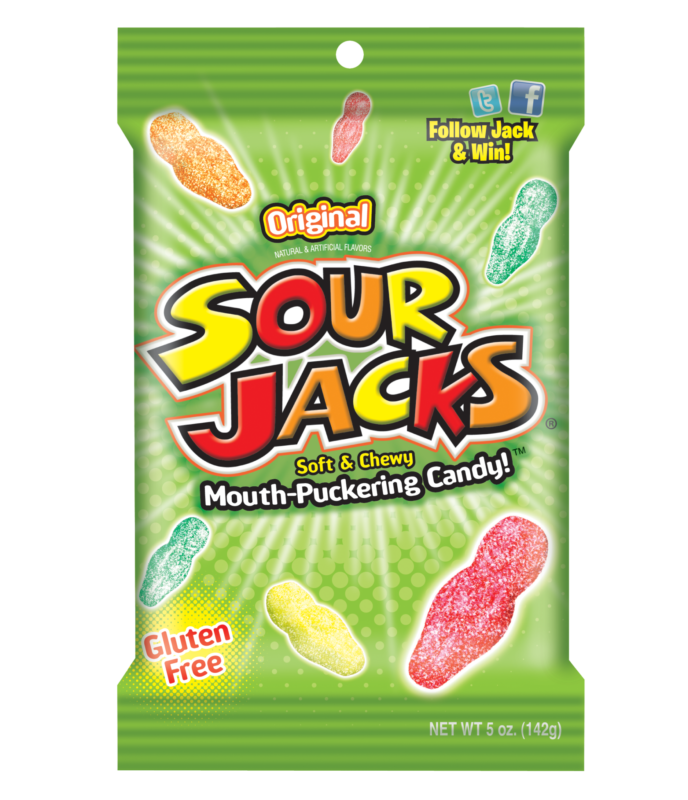 Discover the mouth-puckering sour flavor of Sour Jacks® Original, Watermelon, Lemonade, Wildberry, and Green Apple! Only Sour Jacks® delivers maximum sour taste with flavor-packed wedges that will turn your taste buds up to a whole new level. Stuff Sour Jacks in stockings and gift baskets for the holiday season! Kids and adults, alike, will love these sour flavors!
Get them at a store near you or on Amazon.com
6. Garden of Eatin' Blue Corn Chips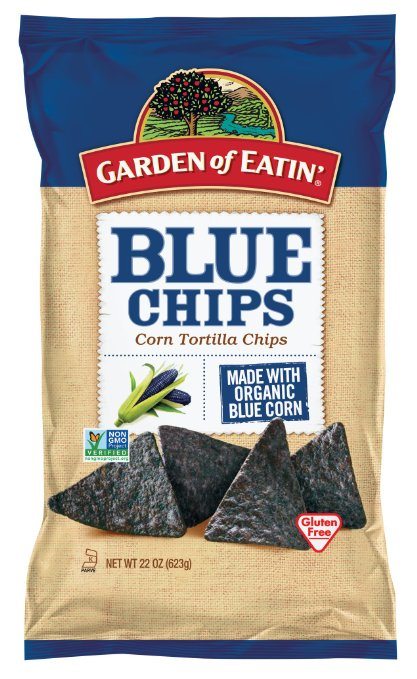 Garden of Eatin'® Original Blue Chips are made to bring color to any occasion. The uniquely hearty texture and true-blue corn flavor brings out the snack connoisseur in all of us. The true-blue color and hearty texture of our Garden of Eatin'® Blue Corn Chips make them as pleasing to your palette as they are to your eyes. Made from organic blue corn and wholesome garden ingredients, these chips pack enough flavor and crunch to liven up any party – bringing out the snack connoisseur in all of us.
Get them in a store near you or on Amazon.com
7. Fannie May Sugar Cookie Mix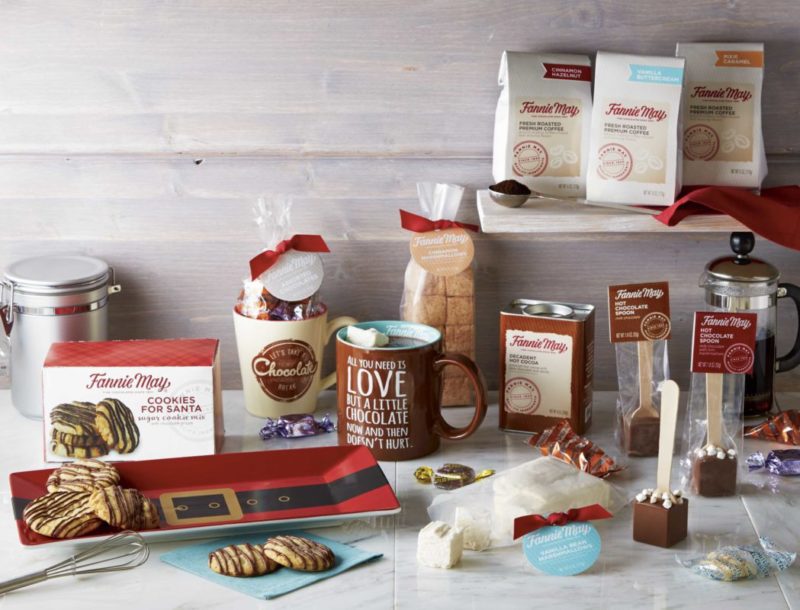 Sugar Cookies are a holiday staple. I don't think I've ever spent a Christmas without devouring a sugar cookie (or a dozen). They are so simple, yummy, and usually pretty cute. Why not make your own this year? 1800Flowers and Fannie May are offering a delicious sugar cookie mix for the holiday season. It's a perfect gift idea for the chefs in your life or for your holiday gatherings. Pair it with some cooking utensils in a gift basket for an extra special holiday gift.
Get it on 1800flowers.com
8. The Popcorn Factory Holiday Popcorns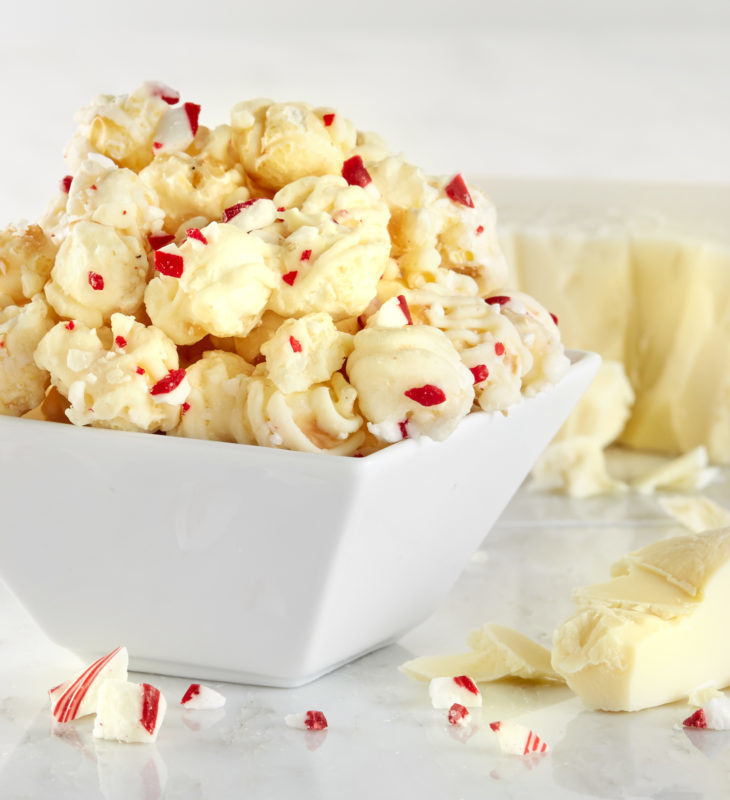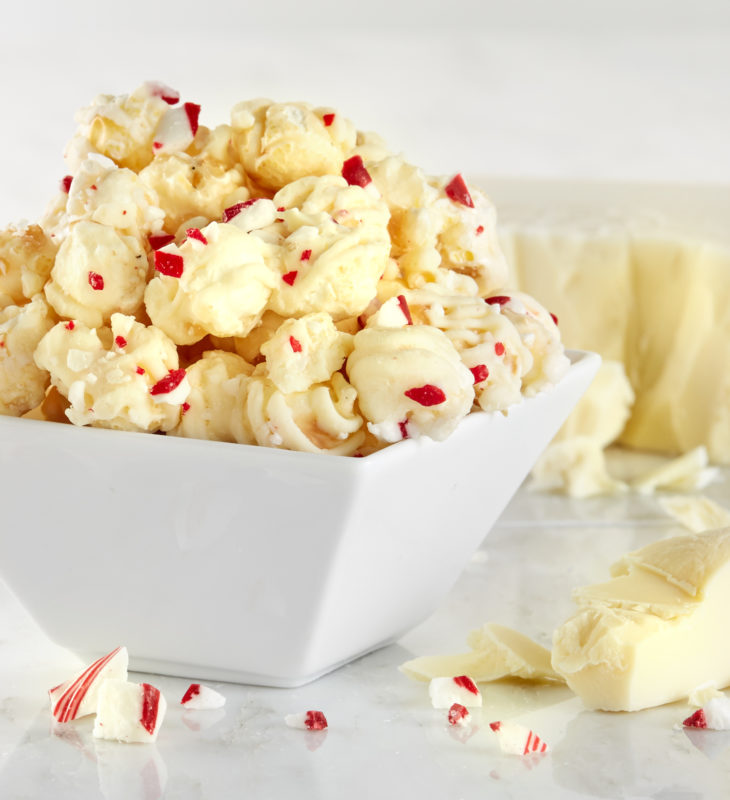 The Popcorn Factory is a tasty gift the whole family can share with favorite seasonal varieties arriving in gallon iconic tins. Two of our top flavors this holiday season are Holiday Kettle Corn, that is a little bit salty with a whole lot of crunchy sweetness, and Peppermint Bark, where we cover our premium kernels with luscious creamy white coating and sprinkle with refreshing peppermint pieces.
Get these yummy popcorns on 1800flowers.com
9. Otis Spunkmeyer Bakes Goods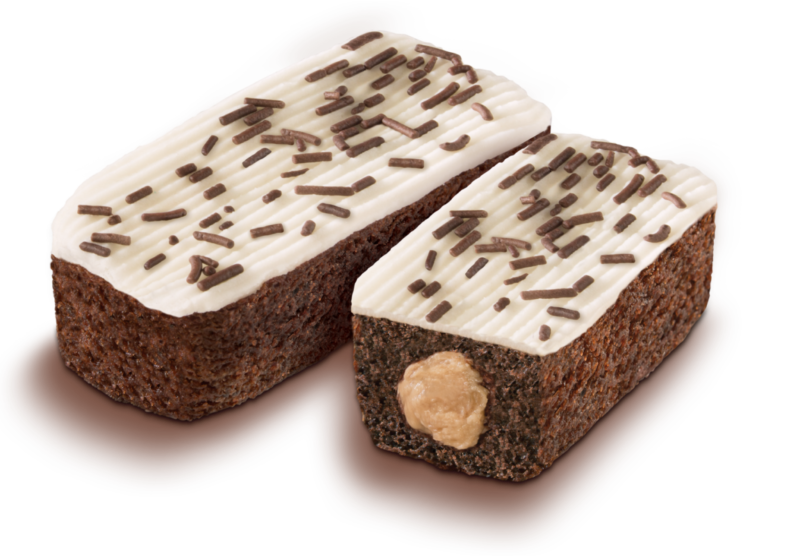 Otis Spunkmeyer, a pioneer in the fresh-baked cookie business since the 1970s, launched a new retail line of twenty pre-packaged sweet treats in May 2016. To celebrate the success, Otis Spunkmeyer will introduce its new hot chocolate frosted crème cakes, available for a limited time at national retailers as of, October 1. Aside from their amazing flavor, the best thing about these cakes is that they contain 'NO FUNKY STUFF', which means NO artificial flavors or colors, high fructose corn syrup, or partially hydrogenated oils. Grab these goodies for your holiday get-togethers, gift baskets, and stockings!
Get them at a retailer near you or on Amazon.com
10. TastyKake Season Treats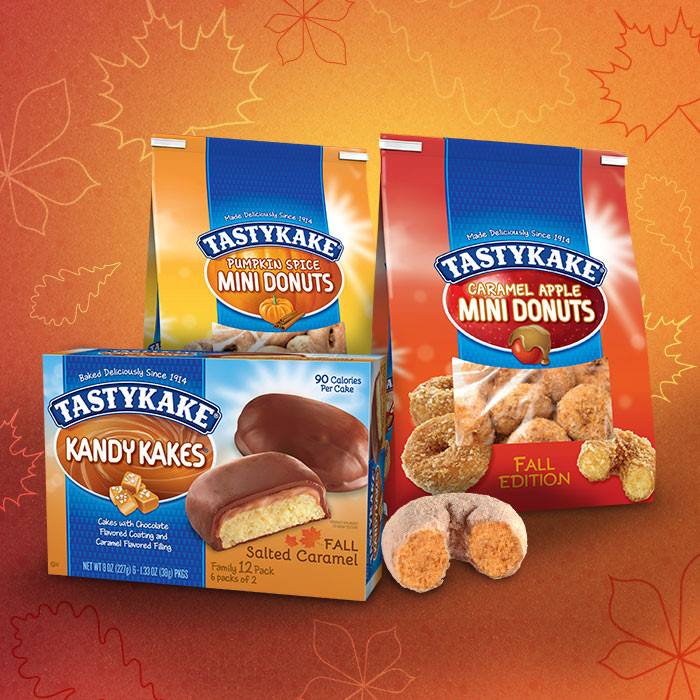 I am seriously obsessed with Tastykake's new donuts and cakes. The Pumpkin Spice Donuts are to die for. Seriously, they are that good! I eat a couple with my morning coffee and I don't share them with anyone. I need to stock up on these or you could just buy them for me for Christmas… just sayin. Be sure you grab all of their new treats before they are gone!
Get these yummy treats at a retailer near you
11. Nonni's Biscotti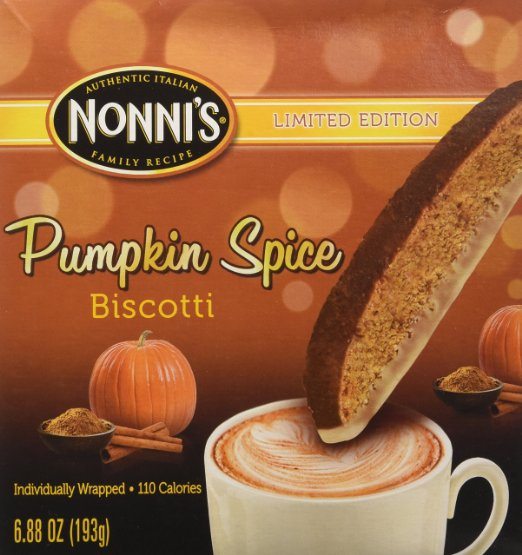 The beginning of a tradition. In the small Tuscan town of Lucca, Italy our friend's Grandma (Nonni) made biscotti to share with family and friends. When Nonni came to America, almost a century ago, she brought the family recipe, along with a stubborn devotion to the finest ingredients and her own unique baking style. Treat yourself to a Nonni's biscotti break.
Get these on Amazon or in a store near you
12. Dancing Moon Coffee
Dancing Moon Coffee begins with one simple concept: Source the best single- origin coffee varities from around the world. Make sure they're Fair Trade and Organic, with no GMOs. Carefully roast them in small batches in the USA to bring out every bean's special character. And then pack all that wonderful coffee richness in a special flavor-tight bag to guarantee freshness. Dancing Moon also believes in giving back to the community so they donate 5% of all profits to the Semper Fi Fund, one of the highest-rate charities serving wounded members of the military and their families.
Get this only on Amazon
13. Zenful -Antioxidant Infused Organic Energy Drink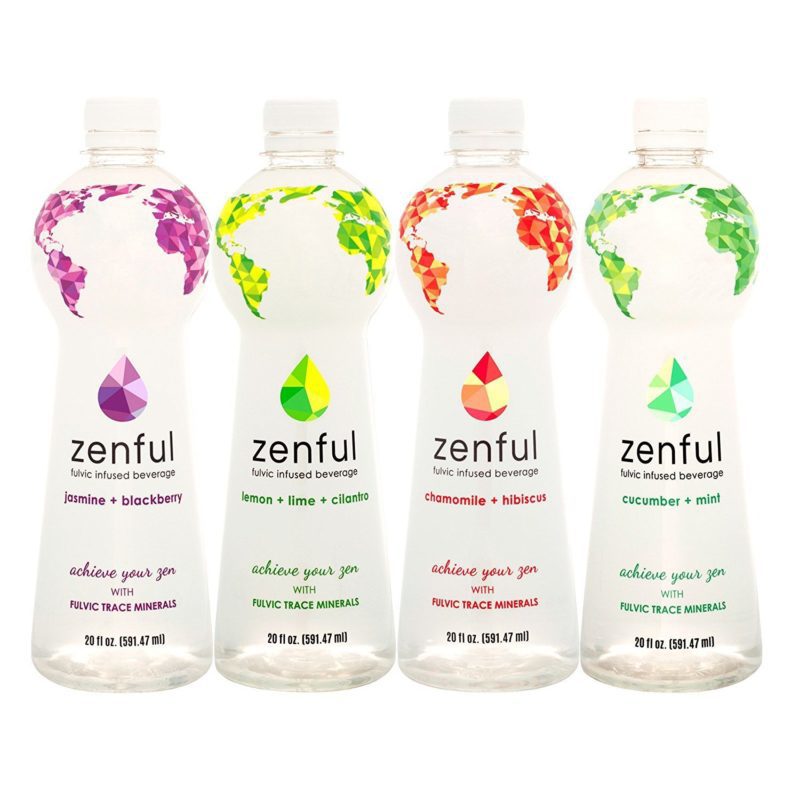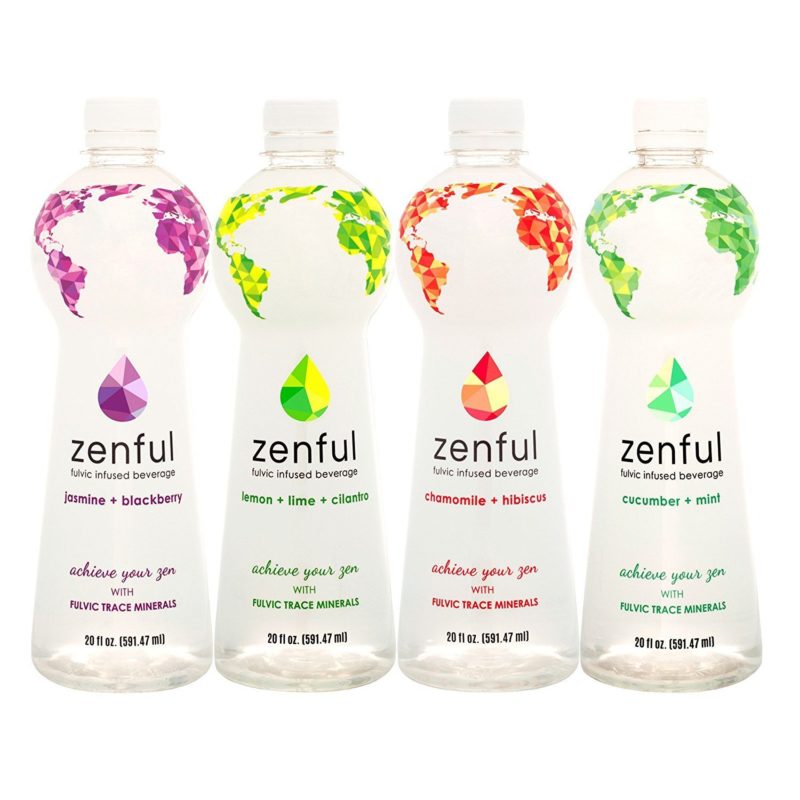 Zenful is a Zero Calorie 100% naturally flavored electrolyte water infused with fulvic mineral complexes. Rich in electrolytes and antioxidants with no artificial sweeteners. Zenful is a healthy and natural way to bring balance back into your life.
Get a case on Amazon.com
14. Empire Crate
The Empire Crate company mission is to travel the 54,000 square miles of New York State meeting local food makers and artisans, trying their products and delivering the cream of the crop to our subscribers every month. They test everything before it's included in the box–only the best makes the cut. It's a great gift for folks who are from NY and are missing "home" or those that just love artisanal foods and want to see what else The Empire State has to offer. They include 5-7 products in each shipment and the cost is $39.95 per month with free shipping– discounts of up to 11% when prepaying for 3 or 6 months in advance. You can subscribe monthly or choose to "send as a gift" for a one-time subscription!
Get it on EmpireCrate.com
15. Lolli & Pops Fancy That box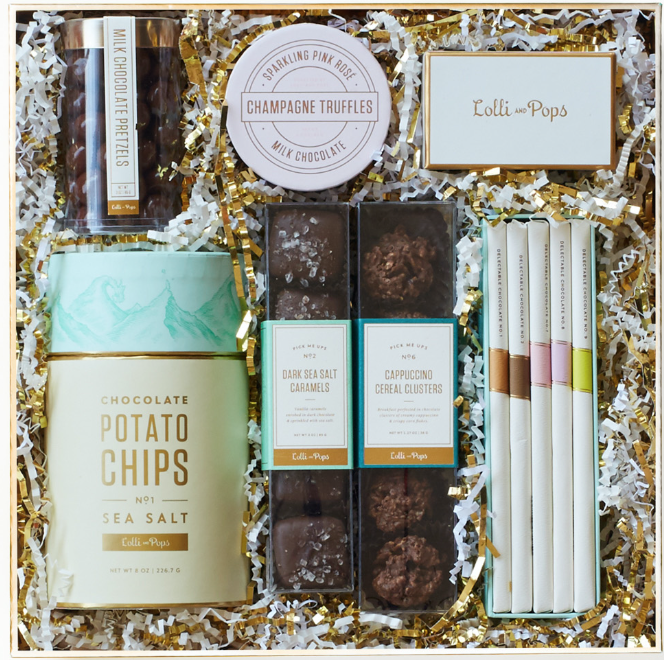 Lolli and Pops provides a magical candy shop experience in their 30+ stores across the country. This week, they announced that they're bringing that experience to all with the launch of their new gifts offering – premium, curated boxes that go beyond your everyday gummies (think artisanal truffles, luxurious caramels, hand-crafted chocolates and more) giving you the power to express your thanks and love in the easiest and sweetest way possible. Don't just think of Lolli and Pops for your mom, boss or best friend – it's also for your favorite couple, your best friend's mom, the ultimate hostess, the life of the party – those that are special but could be hard to shop for.
The Fancy That box includes cereal clusters, chocolate covered potato chips, chocolate caramels, signature bars, chocolate covered pretzels, champagne truffles & 12 chocolate squares packed in a signature Lolli & Pops gift box.
Get it on LolliAndPops.com
16. 240sweet Marshmallow Whip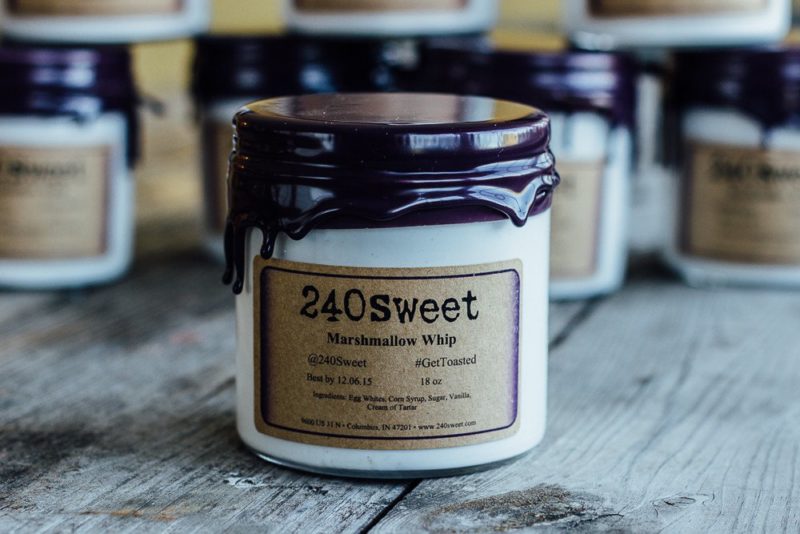 We've all indulged in our fair share of marshmallow fluff on hot chocolate and on desserts–generally as kids. Now, the topping has grown up! 240sweet's Marshmallow Whip is made with real vanilla beans that you will smell and see in the fluffy heaven. This gourmet version appeals to foodies and people who appreciate a touch of whimsy. Taste the difference of an award-wining chef's creation. One taste and you'll know why it is worth about 20x the grocery store stuff.
Get it on 240sweet.com
17. Wholly Wholesome
Wholly Wholesome was born in 1996 after our President, Doon Wintz, recognized the prevalent notion that natural food consumers fully accepted that taste had to be sacrificed on the altar of natural ingredients. Almost 20 years later, our passion to create a natural baked goods product line that could deliver great tasting organic desserts for ingredient-conscious consumers has led to pies, frozen pie shells & crusts, and our all natural gluten free line that can be found in stores nationwide today!
Find where to purchase HERE
18. Gold & Silver Tower – The Swiss Colony
The most beautiful food gift of the season! A towering assortment of our most popular food gifts is elegantly wrapped to impress. Featuring Christmas mellowcremes, chocolate Santas and snowmen, candy buttons, Petits Fours, chocolate and Swiss creme-coated grahams and tortes. BEEF LOG® and Summer Sausage, cheese bars, Sweet Hot Mustard and cheese links.
Pick yours up at SwissColony.com
19. Two Rivers Coffee Premium Gift Box
No gift wrapping necessary, single serve gift box trays are festively designed for the holidays and have a window to see the goodies inside. Every holiday gift packs contains 21 different single serve cups: Black & White Cookie, Red Velvet, Gingerbread Man, Fuhgdeddaboutit, Corner Donut Shop; Hamilton Mills: Golden Maple, Cape Cod Roast; Java Factory: Jingle Java, Sinful Cinnamon, Dark and Handsome, Wakey Wakey, Smooth Caffeinator; Cella's Chocolate Covered Cherry, Andes Mint Chocolate, Friendly's: Vienna Mocha Chunk, Chocolate Marshmallow Swirl; Bosco Coconut Cream Pie, Felix & Norton Chocolate Macadmia Nut, Realtree: Buckshot Blend, Xtra, Timber.
Purchase this collection on Amazon
20. Hickory Farms Grand Hickory Holiday Collection
Contains: (2) 10 oz. Our Signature Beef Summer Sausage, 10 oz. Brown Sugar & Honey Turkey Summer Sausage, 4 oz. Smoked Cheddar Blend, 4 oz. Farmhouse Cheddar, 4 oz. Jalapeno & Cheddar Blend, 4 oz. Creamy Swiss Blend, 10.5 oz. Honey & Pineapple Mustard, 10 oz. Sweet Hot Mustard, 10 oz. Peppermint Snow Mints, 6.7 oz. Buttery Shortbread Biscuits, 4.4 oz. Olive Oil & Rosemary Crackers, 4.4 oz. Golden Toasted Crackers, 4 oz. Almond Crunch Trail Mix, 4 oz. Cranberry & Sesame Nut Mix, & (2) 1.2 oz. Belgian Truffles.
Purchase this wonderful gift basket at HickoryFarms.com
21. You've Been Elfed Treats Box – Cheryl's Cookies
Have you been elfed? Start the fun by sending out this delightful box filled with a yummy assortment of our buttercream frosted Holiday cookies, foil wrapped chocolates and a sweet little crunchy hand decorated elf sugar cookie. We've also included a $10 Reward Card your friends and family can use on their next purchase!
Grab this box at Cheryls.com

22. Seattle Chocolates
The Seattle Chocolates Co. has created the "Comfort & Joy" line for the 2016 Holiday season. The six truffle bars — three of which are new this year — feature chrome-colored photographs printed on foil paper with intricately patterned red foil inner wraps that reflect popular holiday flavors and ingredients. New: Toffee Sea Salt Bar: Chunks of sweet toffee meet with a sprinkle of coarse Pacific sea salt in this dark chocolate treat. New: Peanut Buddy Crisp Bar: A favorite for the kid at heart, this bar combines crispy cereal squares with peanut butter in milk chocolate (reminiscent of the cereal snack, Chex Muddy Buddies). New: Nutty Nougat Chew Bar: A delicately flavored milk chocolate bar with chewy nougat made with toasted almonds and honey. Candy Cane Crunch Bar: The original holiday bar from Seattle Chocolates, this bar combines all-natural candy cane pieces in dark chocolate. Hot Buttered Rum Bar: For grown-up tastes, muddled rum spice and buttery toffee are combined in this milk chocolate bar. Holiday Cheer Eggnog Bar: Cheers to a holiday favorite that featured eggnog, sweet vanilla, cream and nutmeg for an almost-frothy center to this milk chocolate truffle bar.
Pick yours up at SeattleChocolates.com
23. Blakes All Natural
Best known as the brand bringing better-for-you comfort food to the freezer aisle, Blake's All Natural believes that quality should never be sacrificed in the name of convenience. Every Blake's meal is handmade from scratch in small batches using all natural and organic ingredients and then flash-frozen to maintain freshness. Meals can be made in any microwave or oven and are a great option for busy moms when time is tight and bellies are grumbling. Meals include classic comfort dishes like Chicken Pot Pie, Shepherd's Pie and Meatloaf, along with low-calorie entrees like Chicken Marsala with Pasta, kid-friendly Mac & Cheeses, and more. There's a meal that's sure to please everyone in the family and moms can feel good knowing that dinner in a pinch doesn't mean mystery ingredients and artificial additives.
Find where to purchase HERE
24. Living Intentions Superfood Popcorn
This line of ready-to-eat popcorn, which launched just this month and is available in local NYC, Denver, Salt Lake City, Atlanta, Connecticut and New Jersey Wholefoods markets, has the crunch folks crave with the added bonus of probiotics and superfood ingredients like turmeric, chlorella, maca and more. Available in these four flavors: Cinnamon Twist with maca root and mesquite pod, Tandoori Turmeric with turmeric and Ashwagandha extracts, Salsa Verde with spirulina, chlorella, spinach, and kale, and Berry Smoothie with macqui berry, banana and beet powders, and lacuma fruit.
Grab yours on Amazon
25. Noosa Yoghurt
Allow us to introduce ourselves. We're noosa, and we make yoghurt. But not just any yoghurt. Ours is thick and velvety. Sweet and tart. It's a labor of love that starts in small batches on the farm and ends in a delicious scoop on your spoon. Every flavor in our noosa line-up is the result of countless taste tests (not that we're complaining or anything) to ensure only the best make the cut. What's the secret to amazing yoghurt? It's simple: whole milk, a touch of honey, and purée made with real fruit. Send your best mate some FREE noosa by clicking here.
Find where to purchase HERE
26. Paqui Chips
Paqui Chips are gourmet chips and way more than your typical snack chip – they are GMO, gluten, trans fat and MSG Free and come in delicious, unique flavors using real ingredients (think: Haunted Ghost Pepper, seriously spicy chips for those pepper heads on your list, Nacho Cheese Especial, Roasted Jalapeno and Cool Salsa Verde.) The word Paqui [pah-kee] is an Aztec word that means "to be happy" and these chips will make just about anyone on your list happy!
Purchase yours at shop.Paqui.com
27. Hershey Kisses
During the holidays, there is no better present than Hershey's Kisses Kissmas Chocolates. Whether you're planning an ugly sweater bash, trimming the tree, sending letters to Santa or tying ribbon on that perfect gift, these uniquely wrapped treats are sure to inspire new ways to make the season sweeter. The Hershey Company has partnered with four retailers to offer these limited-edition holiday-themed foils on the classic Hershey's Kisses Milk Chocolates to add even more cheer to the season:
Hershey's Kisses Kissmas Gift Chocolates – Sold exclusively at CVS.
Hershey's Kisses Santa Hat Chocolates – Sold exclusively at Target.
Hershey's Kisses Kissmas Sweater Chocolates – Sold exclusively at Walmart.
Hershey's Kisses Kissmas Tree Chocolates – Sold exclusively at Kroger and the Kroger Company family of stores.
28. Erewhon Cinnamon Crispy Brown Rice
Certified gluten free, USDA organic and Non-GMO Project Verified. This healthy cereal delivers 2g protein, 1g fiber and only 2g sugar.
Grab yours on Amazon
29. Peace Cereal Fruit, Seed, & Nut Muesli
Peace Cereal not only tastes great, but is made from great ingredients, such as premium whole grains, nuts, and dried fruits, and every Peace Cereal product is either USDA Certified Organic or Non-GMO Project Verified! USDA Organic cereal option that has rye, barley, and oats mixed with dried dates, raisins, sunflower and flax seeds, almonds and walnuts. 7g protein and 6g fiber.
30. Sweet Home Farm Maple Pecan Granola
Real maple syrup and pecans come together for a wholesome and satisfying treat anytime of the day! Ingredients: Whole Rolled Oats, Milled Cane Sugar, Expeller Pressed Canola Oil, Rice Flour, Maple Syrup, Cornstarch, Pecans, Honey, Salt, Barley Malt Syrup, Natural Flavor.