Spring is basically here already. I'm planning my spring outfits way ahead of time, so I don't have any excuses for my fashion fails. This year, I'm featuring a few date night ideas because I want to encourage all my pretties to get sexy this spring – for yourselves and for your other half. Why not add some spice to your life?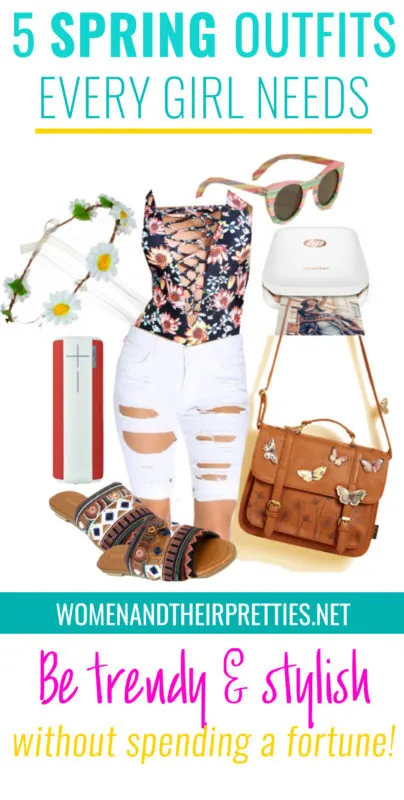 1. Spring Romance OOTD
While all the single ladies are scouting the best bachelors, I'm planning romantic date nights out with my fiancé. I want something that screams romance without showing too much skin. There's something so sexy about a little black dress and knee-high boots. With patches and embroidery being so trendy this year, I couldn't help but to drool over this gorgeous dress from AMIClubwear.com! These boots are my new favorite obsession. They are soft and really comfortable. And boy, do they have sex appeal or what?
2. Spring Festivals OOTD
If you've ever attended a real music festival, then you know it's not all about the music – it's very much about the fashion and making new friends. You can't go to a music festival without releasing your inner hippie. It's in all of us. Dress comfortable, dress colorful, and dress cute, wild child. Don't forget the portable printable and bluetooth speaker. You need something fun in between concerts!
3. Spring Fling OOTD
If you're a hot single lady going on a spring break vacation, you better prepare for those hot & steamy spring flings with a fun and flirty spring outfit! You know how it is – the wind is in your hair and the sand is in your toes. The drinks are pouring and everyone is happier than usual. You meet a handsome, fit stud and he asks you out on a formal date. Be prepared, my pretties! You need something cute, colorful, and oh-so lady-like! Be sure it's trendy, too!
Get The Look:
4. Spring Clean OOTD
If you love shopping as much as I do, then I know you'll be spending many spring afternoons at the cutest little boutiques you can find. Gather up your ladies and get all dressed up. Be cool, confident, and stylish. Don't forget the funky handbag! That's totally on trend, right along with the embroidered wedges. Oh, and be sure you have brunch dates planned and wine nights prepared.
5. Spring Break on the Beach OOTD
What's Spring Break without a beach vacation? One-pieces are back on trend and they are cuter than ever before. This one-piece has the sweetest lace-up back. I can't get over the colors of Spring. That's probably why I always dress for the season.
What's in your Spring wardrobe this year?