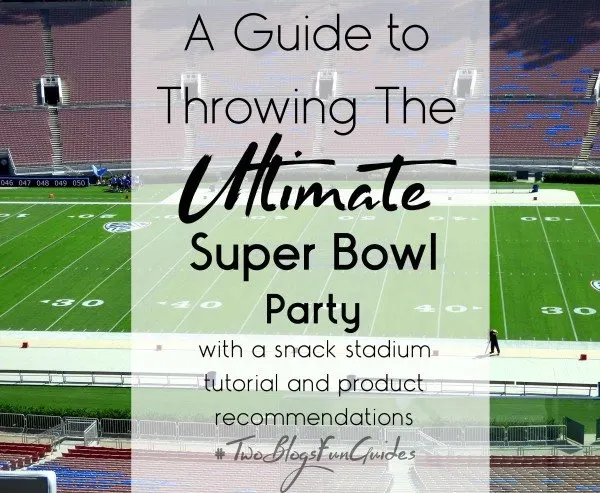 Welcome to the 2016 Ultimate Super Bowl Party Guide! This #TwoBlogsFunGuides is all about throwing the Ultimate Super Bowl Party! Show your team spirit with everything from apparel to the perfect snacks – the items on this list are sure to impress your friends and family and have them talking about your Super Bowl Party all year long! Each of these items are personally recommended by Mama Smith's and/or Women and Their Pretties. Enjoy, and remember to keep coming back as more items will be added daily! This guide includes affiliate links.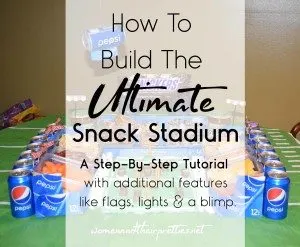 Prep for your Super Bowl party with this awesome tutorial!
Aquaball

Aquaball is a naturally flavored water, enhanced with Vitamins B3, B5, B6, B12 and C and has 0 grams of sugar, 0 calories, no artificial flavors or colors and no high fructose corn syrup. It comes in four flavors: Grape, Fruit Punch, Orange and Berry Blast. Both parents and kid's everywhere will love these fun and healthy beverages with their favorite characters from Disney and Marvel. These are the perfect drinks for those under age guests at your party! They will love them, my girls do!
Find Where to Purchase Here
Connect on Social Media: Facebook / Instagram
---
Scramble from CleverFoodies
Scramble is an all natural mix-in of vegetables, herbs and spices, purposely concocted so you can prepare fast and delicious scrambled eggs, omelets, and frittatas. Scramble is available in three colorful, savory flavors: Leafy Greens, Rancheros and Mediterranean. With no more than 60 calories per serving, Scramble contains all-natural ingredients, is gluten-free and does not have any sugar added. These are delicious – my personal favorite way to enjoy them is mixed with Greek yogurt, which makes the perfect party dip! I love them all but if I had to choose a favorite, it would be the Mediterranean!
Find Where to Purchase Here
Connect on Social Media: Facebook / Twitter / Instagram
---
Ziploc Storage Products
A lot of prep work goes in to a Super Bowl Party – I know that one thing I usually stress about is the food. But thanks to Ziploc, I no longer have any worries! Not only can I easily prep and store most of the foods I plan to serve like veggies, dips, and dressings – I can also easily stack them in the refrigerator to optimize my available space with Ziploc stackable containers. I plan to have my dips and veggies out in the Ziploc containers for my guests to pick out of as well! Then leftovers can go right back in the fridge for easy accessibility when it comes time to snack on them again! I trust Ziploc with my Super Bowl foods!
Purchase Here
Connect on Social Media: Facebook / PinterestReview coming soon (as soon as I get the box)
---
NFL Barware Gift Crate

Give the football fan in your life the most awesome gift ever – the NFL Barware Crate! This crate includes 4 officially licensed NFL team pint glasses (team of your choice!) and a set of 4 wood coasters with built-in bottle openers. They've also thrown in some snacks to hold everyone over until halftime. And do you know what makes this gift even more memorable? When he gets to open his sealed wooden gift crate with a crowbar in front of his friends! Is that cool or what? This also makes the perfect addition to any Super Bowl get together! It can be given as a prize to the person who comes closest to guessing the final score, to the host as a thank you gift, or even just opened as a great way to get the party started! Gift Crates has many other themes to choose from as well – but this one is a must have for any Super Bowl Party!
Purchase Here
Read Our Reviews: NFL Crate from GiftCrates.com – Because Men Don't Do Baskets
Connect on Social Media: Facebook / Twitter / Instagram / Pinterest
---
NFL Apparel

You simply cannot host the big game and not rock your favorite team's apparel! Be sure to check out all of the awesome clothing that NFL Official Apparel has for all of the NFL teams. So even if your team is not in the Super Bowl this year, you can represent them. They have super cute clothes for women and kids – and of course for men too! I absolutely love my New England Patriots shirt! It is comfortable, adorable, and I get compliments on it wherever I go (and that says a lot since I live in New York!). I am a die hard Pats fan, and I love showing it off with my Official NFL Apparel top!
Purchase Here
Connect on Social Media: Facebook / Twitter / Instagram
---
Swanson Broth

I don't know about you, but I love to use Swanson Broths to make some of my Super Bowl snacks! My family is big on stuffing as well as many other recipes that use broth and Swanson is the brand that we trust! They have some new items that we were very excited to check out as well! Bottled Broth – The iconic Swanson Broth is now available in bottled form to enhance every recipe in two varieties – Chicken and Natural Goodness Chicken. The bottled packaging offers a new easy measure strip, so you can pour what you need, and know how much is left. The broth is also perfect for moistening leftovers and using in place of water to increase the flavor of your side dishes. Unsalted Broth – Now available in Beef and Chicken varieties, Swanson Unsalted Broths add a richness of flavor, while allowing the natural taste of the food to come through. With no salt added, this broth provides the perfect foundation to work from, letting you make your dishes the way you like them. The carton features a twisting cap for a secure and tight seal. When opening the broth, simply twist the cap to automatically break the foil seal.
Purchase Swanson Broths at a grocery store near you.
Connect on Social Media: Facebook / Instagram
---
Joe Journeyman

Telling the classic story of good prevailing over evil, Joe Journeyman Volume 1 takes kids and adults on a journey with Joe and his friends, as they travel from one NFL team to the next. Featuring hand-drawn, original artwork, each two-page spread is dedicated to one stop on Joe Journeyman's adventure. Within each of the 16 cities in Volume 1, readers are challenged to find Joe Journeyman, as well as his playbook, friends, historical landmarks, and all of the additional wild and wacky things along the way. Kids and adults who love to search can enjoy a unique story of friendship and football in a new search adventure book about the spectacular tale of Joe Journeyman, the only player to play for all 32 NFL teams. Joe Journeyman Volume 1 shares the creative, fictional story of Joe Journeyman, as he and his best friends travel from one NFL team to the next. Besides the book, there are puzzles and canvas prints for each team featured! (And Volume 2 is on it's way!). What a great way for kids to enjoy your Super Bowl party this year while the adults watch the big game!
Purchase Here
Read Our Reviews: Search & Find with Joe Journeyman
Connect on Social Media: Facebook / Twitter
---
California Dried Plumbs

A game day party is equally about the game as it is about the snacks. With so many options, it's easy to fumble under the pressure, but with the help of the California Dried Plum Board's recipes, the snacks are sure to score a touchdown. Dried plums add a sweet kick to a normally savory-filled snack table. While complementing savory dishes, they are also defeat other sides with their high nutrient content. So as you starting thinking about what to munch on during this year's big game, consider giving some of these recipes a play: Plummus, Pizzettas with California Dried Plums & Caramelized Onions, & Bacon-Wrapped Dried Plums (Because who doesn't like bacon?). I cannot wait to show off these recipes at my big party!
Read More Here
Connect on Social Media: Facebook / Twitter / Pinterest
---
Johnsonville Sausage

If you are like me and want to ditch the boring same-old spread of chicken wings, guacamole and cheesy dips, and surprise family and friends at your Super Bowl Party with a little more taste and pizazz – look to Johnsonville Sausage for the answer! The winning combination is easy – Swap Up with Sausage! Turn your Super-Boring game day party into Sausage-Bowl with some of these creative twists: Spicy Sausage Queso – Cowboy Sausage & Beans – BBQ Meatball Sliders – and my personal favorite Pizza Wheels! My family and I have always trusted Johnsonville Sausage! No other sausage has the quality, flavor, and variety that they do. Don't trust any one else for your game day spread – trust Johnsonville!
Purchase Johnsonville Sausage at a grocery store near you!
Connect on Social Media: Facebook / Instagram / Twitter
---
Blue Moon – Cooking with Beer

Nothing screams football like some beer-based football snacks! This year, put a fun twist on your standard queso or little smokies for your Super Bowl Party! Blue Moon has some great crowd-pleasing, creative, beer-based recipes: think: Spicy Beer Cheese Fondue, White IPA Lemon Bars, Beer and Bacon Mac and Cheese. Yum! I am drooling already! Not to mention, Blue Moon is pretty good by itself too! You are sure to impress your friends and family with one (or a few) of these recipes. Be sure to offer them a Blue Moon beverage to wash it down with as well!
Purchase Blue Moon at a Store near you!
Find Super Bowl recipes here!
Connect on Social Media: Facebook / Twitter / Instagram
---
Sour Jacks

Sour Jacks are the perfect candy for those looking for the ultimate candy to give to a loved one! The delicious, chewy, sour and sweet pieces are full of fruit flavor and bursting with sour power! Discover the mouth-puckering sour flavor of Sour Jacks Original, Watermelon, Lemonade, Wildberry and Green Apple. Only Sour Jacks delivers a maximum sour taste with flavor-packed wedges that will turn your taste buds up to a whole new level. I personally love these – and so do my young daughters. They are huge fans of sour candies and are always asking for more when it comes to Sour Jacks! Let the little ones snack on Sour Jacks while you enjoy the big game at your Super Bowl party (just try not to eat too many of them yourself – yum!).
Find Where to Purchase Here
Read Our Reviews: New Sour Jacks Flavors
Connect on Social Media: Facebook / Twitter
---
White Cheddar and Bacon Dip (Longhorn Steakhouse)

If you are looking for that extra something that will have your Super Bowl party being talked about all the way until next year's – look no further! I have the ultimate dip recipe for you! Longhorn Steakhouse White Cheddar and Bacon Dip! Chances are, you have had this in the restaurant and guess what, it is pretty easy to make at home. Vermont white cheddar mixed with bacon and green onions and topped with applewood smoked bacon and cheddar jack cheese – tell me your mouth is not watering right now? Serve it with crispy flatbread and your guests will eat it right up!
Find a Longhorn Steakhouse Near You
See the full recipe (and more) here: Longhorn Steakhouse Super Bowl Recipes
Connect on Social Media: Facebook / Twitter / Instagram
---

Boom Chicka Pop

A welcomed addition to game day snacking standards is Angie's BOOMCHICKAPOP, a better-for-you kettle corn with simple ingredients, calorie transparency and "totally fantastical" varieties. From sweet to spicy, simple to simply sensational, BOOMCHICKAPOP is the perfect complement to a food buffet and is perfect for passing around…it's also a healthier audible to chips and dip (but even tastier). BOOMCHICKAPOP is also certified gluten-free products made with non-GMO ingredients – so you can say at least something on your spread is all-natura!
Purchase Here
Connect on Social Media: Facebook / Twitter / Instagram / YouTube / Pinterest
---

LaCroix Water

Having non-alcoholic options for guests at a super bowl party (or any party for that matter), is something that a dignified host or hostess must provide. With that said, LaCroix sparkling waters (100% natural w/ 0 sugar/sweeteners, 0 calories/fat, 0 caffeine, 0 sodium), has a myriad of mocktails online for your review and consideration. They are also a great alternative to those who do not want to drink soda, diet soda or other sugary bevs at a party (or in general for health and weight control reasons).
Find Out Where To Purchase Here
Check Out LaCroix Recipes
Connect on Social Media: Facebook / Twitter / Instagram / YouTube / Pinterest
---

Hold and Go Slow Cooker

BeraTek has designed the Hold & Go Slow Cooker with tailgating and home gating in mind. It features a unique handle which allows it to be carried with one hand and then doubles as place to hold the lid while serving. Rachel Ray says "it's the coolest slow cooker I have ever seen in my life!" The top five reasons everyone needs one for the Super Bowl! 1.) Ultra Portable. Take it with you! Get to your destination faster and make fewer trips to the car – Hold & Go in one hand and cooler in the other. 2.) No more spills. Lid locks securely in place so you can't spill- Yay! No more scraping meatball sauce off the floor your car. 3.) Quit Cleaning. The handle doubles as a place to hold the lid – no more dripping mess! 4.) Double dipping. Wouldn't recommend it, but since you don't have to hold the lid, you can hold your plate AND scoop your food! 5.) No extra dishes to wash. Cook the food in the 5 quart. Lock the Lid. Hold & GO!
Purchase Here (Currently on sale for the big game!)
Check out the Crock Skins Here (Great to decorate for the big game)
Connect on Social Media: Facebook / Instagram / Twitter
---

Rodenbach Beer (Latis Imports)

Rodenbach's subtle sour undertones make it a real thirst-quencher. Acclaimed beer connoisseur Michael Jackson calls Rodenbach "the most refreshing beer in the world." Rodenbach Classic's characteristic taste is achieved through its unique mixed fermentation process, whereby top yeasts and bacterial flora undergo 24 months of maturation in 150 year old oak casks, resulting in the distinctively gentle sour taste for which it is known and loved.
Where To Find The Beer
Connect on Social Media: Facebook / Twitter
---

Sparkling Ice

If you want a low calorie, soft drink alternative that's delicious as is or can be mixed with your favorite spirits, then this is for you. SPARKLING ICE is a great tasting lightly carbonated beverage made of sparkling water, natural flavors, fruit juice, vitamins, antioxidants, and zero calories. There are even some delicious cocktail ideas to enjoy while watching the final four football teams battle it out on the road to Super Bowl 50. You can even coordinate with your team of choice!
Find Out Where To Purchase
Check out these Sparkling Ice recipes
Connect on Social Media: Facebook / Twitter / Instagram / Pinterest
---

Flavored Coconut Water (Amy and Brian Naturals)
Amy & Brian's coconut water is the most tasty Thai coconut water available in the U.S. In addition to offering electrolytes such as potassium, which combats fatigue associated with overconsumption, Amy & Brian's coconut water is available in five flavors including: Original, With Pulp, Lime, Cinnamon and Grape. These are a tasty offering for those looking to sip on something non-alcoholic between indulgences. For those who enjoy cocktails, Amy & Brian's coconut water also blends well with tequila, vodka, or rum to make fruity, lower-calorie drinks.
Purchase In Stores or Purchase on Amazon
Connect on Social Media: Facebook / Twitter / Instagram / Pinterest
---
The Northwest Blankets

If you are going to be having a Super Bowl Party, why not have a football blanket around for guests that get cold. I know I love to cuddle under a blanket while I watch TV, and the big game is no different. Your favorite team's logo stands out on this OFFICIAL NFL "Grand Stand" Raschel Throw by The Northwest Company. The bold design colored to match your team's true colors captures the true essence of your team pride. This 50"x 60" OFFICIAL NFL Raschel Throw is plush and warm, while also being great for outdoor use at the game or on a picnic. It is also equally comforting to cuddle under while watching the game from the comfort of your home. Your favorite football team's main color is the background, while their logo is largely shown front and center. Show support for your team during the big game this year, whether they are playing or not.
Purchase Here
Read Our Reviews: Stay Warm this Winter with The Northwest Throws
Connect on Social Media: Facebook / Twitter
---
The Northwest Handwarmer

If you plan to have your own little game before the big game, why not use a handwarmer like the pros do! Warm your hands up just like the pros do on the field! The OFFICIAL NFL Handwarmer by The Northwest Company is designed to stylishly keep your fingers and hands warms, so that you focus on the fun and not on the cold. Display your favorite team's logo during those chilly games at the stadium. This 100% Polyester, Water Resistant Shell Handwarmer with heat-trapping cuffs and soft, surrounding internal fabric will keep your hands feeling comfortable no matter what the weather brings. It is designed with an embroidered NFL team logo on the front and an embroidered NFL Shield on the back. The handwarmer also features a zippered pocket, perfect for carrying around small accessories to the game i.e. cell phone, ID, keys, etc.
Purchase Here
Read Our Reviews: Stay Warm this Winter with The Northwest Throws
Connect on Social Media: Facebook / Twitter
---

Hail Merry Snacks
These snacks were really surprising! They are truly some of the most delectable snacks that are in my house today. When you hear "healthy" you think, yuck! Not anymore. You couldn't point out that these are healthy based on the flavor. Give your guests a healthy snack for your Super Bowl party this year! Hail Merry's newest reduced-sugar Mini Miracle Tarts? The new tarts come in three flavors – Strawberry Rhubarb, Blueberry Acai and Sweet Potato – and are made with half the sugar but all the love. They're deliciously light, will keep guests on track with their New Year's resolutions, and will please any picky palette. Plus they're raw, vegan, gluten-free, Paleo friendly and certified C.L.E.A.N. With all the junk typically consumed, consider adding a few light and award-winning desserts to the mix that can coordinate with any of the final four teams' colors.
Purchase Here or buy at your local grocery store
Connect on Social Media: Facebook / Twitter / Instagram / Pinterest
---

Crunchmaster Snacks

I recommend Crunchmaster crackers as a snack for the Big Game. In addition to being certified gluten free by the Gluten Free Certification Organization, Crunchmaster crackers are made with high quality ingredients and packed with whole grains, cholesterol free and low in saturated fat. It has several products that are NON-GMO project verified.
Find Out Where To Buy Here
Crunchmaster Recipes
Connect on Social Media: Facebook / Twitter
---
Chillfactor Ice Twist Slushy Maker

For adventurous or sophisticated frozen drink maker's, Ice Twist uses the same Rapid-Freeze-Technology as our Original Slushy Maker to slushify your drink fast! Ice Twist is perfect for entertaining and making a cocktail of creations. Just Freeze, Squeeze, Enjoy!
Purchase Here
Chillfactor Recipes
Connect on Social Media: Facebook / Twitter / Instagram
---

Bella Linkable Slow Cooker System

This is the most genius idea since the slow cooker was inventred! Cook foods simultaniously and link them together to use a single power source. Everything from the shape of the cookers to the size is perfect for a Super Bowl Party! Slow cook, stack and store with the BELLA 2 X 2.5QT Linkable Slow Cooker System. Easily link up to 6 individual slow cookers and connect to a single power source. Each 2.5QT stoneware pot comes with individual temperature controls, lid rests and spoon rests to simplify serving.
Purchase Here
Connect on Social Media: Facebook / Twitter / Instagram / Pinterest