I am a beauty maniac, addict, freak, and whatever else you'd like to call me. I have quite a makeup collection and I am always adding to it. I think that my years of collecting and applying makeup are enough for me to know whether or not a cosmetics company is going down the right path. When I am testing out a new cosmetics company I judge a few things: Variety, Packaging, and Quality & Durability. Aurora Cosmetics New York is my new test subject and I am quite impressed.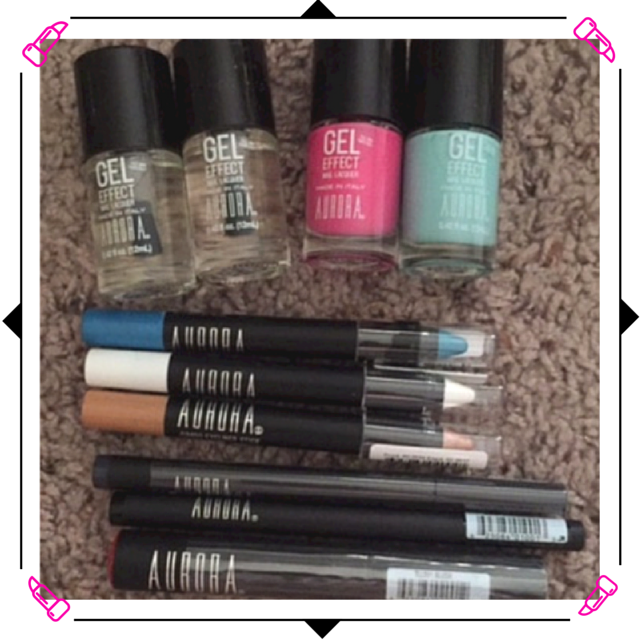 Packaging
The packaging is very modern and simple. It's a simple black & white. It isn't the cutest, but I don't mind it a bit! If they want to stand out, brighter or cuter packaging would be the way to go!
Variety
First of all, Aurora Cosmetics has a TON of nail polish colors! These are Gel Effect Nail Colors, meaning that you get the same long-lasting effects and shine as you would with a UV gel polish. The variety of colors is absolutely incredible!
https://instagram.com/p/5xqCt7IK1y/?taken-by=joyceduboise
They also have eyes and lips cosmetics, but the variety is limited to eyeliner pens, chubby jumbo sticks, eye pencils, and lively lip stains. There are a nice variety of colors with each of these though. I can't wait to see what other cosmetics they add to their collection. I'd love to see some matte lipsticks and maybe some loose mineral eyeshadows! I am biased though, because those are my favorite!
Quality & Durability
Let's start with the nail polish. I use the base and top Aurora Gel Effect coats on all my polishes and they last 3 times longer than they did without the coats. I am extremely impressed by these polishes, as I have never found a base and top coat that would make my cheap polishes last this long. I haven't tried their colors just yet, but I have no doubts that they will impress me.
https://instagram.com/p/5_sGoGIK0s/?taken-by=joyceduboise
As for the cosmetics, I am super excited about them. My favorite was definitely the Lively Lip Stain! I seriously didn't think I was going to like it because I didn't like the shape of the applicator. I used a matching lip liner to cover my full lips prior to applying it because it makes your lip color last longer. It would be a great idea for Aurora to make lip liners that match with the lip stain colors (Pssst! Please do!). So I applied the lip stain and I have to say, the shape of the applicator made it really easy to apply! I was able to shape my lips perfectly. It didn't dry my lips out like most lip stains do and it lasted 8+ hours!! The color that I used was the "blush" which as you can see, is a perfect red. I am absolutely in love with this lip stain. I want to try all of the colors now!
The Chubby Jumbo Sticks are okay. They don't last very long, but the colors are deep and pigmented. I received the "Milk" color, which is a white. I like to use it on my water line for a brighter look. I will definitely be using these on a regular basis. The "Nude" stick is a shimmery gold color that I adore! It's perfect for my light skin tone!
The Eyeliner Pens are another fave for me! I love the precision that these eyeliner pens give you. It's so easy to apply and it lasts for hours! The Blackberry is perfect and the Mushroom is a very unique grey/blue color. I'd love to try the other colors as well!
Overall, Aurora Cosmetics is a brand that I can rely on. They have a ton of gorgeous and quality products. I have high hopes for them and I cannot wait to see what else they release!
Connect on Social Media: Facebook / Instagram