Lately I have had a ton of breakouts. I am not sure what's going on, but I've been needing something to really help me. Creams, oils, and cleansers can only do so much for you.While I love using my favorite cleansers, sometimes I need a little something extra to really deep clean my skin. When I feel like this, I usually choose some sort of exfoliant. In this case, I decided to give The Baiden Mitten a try. I am all for a new approach to my skin care routine.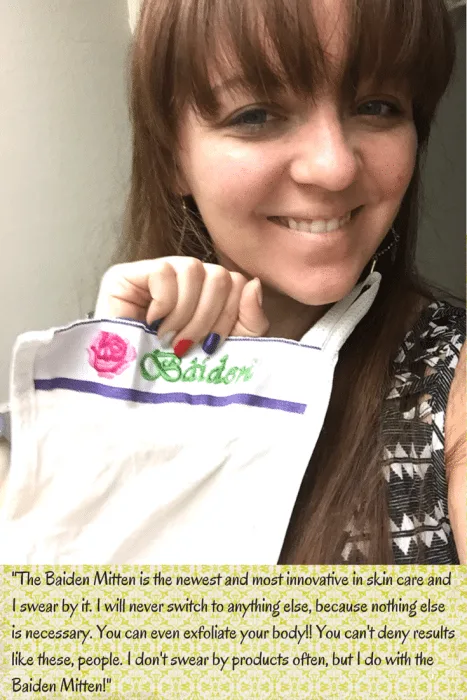 When I first received this, I didn't know what to think. "It's just a cloth," I thought. Boy was I wrong.
I followed the instructions or "Baiden's Technique". I was worried that it would be too rough or harsh on my skin. I still followed along to see if this would work as well as it claimed to.
I wore the mitten and I scrubbed my face strokes, as directed to. Honestly, I've used in a few times and haven't noticed any dead skin. Maybe it's removing dead skin and I just can't tell? I don't think so though. However, in their defense, I haven't followed each step. For example, I don't exfoliate after a workout or after being in a hot shower for awhile. Either way, this mitten works really great! Whether it's removing my dead skin or not, it has completely transformed my skin. I cannot explain the difference in my skin, other than saying that my face feels so soft afterward. This mitten exfoliates me face better than any scrubs that I have used and better than expensive face tools! What I love the most is that my brand new skin lasts for a good 4-5 days. It feels so soft and smooth for a very long time. I don't feel the need to exfoliate daily, which isn't recommended anyways.
The Baiden Mitten is the newest and most innovative in skin care and I swear by it. I will never switch to anything else, because nothing else is necessary. You can even exfoliate your body!! You can't deny results like these, people. I don't swear by products often, but I do with the Baiden Mitten!