Wondering what to caption that friend group photo? Here are some great quotes to use as short captions that will express exactly what you're feeling. Basically, these friend squad quotes will have everyone thinking, "'nuff said"!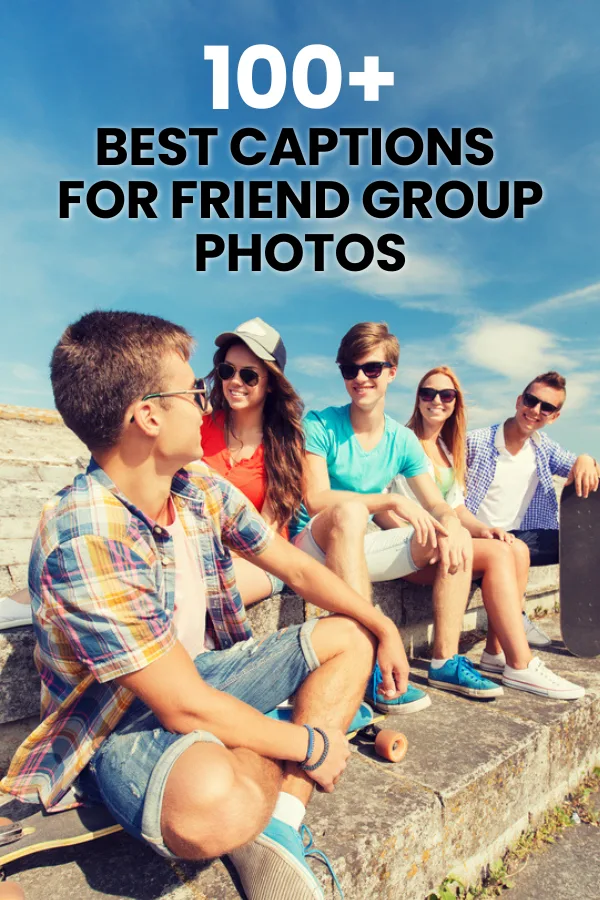 Sometimes, we just want to share how sweet friendship is or how fun nights were without saying too much. These friend photo captions for Instagram or Facebook will have others envying those special moments. Likewise, it'll let those included feel how appreciated and valued they are to you. These group photo captions are great for party pics, girls' night photos, mom group pics, or anything of the sort!
Best Captions for Group Photos of Friends to use on Instagram
Say it without saying too much. Use these on Instagram or even write these quotes in your friendship scrapbook. These captions are grouped into different categories. Some short captions and some long quotes about friendships and connections. I hope you find the perfect quote or caption that captures the true essence of your group photo.
So, if you're asking yourself: what should I caption a group photo of friends? What is a good short caption for group photos? What should I caption a post with friends? Look no further!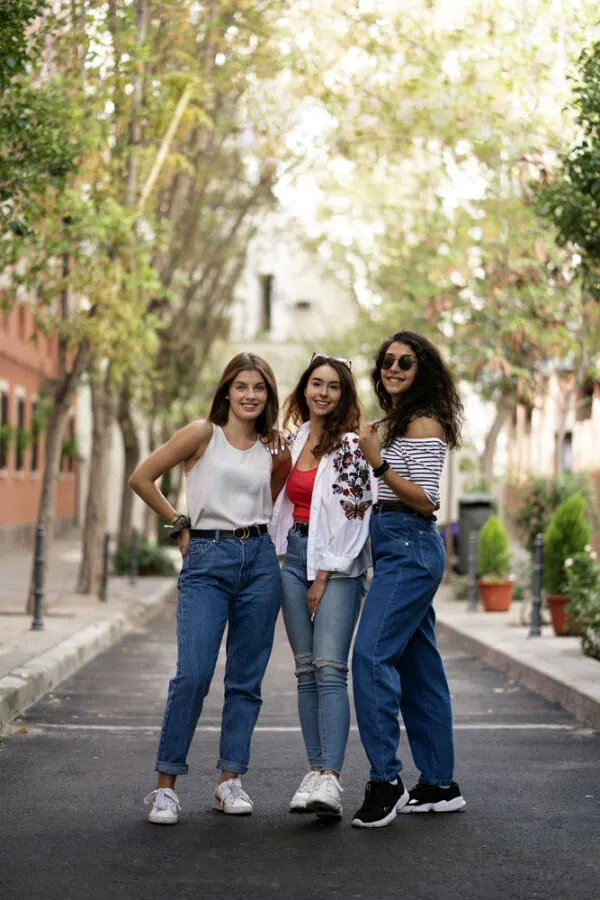 Weird and Crazy Friends Captions & Quotes
Use these quotes to caption on wild, crazy, and chaotic group photos with friends. These are Instagram group captions for the rebels, weirdos, and freaks.
What makes you different or weird – that's your strength.
We are the weirdos, mister. – The Craft
Spend your life doing strange things with weird people.
We are all born crazy. Some of us remain that way. 😜
High on good vibes. 🍃
Sentimental & Sweet Friend Group Captions
Use these quotes to share how much you appreciate and value the memories you're making with friends. These sentimental captions will say everything for you.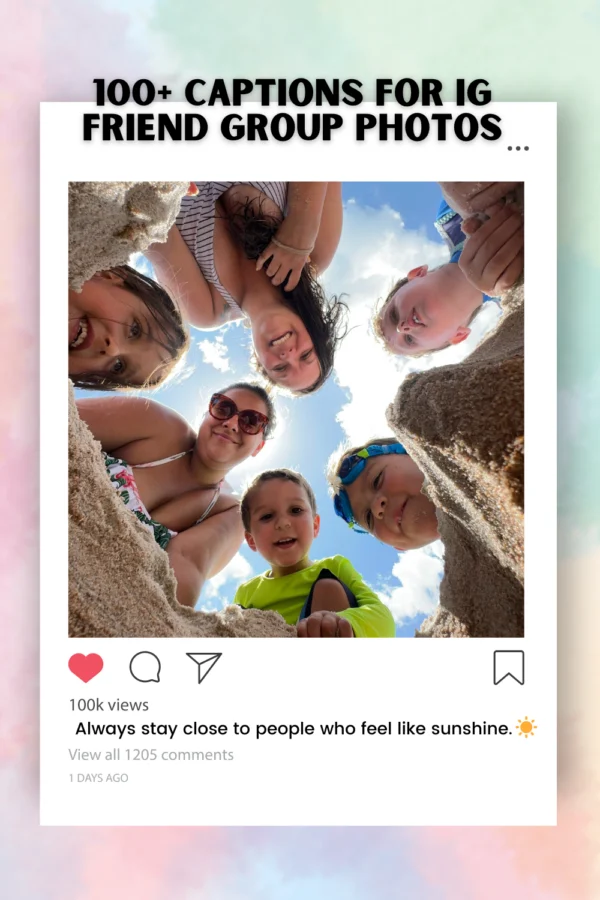 In a world of algorithms, hashtags & followers, know the true importance of human connection. 💛🔗
Find your people and keep them close.
Always stay close to people who feel like sunshine. ☀️
Surround yourself with people who know your value and remind you of it.
Finding your people is finding yourself.
It's not what we have in life but who we have in life that matters.
When you can't look at the bright side, I will sit with you in the dark. 🕯️
"Home is wherever I'm with you." – Edward Sharpe and the Magnetic Zeros 🏠
Friends are family chosen by you.
I belong to the people I love and they belong to me.
Live for the moments you can't put into words.
Collect moments, not things. 💛
& finally, I am right where I belong. 💜
"The language of friendship is not words but meanings." — Henry David Thoreau
Friendship isn't a big thing. It's millions of small things.
"I get by with a little help from my friends."
Each friend represents a world in us. – Anais Nin
"A flower does not compete with the flower next to it. It just blooms." 🌻
"Real friends walk in when the rest of the world walks out."
We didn't realize we were making memories. We were just having fun.
These are the good ole days.
Friends are gifts you give yourself. 💝
Thank you for reminding me of who I am.
Somehow, somewhere… we're friends there, too.
Belonging comes from being yourself and being seen.
With them is where I belong.
Thank you for really seeing me.
"Thank you for being a friend."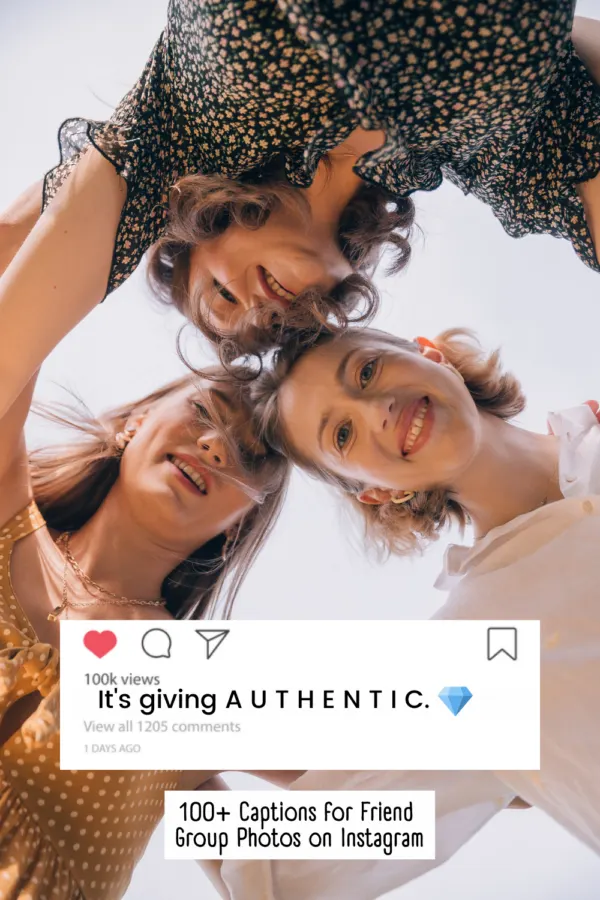 Squad Quotes for Instagram Group Photos
You tribe, your squad, your gang. These are ideal captions for group photos of friends.
#SquadGoals
In squad we trust. 🖤
It's the squad for me.
You can't do epic shit with basic people. 🚫
My best friends are my best assets.
When worst comes to worst – squad comes first. 🖤💀
The Soul SQUAD.
Your vibe attracts your tribe. 🌀
crew love.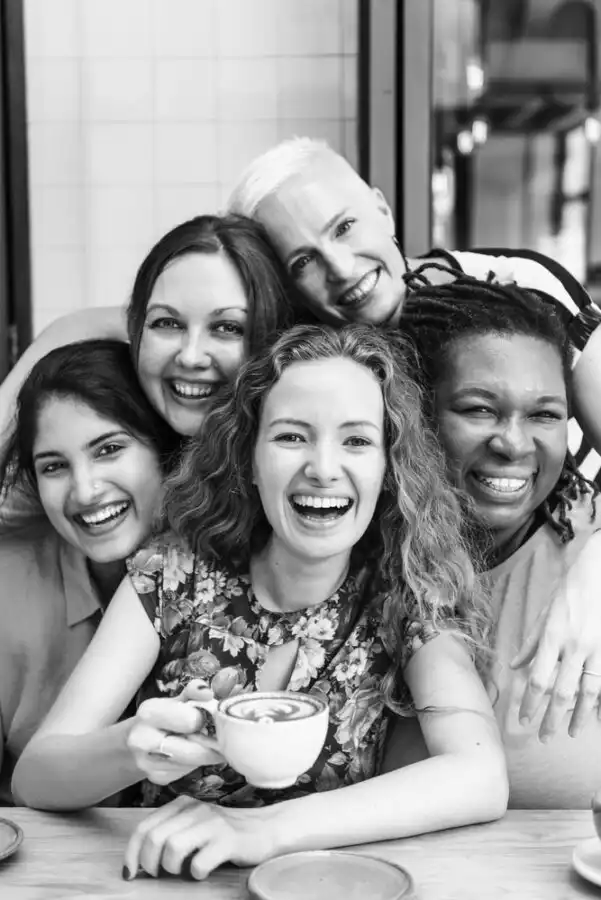 Sassy & Badass Group Photo Captions
These captions are for the feisty, fiery baddies. For the ones who KNOW how good they've got it with their crew.
If you obey all the rules, you'll miss all the fun.
Bad Bitch Crew.
Thick thighs. Good vibes. I love my tribe.
Baddie type vibe.
It's the baddies for me.
We make it look easy. 💋
Baddies. Basic 🚫
Dangerous but fun. 🔥
The rumors are true.
Forever type shit.
Believe the hype.
Baddie approved.
Doing something unholy 😈
Slay Together. Stay together.
bad bitch approved ✅🔥😈
True friends are like diamonds – bright, beautiful, valuable, and always in style. 💎 – Nicole Richie
A little sugar – A LOT of spice. 🍰🌶️
"You belong somewhere you feel free." 🦋
Aint no rest for the wicked. 🖤😈🔥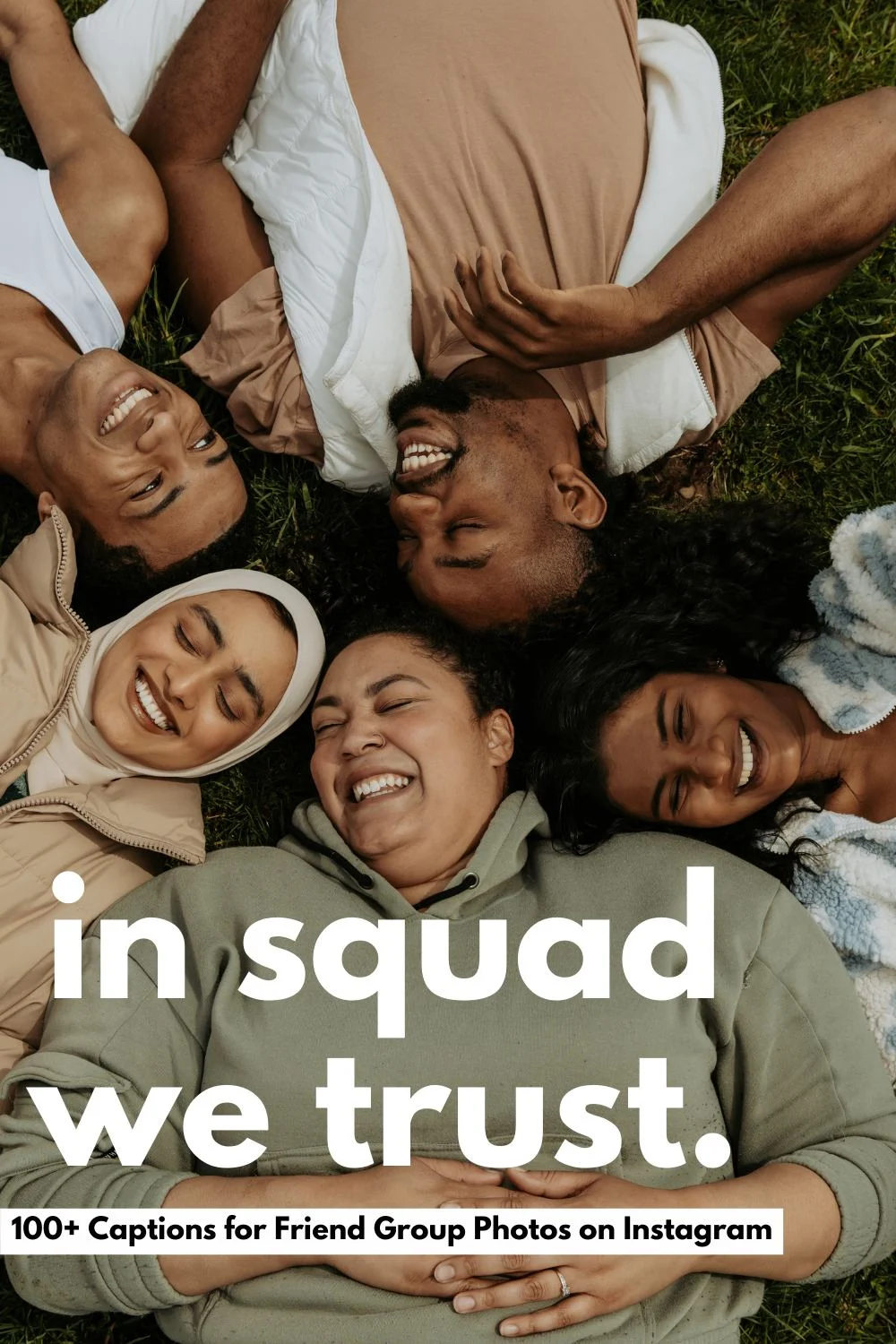 Unexpected Friendship Captions
The best of friends tend to come in the least expected ways. It can be coworkers, mom friends, or even our partner's friends. These surprising friendship captions are the perfect way to give a glimpse into those unexpected friendships.
You will be too much for some people. Those aren't your people.
We don't meet people by accident.
"Be slow to fall into friendship; but when thou art in, continue firm and constant." — Socrates
Soulmates come in the form of friends, too. – Sylvester Mcnutt
Real friends are as rare as diamonds and I'm rich with love.
"Some souls just understand each other upon meeting."
"It's strange how we find the best of friends in the most unexpected people." — Aly Hunter
Funny Captions for Group of Friends
Life is crazy and our friends are crazier. These funny captions will make your friends laugh and will share your silly side. These captions are perfect for "silly face" group photos.
Friends don't let friends do stupid things… alone. 😜
One of us is the life of the party. 👀
Tacos and you are all I need. 🌮
I be missing my friends like they my man/woman. 😜
We came. We saw. We were too loud and got kicked out.
"Legen… wait for it…. dary." – How I Met Your Mother
"Friends are people who know you really well… and like you anyways."
"We'll be friends until we're old and senile… then we'll be new friends."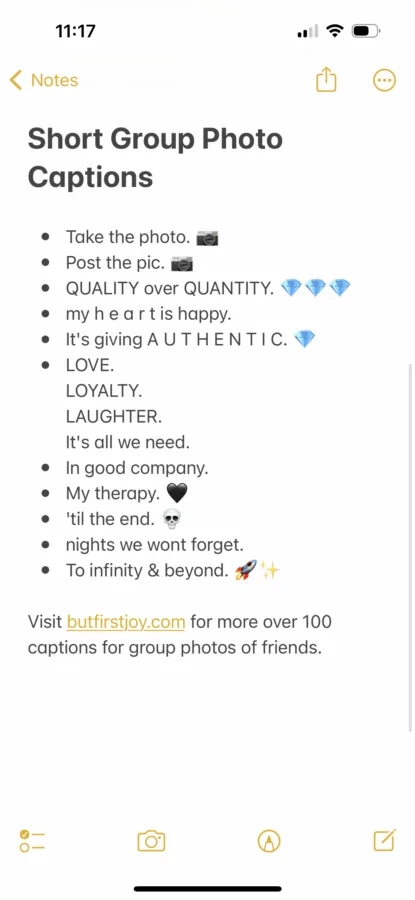 Short Captions for Best Friend Group Pics
Say a lot by saying a little. These short quotes say so much and get straight to the point. These captions can be very on-trend or aesthetic. As far as captions for group photos of friends, these are the most fun because they mostly include emojis to match the vibe.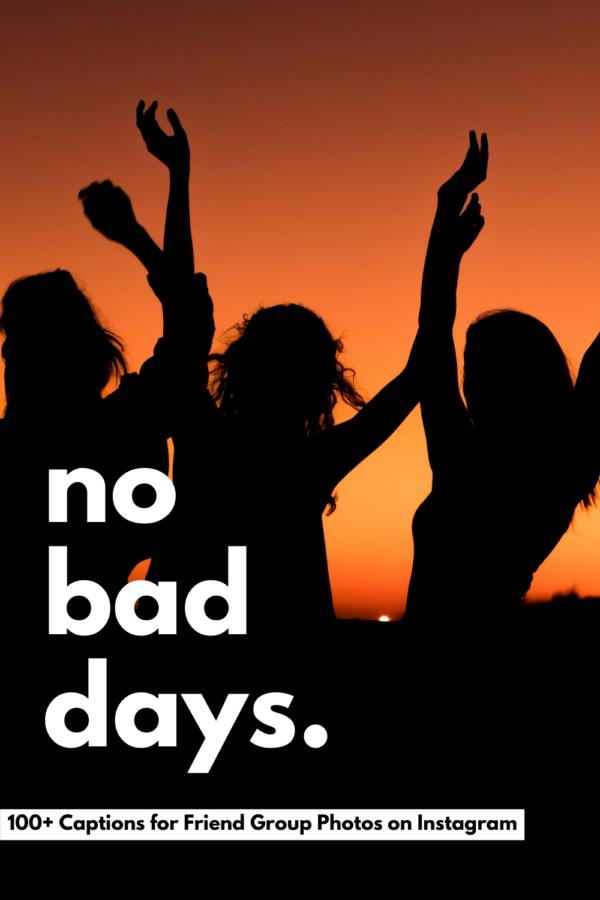 Have fun… lots of it.
Here's to the nights we felt alive. 🌙💫
"Rollin with the homies" – Clueless
"You can't sit with us." – Mean Girls
Young. Wild. Free. 🦋
The Vibe Tribe.
Friend Vibes Only.
Better than the average.
Partners in Crime. 👮🔗
Living life in color. 🌈
Choose happy.
In my friendship era.
worth it. 💁🏻‍♀️
sunshine vibes. ☀️
no bad days. 🚫
Unapologetic. 👑
You've got a friend in me.
Real queens fix each other's crowns. 👑
US AGAINST THE WORLD. 🌌
DO THE THING.
Take the photo. 📷
Post the pic. 📷
QUALITY over QUANTITY. 💎💎💎
my h e a r t is happy.
It's giving A U T H E N T I C. 💎
LOVE.
LOYALTY.
LAUGHTER.
It's all we need.
In good company.
My therapy. 🖤
'til the end. 💀
nights we wont forget.
To infinity & beyond. 🚀✨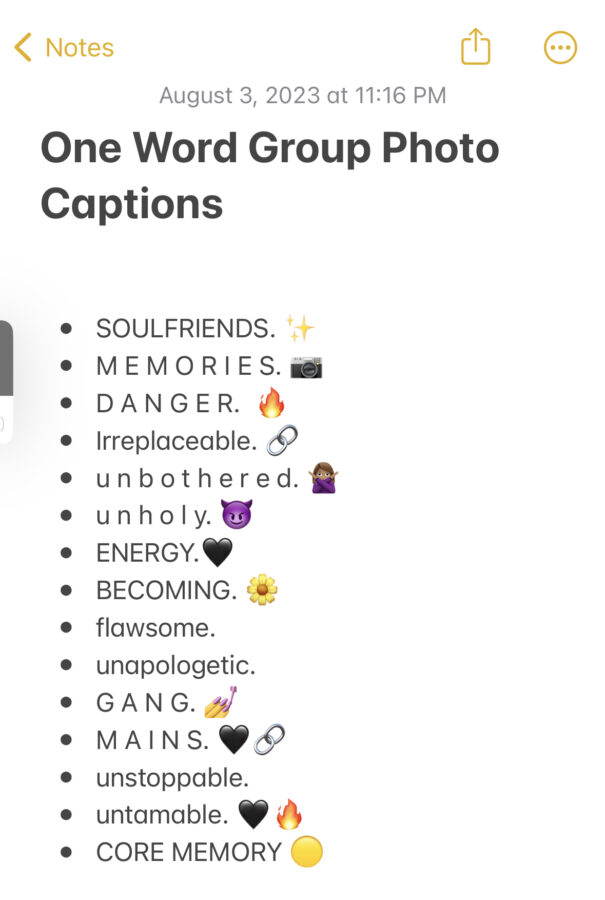 One Word Captions for Group Photos
Less is more. These group photo one word captions let the picture do all the talking.
Sisterhood.
Soulmates.
p r i c e l e s s.
SOULFRIENDS. ✨
M E M O R I E S. 📷
D A N G E R. 🔥
Irreplaceable. 🔗
u n b o t h e r e d. 🙅🏽‍♀️
u n h o l y. 😈
m a n i f e s t.
VIBES 😎
ENERGY.🖤
BECOMING. 🌼
flawsome.
unapologetic.
G A N G. 💅
living.
Slay.
M A I N S. 🖤🔗
unstoppable.
untamable. 🖤🔥
CORE MEMORY 🟡
I hope you found a nice caption for your group pics! If you want more focus on friendship, visit my Red Flags in Friendship post and Green Flags in Friendship post. Please tag @butfirstjoy to show me the captions for group photos of friends you chose!