Hey bloggers! Welcome to Women and Their Pretties first Twitter Tuesday link up! This is a fun new blogger opp that will help the blogging community connect with one another and expand our horizons. So, beginning at 12am each Tuesday I am going to have a linky that you can add your Twitter URL to. You will add your URL and help with other bloggers. This is a great way to increase traffic on our Twitter accounts and hopefully, on our websites.
Here's how it works:
1. Add your Twitter URL to the linky below you will have until 11:59pm to add your link Use the 1st Link on the linkup as a guide on what your link should look like
2. Follow 10-20 other Twitter accounts in the link up – feel free to choose bloggers at random. Be fair and be honest. You will have the entire week to help other bloggers.
3. Comment below after you have completed following other bloggers.
Want to keep track of who is liking your page? Read the option below.
Optional: Upload the photo below onto your Twitter account right after you sign up and pin it to the top for all of Tuesday. This will give bloggers the option to retweet if they were a part of the Women and Their Pretties Twitter Tuesday Link Up. Right Click to Save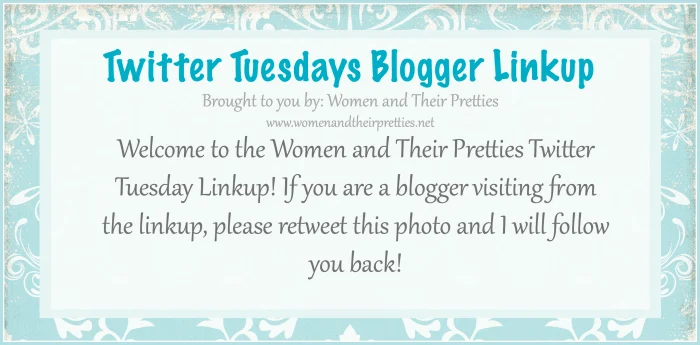 Want linkup reminders? Subscribe for email reminders below.

Thank you for reading Blogger Opp: Twitter Tuesday Link Up #1.