That's right all you pet lovers out there! There are Chocolate Covered Strawberries, Christmas Cookies, Fortune Cookies, and more denim and canvas handmade toys for your precious fur babies! These aren't your typical toys tough, these are CATNIP toys! Misohandmade makes the cutest, funniest, and the best catnip toys that my cats have ever had the pleasure of playing with. Each toy is handmade by someone with a lovely eye for design! Who knew that you could by cameras, zombies, gnomes, bacon & eggs, and more for your cats haha. Those are just a few of the fun toys that this shop offers! They are really high quality too! My cats' reactions were hilarious and definitely unexpected!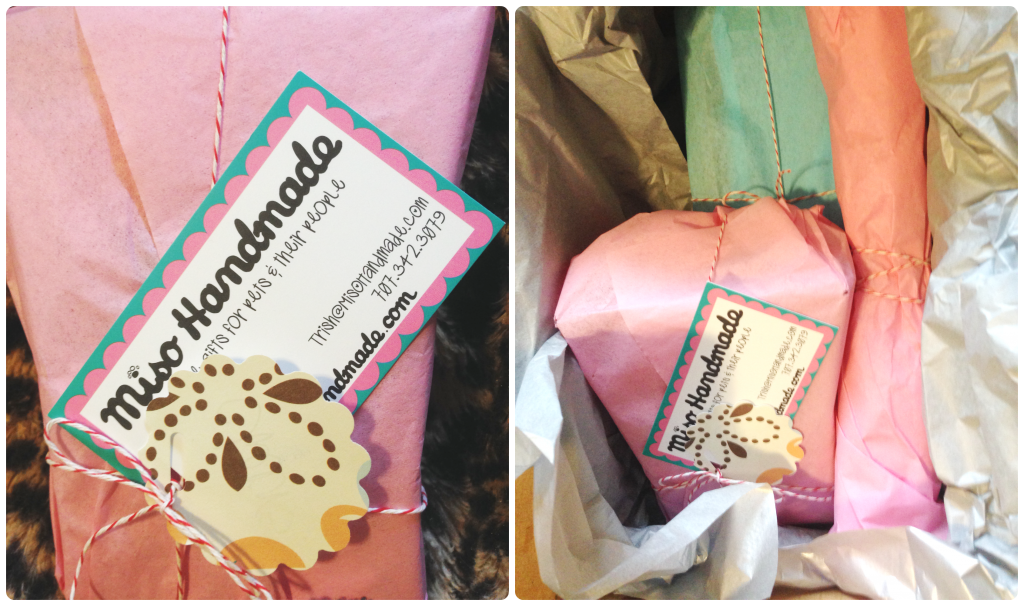 I am not kidding when I say that the Chocolate Covered Strawberry toys looked good enough to eat! Just ask my cats. Before I even opened the box, all 3 of my babies were rubbing all over it! I opened the box to find some very nicely wrapped items. I am a sucker for cute and thoughtfully gifted items! I know if my kitties could talk, they would say the same thing 😉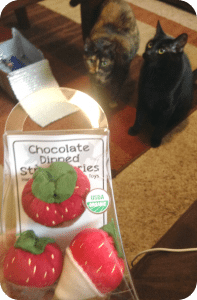 My fur babies sat very politely and watched as I opened the packages. They were just as eager as I was to see what was inside! I opened the three packages only to find all sorts of goodies that my cats would soon be going bonkers over! The first item that I opened was what attracted this company to me in the first place- The Chocolate Covered Strawberry toys! I thought these were such a funny and cute idea! I imagined how hilarious it would be to see my cats with a strawberry in their mouths! The package had 3 Chocolate Covered Strawberries which made me so happy because I could give each cat one. I gave them to my cats and they went CRAZY! My momma cat (who is the least active) went nuts! She started throwing the strawberry in the air and rolling around with it. She wouldn't let me take it back from her or let the other cats near her! It was hilarious to watch my 8 year old cat act like a kitten again 🙂 My other cats flipped out too of course! You can see it all in the pictures below. Purchase The Chocolate Covered Strawberry Toys Here
The next toy I opened was the Catnip Kicker Stick. This made me laugh because my cats would hold onto it with all 4 paws and kick, kick, KICK it. I guess that is why it is called a kicker stick haha. I tried to play with them with the stick, but they just put it from me and hug it as tight as they can.  haha. It is so funny watching them go crazy over these Toys. I wrote the company to tell them about the success of their toys and they told me that it is something they hear often. Apparently they get their catnip from a farm in Oregon and there is something about it that drives all the kitties wild! My cats don't go crazy over every kind of catnip, so this one is extra special! Purchase a Catnip Kicker Stick Here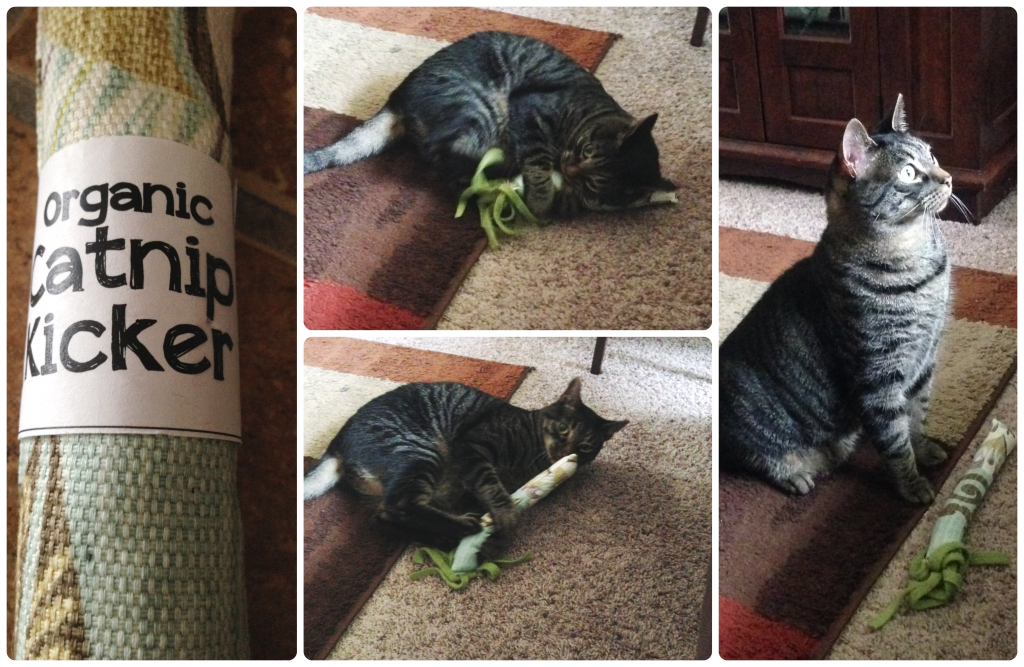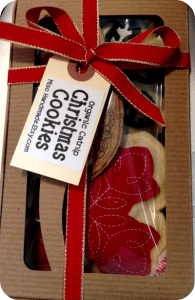 There was one more set of toys that I received, that I did not open because I am saving it for my kitties stockings 🙂 These were the Christmas Cookie Catnip toys! They come in the cutest package! It is a package that you would expect to find real cookies in! It is so adorable. This is what makes these products such a great idea for a gift for not only pets, but for Pet Lovers! Any cat owner would receive these and be sooo excited by how unique they are! Purchase Christmas Cookie Catnip Toys Here
---
I love this company and their cat toys are so unique and cute! I would definitely recommend this above any of the "big brand" cat toys. These are the PURfect cat toys 🙂 As you can see my cats went crazy over the toys!
Head over to Etsy to check out the MisoHandmade store now! Use the code PRETTIES at check out for 25% off until 12/31/14!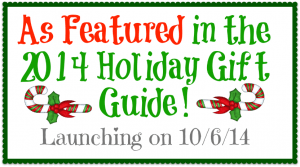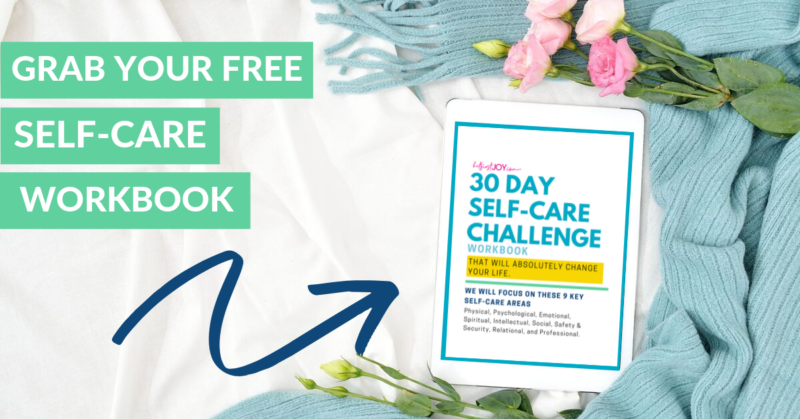 DISCLOSURE
As an Amazon Associate I earn from qualifying purchases. This post may contain affiliate links and/or promotional products, all opinions expressed are that of But First, Joy only. Read my full disclosure.