These DIY Disney No Carve Pumpkins are the perfect way for Disney lovers to celebrate the holiday season.
I have a confession.
I cannot carve a pumpkin to save my life. I'm just really bad at it. I don't have the patience or the strength. So, until my son is old enough to carve pumpkins – it's all craft pumpkins for this mama.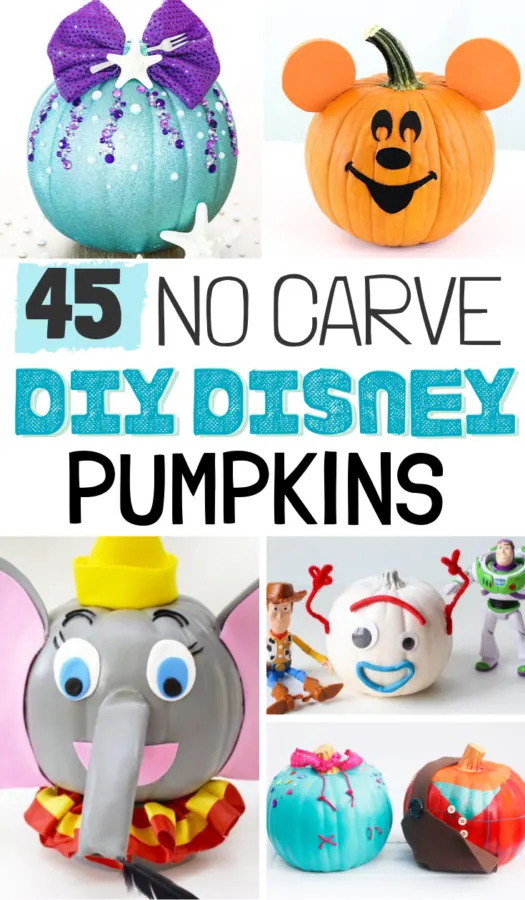 DIY Disney No Carve Pumpkins
What are No Carve pumpkins?
There are two things that could describe "no carve pumpkins". First, you may be referring to a craft pumpkin or simply put: a fake pumpkin that you decorate.
On the other hand, someone may be referring to a real pumpkin that they simply don't carve. Rather, the Pumpkin is decorated with paint, vinyl, and other craft supplies.
Either way, the idea of not carving a pumpkin is exactly what I want to hear during this busy time of year.
Best places to buy fake pumpkins:
With the increasing demand for faux pumpkins, they can be found just about anywhere. From craft stores like Michaels to retail chains like Target, you'll find a variety of sizes, shapes, and even colors.
You can even find Pumpkins at the Dollar Store that you can DIY to look expensive!
I'm an avid online shopper so I always recommend shopping on Amazon. You can easily compare prices, check reviews, and get 2-day shipping with Amazon Prime. Plus, you order your other craft supplies or holiday decor while you're there!
How much are imitation pumpkins?
There's no gentle way to say this: prepare to spend a pretty penny on those artificial pumpkins. At Michaels, you'll see prices from $30 and up! Target and Walmart are more reasonable.
Even on Amazon, the realistic, large pumpkins can cost around $40.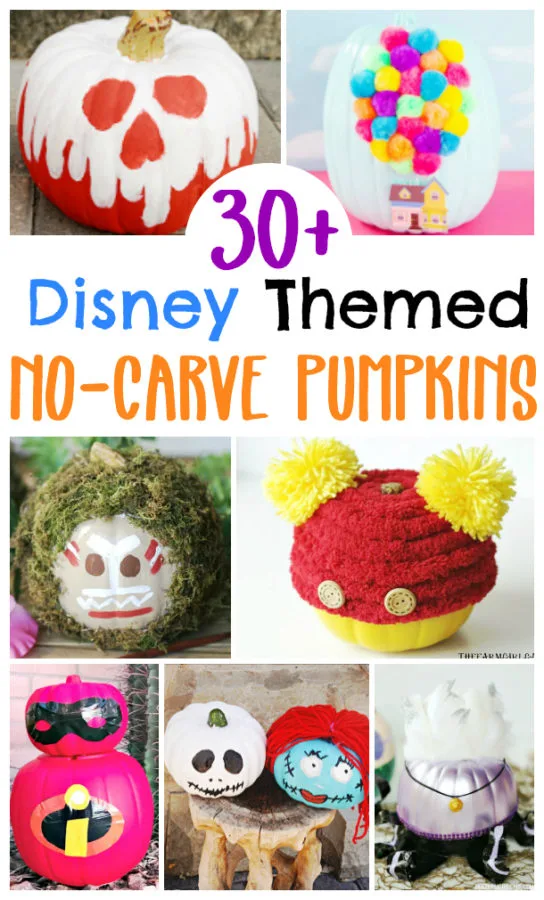 The good news is that some DIY Disney No Carve Pumpkins ideas leave the actual pumpkin I damaged. So you can use it again the next year. You could even consider painting over any designs, if you really want to save money!
When it comes to decorating pumpkins for the holidays, you can expect to spend some money. Likewise, you can expect to spend priceless time with your kids and family.
It's worth the cost.
These DIY Disney No Carve Pumpkins will give your family something fun to do for the holiday season. You can create a family of Disney pumpkins for your doorstep or even have a pumpkin "no carving" contest!
Disney No-Carve Pumpkins
From Winnie The Pooh to Moana Inspired Pumpkins, this list of DIY Pumpkins is everything you need to get into the spirit of fall!