All of the best guys in my life are comic book lovers: My boyfriend, my Godson, and my Step Dad. With that said, I think it is safe to say that I have seen my fair share of super hero toys and gadgets. I am not surprised by much any more because it seems like everything these days is a remake of something else. That does not mean that I am not open to something cool, new, and fun, like the AWESOME 3D FX Super Hero Lights!

One day I was searching the internet and found a photo of the COOLEST LIGHTS EVER! They were the Avengers lights. They were not typical "lights" or lamps though. They were affixed to the wall and lit up in different colors. Some of them looked as if they were busting right through the wall. I showed the picture to my boyfriend and he went on a massive online hunt for these too-good-to-be-true lights. Only, they were NOT too good to be true. We learned that we could purchase them right at our local Target or on their website Target.com.
Check out my video below

We visited a store because we could not decide which one to choose. Needless to say, within a couple of months we purchased 3 of the Avengers 3D Fx Lights: the Iron Man Mask, the Iron Man Hand, and the Thor Hammer. Obviously, our goal is to own the entire Avengers collections. We received two more directly from 3D Light FX to add to our collection: The Hulk and Captain America. Now all that is missing in Spiderman! We will definitely make it a point to invest in this one as soon as we can!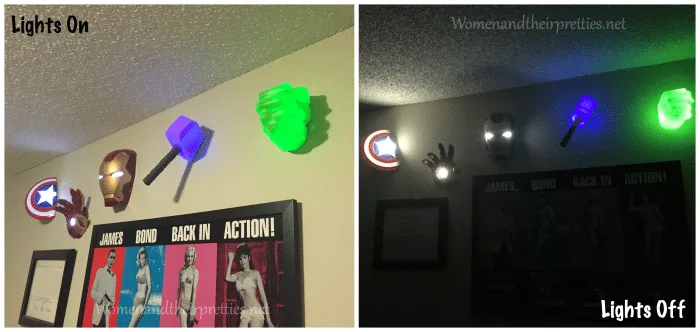 We could not be any more pleased with how awesome the 3D Light FX are. They are so cool and unique! They are battery operated and can be hung right on the wall, very easily. Each light includes an awesome wall decal that makes it look as if it has smashed or crashed through your wall. We did not hang out decals because we are renting and we don't want them to go to waste. As soon as we buy a home though, these bad boys we be placed right in the Man Cave! I really do not have one negative thing to say about these lights. If I could own every single one or pass them out like "eggs" on Easter I would because they are just too cool!
If you want to make a boys day this Easter, pick up some of these lights. I promise he will not be disappointed. They actually have a ton of different characters to choose from, other than the Avengers collections, so you can buy for any age or gender! My friend at MamaSmiths.com received the cutest Dora The Explorer lights for her 2 little girls!