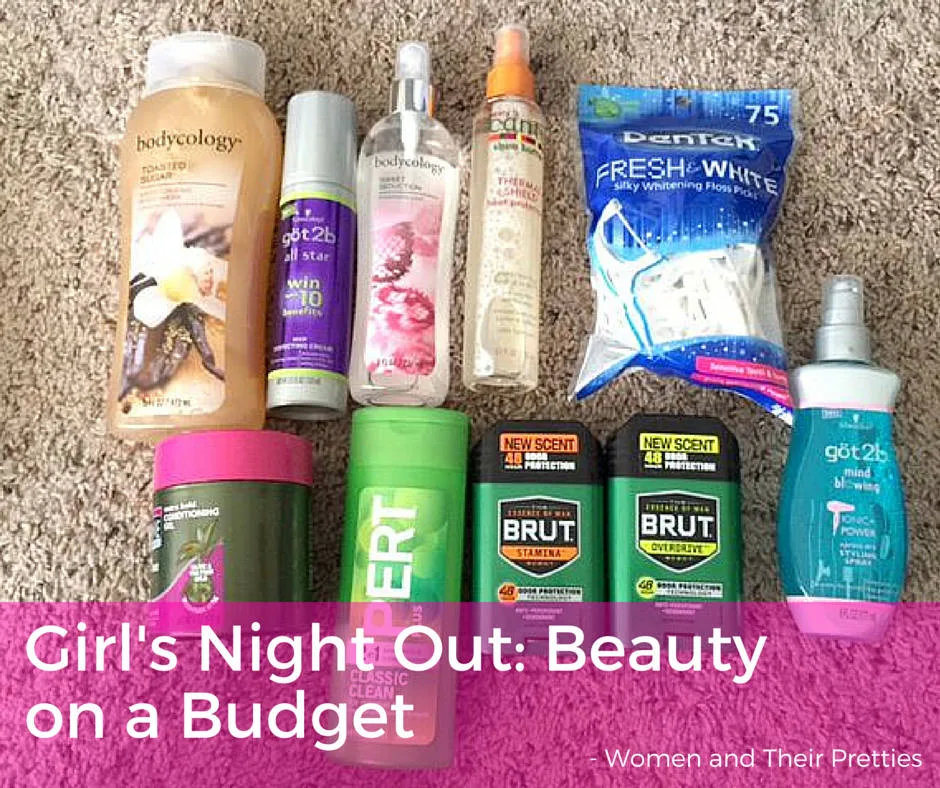 Hello my pretties! I know that all of you love a good sale. I mean, who doesn't? The problem is that some high-end products are still way too expensive, even on sale. That's why I have put together this list of drug-store products that are just as good as many high-end products. If you're planning for a girl's night out, it doesn't get much simpler than this! You can find these products at Walmart and at many local drug stores. I have separated them into categories, so you can find what you're looking for quickly! I know this is a girl's night out article, but there are a few items in there for men, just in case.
Budget Hair Products
PERT Plus Classic Clean
($3.97; Walmart.com)
You can't beat a classic, and PERT Plus Classic Clean is no exception. It's stood the test of time because it's built to add shine and manageability, without the fluff the two step process.
---
Salon Grafix Healthy Hair Nutrition Collection
($7.99; Duane Reade)
An alternative to harsh shampoos and conditioners. The multi-purpose sulfate and paraben-free cleansers are formulated to rebalance natural oils with pure ingredients, leaving hair clean, soft and full of body. The single step hair care regimen replaces shampoo, conditioner, deep conditioner, detangler, and leave-in conditioner with these amazing sulfate-free Conditioning Cleansers.
---
Cantu Thermal Shield Heat Protectant
($4.99; Amazon.com)
Cantu Thermal Shield Heat Protectant provides unrivaled defense against intense heat from thermal styling tools such as curling irons, ceramic straighteners and blow dryers, up to 425°F. Suitable for all hair types: relaxed, natural, texturized, colored or permed hair.
---
göt2b mind blowing fast dry hairspray
($7.49; mass retailers nationwide)
IONIC+ Power and Micro-Diffuser Technology offers fast drying time and flexible hold so you can run your fingers through your hair to achieve the perfect blowout.
---
Smooth 'N Shine Olive & Tea Tree RevivOil Extra Hold Conditioning Gel
($2.56; Walmart)
Smooth 'N Shine's Olive & Tea Tree RevivOil Extra Hold Conditioning Gel is a non-hardening styling gel that revives dry hair with the holding benefits of a gel. It also conditions giving hair softness and shine. It is formulated with a blend of Olive and Tea Tree Oils that nourish and transform hair
---
Budget Bath & Body Care
NEW! bodycology

Toasted

Sugar

Moisturizing

Body

Wash
($3.99; Walmart)
Toasted Sugar is a warm and sensual fragrance with a blend of Amber, Orange, and Vanilla. This Moisturizing Body Wash is infused with Vitamin E and Grape Seed Extract that provides conditioning and hydration.
---
bodycology Sweet Seduction Fragrance Mist
($3.99; Walmart)
Entice with this succulent blend of fresh petals and apple. For a splash of fragrance and energy, spritz lightly on wrists, neck and shoulders- or for all-over freshness, spray into the air and let the fine mist gently surround you.
---
Budget For Men
DenTek Fresh & White Silky Whitening Floss Picks
($2.47; Walmart)
The FIRST and ONLY floss picks on the market that provide advanced whitening with micro-crystals, to polish away food and plaque and promote a whiter, brighter smile! They feature Gentle Silk Floss for easy cleaning between tight teeth and have a built-in tongue cleaner to keep breath fresh.
---
BRUT Overdrive and Stamina 48hr Odor Protection Deodorant
($2.49; Walgreens.com)
Capture the Essence of Man with these new scents from Brut – Overdrive and Stamina. The deodorants provide optimum coverage with Odor Protection Technology lasting up to 48 hours, making this a staple gym bag product.
Overdrive – Captures the cool, calming and fresh scent of clean white linen with a combination of top citrus notes and green herbaceous.
These are just a few of the awesome deals you can find online and in-stores. Never underestimate retail or drug stores because there are some great finds that you are missing out on! Beauty on a budget is the way to go!
What are you favorite budget beauty products?