Goldie & Bear – Best Fairy Tale Friends – Available on DVD Soon!Goldie & Bear – Best Fairy Tale Friends – Available on DVD Soon!This is going to make some little girls I know an incredible gift! Goldie & Bear: Best Fairytale Friends not only includes 7 episodes of Classic Fairytales with a Twist, there is a free activity kit included! What a fun idea. Hmm, maybe I will snag one for myself too.
On DVD April 19, 2016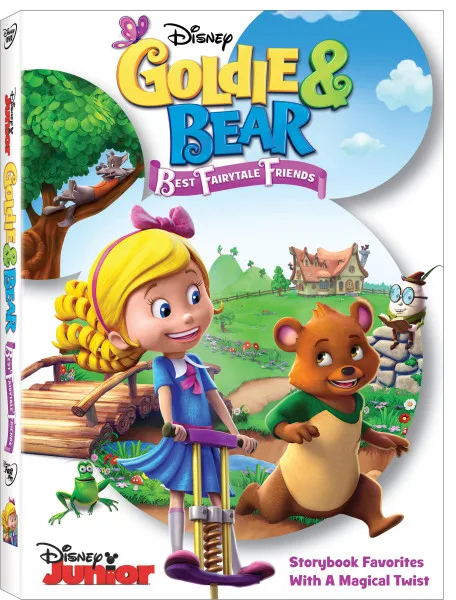 GOLDIE & BEAR: BEST FAIRYTALE FRIENDS
Join Best Friends Goldie and Bear on Their Adventures Through
Fairy Tale Forest in Disney Junior's Hit Series "Goldie & Bear!"
Includes 7 Episodes for Over 2 hours of Classic Fairytales with a Twist!
Plus FREE Exclusive Playtime Fun Activity Kit with Re-Usable Stickers, Games and More!
Synopsis
:
ONCE UPON A STORY, IN A FOREST FAR AWAY…
Everyone knows "Goldilocks and the Three Bears," but after that story ended, a remarkable friendship began! Team up with newfound best friends Goldie and Bear on amazing adventures as they laugh, play and learn important life lessons in the wondrous Fairy Tale Forest.
Climb a beanstalk with Jack, try on Little Red's famous hood, outsmart the tricky Big Bad Wolf, and much more. Join Goldie and Bear – and your favorite fairytale and nursery rhyme characters – for magical, song-filled fun you'll treasure today and ever after!
Voice Cast
Natalie Lander (ABC's "The Middle") as Goldie; Georgie Kidder (Disney XD's "Star Wars: The Clone Wars") as Bear; Jim Cummings (Disney Junior's "Mickey Mouse Clubhouse") as Big Bad Wolf; Mitchell Whitfield ("Winx Club: Beyond Believix") as Humpty Dumpty and Woodsman; David Kaufman ("Avengers: Earth's Mightiest Heroes") as Jack and Brix; Mary Birdsong (Disney XD's "Crash & Bernstein") as Mother Bear, Mother Good and Jack's Mom; Barry Wiggins ("Dog & Me") as Father Bear
Episodes
The Birthday Chair/ Big Bear
Fee Fi Fo Shoe/ Little Gold Riding Hood

Bear's Red Shoes/ Goose Sitters

Moon Jump/ Big Good Wolf
Pinocchio-itis/ The Clubhouse That Jack Built
The Egg/ Golden Kickball
Thumbelina's Wild Ride/ Big Bad Houseguest
ABOUT "GOLDIE & BEAR"
"Goldie & Bear" is a fairytale-inspired Disney Junior animated series that premiered in September 2015. The series follows the adventures of Goldie and her newfound best friend Bear following the renowned porridge incident of "Goldilocks and The Three Bears." Well-known characters from fairy tales, folk tales and nursery rhymes can be seen in the series, including Humpty Dumpty, Little Red Riding Hood, the Three Little Pigs and the Big Bad Wolf, who is often referred to simply as "Big Bad." Goldie and Bear seek out opportunities for fun with their friends, having adventures that often feature a touch of magic.