This is a sponsored guest post that contains affiliate links.
New babies do not need that many different things, but what they do need, they need in high doses—lots of diaper changes, lots of feedings, lots of burping, and lots of snuggles. If you are a new mom, then you know that you have to meet all of these needs while still taking care of yourself and the rest of your life. Healthy snacks for new moms are important! During this time, it is totally acceptable to let some things fall through the cracks. However, one aspect of your life that you should not neglect is your nutrition.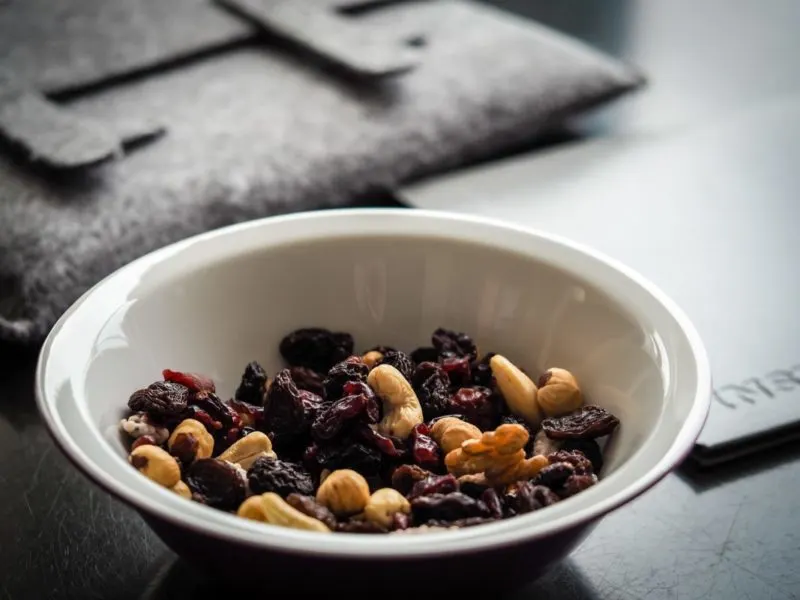 During post-partum recovery, it is common to experience sudden bursts of ravenous hunger. Your body is using a lot of energy to adjust back to its non-occupied state, as well as to produce milk if you are breastfeeding. While the hunger attacks might seem like the perfect time to inhale some potato chips, you will be much better off if you choose healthier snacks. Of course, that can be a little difficult if one of your arms is busy snuggling your baby. Read on to get some ideas for healthy and tasty snacks to make—only one hand required.
Fruits and Vegetables
You already know that an apple a day keeps the doctor away. Fruits are some of the healthiest snacks you can eat, since they are rich in fiber, vitamins, folate, potassium, and other nutrients. To make them an even better choice for new moms, many fruits are perfect for one-handed eating. Stock up on fruits that don't require any preparation other than a quick wash. Grapes, berries, apples, peaches, and plums are all great snacks since they do not require slicing. You can even take your chances with fruits whose peels are easy to remove, like bananas or clementines.
Vegetables are just as nutritionally rich as fruits, but they can be slightly trickier to snack on since most of them do not come in handy, ready-to-eat portions. If you have time (you have so much of that these days, right?) you can slice up a stash of snackable veggies so they will be ready to grab when you get hungry. Otherwise, have your partner do the slicing, or buy pre-cut varieties. Both fruits and veggies can be made even tastier if you use them to scoop a flavorful dip, such as hummus, peanut butter, or yogurt.
Stacked Crackers
Crackers are great on their own, but stack extra goodies on top and they are like mini meals. Start with a whole-grain cracker to get some critical nutrients like protein, fiber, and iron. Then add pre-sliced cheese, olives, jarred peppers, or anything else your heart desires.
Want to
dress
things up a little?
Hamptoncreek
makes healthy dressings and condiments that come in easy-to-squeeze flip-top bottles. So instead of messing around with the mayonnaise jar to the tune of your baby's protests, you can squeeze a lower-cholesterol variety right onto your cracker creations—bundle of joy in hand. If plain mayo is not your thing, Hampton Creek has multiple flavor varieties available, letting you pick exactly what you want.
Trail Mix
Trail mix is intended for long, exhausting journeys through unknown territory. Sounds perfect for the early days of motherhood! The nuts in trail mix are full of much-needed protein and other nutrients, and it is easy to mix up your own stash. Just dump your favorite nuts, seeds, and dried fruits into a bowl or bag. You can even add a little bit of candy for a smack of extra flavor.
Once you are satisfied with your ingredients, mix them all together. Of course, there are also endless variations of pre-packaged trail mix available at grocery and department stores. Little handfuls of the stuff here and there throughout the day could be just the pick-me-up you need to make it through yet another diaper change.
Healthy and Happy
Your baby's first few mo
nths are a busy, beautiful time. As important as your nutrition is, you probably do not want to dedicate a lot of your precious mental and physical resources to it. That makes quick, healthy snacks your new best friend. When you feel your best, you and your baby will both be happier—bonus points if you do not have to put your little snuggle bug down while you are getting your food ready. Try out a few of these ideas so you can join the ranks of one-handed multi-taskers and chow down on something delicious.
Pick up all of your ingredients on
Prime Pantry
to have them delivered straight to your door!