This review was made possible by iConnect and Luvs. I was provided compensation to facilitate this post, but all opinions stated are 100% mine."
There's always time to save a dime. That's my motto. Diapers are really expensive. You don't have to be a parent to know this. I don't know a parent in the world that wouldn't take advantage of an opportunity to save a few dollars. Luvs understands that parenting is hard and expensive, so they are offering you a couple of deals to make budgeting a little bit easier.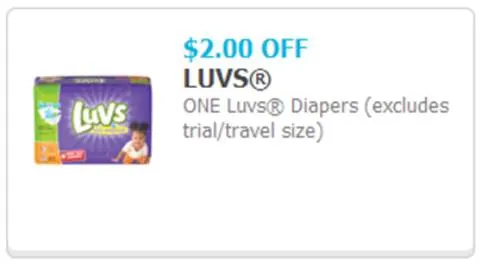 You can grab this $2.00 off coupon. Print it right from your home! Clip it here
Luvs and Ibotta (the cash back app) have also teamed up to offer you a limited-time $5 rebate on any boxed variety of Luvs diapers, 54 ct. box or larger. Be sure to take advantage of this incredible offer by downloading the Ibotta app. It's makes saving easy. Plus, enter to win a $100 American Express Gift Card!

How to save with Ibotta
Download the app. Download the Ibotta app, available on iOS and Android. Search "Ibotta" to get your free app.
Create your account in less than 2 minutes.
Unlock Rebates. Search Luvs in the app and you will find you $3 cash back rebate.
Buy products at a store near you (be sure to check which stores this rebate is available at in the Ibotta app). Find the Luvs diapers in a store near you – use the scan barcode button, if needed.
Verify purchases by taking a photo of your receipt.
You'll get cash back in less than 24 hours!
This deal combined with the $2.00 off coupon saves you $5.00! It doesn't get much better than that!
Enter to win