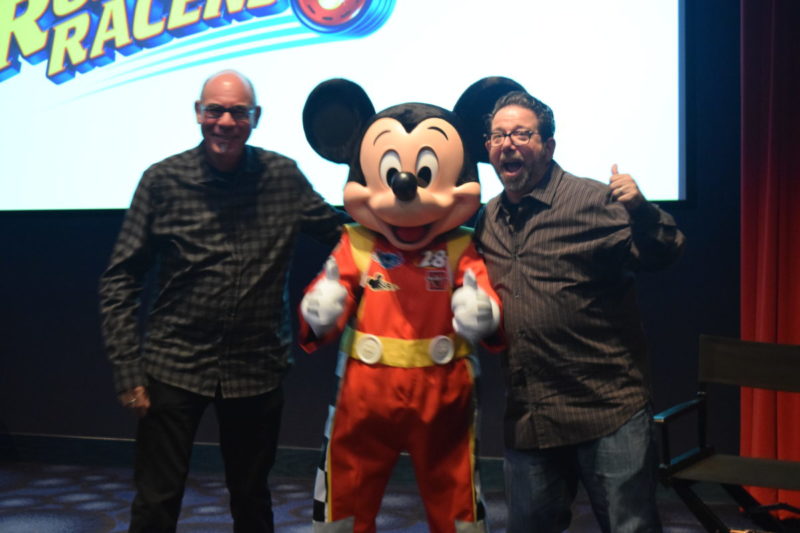 This event was hosted by Disney. All travel & accommodations were provided by Disney.
I may not have children, but I still love the classic Disney characters. A group of bloggers and I had the pleasure of screening two episodes of Mickey and the Roadster Racers, which brings back to characters that we all know and love. Afterwards, we spoke to Mickey and the Roadster Racers producers, Mark Seidenberg and Rob Laduca. We even took pictures with Racer Mickey!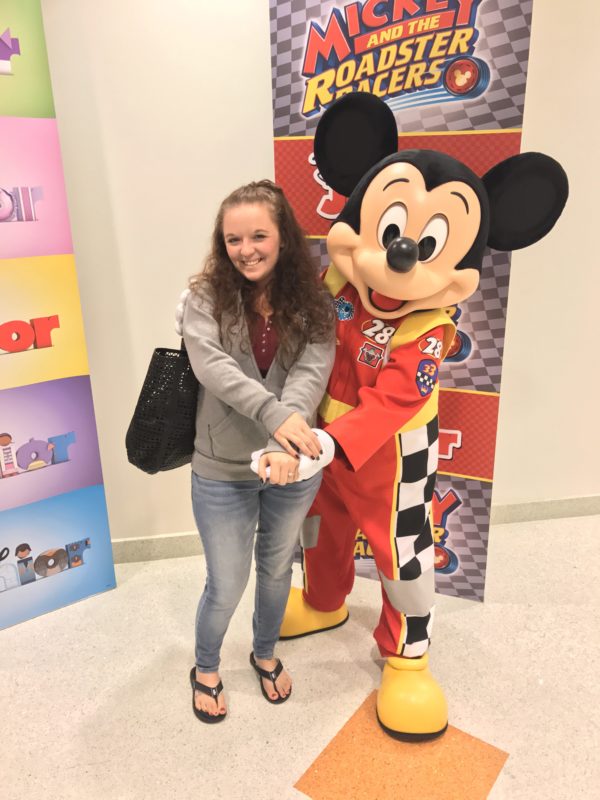 The Road to Mickey
These guys had a lot to say about bringing Mickey and the Roadster Racers to life! Being that they are so passionate about their work, our conversation with them could have lasted for hours. The producers began by telling us a little bit about the road that led them to Mickey.
Of course, they both grew up doodling and drawing regularly. Mark said he'd draw Mickey all the time because he was "all circles, so he was easy to draw". It wasn't until college that Mark decided he wanted to be a cartoonist.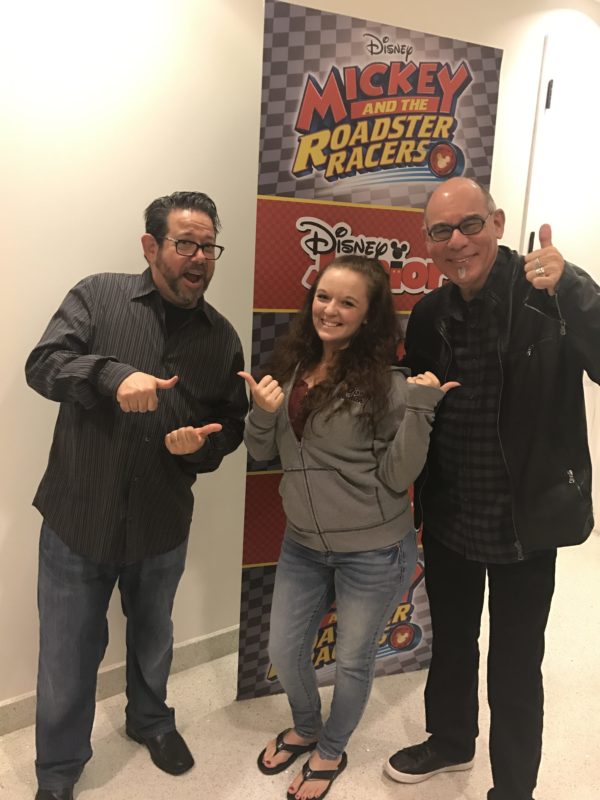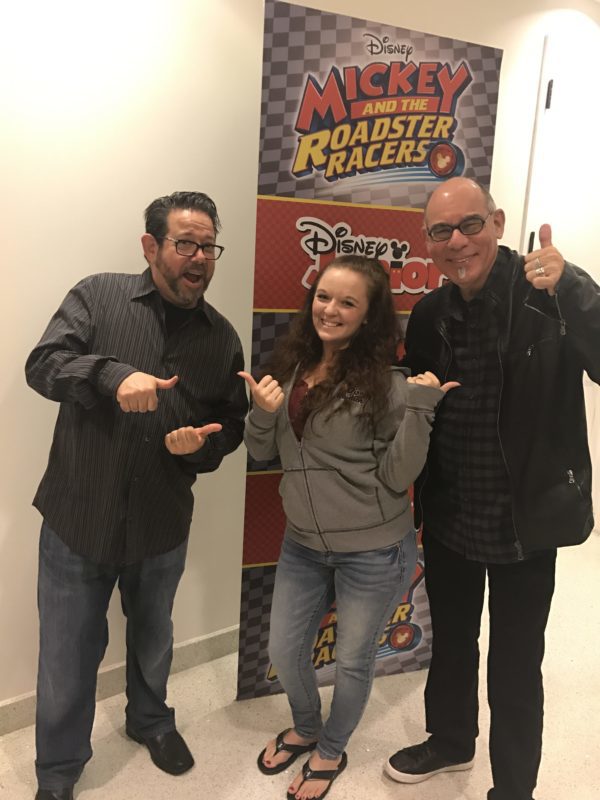 I thought Rob's love for drawing was quite interesting. His family owned a restaurant, so his love for the arts came from within. "So my father would bring home butcher paper, put it in on the wall, and I would just go crazy, you know, drawing constantly. And it developed into this!"
But how did they get started working with Disney Animation? It's simple, really. Well, Mark makes it sounds simple, at least.
Word came out through a friend of mine that Disney was starting a TV Animation group. And I thought, I want in. So… We started developing, Gummi Bears and Fluppy Dogs. The Walt Disney Studios was opening toso many different new avenues. Well at the time, I was working on actually Muppet Babies. Then I got the opportunity to work on Gummi Bears and that's where I met Rob.
Eventually the guys started working on Mickey Mouse Clubhouse together, Jake and the Neverland Pirates, and now Mickey and the Roadster Racers.

Classic Characters and Their Cars
Disney Junior actually approached the guys, asking them to come up with a new show. They found out that one of the most popular Mickey Mouse Clubhouse episodes was Clubhouse Road Rally, which involved the characters in their own special cars. They decided to go with it and that's how Mickey and the Roadster Racers came about!
Mark explains that each character has a car that fits their personality:
Mickey's Hotdog Hot Rod: "It's his normal car from Clubhouse, and then it turns into this classic AmericanRoadster."
Goofy's Turbo Tubster: "Goofy's personality, being so goofy, if his car could transform, what would it transform into? A bathtub."
Minnie's Pink Thunder: "Minnie being elegant, and into fashion, we went with kind of a bow car, but basically the design comes from a French car called a Delahaye that had very smooth curves, and looked kinda like a bow."
Daisy's Snap Dragon: "Daisy loves flowers, so we wanted to turn her car into a smoking dragster"
Donald's Cabin Cruiser: "Donald, well, he's a sailor, so we created the cabin cruiser. And his is the only roadster at this point that can go on land, and in the water. "
The guys actually studied real car collections to help develop the ones on Mickey and the Roadster Racers. They even went to "Big Daddy" Roth (cartoonist) who customizes cars. The coolest thing is that they went to George Barris who did the Batmobile, the Adam's Family Munster-Mobile, and the Monkees van! They even got to check out Jay Leno's collections, which helped them get him on the show!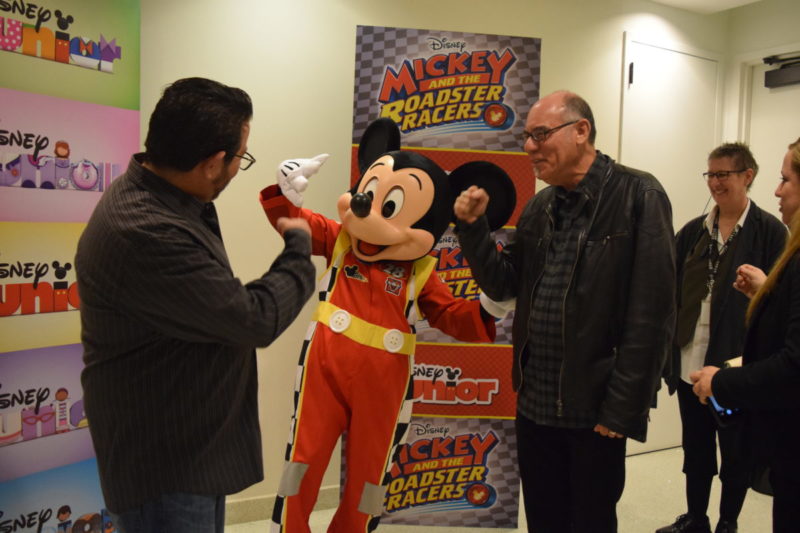 Collaborating with Celebrities
The biggest selling point for me to watch Mickey and the Roadster Racers is the celebrity voices in the show. They landed a few huge celebrities for different parts in the show! These aren't no-name celebs, either. They said the celebrities loved being in the Disney universe and seeing their characters come to life. So who can you expect in the show? Here are a few names that were dropped in our interview with the Mickey and the Roadser Racers producers and what the producers had to say about them:
Jay Leno as Billy Beagle announcer: "He is a huge Disney fan. He loves Disney. And he's worked with the Pixar guys before. He's been a real help. One fun little trivia fact is, whenever Jay comes to our recordings, he's always in a different car. "
Tim Gunn as a travel critic
Gordon Ramsey as a chef who helps rescue a diner
Hoda Kotb as Mrs. Sweetums who runs the candy factory.
Jane Leeves as Queen Elizabeth
Danica Patrick as Dannie Sue (who we'll see in a race)
Nascar racers, Jimmy Johnson and Jeff Gordon: "It's fun because they're not normally actors. But when they start seeing their cartoon character, they really get into it."
Patton Oswalt as Mr. McSnorter
Hector Elizondo as Grandpa Beagle
Fred Willard as Mr. Doozie
There are even original voice actors, like Bill Farmer who's voiced Goofy for over 30 years! Basically, you can expect kids to fall in love with these characters and parents to feel the nostalgia of the old ones and excitement over the celebrity characters!
What characters will you see in the show?
We are obviously going to see the immediate Disney gang, but are there more? Yes! You'll see a ton of characters that you already know and love and maybe some new ones. Some of the characters that were mentioned are below:
Mickey Mouse
Minnie Mouse
Donald Duck
Daisy Duck
Goofy
Chip and Dale
ClaraBelle
Hilda the Hippo
Horace Horsecollar
Pete "He will be taking on different guises. Sometimes we go to other countries, and we'll see the foreign version of Pete. Sometimes he's the villain!"
Mortimer Mouse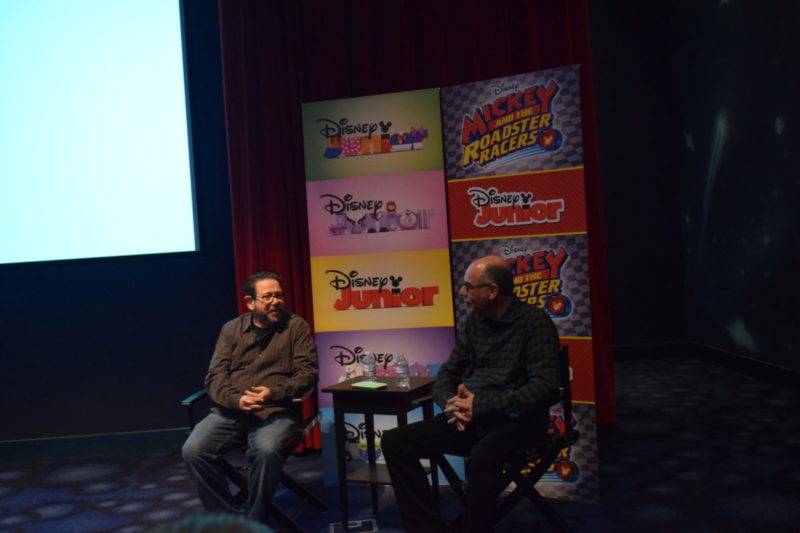 Messages for Children
An important aspect of Mickey and the Roadster Racers is the messages it delivers to children. They keep the show very fun and entertaining, but there are very important takeaways! So what can you expect? The producers describe the different messages you can take away from the show, like "Teamwork. Friendship. Working together. Trust." Mark gave us a specific example:
We'll see stories like Donald needs to deal with his temper. He has to learn to calm down. We have an episode called Guru Goofy. And Goofy teaches Donald to just slow down. And think about what you're doing before you go off the handle. They're themes that all kids can relate to. Like not getting your way.
All the stories will be about problems children may have in their own lives. "There will be stories where our characters have to learn to adapt to a new situation, 'cause adapting to a new situation can be very difficult," Mark explains. Not only will they feel like they can relate to the show, they can learn a thing or two. Plus, parents can feel optimistic about their children watching this show. They teach children that there's always a "positive way to deal with their problems".
Premieres January 15th at 9am EST on Disney Junior & Disney Channel
Fridays at 9:00 a.m. EST on Disney Channel / Saturdays at 9:30 a.m. EST on Disney Junior
Disney Junior's animated "Mickey and the Roadster Racers," a madcap car-racing adventure series for preschoolers led by Disney's No. 1 star, Mickey Mouse, and his pals Minnie, Pluto, Goofy, Daisy and Donald, will make its television debut in a simulcast SUNDAY, JANUARY 15 (9:00 and 9:25 a.m. EST), on Disney Channel and Disney Junior. Two more episodes will premiere MONDAY, JANUARY 16 (9:00 and 9:25 a.m. EST), on Disney Channel. Episodes will also be available on the Disney Junior app and Disney Junior VOD beginning Sunday, January 15, and on iTunes beginning Monday, January 16.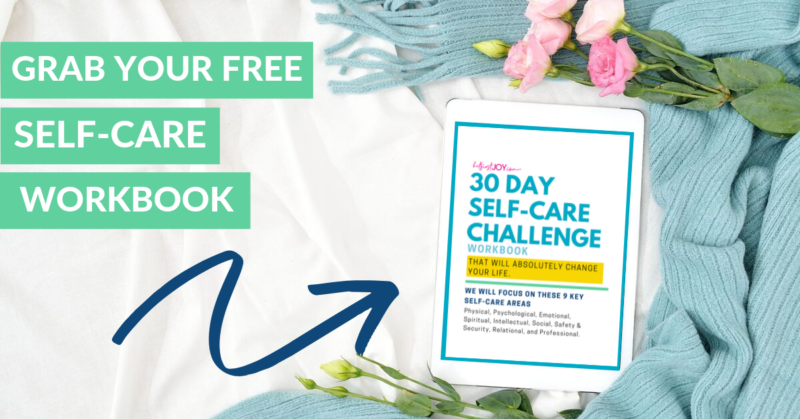 DISCLOSURE
As an Amazon Associate I earn from qualifying purchases. This post may contain affiliate links and/or promotional products, all opinions expressed are that of But First, Joy only. Read my full disclosure.