I had the pleasure of attending a press event at DreamWorks Animations to celebrate the upcoming Netflix release of Voltron. I walked in without expectations. I didn't grow up watching Voltron, but it's not because I'm a girl. I grew up watching Power Rangers and Teenage Mutant Ninja Turtles – I was a tomboy. Being the girly girl that I am today, I didn't know exactly how I'd feel about Voltron. After watching the first trailer, I can see that men, women, and children of all ages can find something to be excited about. I hope you enjoy it! There will be more to come on this event!
Premiering June 10, 2016 on Netflix
The universe's greatest protector will rise again in the all-new series DREAMWORKS VOLTRON LEGENDARY DEFENDER, premiering June 10, exclusively on Netflix. Witness the rebirth of the legend with this ambitious reimagining of the fan-favorite science-fiction saga, promising galaxies worth of action, comedy, and adventure, as good battles evil in an intergalactic war ten thousand years in the making. These series will launch with an hour-long origin story called "The Rise of Voltron," and will be followed by 10 episodes.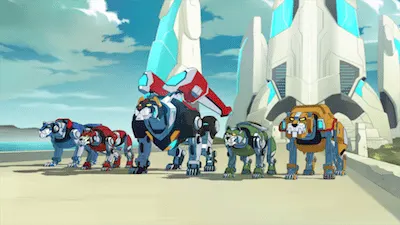 While this bold new series will be instantly recognizable to Voltron's legions of dedicated fans, Executive Producer Joaquim Dos Santos and Co-Executive Producer Lauren Montgomery (The Legend of Korra, Avatar: The Last Airbender) have re-engineered core elements of the original show using all of the twenty-first-century technology and storytelling innovation at their disposal. With a killer mix of old and new animation techniques, creative transformations of the characters and designs and inventive plot expansions, this fresh Voltron saga will leave kids and super fans hungry for each new episode. Like the newly designed Voltron, which bears its old battle scars with pride, DREAMWORKS VOLTRON LEGENDARY DEFENDER honors the show's venerated history while amplifying its strengths and scope tenfold.