New York City is known for… well, everything. I can't help but to be in love with the city that never sleeps. If it were up to me, I'd visit NYC every few months. It makes me feel so alive. One of the main reasons I love New York City so much is because of the food! I consider myself quite the foodie, so I make it a priority to try something new every time I visit NYC. I must say, it's quite difficult to not eat at the same place twice. I can live vicariously through you, though! I know there are a million places to eat in the Big Apple and there are a million recommendations out there, but these New York City food finds are totally worth the trip.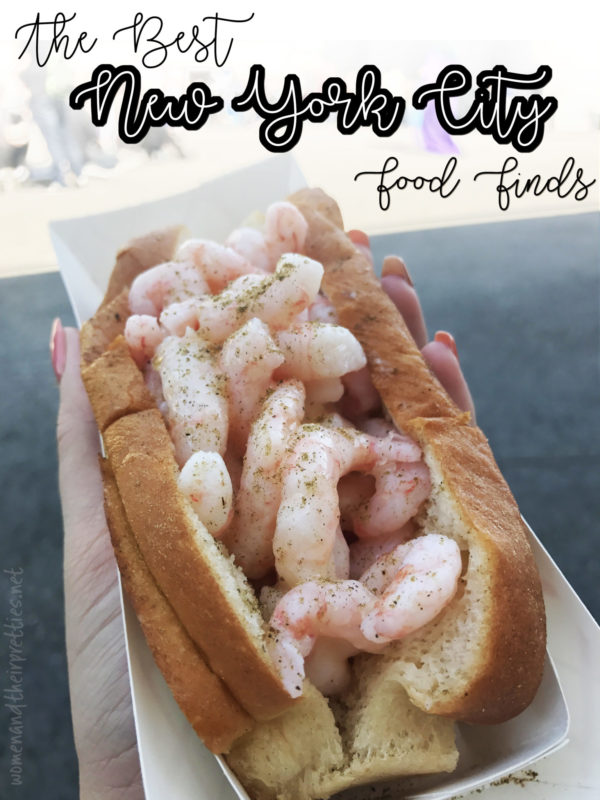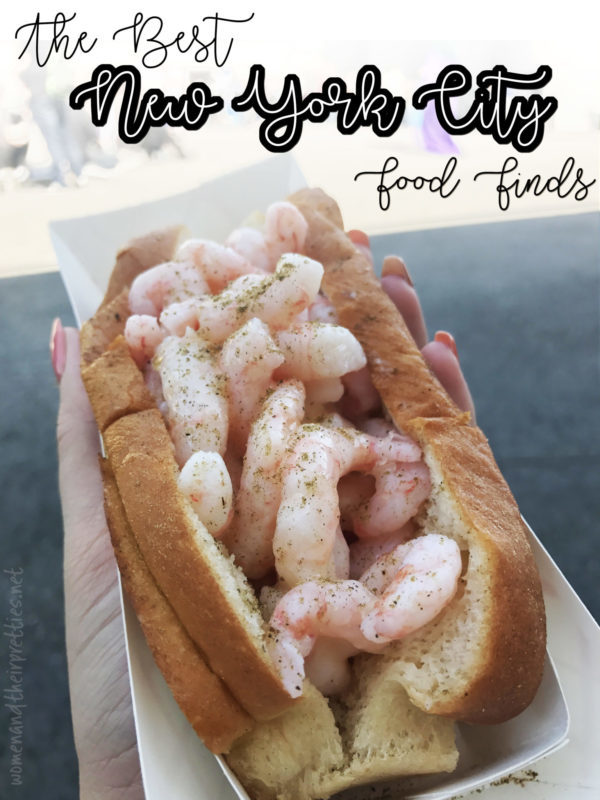 We didn't get to try as many things as we'd like to on this trip because we were at New York Comic Con the majority of the time.
1. Luke's Lobster
This place was on our foodie bucket list, so we were super excited to try it! My fiancé and I love lobster rolls, so we knew we had to try it out. We were surprised to walk into such a tiny place. It's very small, with little seats. There is an outdoor area, so you can definitely eat there. We ate at a bar by the window indoors. You order at the counter. We ordered one of their combos, which included lobster rolls, chips, a pickle and a drink. They had unique bottled drinks to choose from. I had the Luke's Maine Blueberry Lemonade with Wildberry Honey. This combined with the lobster roll was superb!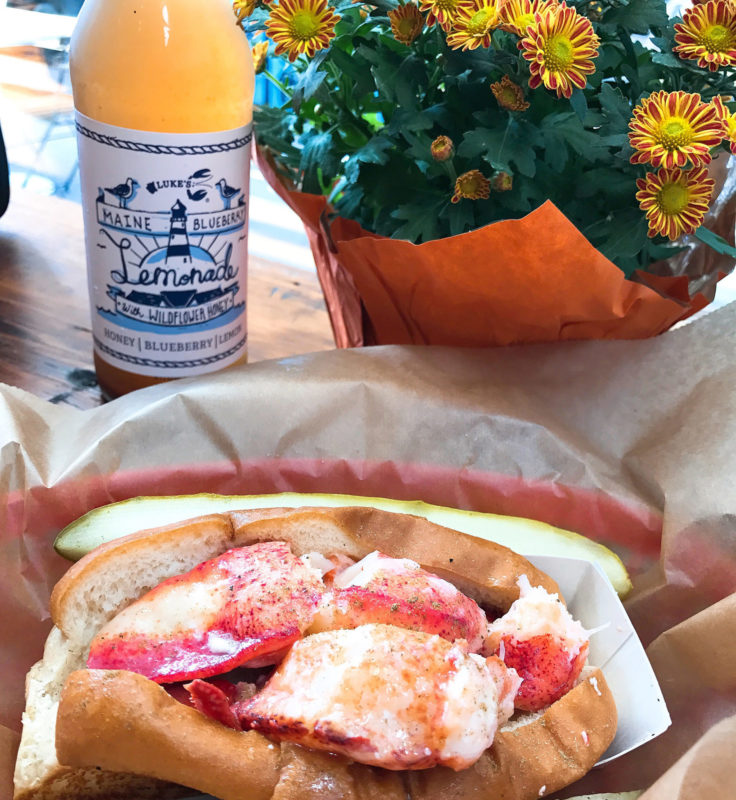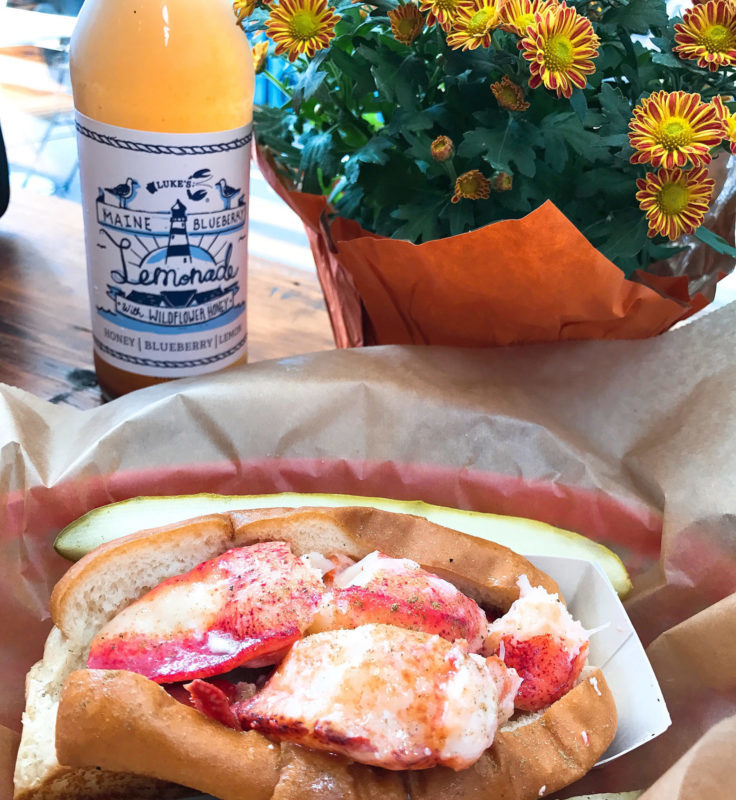 The lobster roll was delicious! The bread was toasted and buttery. The lobster was full of flavor. Let me say, the roll was stuffed with lobster! You definitely get your money's worth. I ended up eating another lobster roll at a food truck at NYCC later! I couldn't help myself. So, I guess I kinda broke my rule about eating something twice in the big city.
2. Jekyll & Hyde Club
This is more of an experience than anything, but it's definitely an experience you want to discover! Unfortunately, I was feeling a bit under the weather when I ate here and I was exhausted. I will make an exception and eat here again when I'm feeling better and when it's earlier in the evening. Definitely, make a reservation if you decide to eat here. Also, the more the merrier! It's a great place to eat with a group of people!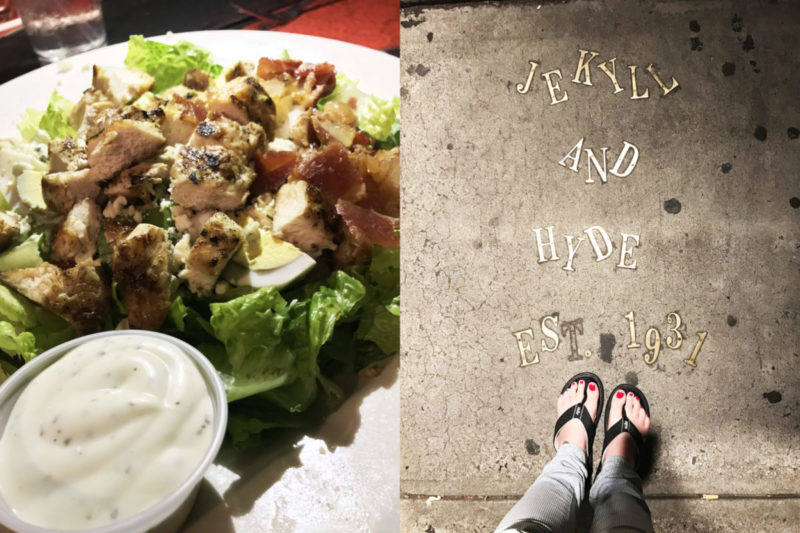 So Jekyll & Hyde Club has a variety of food. They have wings, salads, burgers, chicken, and more! I ate a Chicken Cobb Salad that was pretty good. The food is subpar, but the entertainment is the very best! The walls talk and move. The waiters and bartender put on a show. There was even one of Dr. Jekyll's "creations" walking around. It was weird, unique, silly, and fun! There's music, lots of jokes, and great drinks! If you have a few hours to spare, then head to this restaurant in NYC. It's open all year!
3. The Pennsy
We were staying right by The Pennsy in NYC. We saw it a few times and decided to finally eat there. I did not realize that The Pennsy wasn't an actual restaurant, but more a food court. The Pennsy offers all the food and drink options you could want in ONE location. It's great food for an affordable price. This was one of my favorite stops in NYC during my last visit. The location is perfect, as it's right by a new and fun "downtown" area with live music and lots of happy people. Inside The Pennsy is even better. The environment is very nice and relaxed. It has a hipster vibe to it.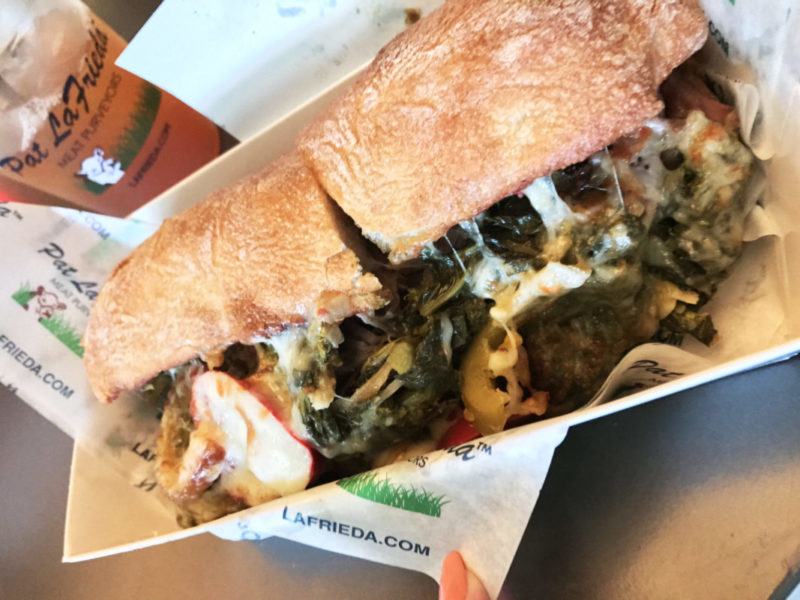 As for the food – delicious!
Ranging from seafood at Lobster Press to vegan at The Cinnamon Snail and gluten-free at The Little Beet to meat purveyor Pat LaFrieda, anchored by a twist on American classics at Mario by Mary. Top it off with a Pennsy Pint from The Pennsy Bar, a full cocktail bar with daily happy hour specials, or an iced coffee from our La Colombe Coffee Truck in Plaza 33 and we have your lunch and dinner set. PatLafrieda Meat Purveyors with pre-packaged meats, grab-n-go sandwiches and made-to-order signature sandwiches!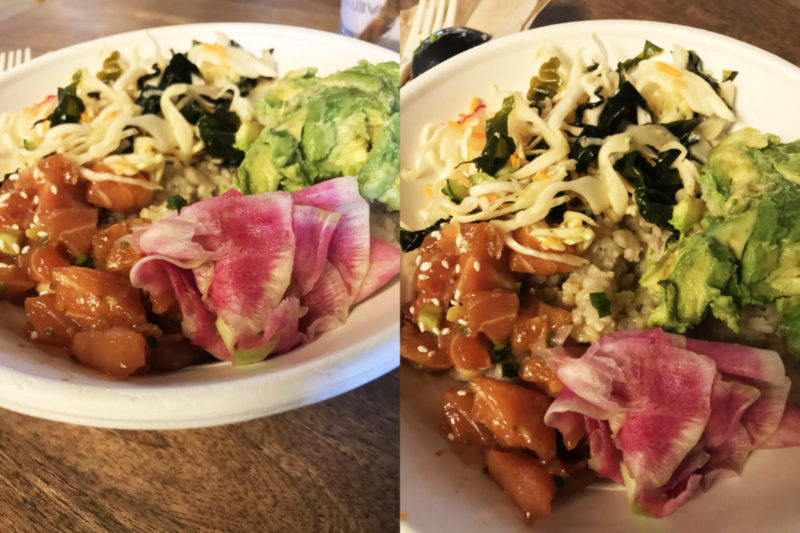 I ate a warm Slow Roaster Pork Sandwich. It had a unique flavor because of the broccoli rabe on it. It was quite large, too. We also shared some seasoned tots. If you stop by, be sure to get some of their delish sweet tea! On another occassion, I ate my first ever Poké Bowl from The Little Beet. It definitely lived up to all the hype. I sure could go for one right now.
4. Lenwich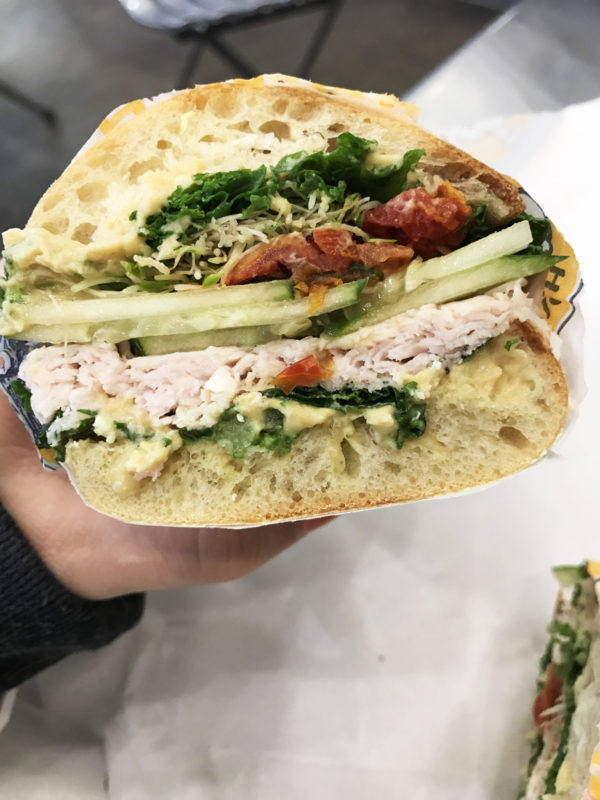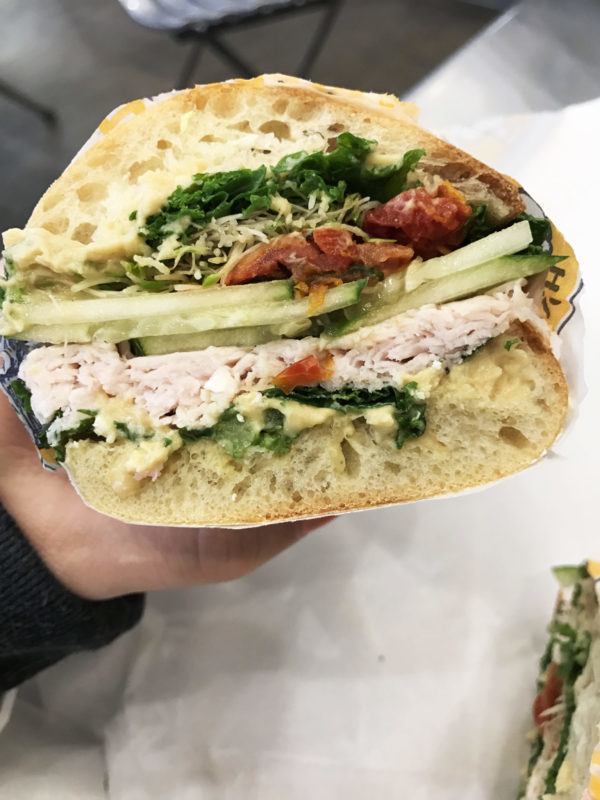 Okay, I did not want to eat at this place. It's a fastfood place like Subway. I'm sure it's a chain, but I've never eaten at one here in Florida. I only agreed to go because I was sick, starving, and in a rush. I am so happy that I did because it was really satisfying! I ordered the Turkey Brie sandwich which includes smoked turkey, brie, dried canberry, green apple, mixed greens, and honey mustard. It was seriously the best sandwich I've eaten in a long time and it was loaded with meat! You definitely get the best bang for your buck! This place was packed, so I'm not the only one who loves it!
5. Pop-up stands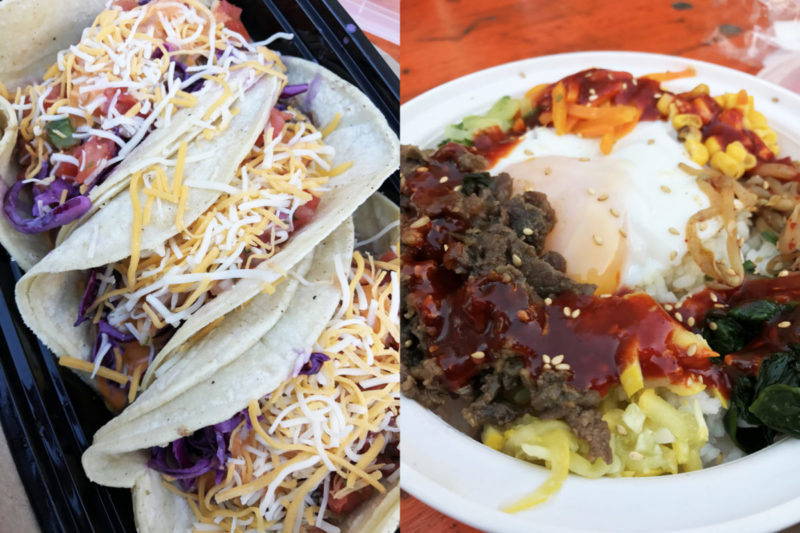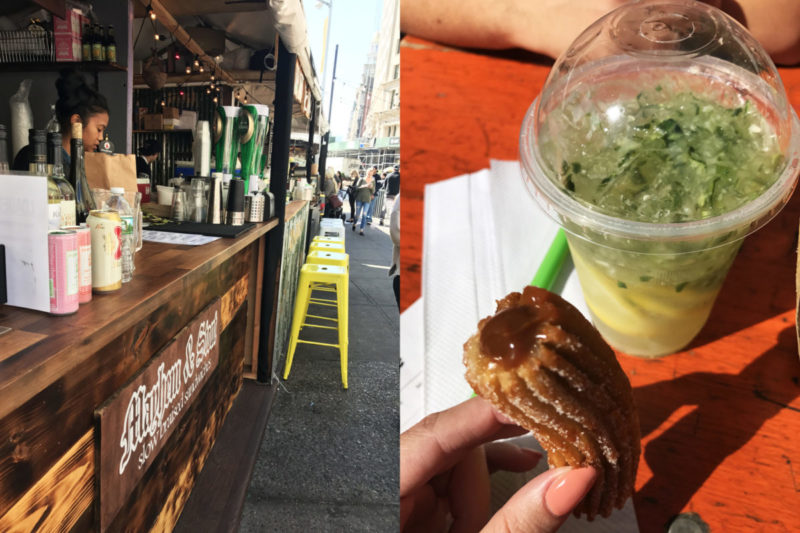 We happened to run into a small food festival on the streets of NYC. It was like a "Taste of New York" event where local restaurants with pop-up stands let you try their best dishes. We love doing things like this, so we made sure to take full advantage of the offerings by ordering: A Boba Tea, Mint Cucumber drink, Korean BBQ Bowl, Tacos, and Churros. Unfortunately, I don't remember the names of all the stands we ate at, but look at the food! So much yum!
What are your favorite New York City food finds?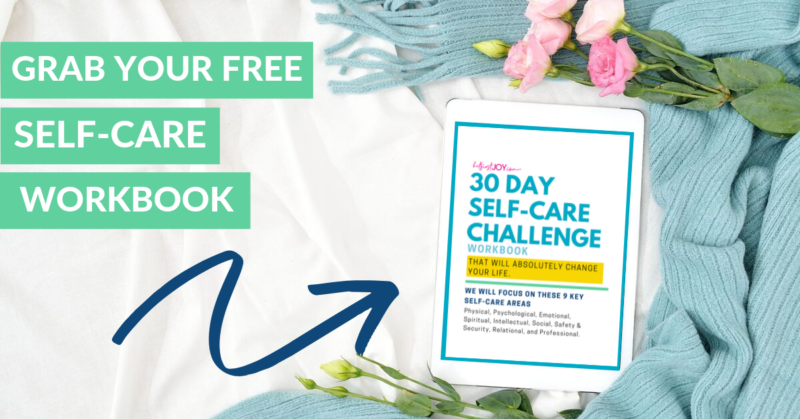 DISCLOSURE
As an Amazon Associate I earn from qualifying purchases. This post may contain affiliate links and/or promotional products, all opinions expressed are that of But First, Joy only. Read my full disclosure.