I had the pleasure of attending the Orlando Ballet's performance of Beauty and The Beast this Spring at the Dr. Phillips Center of the Performing Arts in Orlando, Florida. The experience was absolutely incredible. I laughed, I gasped, I cried, and I just can't stop talking about the fun we had. It was more than I could have ever imagined my first ballet to be.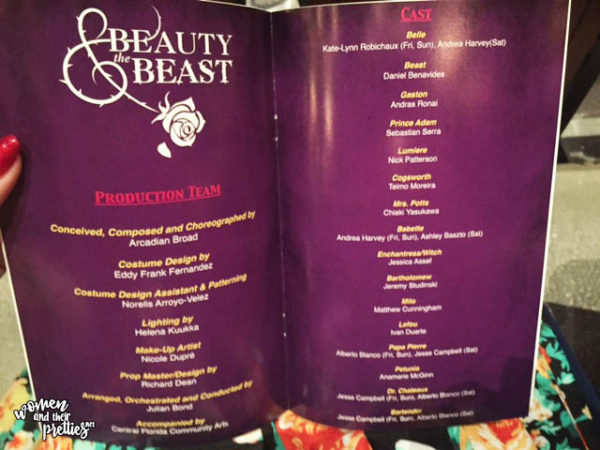 The show began with a quick introduction with Arcadian Broad, the incredibly talented, 20-year old, Composer and Choreographer of this production. I was a bit intimidate for him. Beauty and the Beast is my favorite Disney princess movie, so the bar was set high in my eyes. I walked in with concerns on how close they would stick to the original story, how the Beast would be portrayed, and whether or not it would be as tender as I remember it. While I had my concerns, I still walked in with an open mind and a heart full of excitement. I watched the crowd as little girls giggled with excitement in their pretty little dresses. The funny thing is, I felt just like them. I think every girl dreams of being a princess and a ballerina. Before I knew it, the orchestra was playing and the curtains were raised. Showtime!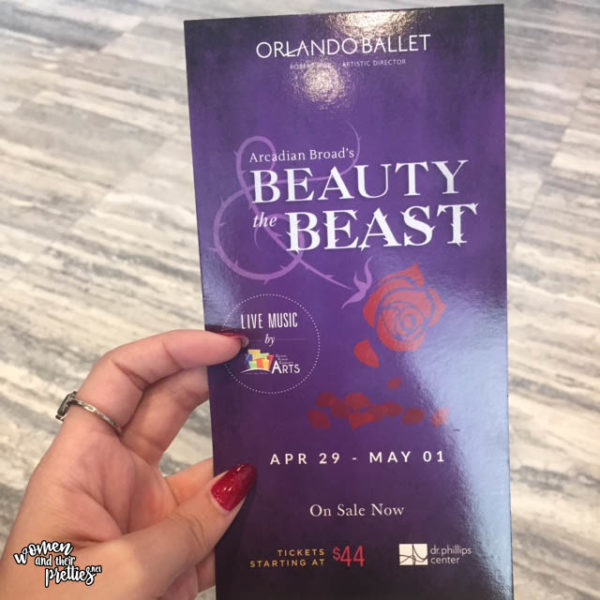 Immediately my eyes were locked on the stage. The talent – it's the talent that draws you in. It's not just twirling and spinning. It's synchronization. It's attitude. It's personality. It's the Orlando Ballet and they were starting the show off with a bang. I watched every move the dancers made, trying not to zone in on a single one, but watch them all as a whole. I watched their feet move together with the music. Every step each dancer took was in sync with the instruments playing in the orchestra pit. The more I watched, the less I realized that the music was even there. These dancers seemed to move so flawlessly – keeping stiff when necessary and flowing so naturally at all the right times. The Orlando Ballet is professional and serious about their craft and it shows in every move that they make.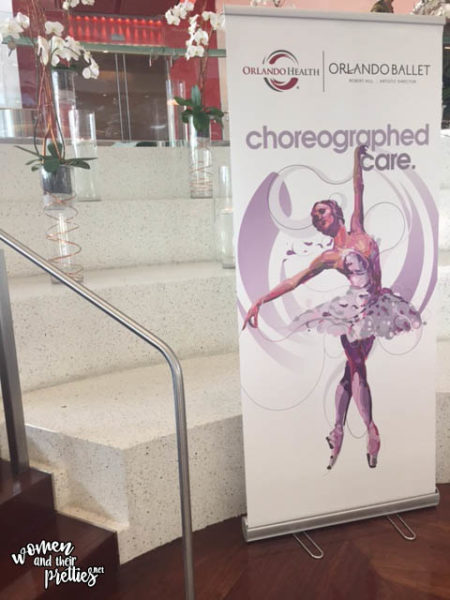 Some say that the ballet isn't for everyone. I personally believe that a good performance is for anyone with an eye to appreciate it. While, yes, the impressive moves that the ballet performed were mind-blowing, it was the emotions that they made me feel that set them apart from every other performance. Not just any show can make you feel something, but boy this one made me feel a range of emotions that I didn't expect. They made me fall in love with the characters all over again. There's an obvious love for Belle and Beast, but it was my love for Gaston that grew because of the Orlando Ballet's performance. I don't believe that anyone could have played a better Gaston than Andras Ronai. He was smug, handsome, and hilarious. From that raised eyebrow and smirk to his biceps that he was constantly flexing, he was the perfect Gaston. I think the entire audience yearned to see him in another scene. He was definitely the comedic relief and a character that you couldn't help but love.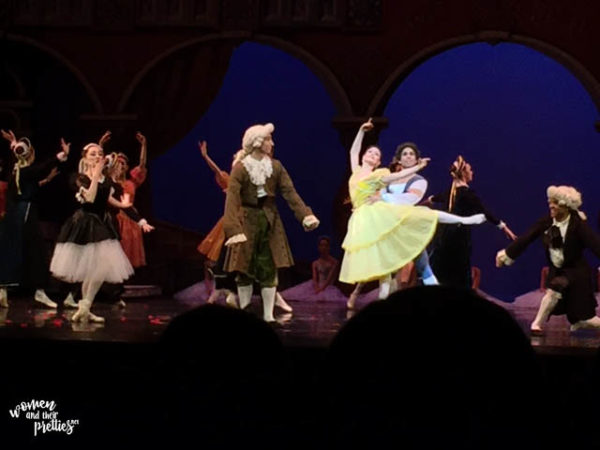 As for Belle, she was so natural. The actress/dancer Kate-Lynn Robichaux seems to be gentle-natured just like Belle. Her facial expressions were priceless. You could genuinely feel what she was feeling. When she was hurt, you were hurt. And boy, she was a heck of a dancer! We were in awe ever time she performed.
https://www.instagram.com/p/BEywJMsGSik/?taken-by=orlandoballet
Oh Beast… I think it's fair to say that it's easy to fall for Beast. He's a gentle giant. A big teddy bear. A softy. I absolutely loved how Daniel Benavides portrayed him. One of my favorite scenes was when Beast was afraid to talk to Belle. He would just throw his hands up, like he had no idea what to do. It definitely made me giggle to see this huge Beast become so nervous over a girl. Beast and Belle as a team, really tugged at my heart strings. I'm a sucker for a good love story and theirs was truly believable and powerful. There were scenes that literally brought tears to my eyes. That is why we gave this performance a standing ovation, along with the rest of the audience.
https://www.instagram.com/p/BEyE-RmmSga/?taken-by=orlandoballet
The costumes and props were impressive and clever. I absolutely loved Lumiere, Cogsworth, Mrs. Potts, and Chip's costumes! They were so clever that it made me giggle just to watch them. Not only that, their mannerisms fit with the characters. Lumiere would move his hands as if he were a candlestick. Cogsworth danced with the rhythm of a clock, Mrs. Potts would always have a teapot stance when she stopped. Arcadian Broad definitely had a clear vision of what he wanted with this performance.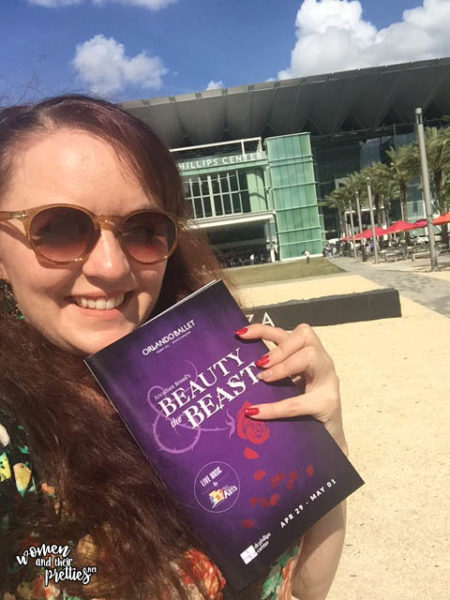 The details put into every piece of this performance blew my mind. To say that I was impressed is truly an understatement. The Orlando Ballet went above and beyond with this performance. From the beautiful orchestra to the delivery of the Beauty and The Beast that we all know and love, Arcadian Broad and the Orlando Ballet put a little magic into every piece of this production. If you've never watched the Orlando Ballet perform then you are missing out. Their 2015/2016 season is over now, but you can catch them for their 2016/2017 season in October with Dracula and then later with the Nutcracker. You can also look forward to Cinderella next year, along with others! The tickets are affordable and the Dr. Phillips Center of the Performing Arts is beautiful! I will be posting a review of that soon.
Visit OrlandoBallet.org to see what they have coming soon!
Connect with the Orlando Ballet: Facebook / Twitter / Instagram #OrlandoBallet
Visit drphillipscenter.org for more events
Connect with Dr. Phillips Center: Facebook / Twitter / Instagram #ArtsForEveryLife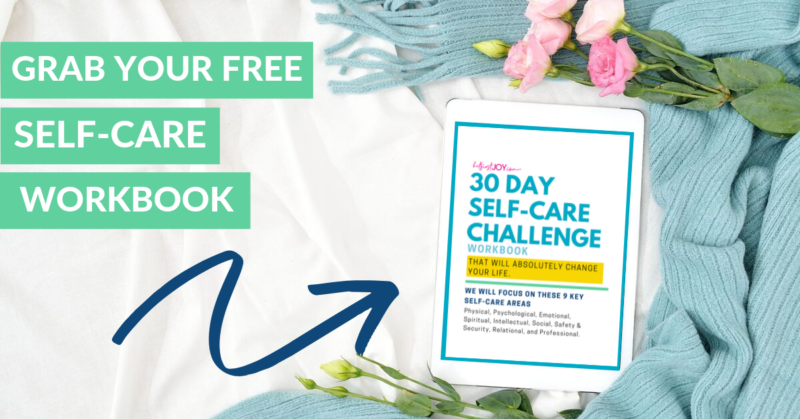 DISCLOSURE
As an Amazon Associate I earn from qualifying purchases. This post may contain affiliate links and/or promotional products, all opinions expressed are that of But First, Joy only. Read my full disclosure.