You know what? Ouija boards freak me out! I can't help it. Anything that has to do with spirits or the paranormal is frightening to me. Now, it takes a lot for a movie to scare me these days. It has to be really good! After watching this trailer, I think it's safe to say that Ouija: Original of Evil is going to give me the creeps!
In Theaters October 21, 2016
It was never just a game. Inviting audiences again into the lore of the spirit board, Ouija: Origin of Evil tells a terrifying new tale as the follow-up to 2014's sleeper hit that opened at number one. In 1965 Los Angeles, a widowed mother and her two daughters add a new stunt to bolster their séance scam business and unwittingly invite authentic evil into their home. When the youngest daughter is overtaken by the merciless spirit, this small family confronts unthinkable fears to save her and send her possessor back to the other side.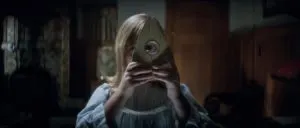 Ouija: Origin of Evil is produced by Platinum Dunes partners Michael Bay, Brad Fuller and Andrew Form (The Texas Chainsaw Massacre, The Purge series, Teenage Mutant Ninja Turtles), Blumhouse Productions' Jason Blum (The Purge and Insidious series), alongside Hasbro's Brian Goldner (Transformers and G.I. Joe series) and Stephen Davis (Ouija). Mike Flanagan directs from a screenplay he wrote with his Oculus and Before I Wake collaborator, Jeff Howard, and Universal will distribute the film worldwide.
Genre:

Supernatural Thriller

Cast:

Henry Thomas, Elizabeth Reaser, Doug Jones, Parker Mack, Sam Anderson, Kate Siegel, Annalise Basso, Lulu Wilson

Directed by: Mike Flanagan
Written by: Mike Flanagan & Jeff Howard
Produced by:

Michael Bay, Brad Fuller, Andrew Form, Jason Blum, Brian Goldner, Stephen Davis