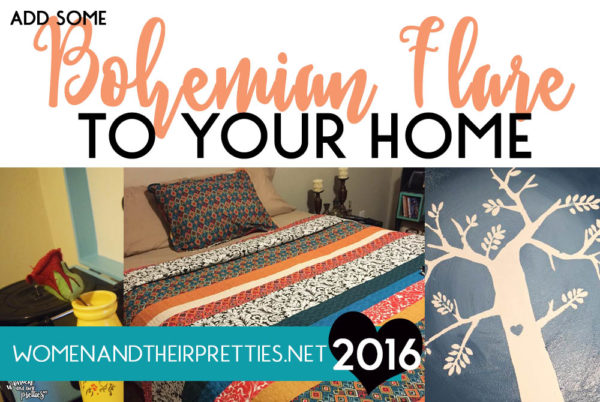 This post contains affiliate links.
I've decided to completely redo my guest room. I want our guests to feel comfortable and excited when they stay at our house. I also want the experience to be memorable. If they don't walk away thinking, "Wow! That room was like no other," then we aren't doing something right. I've always loved bright colors, but I've always settled for neutrals in my home. With my guest room, I decided to experiment with colors and I love how it turned out. Hopefully, I can give you some ideas!

WiFi Connect Sign
First, I made a sign for my guests to log into my WiFi with a simple scan of the customized QR Code. Since I'm a huge Disney lover I had to incorporate Disney into the room somehow. One of my all-time favorite Disney movies is Beauty and the Beast, so I thought "Be Our Guest" would be perfect for the guest room. I used my silhouette cameo to cut the vinyl, which reads "Be Our Guest" with the character, Lumiere in the middle. I picked up a cheap frame on, painted it red, and applied the vinyl on the outside of the glass. Next, I used a QR Code generator that I found on Google to set one up for my WiFi. I typed up "Put our WiFi to the test" and put the code underneath and then printed it on cardstock. I measured to be sure that the code was underneath the "Be Our Guest" quote. I put the cardstock into the frame and viola!

Old School Vinyl Record Player
I recognized that my guest room needed a specific statement piece to take it from an ordinary room to a bohemian dream room. When I think of a bohemian style I always picture old records and the old-school suitcases. This record player is both! The 1byone Belt-Drive 3-Speed Portable Stereo Turntable looks like a blast from the past, but it's actually quite modern. It has headphone jack outputs and RCA outputs, meaning that you can connect your MP3 player or mobile device to listen to music through the incredible front-facing built-in stereo speakers. We absolutely love it. I decided that it needed to go right in our guest room, on a shelf. I plan to part with some of my vinyl records to place them on the shelf underneath the record player. I can't wait for my guests to use this! It's easy to figure out and has multiple speed settings, so their listening experience will be the very best!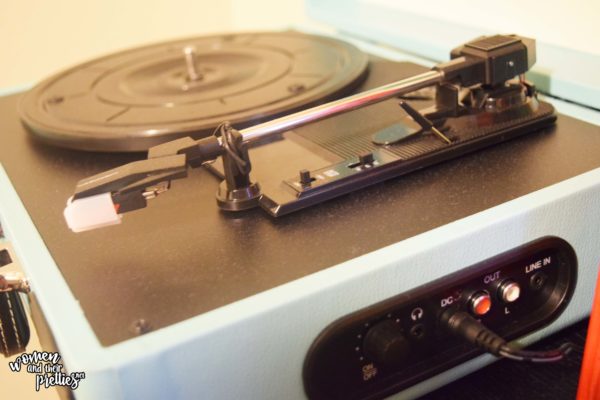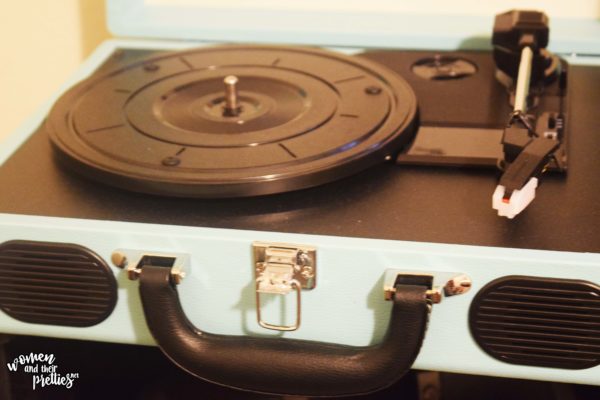 This comes in black and turquoise. I'd love a black one for my own bedroom. It's just so perfect that I feel like it would fit in every room. I might add some sort of vinyl quote to it, eventually. I haven't decided yet. The durable material makes me feel like this will last quite awhile. The best thing is if I have an issue, there's a 12-month guarantee!
Buy one for your bohemian side!
Cute Signs
I had to make these adorable signs for the guest room. I love crafting, painting, and working with my Silhouette Cameo. I cut out some vinyl stencils for two of the signs and painting onto my canvas/wood, then removed the vinyl when the paint was almost dry. It was as easy as that. For the "She" sign, I cut out vinryl and applied it to my canvas – it was as simple as that. We purchased some shelves at IKEA and placed the signs under them. I love the way these turned out!
Get a vinyl pack here / Get a pack of 8×10 Canvases here
New Bedding
Next, I ordered this incredible quilt set from Amazon. The colors are so vibrant and the patterns are funky. I figured it would fit right into the guest room! I paired it with beige sheets because I figured it would make the quilt stand out more. I love everything about this! It was worth every pretty penny.
Get the quilt set here / Get the sheets here
https://www.instagram.com/p/BCnX-igIKzT/?taken-by=joyceduboise
Handmade Jars
To top it all off, I included these pretty handmade jars. I used a pack of blank, clear jars that I grabbed at Walmart. I cut out some inspiring quotes onto clear vinyl (scrap vinyl) and adhered them to the jars. I spray painted the jars with my favorite colors. While the paint was still wet, I removed the vinyl. Next, I wrapped twine around the lid, hot glued the paper flowers onto the jars, and added string lights to the inside. It was super easy and something anyone can do. If you don't have a Silhouette Cameo to cut vinyl, you can cut a quote out of cardstock, add Easy Tack to the back to adhere, and follow the same instructions!
Get a silhouette cameo starter pack here / Get the twine I use here / Get the string lights here (3 pack)
Gold Metallic Spray Paint / Copper Metallic Spray Paint / Sea Glass Colored Spray Paint / Metallic Silver Spray Paint
What would you add to a room to give it some Bohemian Flare?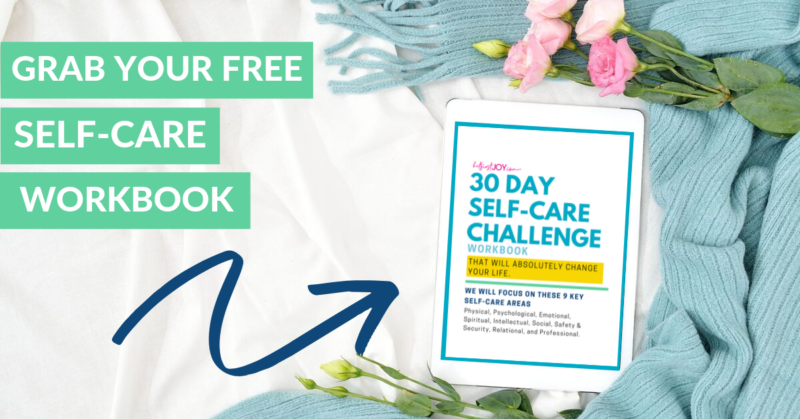 DISCLOSURE
As an Amazon Associate I earn from qualifying purchases. This post may contain affiliate links and/or promotional products, all opinions expressed are that of But First, Joy only. Read my full disclosure.