Is it weird for me to say that I am super excited about a new Sofia The First movie? The storyline sounds really, super fun! Sofia The First is loved my kids all over and maybe some adults like me. It's hard not to get excited about a new Disney movie. You're never too old to enjoy a good movie. Make sure you mark your calendars for Sofia The First: The Secret Library!
Available on Disney DVD June 7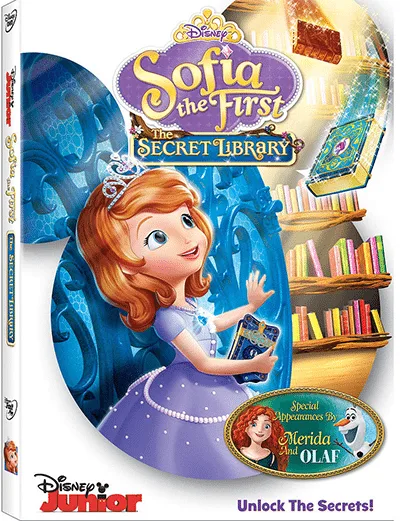 Sofia's Aunt Tilly returns to give her a gift that will unlock a secret world and appoint Sofia storykeeper of magical books without endings in "Sofia the First: The Secret Library." Follow along as Sofia pursues adventures that will finish the narratives, including rescuing Minimus' brother from an evil prince and setting out on a mission to stop Miss Nettle from stealing all the beautiful snowdrop flowers from the wintery kingdom of Freezenberg. Merida from Disney•Pixar's "Brave" and Olaf from Disney's "Frozen" make special appearances.
Bonus Features
Features TWO Special Appearances – Princess Merida ("Brave")
and Olaf ("Frozen") – Plus a FREE Sofia Necklace Inside!
Voice Cast and Guest Voice Cast
Ariel Winter (ABC TV's "Modern Family") as Sofia; Sara Ramirez (ABC TVs "Grey's Anatomy") as Queen Miranda; and Wayne Brady (TV's "Let's Make A Deal") as Clover.
Josh Gad ("Frozen") as Olaf; Ruth Connell ("Supernatural) as Merida; Bonnie Hunt ("Cars") as Aunt Tilly; Eric Stonestreet (ABC TV's "Modern Family") as Minimus; Cary Elwes ("The Princess Bride") as Prince Roderick; Dean Norris ("Breaking Bad") as Mazzimo; Megan Mullally ("Will & Grace") as Miss Nettle; and Hugh Bonneville ("Downton Abbey") as the Narrator.