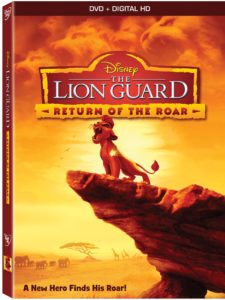 We all loved the Lion King. Simba is a symbol for one of the most iconic Disney films of all times. The Lion King brings a sense of nostalgia to adults and parents all over the world and now kids can enjoy it too, with the new story of Kion, a cub of the beloved Simba and Nala. Whether your children already have watched the classic The Lion King films or they are new to this, it's a must-see. This is a perfect way to reel them in and it will give the entire family an excuse to watch the classics once again. You're never too old or too young to watch The Lion King and I promise, The Lion Guard: Return of the Roar will be a fun, memorable, and exciting adventure for the entire family to delve into.
Now Available on DVD
DVD Bonuses
Includes a Digital Copy of the Film Exclusive Talking Backpack Clip and
Exclusive Talking Backpack Clip
"Here Comes The Lion Guard" Music Video Performed by Beau Black
Synopsis
Meet Kion, second-born cub of Simba and Nala, as he assumes the role of leader of "The Lion Guard," an elite team of animals tasked with preserving the Pride Lands. Follow him as he assembles a group of unlikely heroes: Bunga the honey badger, Fuli the cheetah, Beshte the hippo and Ono the egret. Join them on a thrilling adventure as they use their unique abilities to defend the Pride Lands from predators and maintain balance within the Circle of Life. Bursting with humor, music, beloved characters and heart, The Lion Guard: Return Of The Roar is a must-own for the entire family!