2015 in finally here and I am so excited! A new year means a new list of awesome bands and artists touring! Every year my boyfriend and I weigh out all of our options in regards to music festivals. We want to find the BEST music festival in the US to attend each year. The lineup of the music festival is our #1 deciding factor when choosing a festival to attend. We also want to make sure that we are getting a lot of "BASS" for our buck! We don't typically like "themed" festivals. We want a little bit of everything when we attend a music festival. We aren't closed minded with the genres that we listen to. We love it all! One thing that is a MUST for us to attend a music festival is an old or classic rock band as a headliner. We want to see a band that we have listened to for years. There is nothing like a Rock concert with a badass band that will ROCK all night long!
In the past 2 years we have seen over 50 LIVE bands and artists. In 2013 we attended the Firefly Music Festival for the 1st time. When we found out that Red Hot Chili Peppers and Tom Petty & The Heartbreakers were going to be headlining, we could NOT turn it down! In 2014 we attended the Firefly Music Festival AGAIN soley based on the fact that Foo Fighters was a headliner! Outkast being a headliner was definitely a turn on as well. In September of 2014 we won a trip to Las Vegas to the iHeart Radio Music Festival. Everyone was basically a headliner there. If tickets were easy to come by, the iHeart Radio Music Festival would be our #1 choice every year because it is out of this world.
With that said, I am going to share all of the lineups for the 2015 Music Festivals as they are released. I will make it easy for you to make a decision on what festivals attend in 2015. It is only January and Coachella has released some of their lineup! I am looking forward to Firefly's lineup since they are teaming up with Coachella this year! Check them out and tell me what you think.
I will only be listing the bands and artists that I am familiar with.
Coachella 2015
Visit Their Website Here
April 10-12 and April 17-19
Weekend 1 Lineup: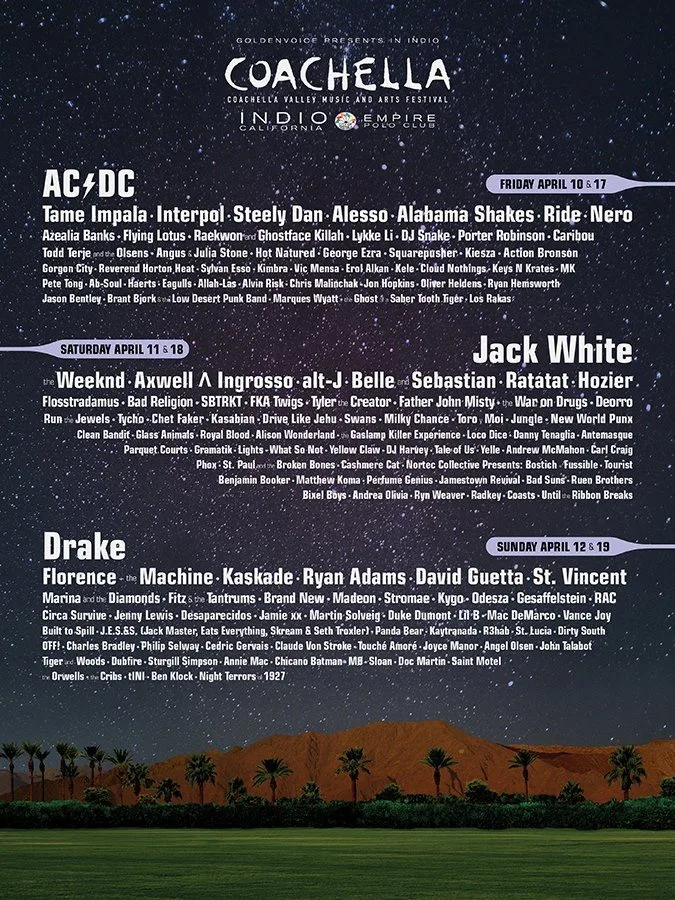 Opinion: I am not impressed. Besides AC/DC and Drake, I don't NEED to see any of these artists. I am sure that they will be adding a lot more bands, but as of now, I can do without. The tickets are already sold out by the way. In my opinion, Coachella is too mainstream and TOO big! I would like to attend one day, but just to say that I did. I am sure that attending the festival would be an incredible experience and maybe I am just a little bitter that I haven't attended yet.
---
Bonaroo 2015
Visit The Website Here
June 11-14 2015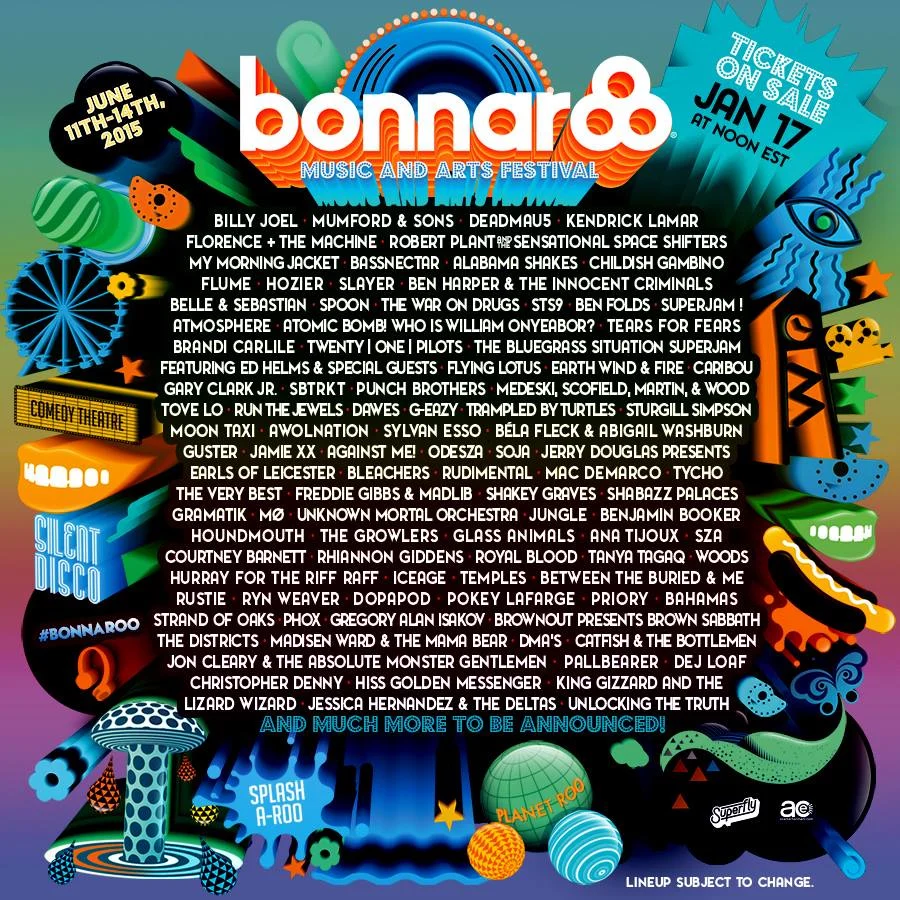 Opinion: This lineup excites me. Yes, there may not be a ton of awesome bands, but the few that I love, I REALLY love! Mumford & Sons being there is a bit of a game changer for me. I have been a HUGE fan of them for awhile now and I would absolutely LOVE to see them live! & let me bring up the obvious star of the lineup- Billy Joel. It's the "Piano Man" people! He is one of the artists that I feel like I need to see NOW because you never know if he will ever perform again. I like that Kendrick Lamar is there, although I have seen him before. My boyfriend is jumping for joy about Florence & The Machine because he loves them live. Oh and Twenty One Pilots is a personal fave, but I know they will be at Firefly again! I would really love to give Bonaroo a try this year.
---
Firefly Music Festival 2015
Visit The Website Here

June 18-21, 2015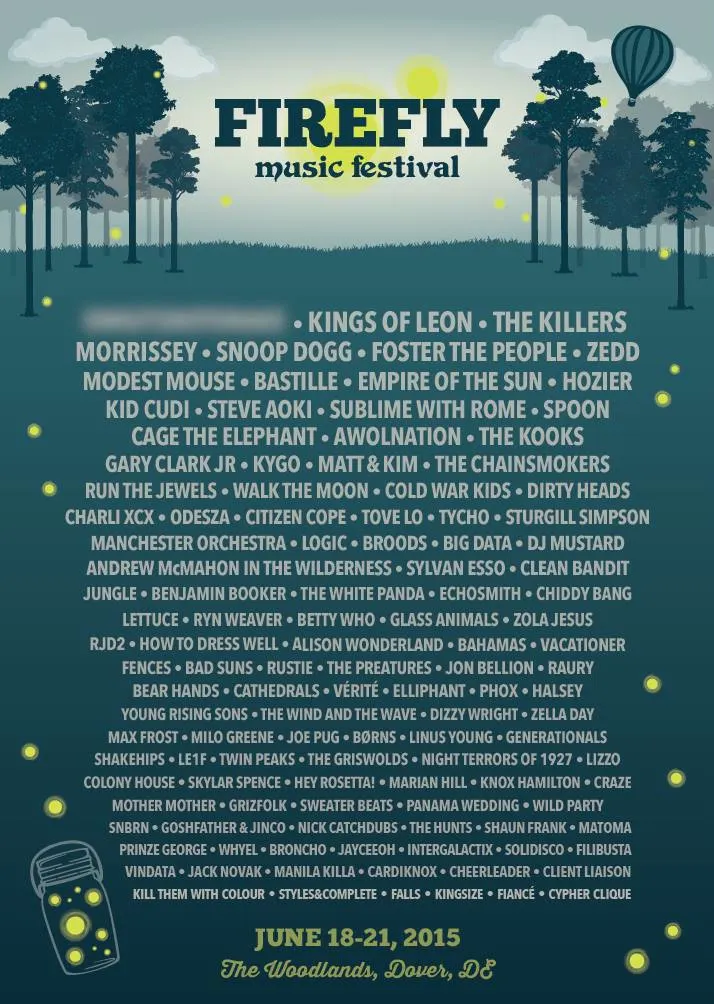 Opinion: I am so glad that I did not purchase tickets in advance. I am so disappointed by this lineup. Kings of Leon and the Killers are great, but not enough to push me to fly from Florida to Delaware. I like Snoop Dogg, Bastille, Sublime, Hozier and Kid Cudi, but the headliners are so disappointing. I was hoping for something BIG. Overall I am not too thrilled about the lineup.
---
Hangout Music Fest2015
Visit The Website Here
May 15-17, 2015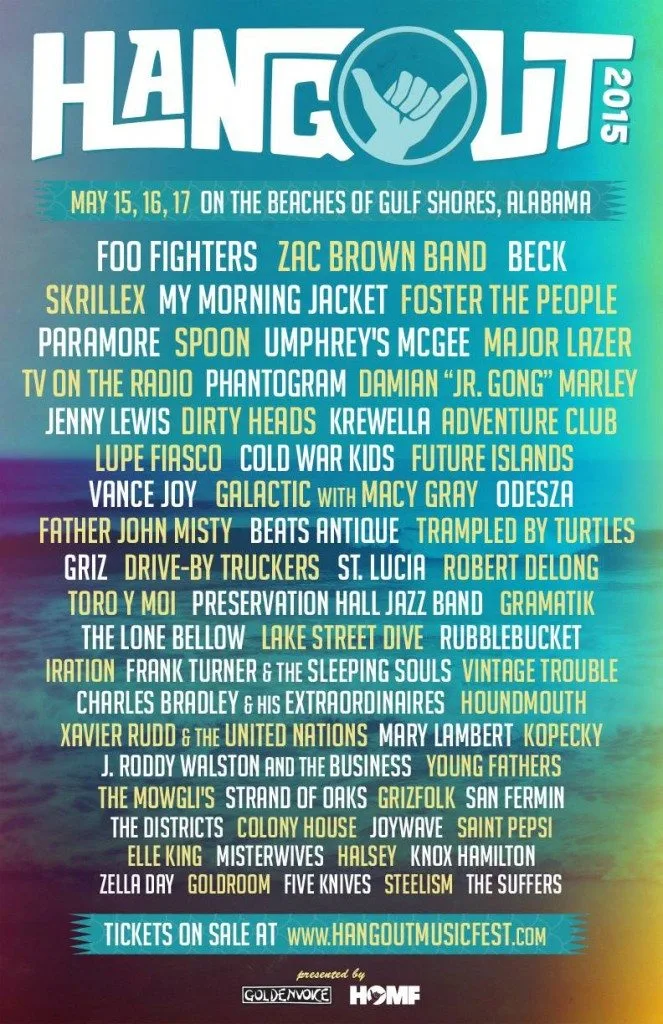 Opinion: I am absolutely in love with this lineup. I would give anything to attend this festival! What an incredible lineup! They just added Sam Smith too! I cannot believe that I didn't know about this festival all along. We are definitely going to do whatever it takes to go to it next year! Bravo Hangout Fest!!
---
Outside Lands Music Festival 2015
Visit The Website Here
August 7-9, 2015
Lineup Announcement Coming Soon