A relaxing bath is the perfect way to wash away your cares at the end of the day. A warm bath offers numerous benefits. It soothes the skin, eases tense muscles, and boosts painkilling endorphins in your brain. If your bathroom isn't conducive to the type of spa-like experience you're after, you can give it a fresh makeover with these easy tricks.

Set the Right Soundtrack
The right background music can transport you far from your bathroom and take you to a soothing escape that's worlds away. Try a nature-inspired track with rainforest or ocean sounds and imagine yourself reclining in a quiet pond or tide pool. Meditative Buddhist chants can help you ground and center after a particularly trying day. For some, a favorite modern music genre is the perfect antidote to stress. This personal choice can range from quiet classical to pulsing rock. Find what eases tension for you, and set up an iPod dock, radio, or stereo in the bathroom to set the mood.
Add Mood Lighting
Bathroom lights are often harsh and bright. While this might help you apply your makeup or check that your outfit matches, it's not ideal for a soothing spa experience. Add a gentler set of lighting options for a quiet bath. Candles are an ideal choice with their soft flickering ambiance. You can also create a whimsical setting with strings of white Christmas lights, starlight spheres, or long rope lights from a resource like Christmas Lights Etc.
Use Aromatherapy
Scent is closely connected to both moods and memories. Explore different aromatherapy options to find the smell that takes you to a soothing spa-like place. This is a very personal choice and may include anything from fresh lemon to light lavender. Perhaps you'll find a scent like fresh cut grass that takes you to a favorite childhood spot or a bright coconut aroma that makes you feel like you're on vacation.
You can use candles, an oil warmer, or incense to get the right scent. You may even want to add your aroma directly to the water in the form of an essential oil, bath salt, or bubble bath. Just make sure the product doesn't irritate your skin before you begin your soak.
Choose Soothing Décor
Relaxing bathroom decorations can transform any space into a home spa. You don't need a large, luxury area. Tiny details make a big difference in a confined space like a bathroom. Try setting an orchid in an empty corner of the countertop or placing faux greenery along the top of a shelf for a natural ambiance. You can give your bathroom zen appeal with bamboo stalks and artwork featuring stone pyramids or a decorative sand garden. Wall stickers with inspirational quotes can help you focus your mind on uplifting thoughts. Find the look that soothes you.
Setting the right mood in your bathroom doesn't take a big investment or a lot of time. Simply bring your favorite sounds, scents, and looks into this space to build a beautiful spot that will wash your cares away.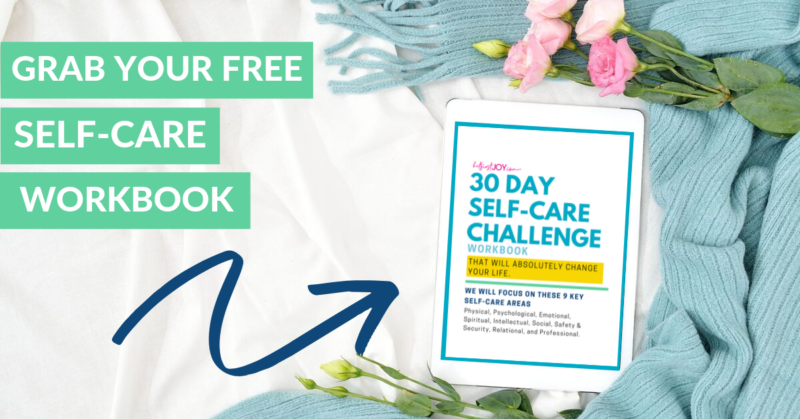 DISCLOSURE
As an Amazon Associate I earn from qualifying purchases. This post may contain affiliate links and/or promotional products, all opinions expressed are that of But First, Joy only. Read my full disclosure.