This shop has been compensated by Collective Bias, Inc. and its advertiser. All opinions are mine alone. #MoreMomentsWithExcedrin #CollectiveBias
My readers always ask about my travels: where are the best places to eat? What attractions are worth seeing? Those questions always come with quick and easy answers. It wasn't until I was asked how to cruise comfortably, that I found myself
really
thinking of all my dreaded "middle of the ocean" moments of realizing I forgot something crucial. I didn't have a good cruise checklist to follow, I just winged it (with my grandmother's help). I still wish someone had given me their tips for cruising comfortably and confidently. Now, I've got about 5 cruises under my belt and can cruise without an ounce of
anxiety
. In fact, I just stepped off a cruise ship about a week ago. It's about time that I pass along my tips for cruising comfortably and confidently… because we all deserve a vacation of a lifetime!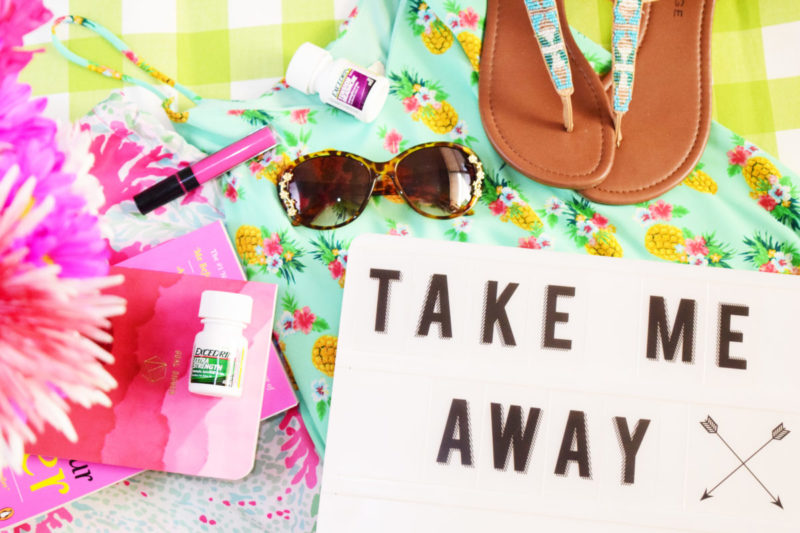 If you're cruising for the very first-time, you're most likely filled with a mix of excitement and
anxiety
. You don't really know what to expect because it's an adventure like no other. I specifically remember feeling completely
clueless
about what to pack. I was cruising with my grandmother (a very experienced cruiser), so I had the pleasure of getting a couple of tips from her. She didn't give me many ideas, but made certain that I didn't leave home without motion sickness medicine and the her favorite headache relief medication:
Excedrin® Extra Strength.
Let's just say that she didn't give great advice in terms of cruise fashion, but that cruise emergency kit was a lifesaver!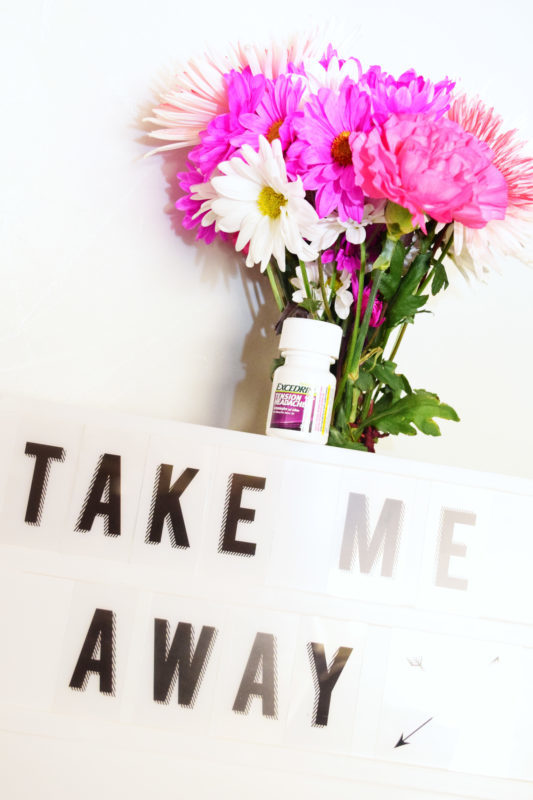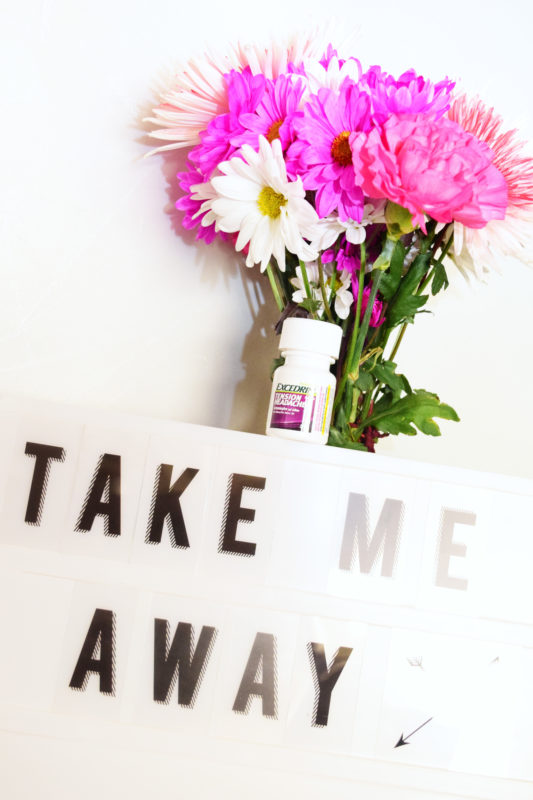 My mind always falls back to the moments when Excedrin® Extra Strength saved the day. It was (and still is) a
key
must-have to cruising comfortably and confidently. Being the adventurer that I am, cruising comes with
really
early mornings and
incredibly
late nights. I tend to do more physical activity on a cruise than I do at home, which sometimes leaves me a little pained. I need fast headache relief that will get me back to the fun in no time! So, when packing your cruise bag, be sure you have a bottle of Excedrin® Extra Strength and you might want to keep a bottle of
Excedrin® Tension Headache
in your bag if traveling stresses you out! I take one every time I travel to keep those
tension
headaches at bay. Please be sure to use all Excedrin® products as directed.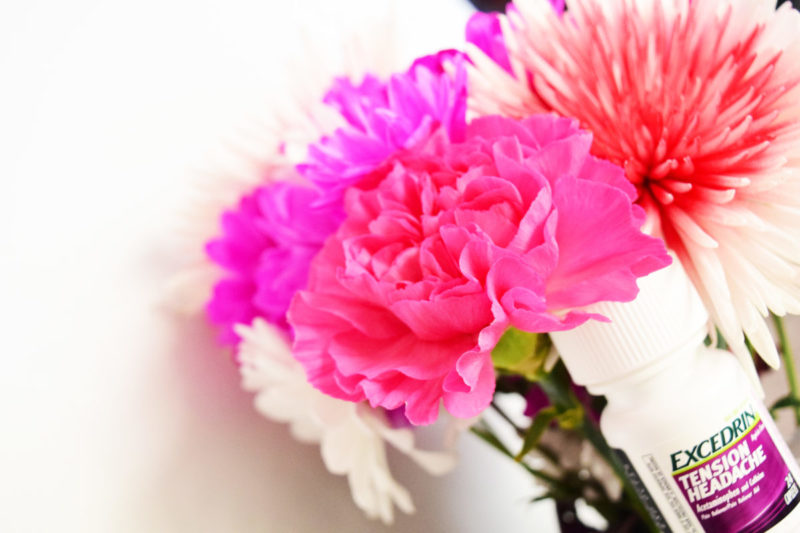 How to pack a cruise bag – a girl's guide
Throughout my travels, I've learned how to pack a cruise bag like a pro! There are the basic (more obvious) essentials, like toothpaste and deodorant. Then there are the more complicated cruise essentials that not every girl would think of (especially a first-time cruiser). I like to keep my cruise packing separated into a few easy to remember categories, to keep myself sane: basic travel essentials, emergency kits, fashion, entertainment, activities, and beauty. This is a girl's guide on how to cruise comfortably & how to pack for a cruise. If you're packing for a spouse or children, the list would greatly expand. So, I'll keep it simple for all you pretties out there!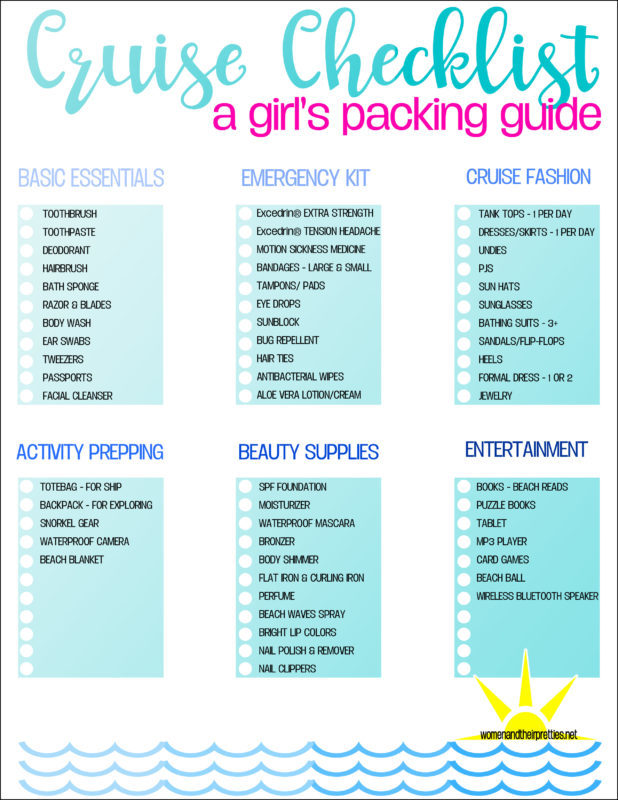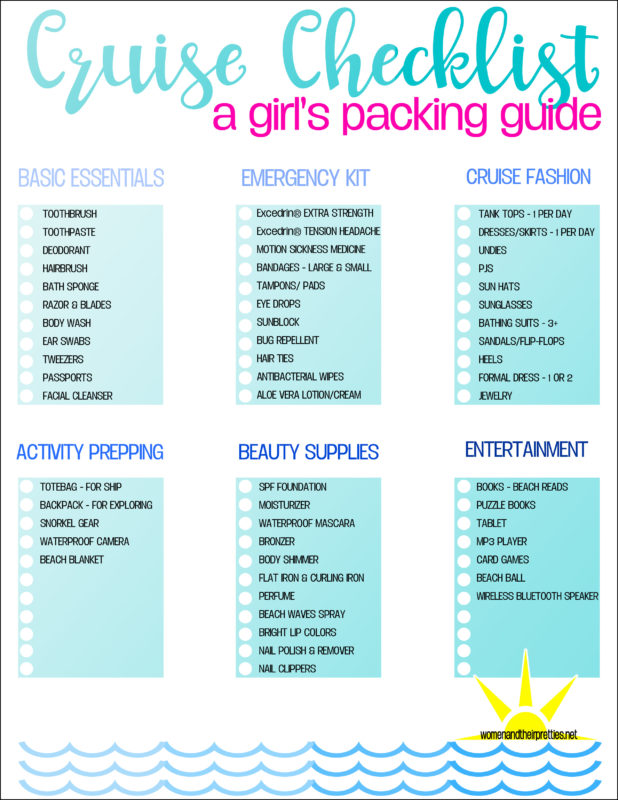 Basic Essentials
Toothpaste
Toothbrush
Deodorant
Hairbrush
Bath Sponge
Razor & Blades
Body Wash
Ear Swabs
Tweezers
Passports & other Picture ID
Facial Cleanser
Emergency Kit
You can grab Excedrin® Extra Strength and Excedrin® Migraine for your emergency kit at a Walmart near you in the Pain Relief aisle.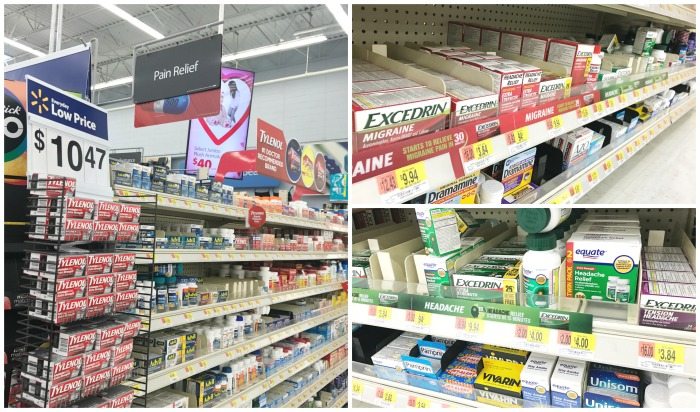 Motion Sickness Medicine
Bandages – Small & Large
Tampons/Pads
Eye Drops
Sunblock
Bug Repellent
Hair Ties
Antibacterial Wipes
Aloe Vera Lotion/cream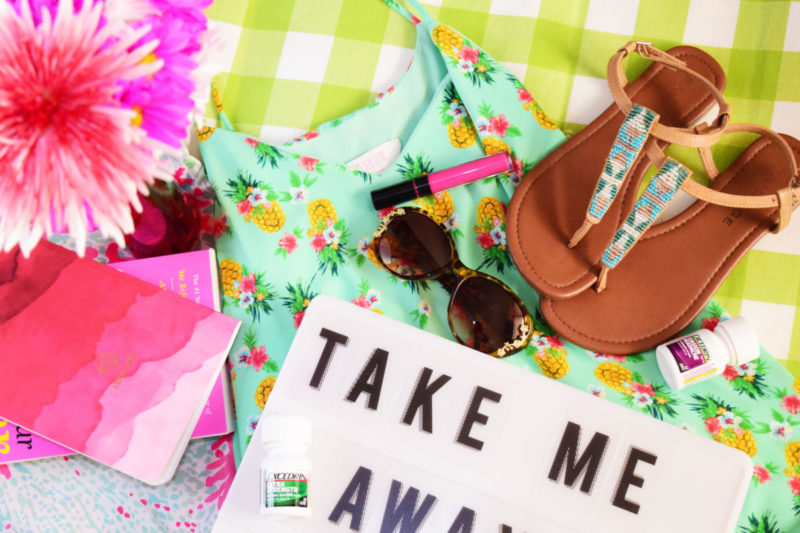 Cruise Fashion
It's important to keep in mind that you will most likely be changing your clothes a couple of times per day, hence the excess amount of clothes (plus women need options).
Tank Tops – 1 per day
Dresses/Skirts – 1 per day
Undies & Bras
PJs
Sun Hats
Sunglasses
Bathing Suits – bring a few!
Sandals/Flip-flops
Heels
Formal Dress – 1 or 2 (or more if you want to dress up for dinner every night)
Jewelry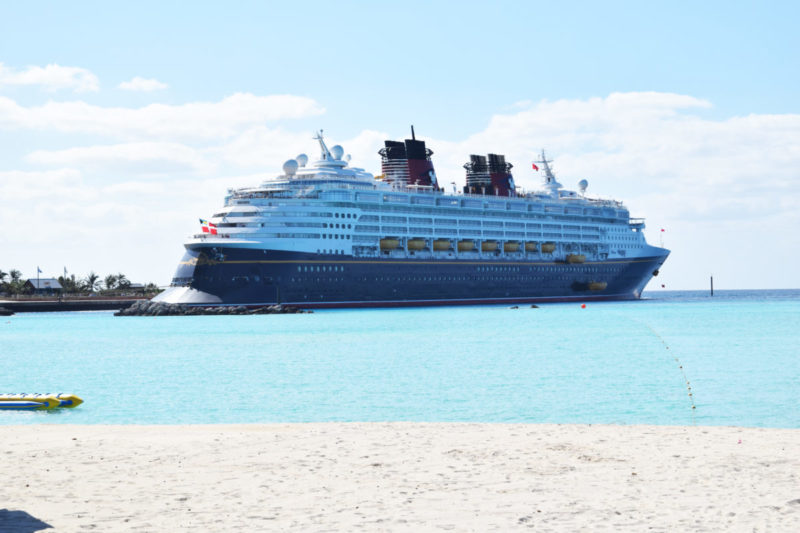 Activity Preparation
This is for ship activities and excursion that you may have booked off the ship – at your port of calls. Pack according to your plans, but these are the basics that you can use just about anywhere.
Tote Bag – for ship adventures.
Backpack – for exploring the islands
Snorkel Gear – for the beach!
Waterproof Camera
Beach Blanket (if you plan on lounging)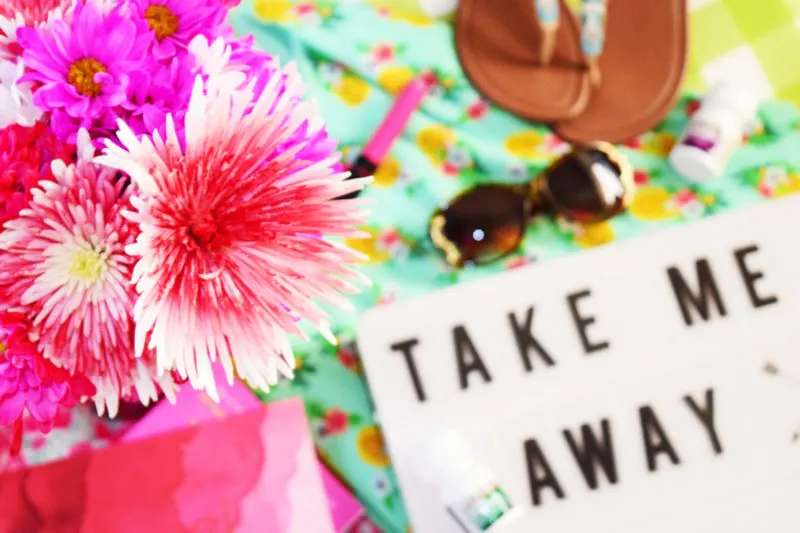 Beauty Supplies
SPF Foundation
Moisturizer
Waterproof Mascara
Bronzer
Body Shipper
Flat Iron & Curling Iron
Perfume
Beach Waves Hair Spray
Bright Lip Colors
Nail Polish & Remover
Nail Clippers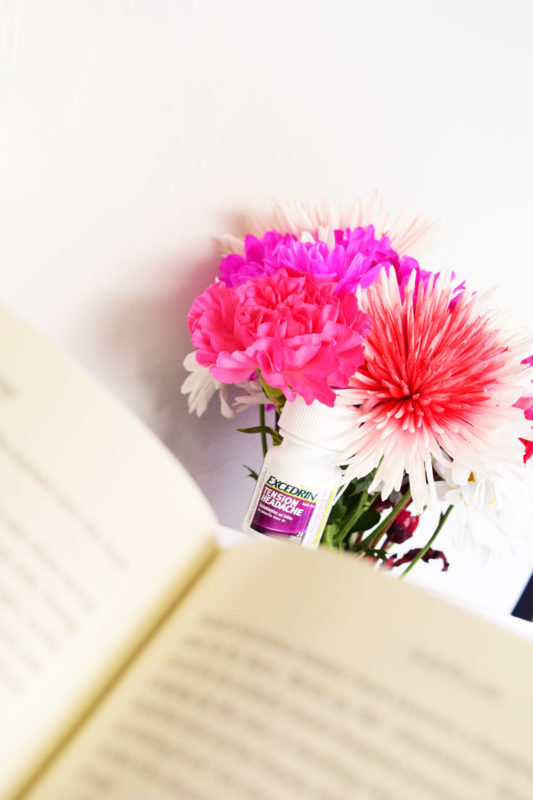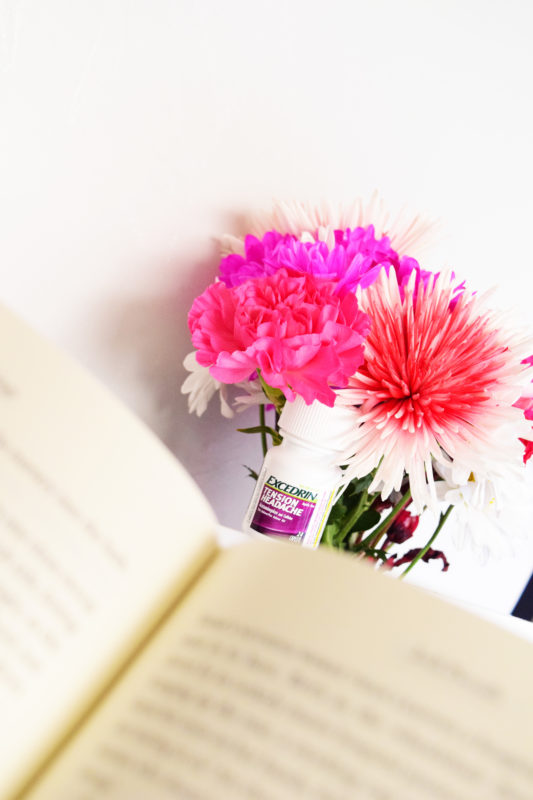 Entertainment
These are all optional, but are great while you're waiting to embark and disembark. These are also great if you enjoy relaxing on the beach or by the pool.
Reading Books
Puzzle Books
Tablet (with movies or books)
MP3 Player
Card Games – great for groups!
Beach Ball
Wireless Bluetooth Speaker