I'm a simple gal. You don't need to spend a lot on me for me to appreciate something. I will wear a $2 dress if it looks cute and if it's good quality. That's why when I shop online, I only buy at a bargain. I cannot justify paying $100 for one piece of clothing when I can get something similar for a quarter of that price. I am currently obsessed with boots and dresses – both are typically overpriced. While on the hunt for something stylish and affordable I found Ami Clubwear.
Ami Clubwear is known for their fabulous dresses and their gorgeous shoes. Their prices are so affordable that I wonder why I've ever shopped anywhere else. I spent over an hour searching for something that I could add to my Fall styles. The time spent wasn't because I couldn't find anything. It was quite the opposite. I had a budget and I needed to stick with it. I finally dwindled my list down to 3 gorgeous items.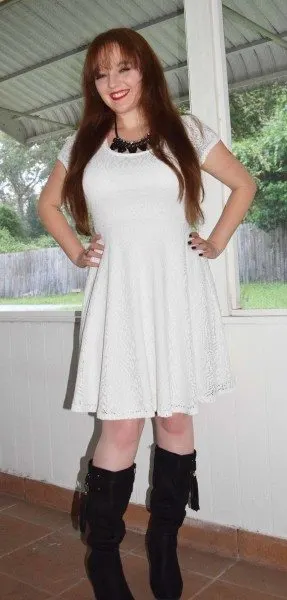 Let's talk about this beautiful dress. I was in need of a nice white dress that I could pair with a good pair of boots. I needed something casual to wear anywhere. This dress immediately caught my eye. It's the right amount of casual, yet flirty. I love the waistband because it really accentuates my curves. The length of the dress is perfect too! I couldn't have asked for a better fitting dress. This is a medium and I have a 36 inch busy and wear US size 7 jeans, just to give you an idea of the fit. This dress retailed for $19.99 and was on sale for $4.50! Check it out here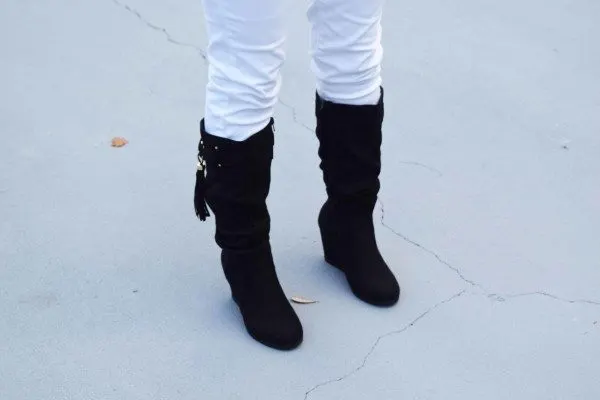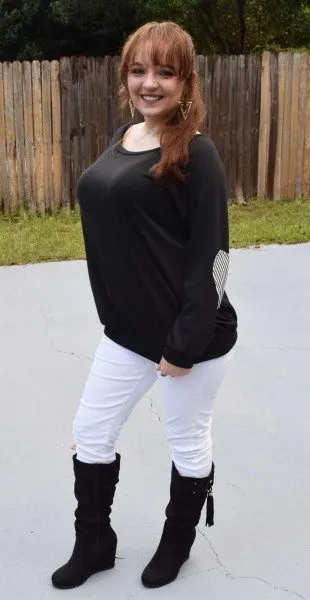 I also had to pick up these gorgeous boots. Ami Clubwear has a ton of boots and other shoes to choose from. I've been obsessed with fringe this Fall and I've had my eye on these boots for awhile. The fringe tassel is the perfect touch too. Oh and the faux suede is just gorgeous! I cannot get enough! I love wearing these with my dress, jeans, leggings, or whatever else I can pull off! These boots are so awesome too because they have a wedge to them. Wedge boots are kinda my weakness. These are sold out now, but were $44 marked down to $9.00! You cannot beat prices like that! Check them out here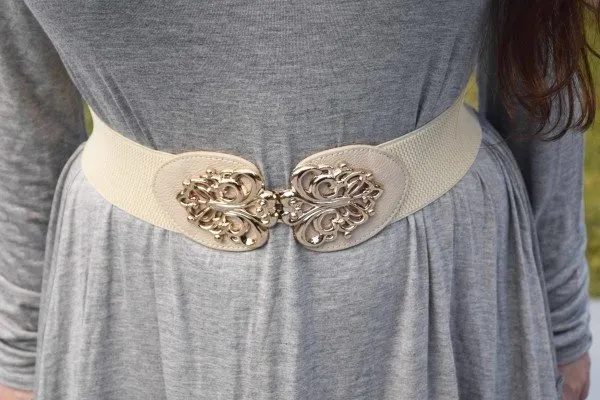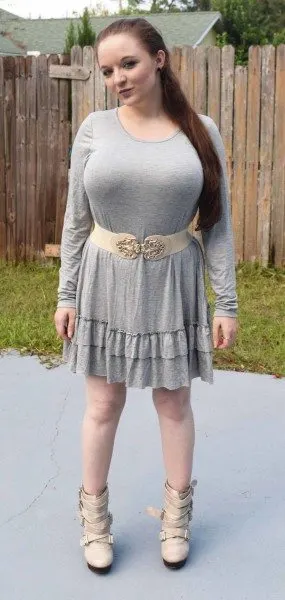 The last thing I grabbed was this lovely waist belt. I've been searching for a pretty waist belt for awhile now. Ever since I've lost weight I've been all about showing off my curves and this does the trick! It stretches and hooks in the front, so you don't have to worry too much about sizing. It's more beautiful in person than in the photos. If I have a dress or shirt that's too large, I just add this belt and it looks great! This was also marked down to $4.50. Check it out here
As you can see Ami Clubwear has high quality fashion at very low prices. You can visit them here or click any of the banners in this post.
Connect with Ami Clubwear: Facebook / Twitter