Kids love the circus. Frankly, everyone does. I don't know a single person that finds the circus boring. What is your favorite thing about a circus? Many people would say the stunt people and the animals. Watching both, gives me a rush that I cannot describe. Being a kid, I would imagine that the rush is multiplied. They see things that they think are magic. They see animals that they have never seen in real life before. They see people do things that you only see in movies. The circus is incredible. The circus is magical. Bring the circus and the "pets" home to your kids with The Amazing Zhus.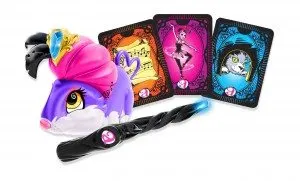 About The Amazing Zhus
Magician Pets: The Amazing Zhus are toy circus pets that do magic and stunts. These battery operated (batteries included) Magician Pets come in sets that include: 1 Magician Pet, 1 Magic Wand, and 3 Magician Cards. The magician pet will respond to the magic wand. The Magician Pet will guess the answer on the magician cards every time. These toys are SOOOOO fun! Boys and girls would both get a kick out of these toys. My boyfriend even wants to play with them!
Stunt Pets: The Stunt Pets are so fun! These are battery operated pets (rabbits?). These stunt pets do acrobats and tricks! They will have you laughing all night long! Everything from the box, to the pet are very fun and thought out. Each Stunt Pet has a special name and a special purpose.
My Impression
I don't know a single child that wouldn't LOVE these awesome toys! This could very well be one of the TOP toys this holiday season! These are great for kids to share and collect. I love that there are so many different Amazing Zhus to choose from! I cannot get over how cool and cute they are!! This is one of those toys that the adults play with just as much as the kids do. I am definitely going to invest in these for the kiddos in my life this holiday season!
Purchase and Connect
These can be purchased at Walmart.com by clicking HERE
Learn More on www.AmazingZhus.com
Connect With Them on Facebook / Twitter / Instagram / Pinterest