Animal Kingdom is really stepping their game up these days! These are the top 5 must-do Animal Kingdom experiences that will take you by surprise. You'll never stop talking about them! Disney hosted me at the parks for a few days to celebrate the in-home releases of Born In China and The Lion King. All my wild opinions are real!


Animal Kingdom is definitely one of Disney's most underrated parks. Actually, all of the parks other than Magic Kingdom are underrated. Dare I say that Animal Kingdom is my favorite park? Am I allowed to be a Disney princess lover and say that? I guess my love for animals surpasses my love for princesses. It also helps that Animal Kingdom seems to be the coolest of the parks. All of those trees sure to help with a cool summer breeze. I can actually walk through the park without feeling like my skin is melting off.
5 Must-Do Animal Kingdom experiences
1. Night Safari Tour
I don't care if you've done the regular daytime safari a thousand times. There's nothing like the night safari. My biggest tip for visitors, is to visit just before the sun begins to set. Most animals aren't wandering around in the middle of the day. They dislike the heat just as much as we do! If you visit right before sunset, you'll the animals in their more natural environment. We watched in awe as giraffes walked right next to the vehicle, as if we weren't there. We had the pleasure of seeing all 3 of the lions walk around with pride and confidence. It was truly a pleasure and it's a must-do Animal Kingdom Experience!
2. Wild Africa Trek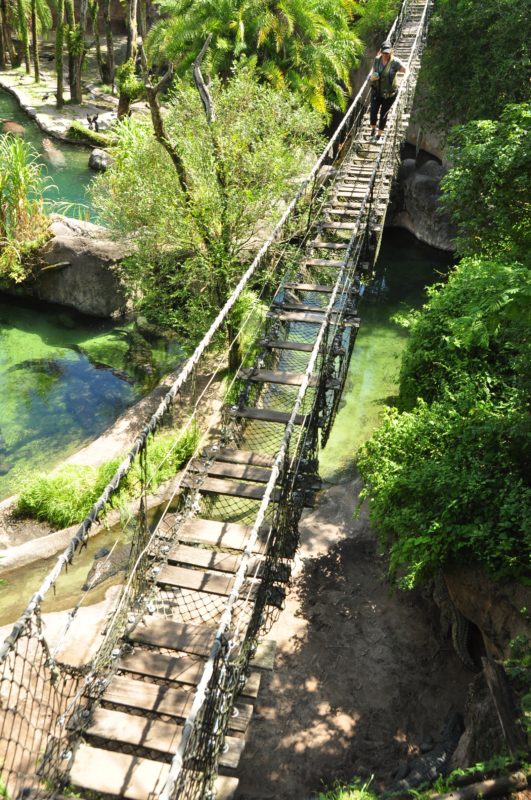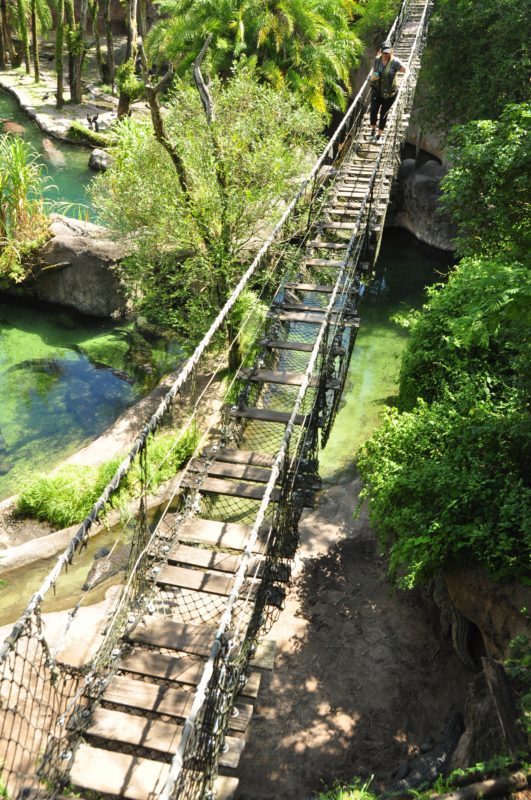 Unfortunately, I didn't have the pleasure of joining my group for the Wild Africa Trek, but I heard incredible things afterward. In this trek, you'll get to experience the wildlife like never before. While connected to a harness, you'll journey over sky bridges over sky rope bridges that seem quite terrifying. I've heard the experience is exhilarating and the adventurers walk away with a sense of pride! This is a 3-hour private VIP tour that includes complimentary photo services and gourmet eats! You'll have a view of the savannah like no other. Since these tours are separate from the average Animal Kingdom experience, you'll have to book and pay ahead of time. I've heard it's completely worth it!
3. Rivers of Light show
I've seen the Rivers of Light nighttime show multiple times and it never fails to impress me. With fountains, lights, and projections, you'll experience cultures and wildlife from around the world. This nighttime experience is worth waiting for and absolutely worth seeing again and again. The performers and the special effects will have you completely in awe.
4. Festival of The Lion King
I've been to Animal Kingdom more times than I can count but I'd never experienced the Festival of The Lion King show. Honestly, I passed the sign a thousand times and never gave it a second thought. But, after attending the Broadway-like show, I can confidently say that it's a must-do Animal Kingdom experience! The talent is spectacular, as well as the audience engagement, entertainment, and excitement. This show truly embraces the depth that is The Lion King. It's a show for audiences of all ages. Plus, it's an indoor experience that will give you a nice break from long days. PS. There are moments when audience members, including children are recruited to join the show!
5. Pandora – World of Avatar at night!
I saved the best for last! Okay, as many of you know, I've experienced Pandora – World of Avatar before. I had the pleasure of joining a media event before the park was open to the public. Since that was a day event, I didn't get the full Pandora experience. I had so many friends tell me that I needed to visit it again at night. They described it as an entirely different experience. Sounds strange right? Well, it's true! Pandora – World of Avatar lights up with bioluminescence every evening. The plants, walkways, and even drinks are flowing at night. Even the cast members are glowing! Plus, I noticed the crowds to be smaller at night. If you're staying at a Disney hotel, be sure to take advantage of the Extra Magic Hours. We had an extra 2-hours in Pandora because of the Grand Floridian's Extra Magic Hours. Let me just say that the 3 hour lines were as little as 15 minutes. It's truly a transformation from day to night!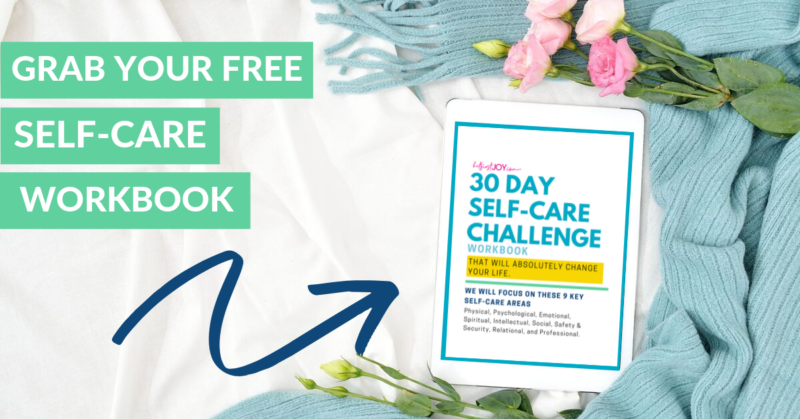 DISCLOSURE
As an Amazon Associate I earn from qualifying purchases. This post may contain affiliate links and/or promotional products, all opinions expressed are that of But First, Joy only. Read my full disclosure.