Looking for the perfect prankster gift? Check out my ThinkGeek's Annoy-A-Tron Review and win a ThinkGeek prize pack. This post has been published in partnership with ThinkGeek. All options and reactions are honest.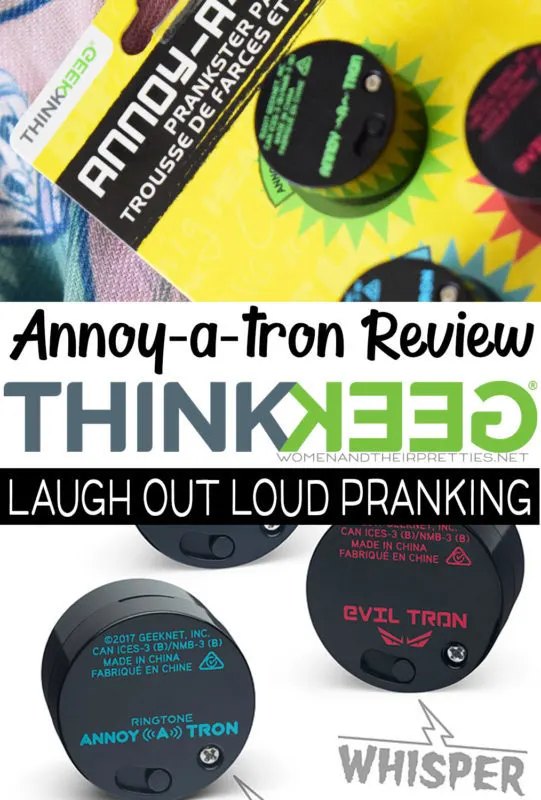 I will never feel too old to play a good prank on someone. In fact, I often wonder how "adult" I actually am. I definitely don't feel like I'm getting old. I spend my days laughing at memes and watching prank videos. I try to scare my hubby as much as I possibly can. I even scared my grandparents a few times on this cruise we just went on. I know, cruises are supposed to be relaxing – but that's not how I roll. With a little help from my friends at ThinkGeek, I even played a prank on my grandmother. Don't worry, I captured it all on camera for your viewing pleasure.
Annoy-A-Tron Review: A ThinkGeek Exclusive
If you watched the video above, you have a pretty good idea of what the
Annoy-A-Tron Prankster Set
is but I will explain it a little more. This ThinkGeek creation
and
exclusive includes 3 very small pranking devices that can be placed just about anywhere. All you need is the perfect hidden location to place the device. You can put it on a shelf, in a drawer, even in an empty cup if you really want to be creative. In my prank video, I held onto the device and pressed the button to prank my grandmother with various sounds from the basic Annoy-a-tron. However, the devices are setup to allow you to push the button once and leave it in a secret place. The annoying sounds will play at a random time. Trust me, before i figured out how to turn the things off, I was
very
annoyed with the random doorbell sound, haha.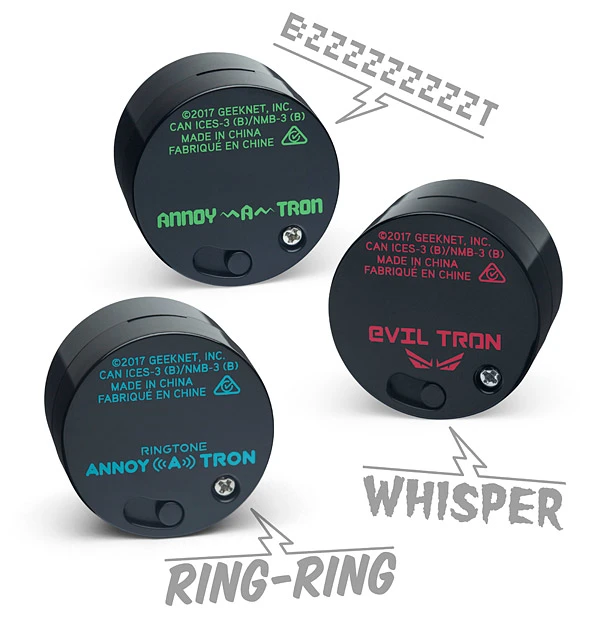 ThinkGeek description:
Let loose the pranks of war in your workplace, dorm, or wherever with our Annoy-a-tron Prankster Pack. There's someone you'd like to torture in your office: maybe it's that guy who is always creating emergencies for you because he doesn't plan ahead, or that lady who is trying to throw you under the bus for something that was her fault… or maybe it's your work spouse, because they are just so much fun to prank. Or does your best friend maybe need a cricket trapped in a cinderblock during finals? Let us help you in your mischief making!
The Annoy-a-tron Prankster Pack contains:
Annoy-a-tron: Periodic beeps and sounds make your friends crazy hunting for that ANNOYING NOISE.
Ringtone Annoy-a-tron: RINGING AND BUZZING will drive friends bonkers looking for the missing phone!
Eviltron: Unsettling spooky sound effects SCARE THE CRAP out of your friends.
My Final Thoughts
I think these have potential to be hilarious if you're pranking the right person! If I could change anything about the Annoy-a-tron set it would be to shorten the time in between sounds. It's hard to watch and laugh at someone when the sounds are spaced so far apart – which is why I chose to manually push the button in my video. It would also be neat if the prankster pack included a strip of velcro so you can get really creative with placement!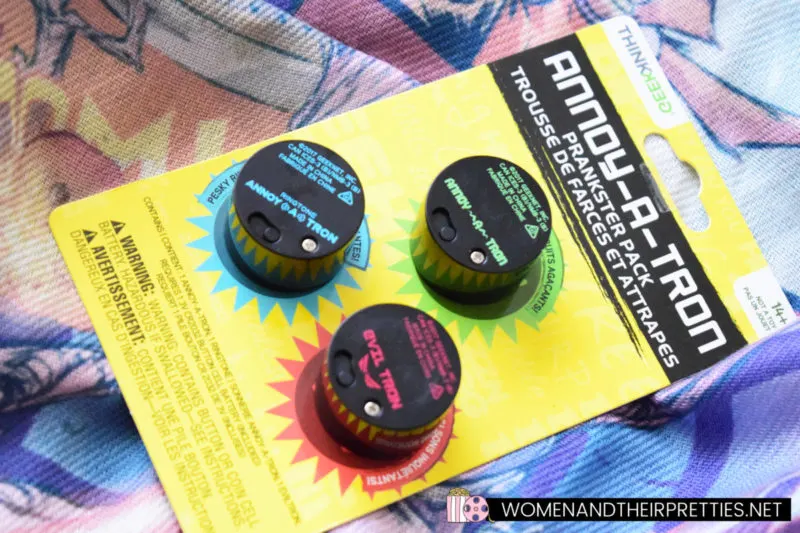 I think the pack is a really great gift idea for teenagers or young pranksters. The size of the devices are great to hide anywhere or carry in your pocket. These would make great stocking stuffers or Halloween gifts for your kids. Halloween is a perfect time to prank!
I hope this Annoy-a-tron review helped you to find something fun to add to your shopping list this year. Visit ThinkGeek.com for this and more exclusives. Don't leave just yet – I'm giving away a ThinkGeek Prize Pack that you wont want to miss!
Connect with ThinkGeek: Facebook | Twitter | Instagram | YouTube
Win a ThinkGeek Prize Pack
Do you love ThinkGeek just as much as I do? If so, you'll be obsessed with this giveaway below. The giveaway includes a $25 ThinkGeek gift card + these items:
ThinkGeek Prize Pack Giveaway
Welcome to the Frightening Fun Giveaway Hop brought to you by The Hopping Bloggers!
Hosted By: Mama's Geeky & Women and Their Pretties
Co-Hosted By: Teacups and Fairy Tales
Each giveaway has a value of a minimum of $15, however some are worth much more. Be sure to enter to win all of them because there is no limit to how many you can win. GOOD LUCK!