If you've ever wondered what the best Florida water park is then I've got your answer: Daytona Lagoon. I'll tell you all the reasons why you should visit this Daytona Beach water park over the summer.
This fun Florida water park gave me a pack of family passes in exchange for my honest review.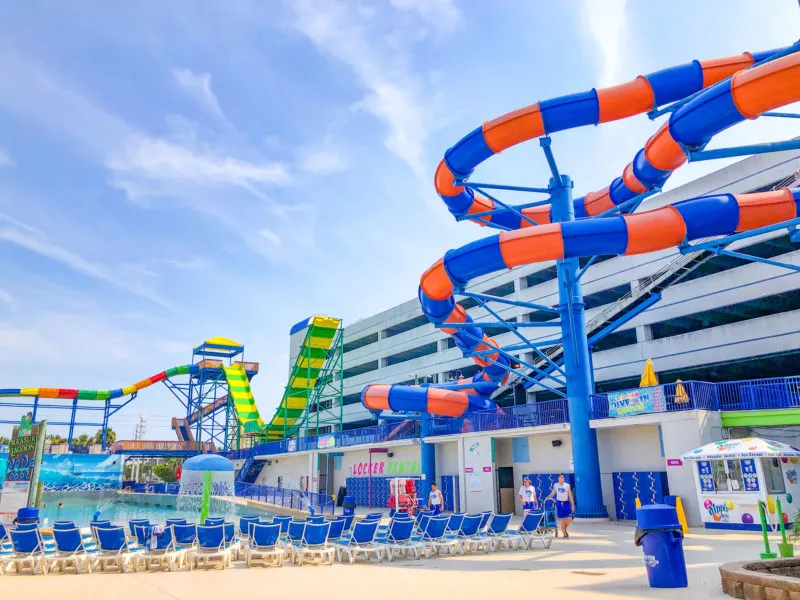 Admittedly, I expected Daytona Lagoon to be a small water park with a few rides. I figured it would be a nice place to visit for a few hours, while the kids played in the activity area. I expected to ride a couple of things and relax the rest of the time.
Boy was I mistaken.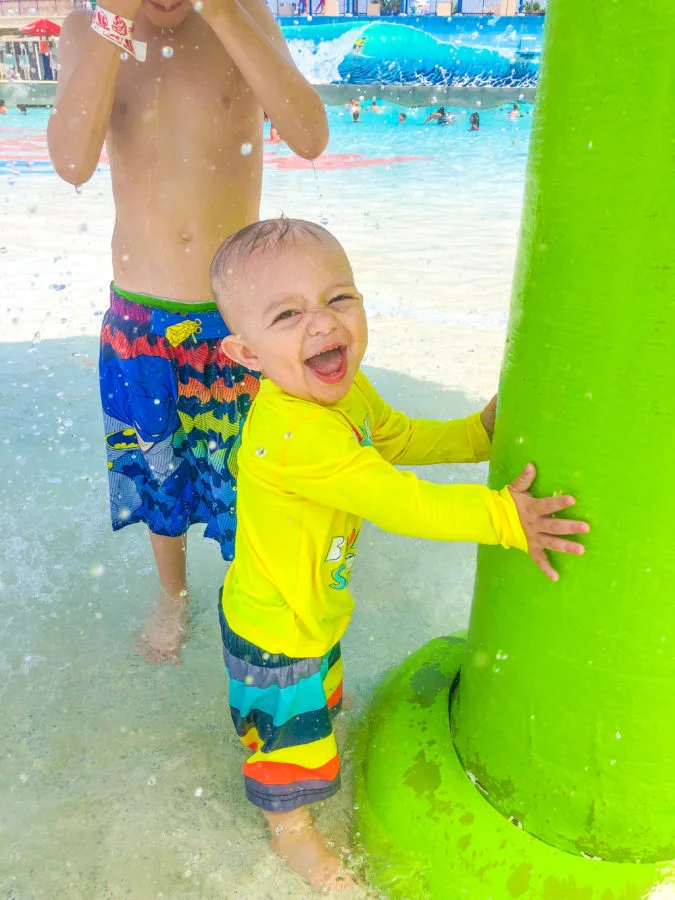 Even after my research of the Florida water park, I didn't expect it to be so large and full of fun for the entire family. In fact, I expected it to be geared towards younger kids rather than families of all ages.
Again, I was wrong.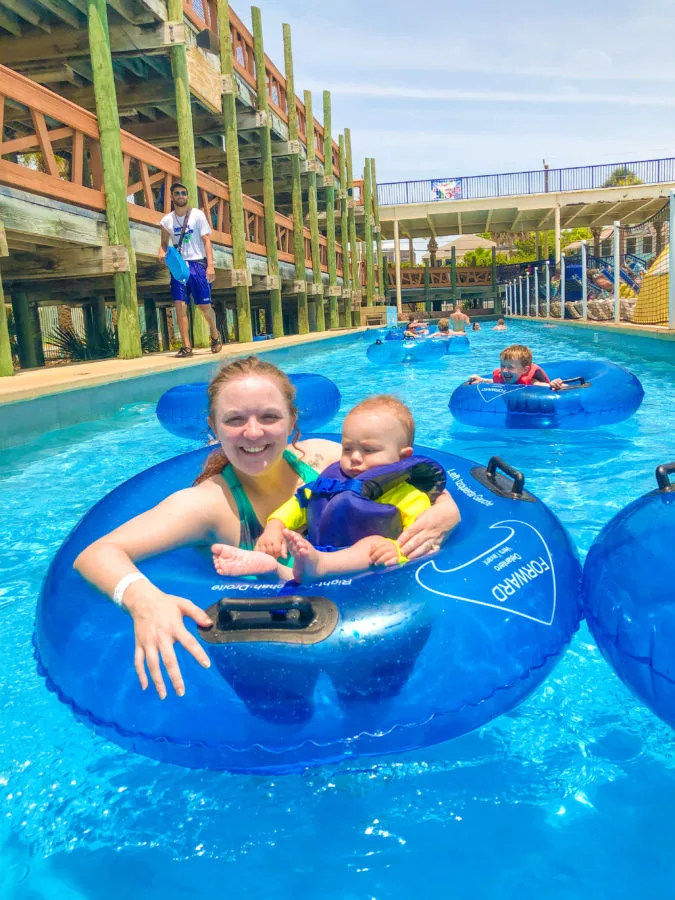 Daytona Lagoon is a great water park to visit with toddlers, kids, teens, and adults. This park literally has something for everyone – especially the thrill-seeking kids and adults!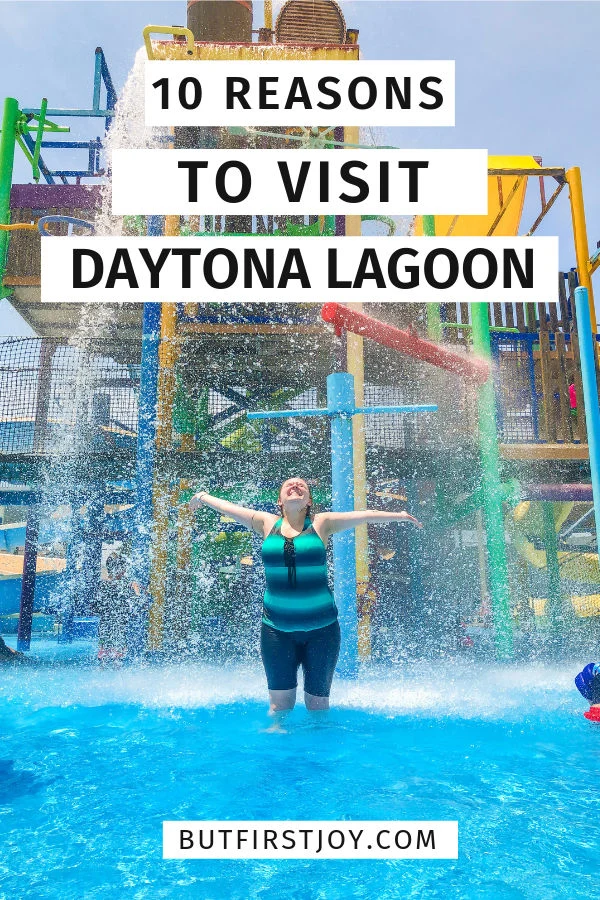 10 Reasons Daytona Lagoon is the Best Florida Water Park
After spending half a day at Daytona Lagoon this summer, my family and I have dubbed it the best water park in Florida and for very good reason: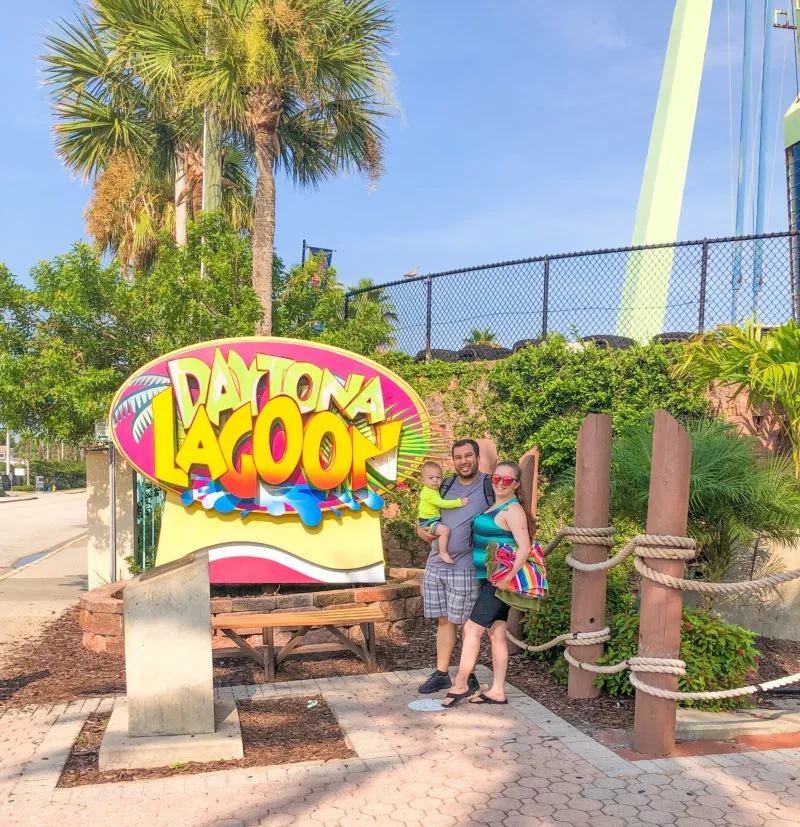 1. Affordable Prices
You don't have to save up for this water park! Daytona Lagoon offers very low-prices for families. In fact, children under 32″ play for free. They even offer "dry passes" or "spectator passes" for family members who have no intentions on enjoying the water.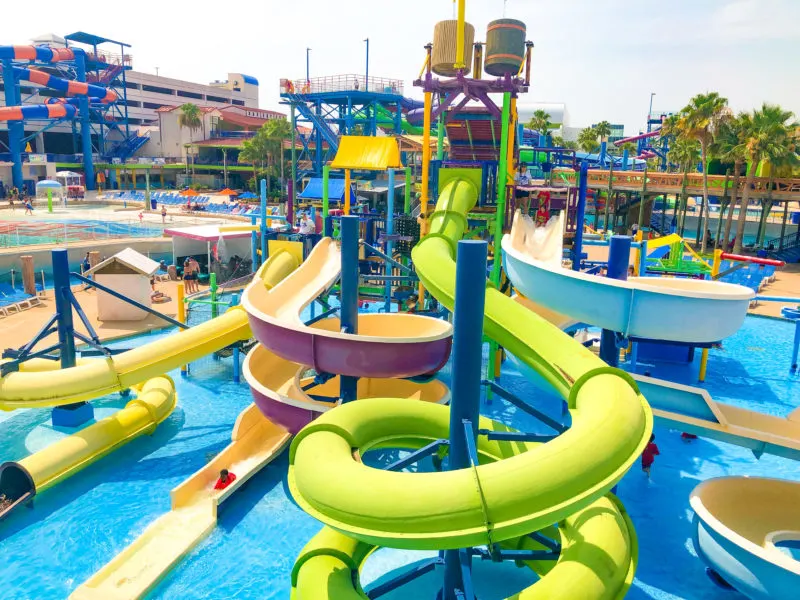 Tickets are as low as $21.99, with discounts for Juniors, Seniors, and Florida residents! Personally, I think the Daytona Lagoon Season Passes are the best deal!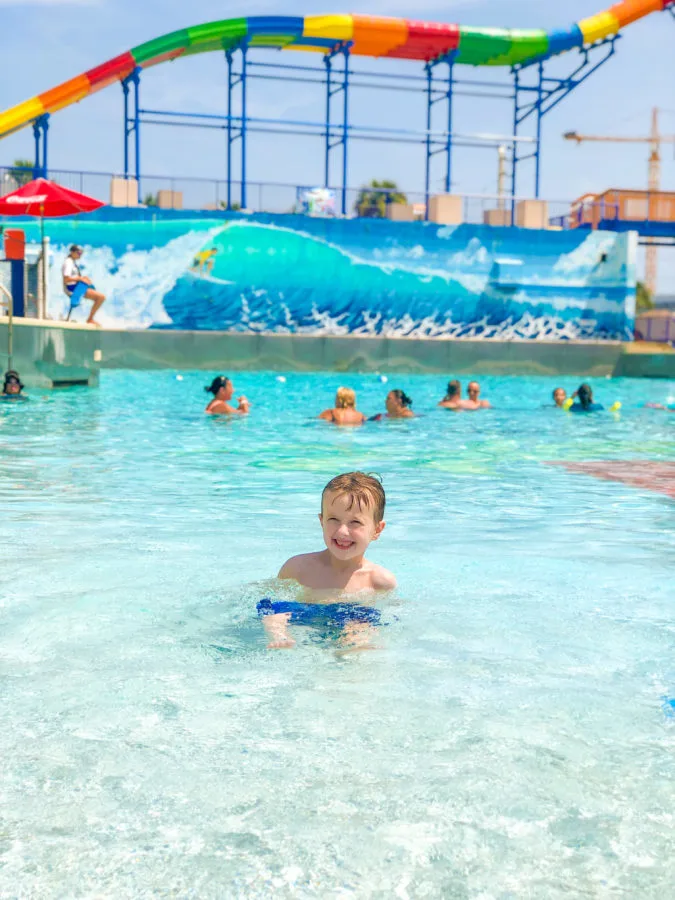 2. Less Crowds
I was pleasantly surprised by the little crowds at Daytona Lagoon. Unlike other Florida water parks, the crowds are very minimal. Less crowds makes for shorter wait times for rides.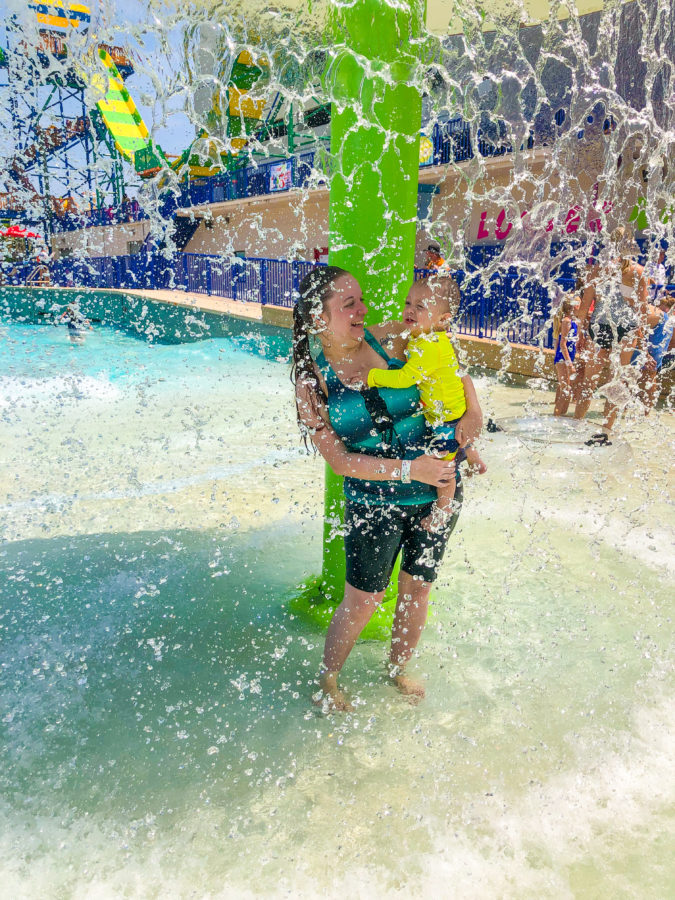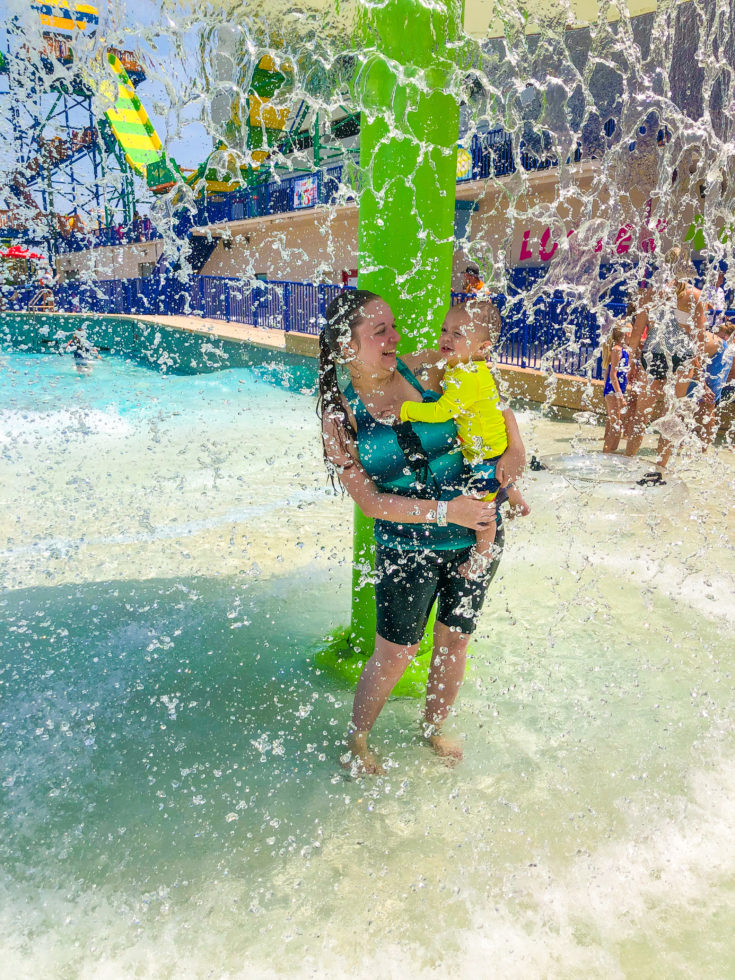 In fact, we didn't wait any longer than 10 minutes for a ride. I'm sure the weekends are much busier but this was surprising in the middle of summer! At other water parks we tend to skip rides due to the long lines.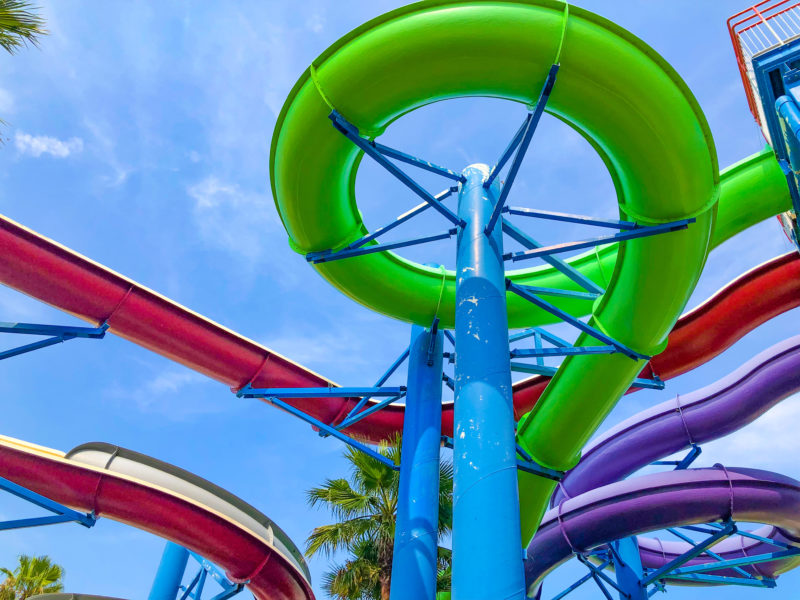 At Daytona Lagoon, we had the pleasure of riding our favorite waterslides multiple times! After all, we visit water parks for the fun water slides, right?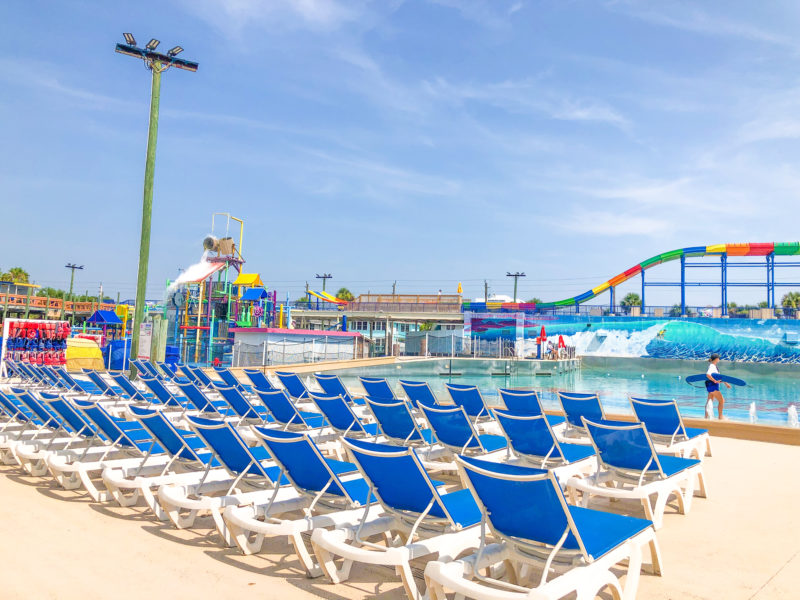 3. Plenty of seating areas
I loved the seating options at Daytona Lagoon. There were chairs located on every level of the waterpark. I recommend rushing over to the Castaway (child's play area) to grab a nice shaded location near the stairs.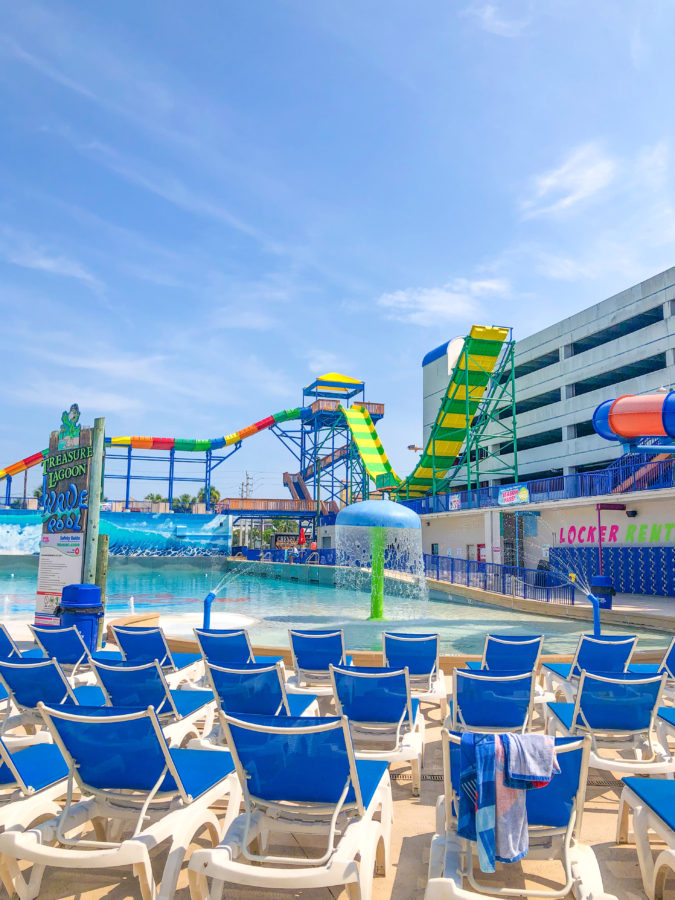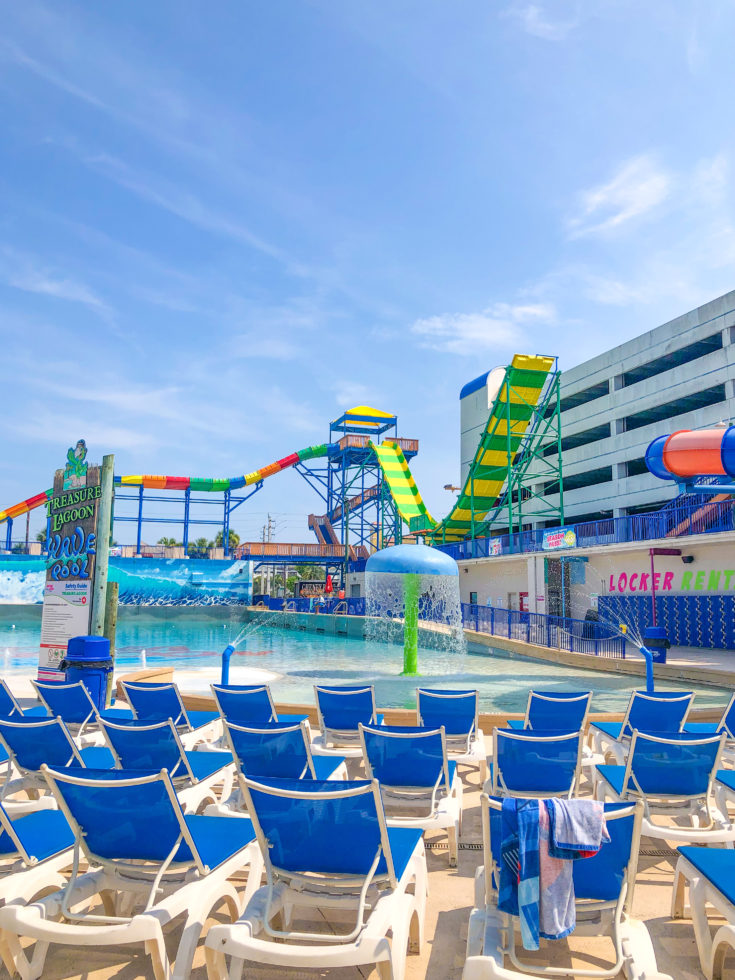 Don't worry too much about finding a good seat, though. There were dozens of empty chairs throughout the day.
You can even rent Cabanas and umbrellas with tables for a shockingly low-price.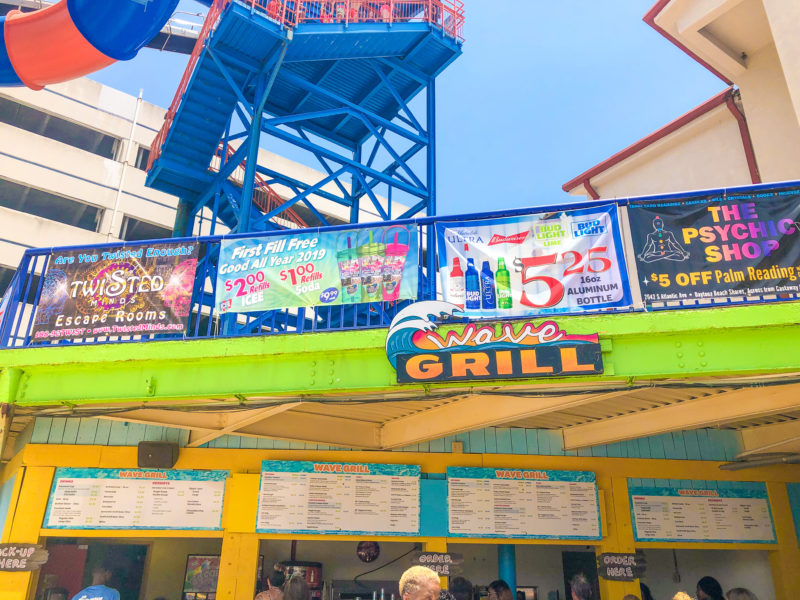 4. Adult Beverages
There's nothing like an adult beverage to help you enjoy a day by the pool. At Daytona Lagoon, you can enjoy beers on tap, frozen cocktails, and mixed drinks.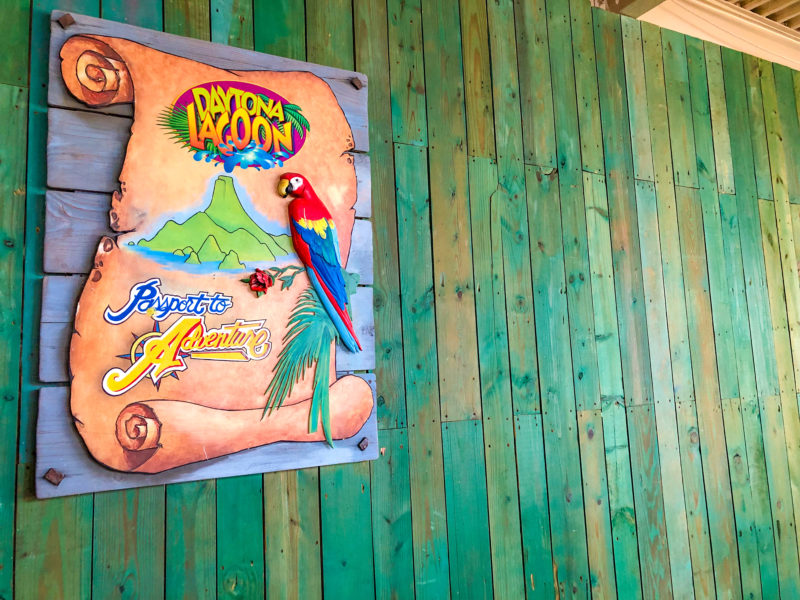 While many water parks in Florida now offer adult beverages, this one is particularly geared towards adults with a watering hole full of yummy drinks for the moms and dads!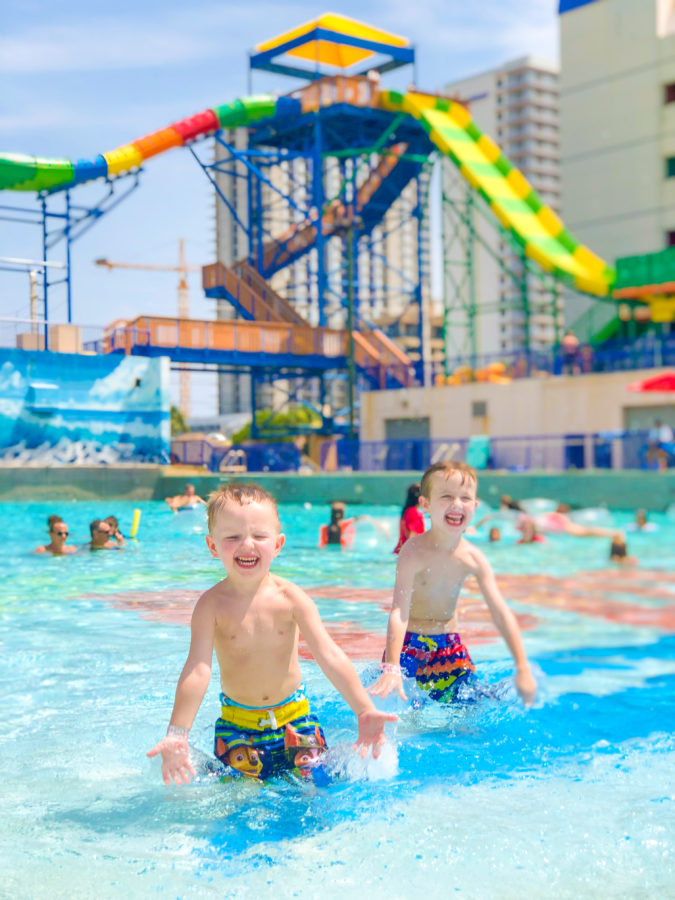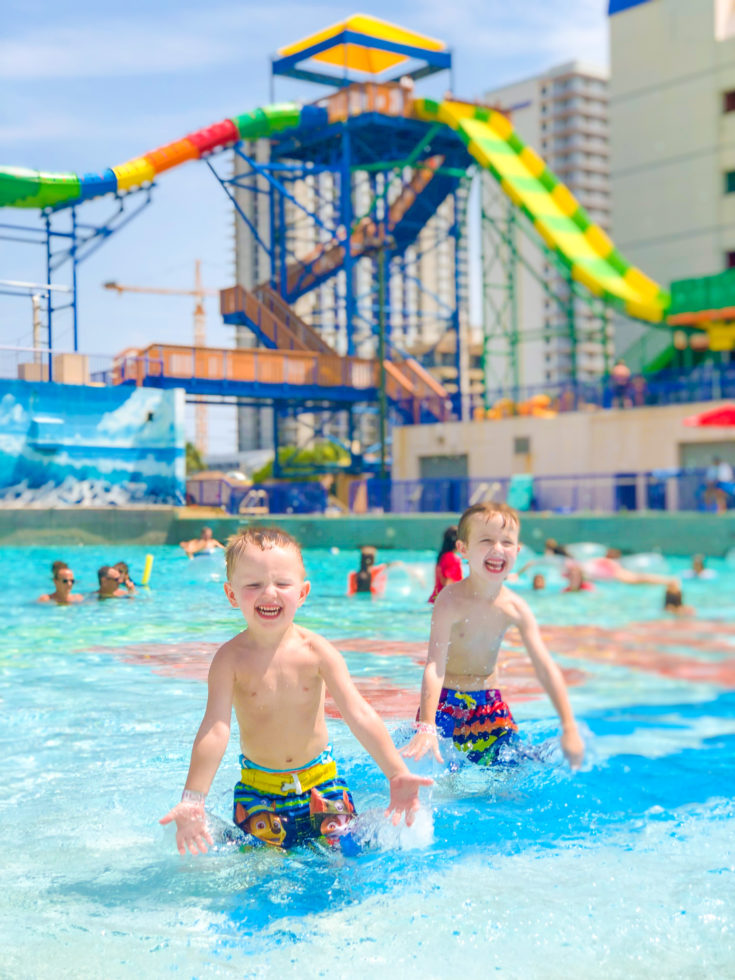 5. Fun Events
Something super exciting about Daytona Lagoon is the variety of events and specials they offer every week.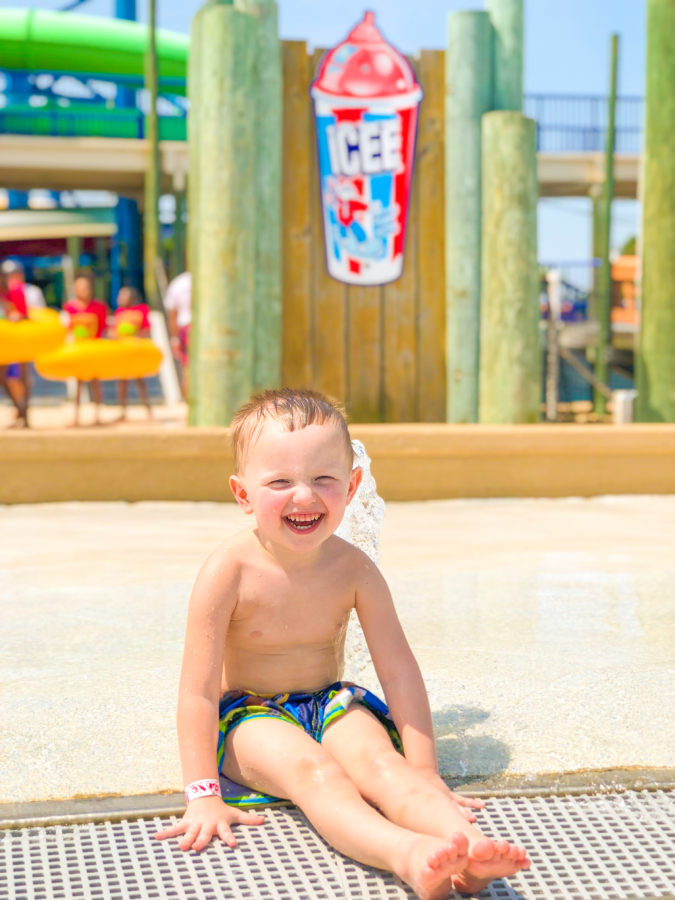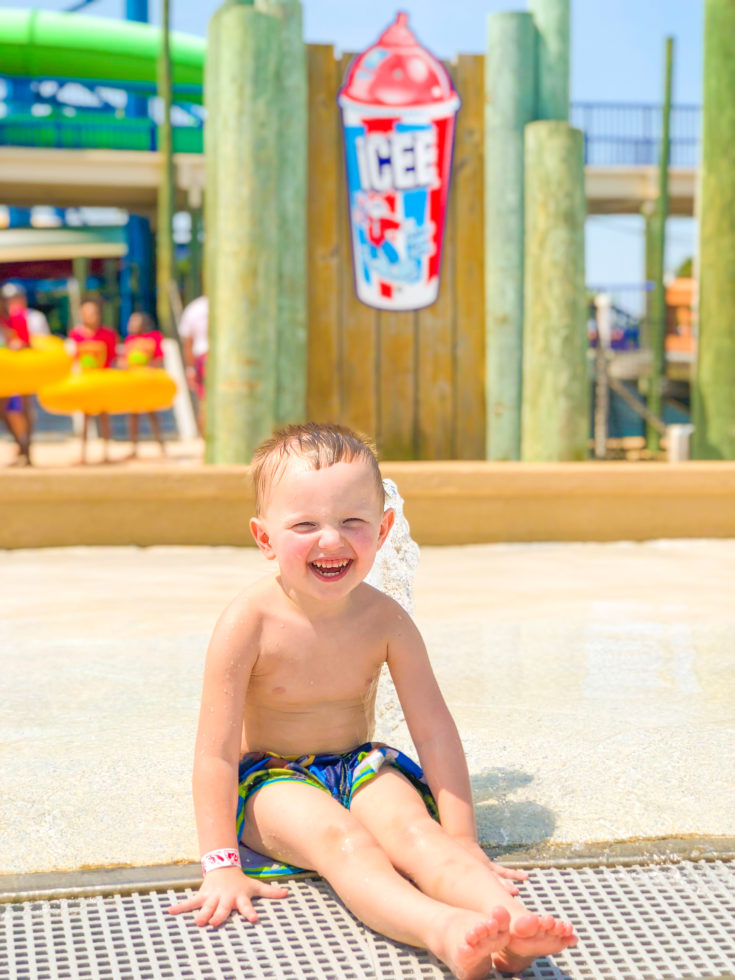 I'm particularly impressed by the "Summer Dive-In Movies" which features a family-friendly movie every other Friday all summer long. Float in the huge wave pool, while enjoying a good film. Ahh, the last time I did this was on a cruise ship!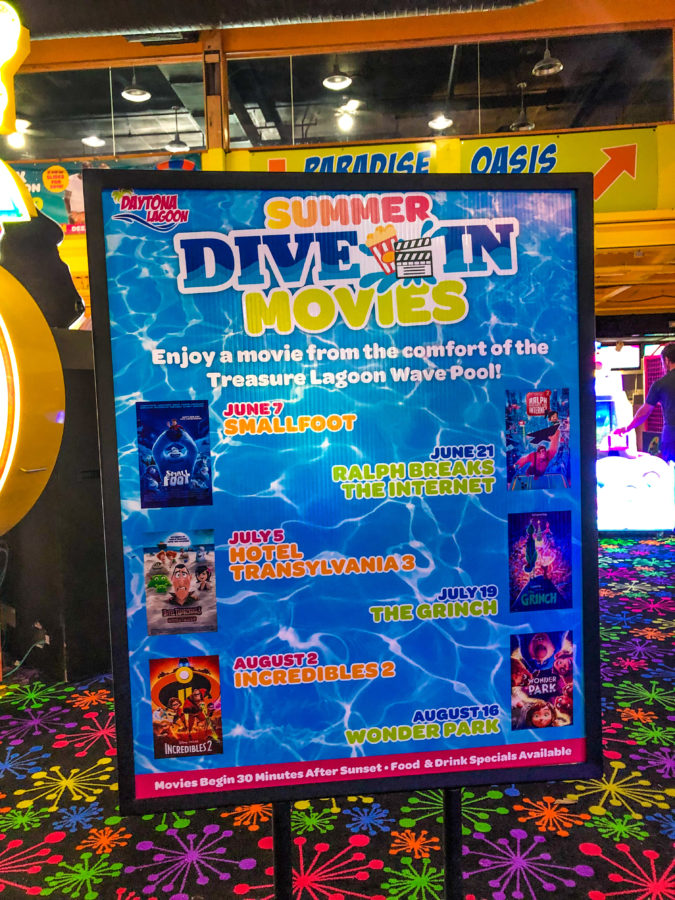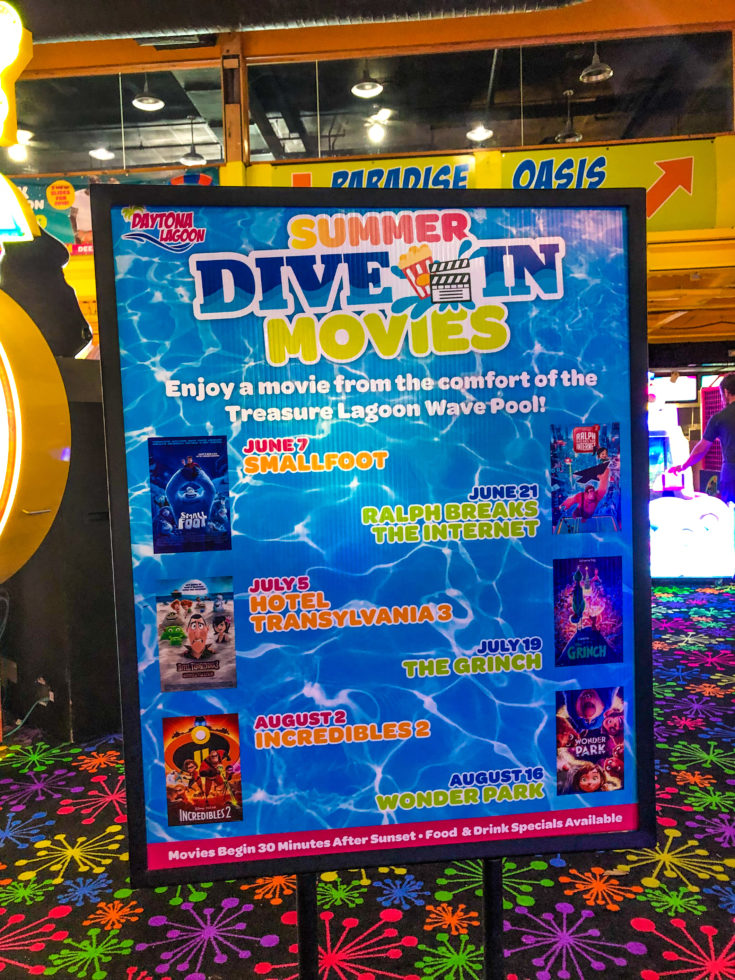 Other fun events include family-night, hospitality night, and even money for kids with good grades!
Seriously, what other park (much less water park) will hand children money to reward them for good grades?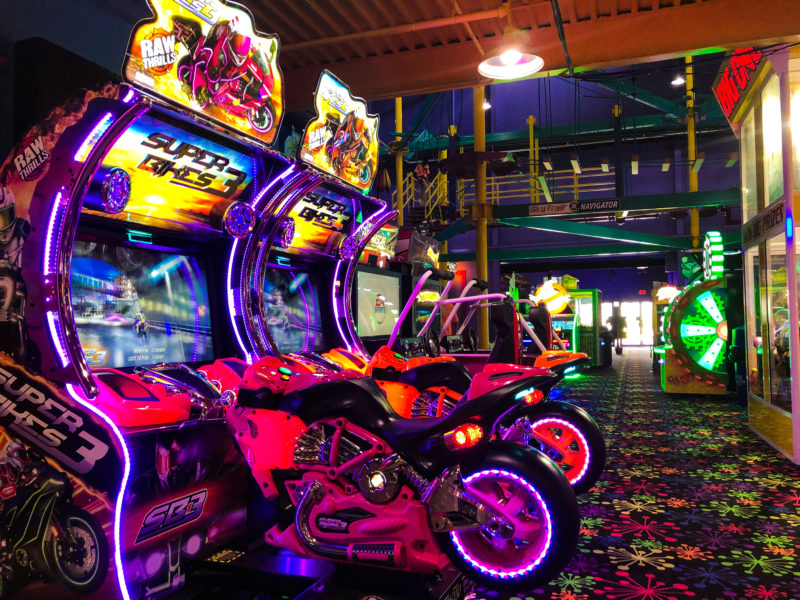 6. Additional Attractions & Arcade
The additional attractions and arcade are what really makes Daytona Lagoon stand out among other water parks! Not only can you float in the Lazy River, ride the waves in the lagoon, and fly down the variety of slides – you can enjoy attractions that are typically only found at amusement parks.
Go Karts, Mini Golf, Laser Tag, Sky Mazes, Oh my!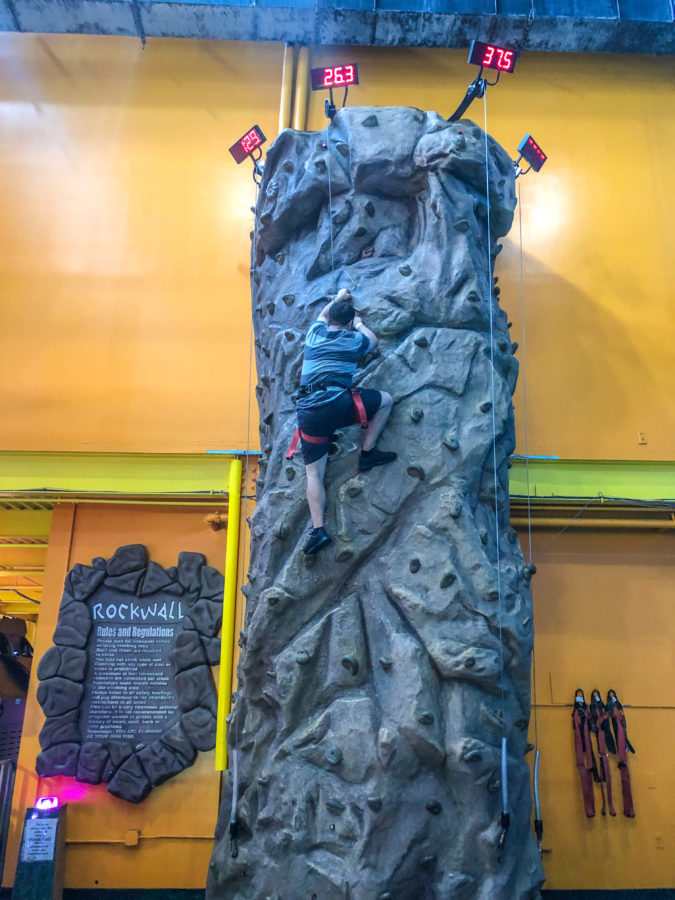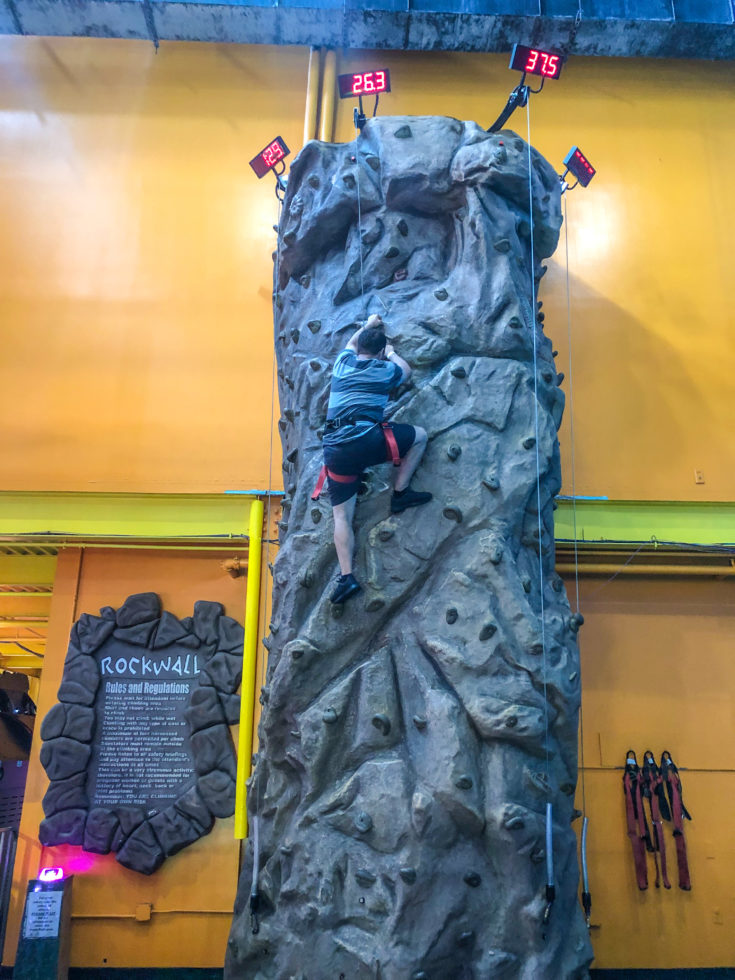 For an additional price, you can enjoy all of these fun additional attractions. Basically, you can spend a full day at Daytona Lagoon. You will be dragging the kids out of the park at the end of the day.
My husband enjoyed the physical attractions: rock climbing and the sky mazes. Meanwhile, my cousin and his children competitively battled it out in laser tag! One of the littles was brave enough to take on the Island Hopper.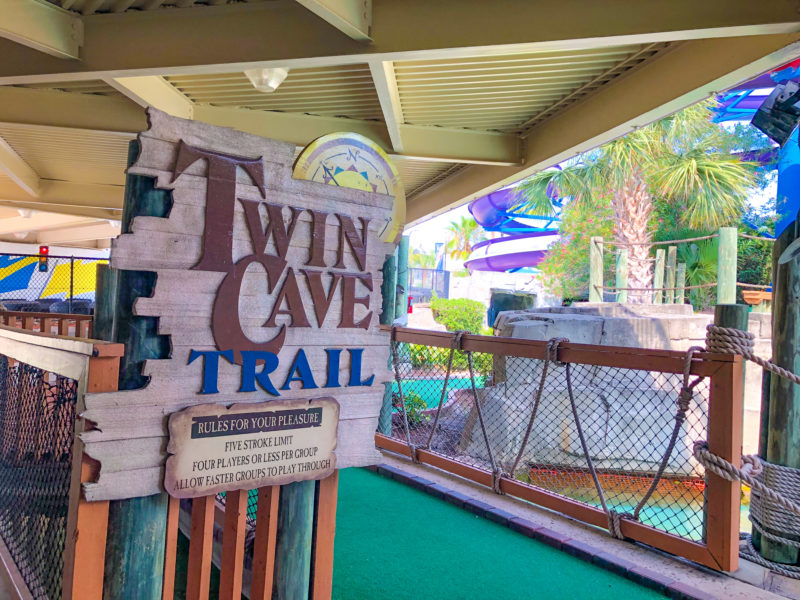 Everyone hopped on the Go-Karts for a few spins around the course. Next time, I'll be challenging the whole family to an intense game of mini golf.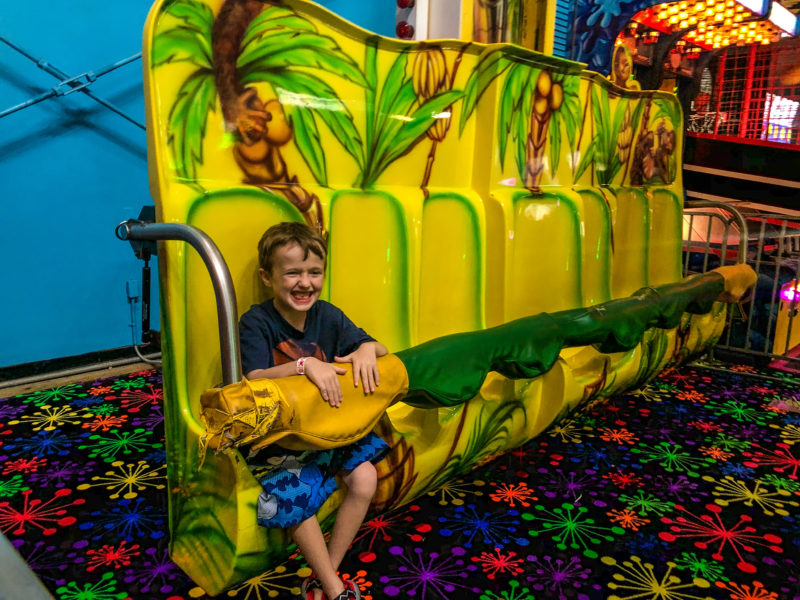 You pay for each attraction individually but I recommend getting the All Day Waterpark and Family Entertainment Activity Pass so you can do everything without worrying about a thing!
For $52.99, you can't get a better deal!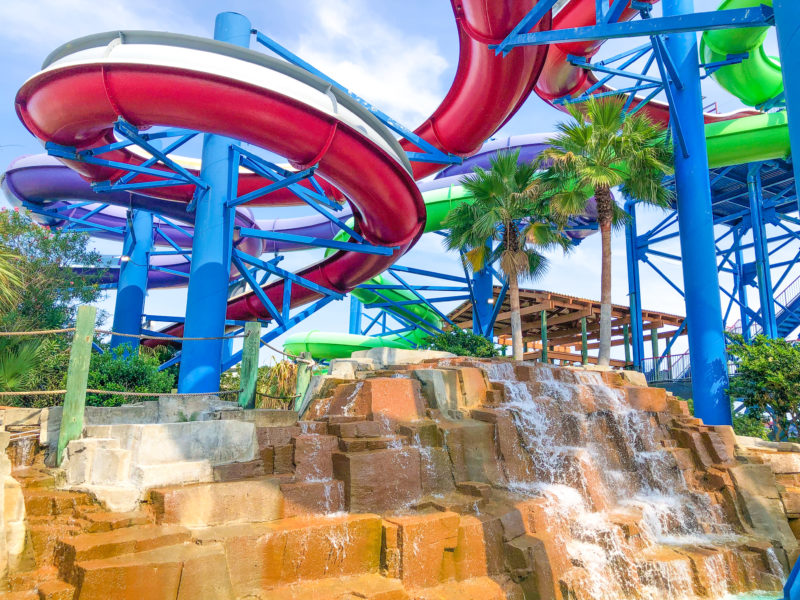 7. Family Water Slides
If there's one thing I look for in a good waterpark it's family water slides. We typically only visit water parks with extended family, so it only makes sense that we'd all want to enjoy the rides together.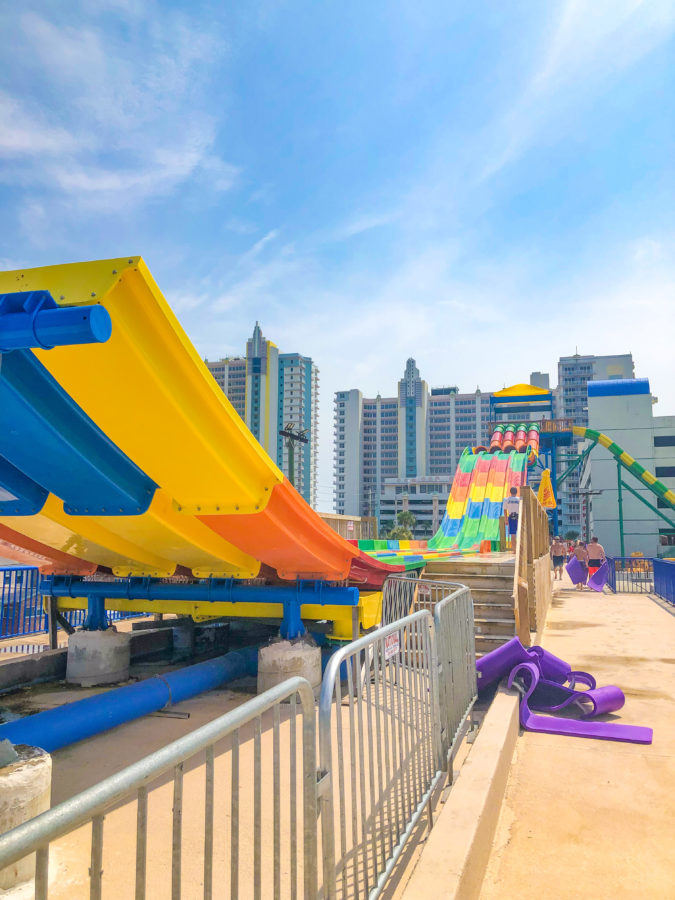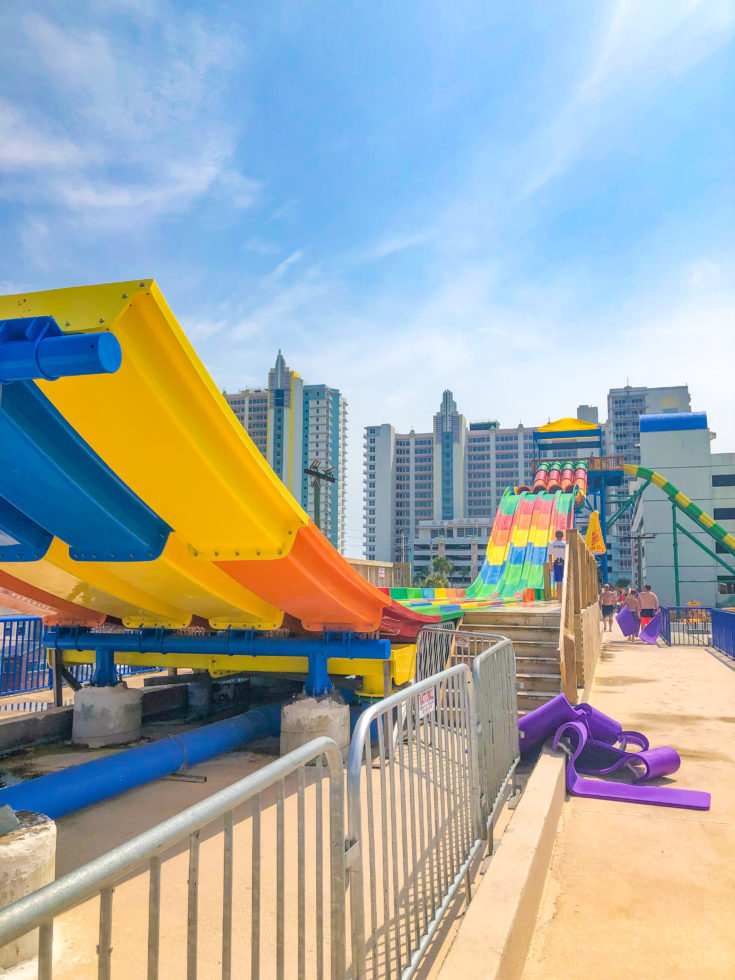 You can race one another on Kraken's Revenge, brave the Shaka Halfpipe in a double rider tube, or speed through the pitch black of Blackbeard's Revenge, which is my personal favorite. Those, along with a few more multi-rider slides, you can enjoy this waterpark with the entire family.
What I love is that children 42″ and above can ride everything with the family!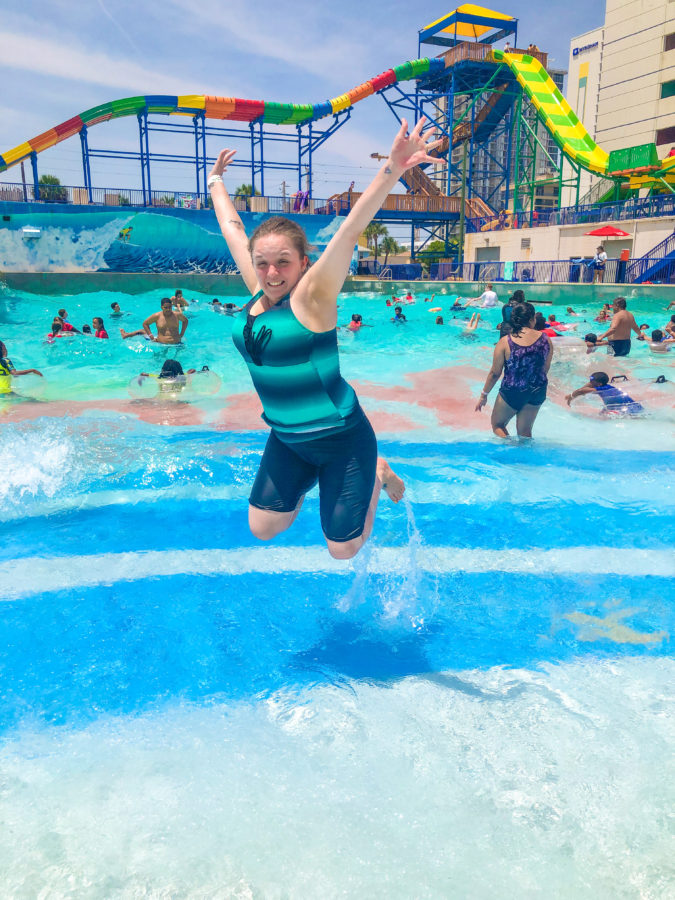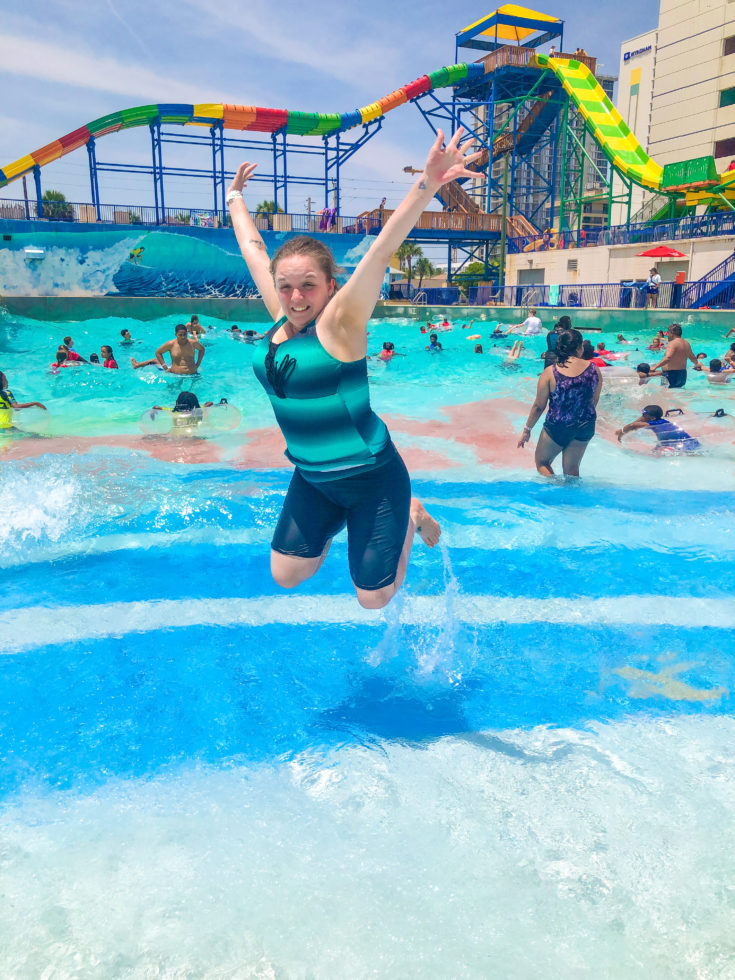 8. A GREAT Wave Pool
I'm obsessed with the Treasure Lagoon Wave Pool at this waterpark. One thing my family loves is to compare wave pools at all the waterparks and this one is quite the adventure.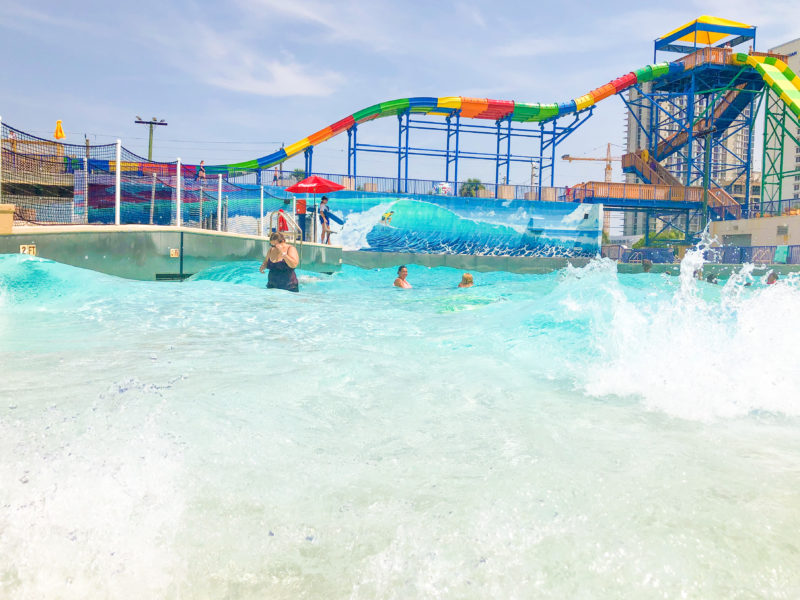 Much like the ocean, you can ride the waves in the Treasure Lagoon. The waves are larger and more intense than in the other parks we've visited in Florida. In fact, you can ride all those waves right on a tube.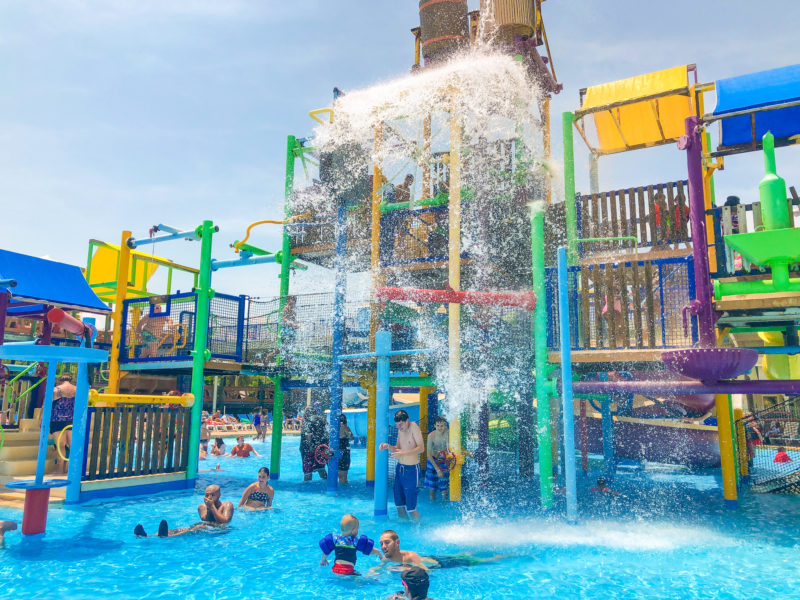 9. Fun Water Oasis for Little Kids
Castaway is the perfect area for kids of all ages to splash around, climb, and slide. Double water buckets drench kids throughout the day.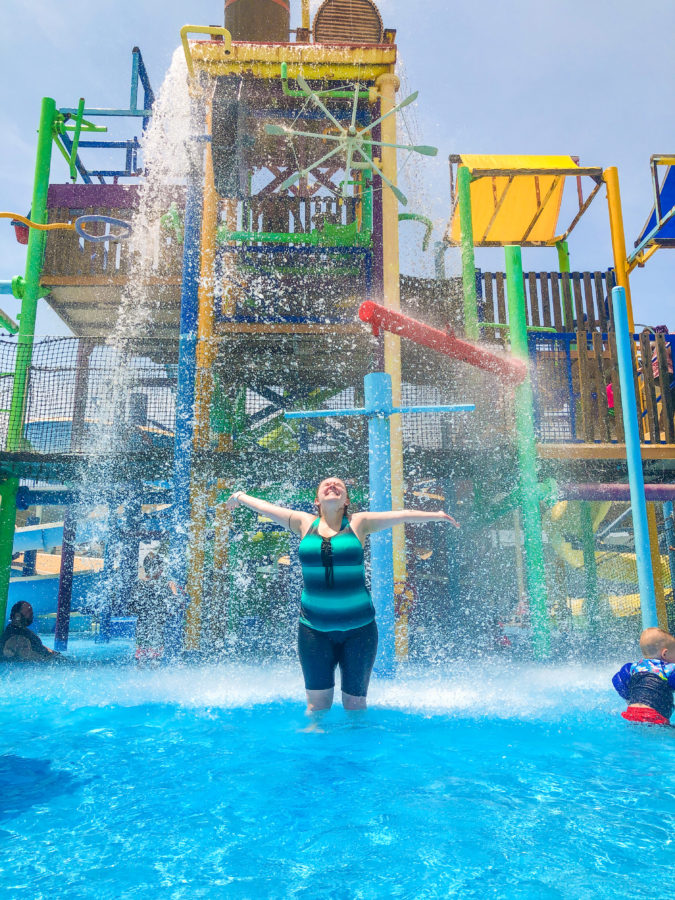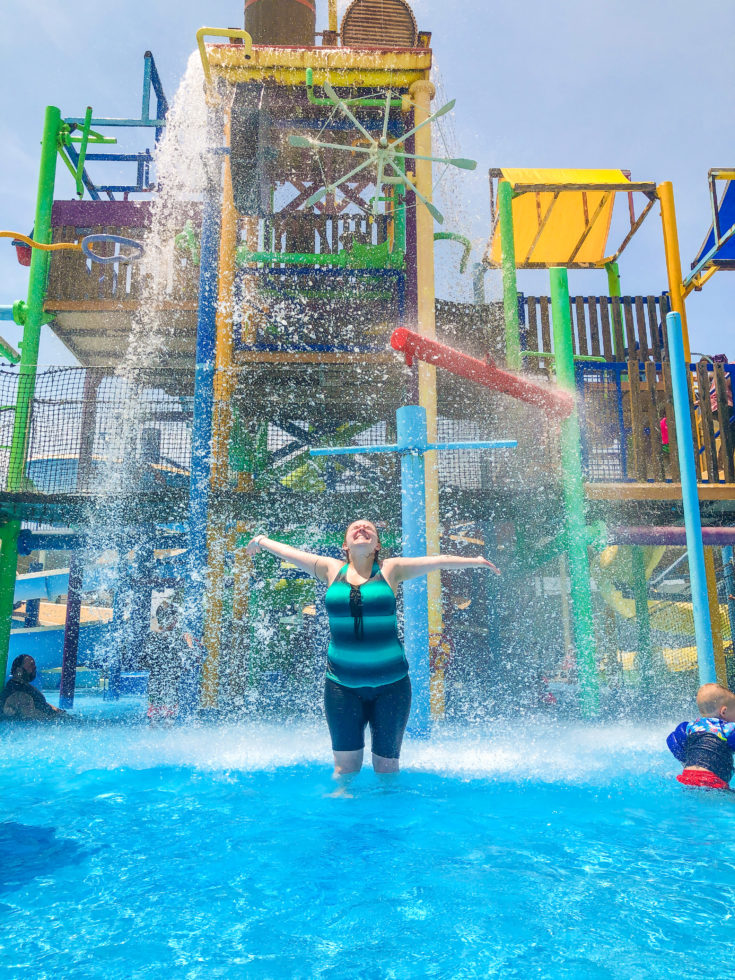 Actually, before noon, toddlers can enjoy Castaway without worrying about water buckets falling. The park specifically designates that a "drop free" time for toddlers.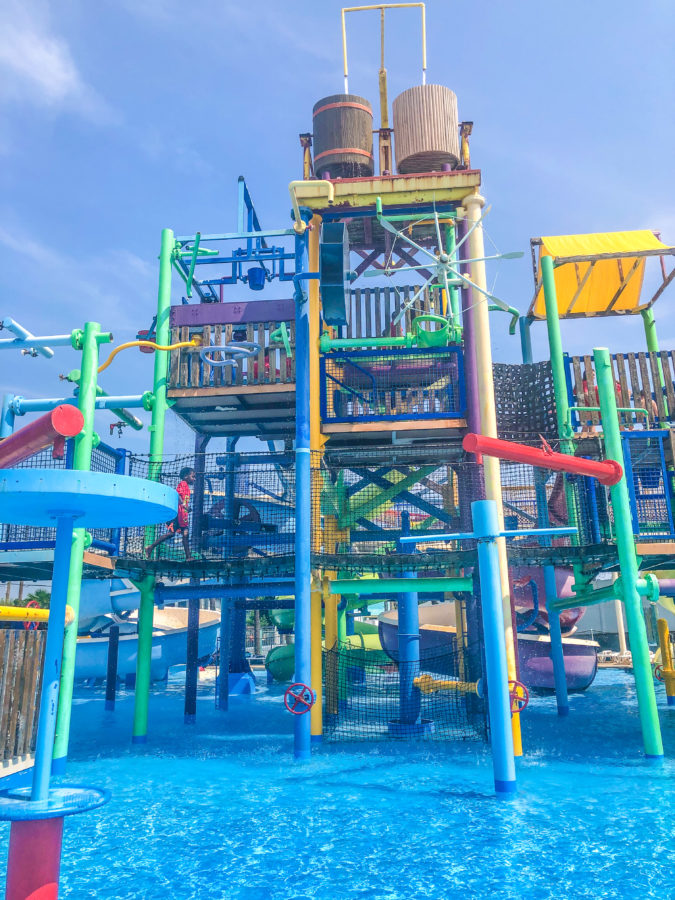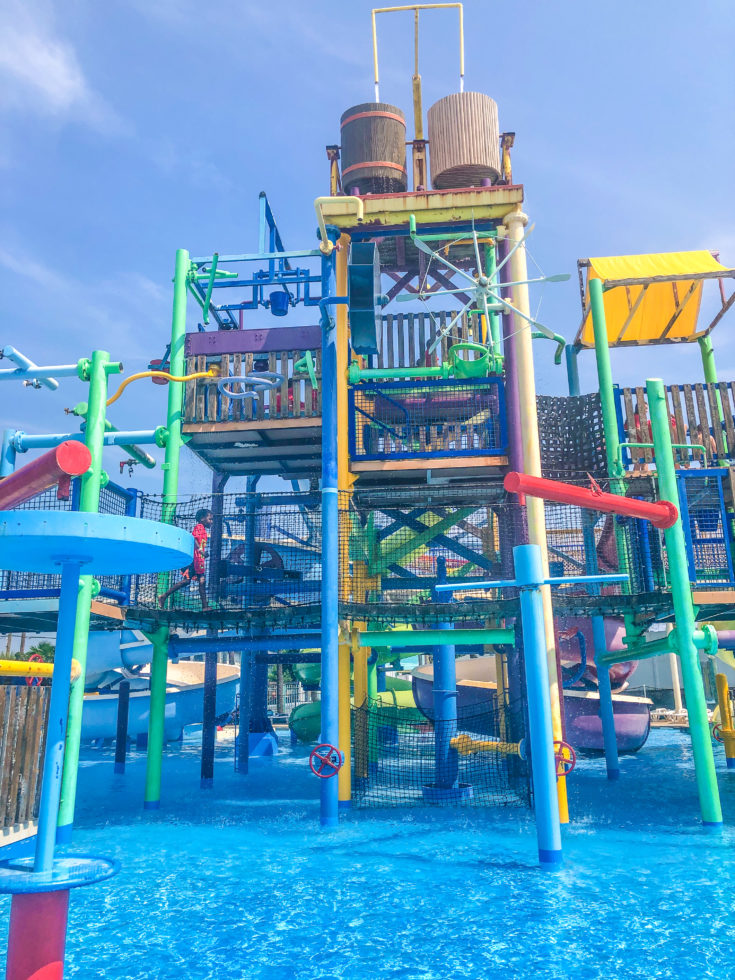 This activity area is so much fun for everyone as there are climbing ropes, a sky bridge, and 3 super fun water slides! The water around this area is a tad deep for the little ones, so be sure to grab one of the free life jackets for the non-swimmers.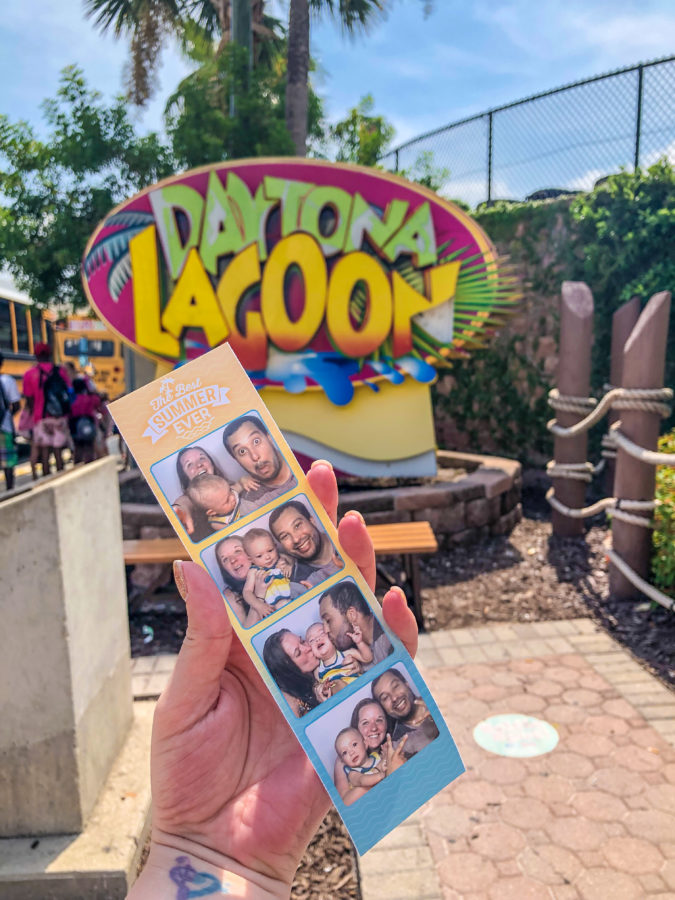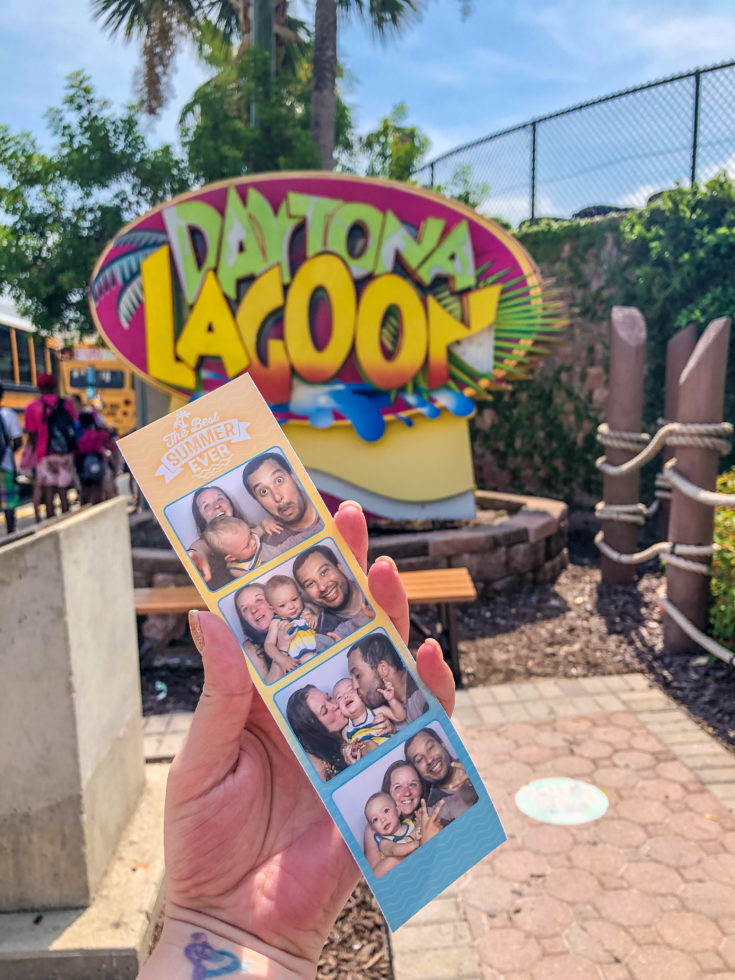 10. Near the Beach
Finally, Daytona Lagoon is a water park located right across the street from the famous Daytona Beach! That means you can walk from beach to water park in no-time. You can also enjoy the surrounding seafood restaurants, resorts, and tourist shops!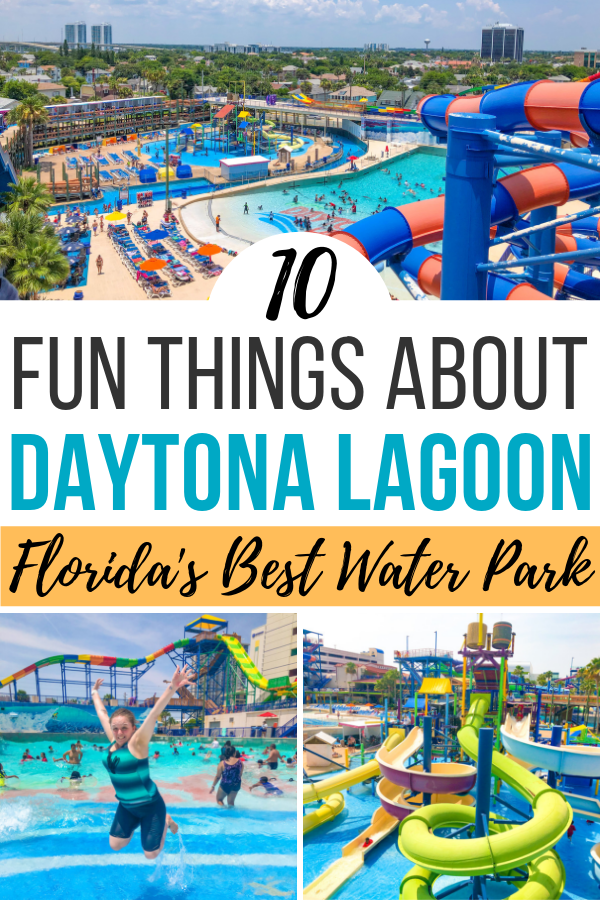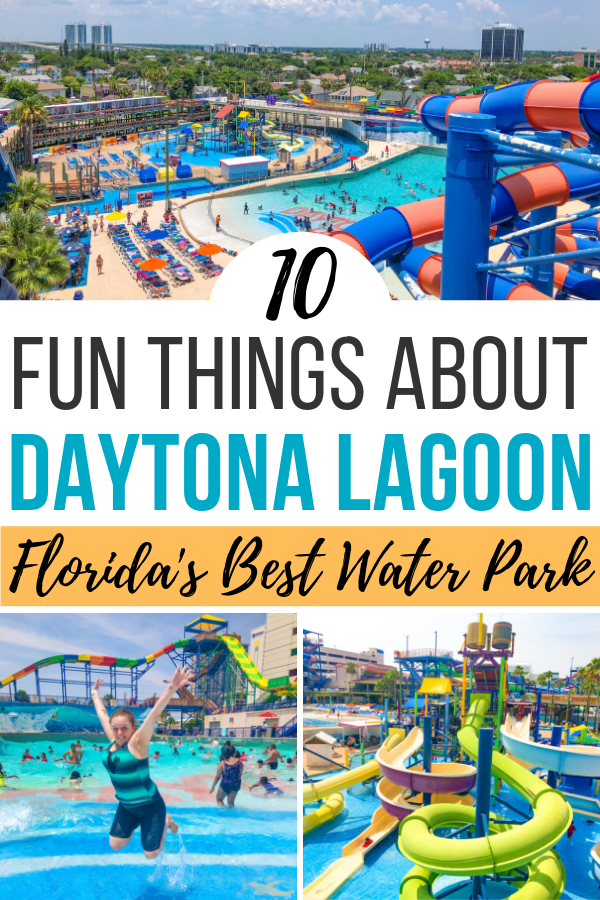 What do you look for in a good water park?