Beyond the history, Georgia is known for their divine food. Not only will we tell you the best places to eat in Savannah, but what to order at those places!
Savannah, Georgia has a piece of my heart. Not only is it the city where my husband popped the question, it's our go-to vacation destination. We even spent our honeymoon there.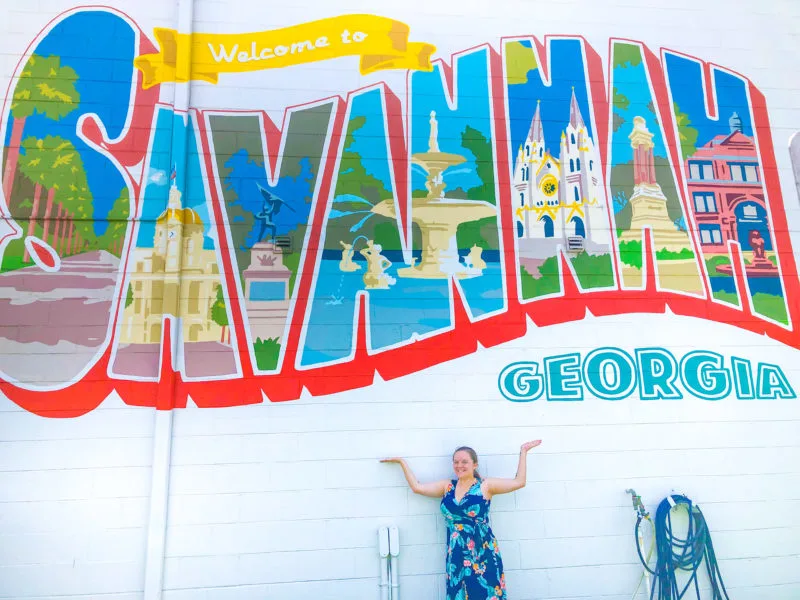 I love Savannah for many reasons: the history, southern hospitality, architecture, and most importantly… the food!
Plus, it's is an easy 4-hour drive from where I live in Central Florida.
So, when we planned our summer vacation with extended family, Georgia seemed to be an obvious choice. Especially considering that my in-laws has never been to the Peach State before.
We planned for Savannah to be our last stop on our 5 day vacation. You have to save the best for last, right?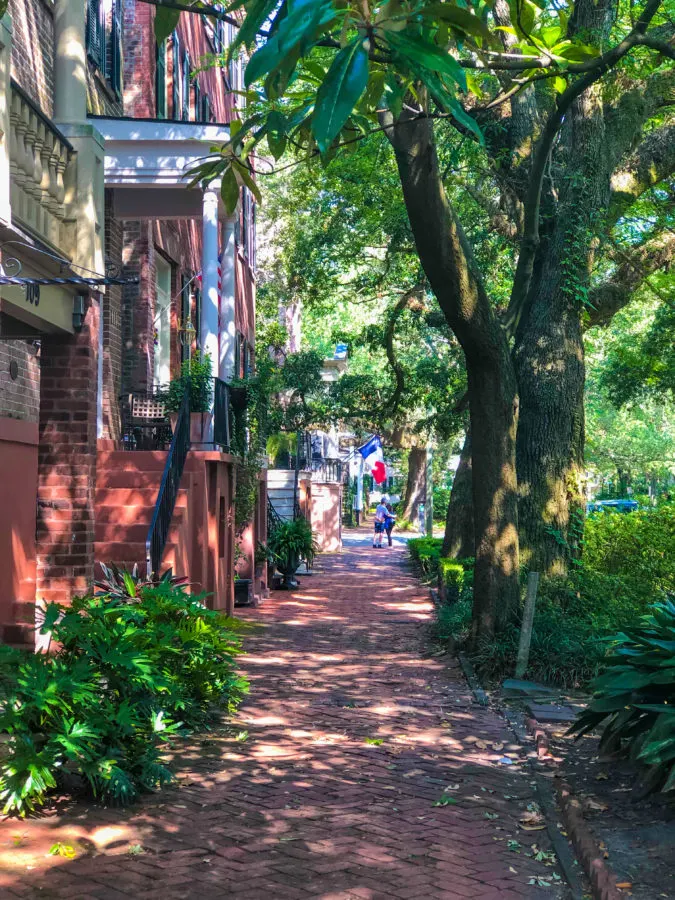 Our list of things to do in Savannah included a few great restaurants to visit. A couple of these places were on our bucket list, while others we'd enjoyed before.
The rule in our family is to never eat at chain restaurants when traveling. Unless the chain is somewhere we've never visited, of course.
Also, we try not to visit the same place twice but there are just some places that are too good to skip.
Actually, I find myself craving that deep south cooking from one of these places in particular.
These are my top 5 recommendations for where to eat in Savannah, GA.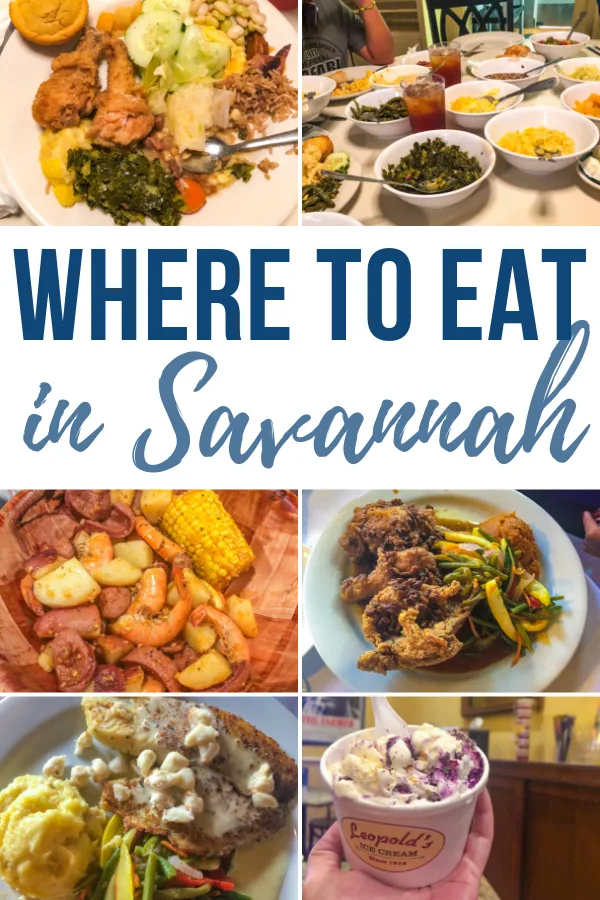 Best places to eat in Savannah, GA
If you're planning a vacation in this historic city, be sure you plan to enjoy some of the delicious food! These southerners sure know how to cook a good meal.
1. Mrs. Wilkes Dining Room
This family-style dining restaurant is my favorite place to eat in the whole world. I know that sounds dramatic but it's that impressive.
Located on the lovely cobblestone Jones Street in Savannah, Mrs. Wilkes Dining Room is ready to welcome visitors with big stomaches and a taste for human connection.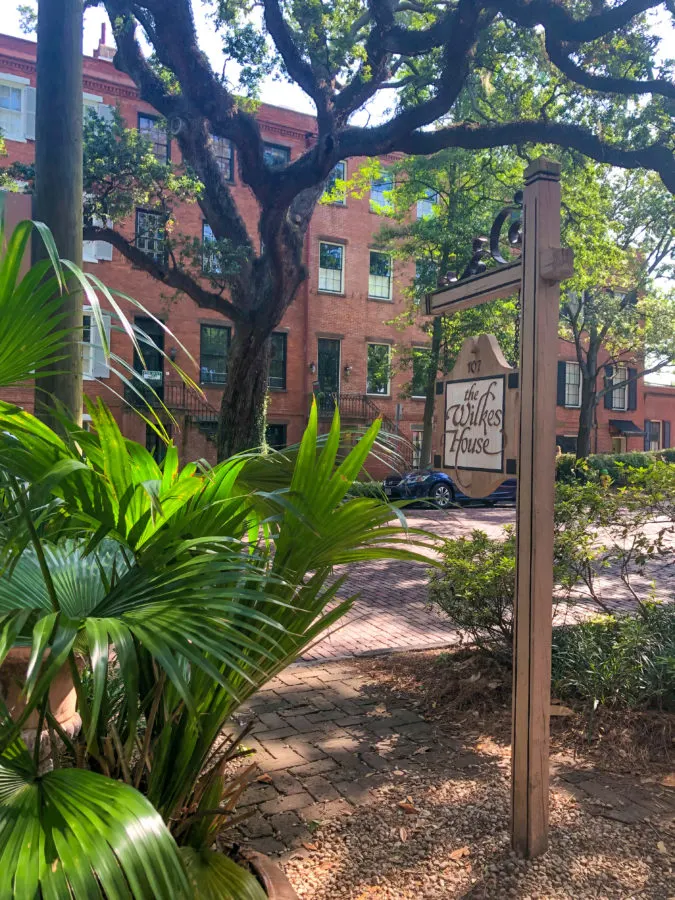 Be sure you plan accordingly though, at Mrs. Wilkes Dining Room, a line starts to form around 9am on Monday through Friday. The doors don't open until 11am and they close at 2pm.
Trust me when I say that it is absolutely worth every second of the wait!
Also, bring $25 per person in cash because they don't accept anything other than that.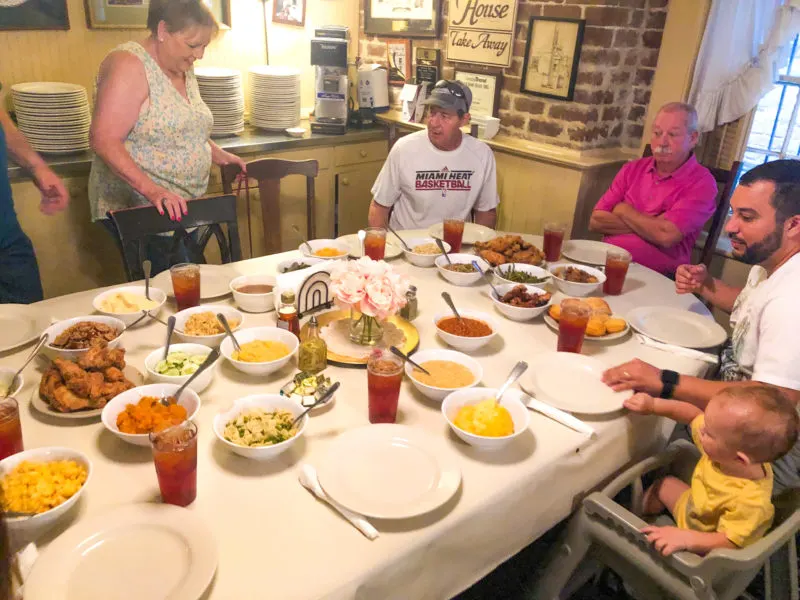 At Mrs. Wilkes, families, friends, and strangers will sit at round dinner tables of 10. This means you'll be sharing food and conversations with strangers.
As intimidating that might sound for some, I promise it's an experience in itself. You can meet people from all backgrounds who have come together to connect over southern-style cooking.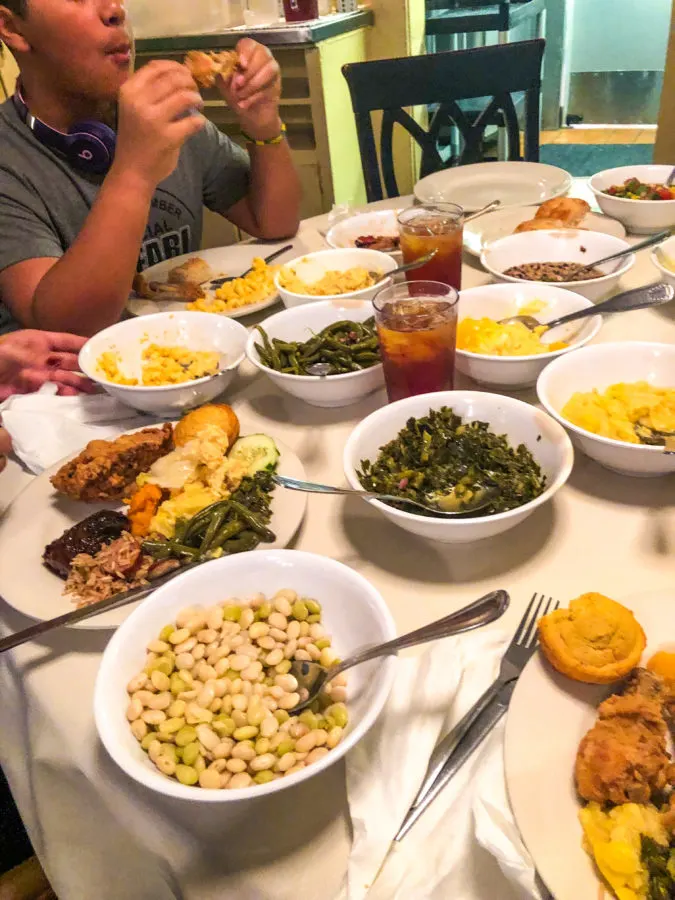 In fact, you'll have no choice but to talk to other diners because at Mrs. Wilkes, you will share food just as you would at Thanksgiving in your home.
What to order at Mrs. Wilkes Dining Room
There isn't a menu to order from. When you enter the dining room (in groups of 10) you will be seated at a table that is already loaded with bowls of southern dishes and sweet tea.
You will pass the platters of food around as you add each yummy food to your plate. Don't worry about taking too much because this is an all-you-can-eat dining room. If you want more of something – just ask the lovely waiters who are happy and willing to bring more upon request.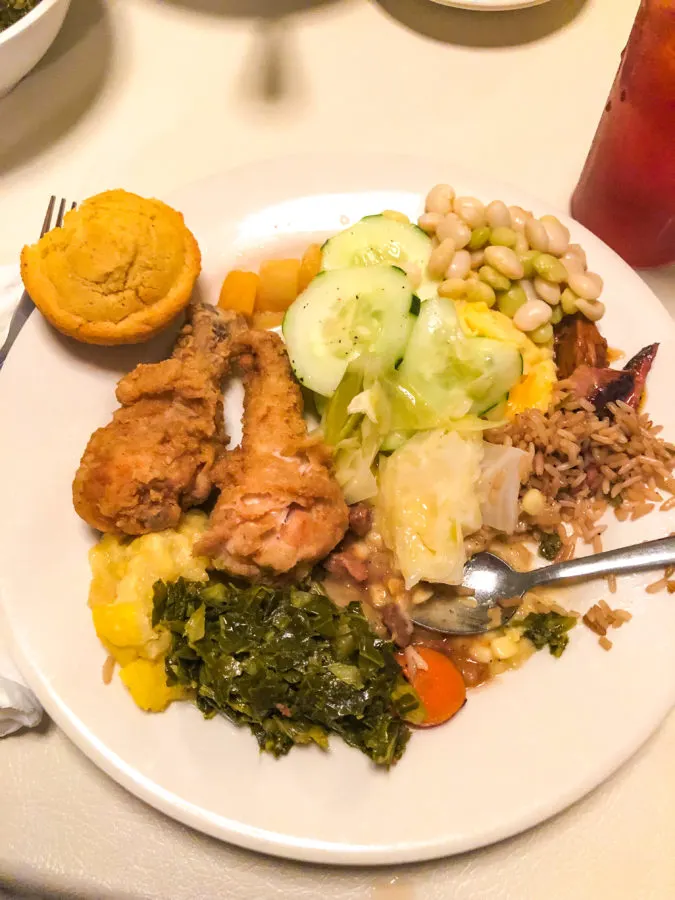 Diners can enjoy southern fried chicken (which is dubbed the best fried chicken on the planet), collard green, corn bread, creamed corn, black eyed peas, and so much more! There are only 3 choices of drinks: sweet tea, unsweet tea, and water.
Come hungry thought because your meal will end with an option of banana pudding or fruit cobbler.
Be sure to respectfully take your plates into the dining room because at Mrs. Wilkes, they don't clean up after you – just like gramma's house!
2. Savannah Seafood Shack
With Savannah right on the river, my husband and I knew we wanted to try a seafood place. After researching and reading reviews, the Savannah Seafood Shack seemed like the obvious choice.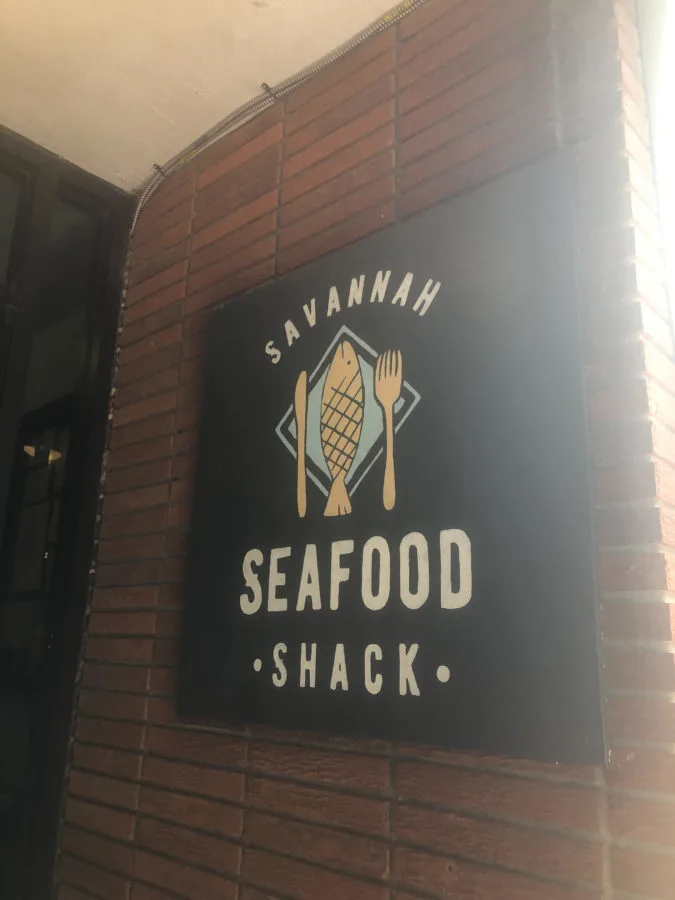 Not only is it right near one of the Old Town Trolley stops, it's near Leopold's Ice Cream so it's a win-win.
This small restaurant has a variety of modern and classic seafood dishes. You order right at the register and your meal is brought to the table.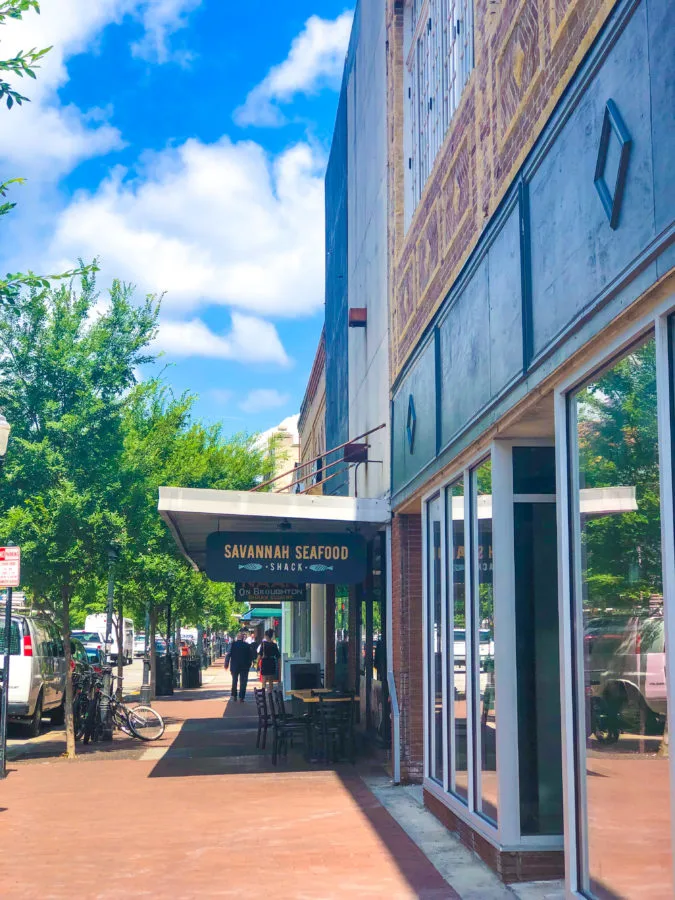 The portion sizes are average and the prices are great! As for the freshness and quality of food: it's top of the line! The dishes are loaded with flavor and cooked to perfection.
I ordered the Fried Oyster Cone which is layered with oysters and slaw in a large sweet cone. It sounded like a unique, yet delicious choice. The special sauce on the top makes it even better!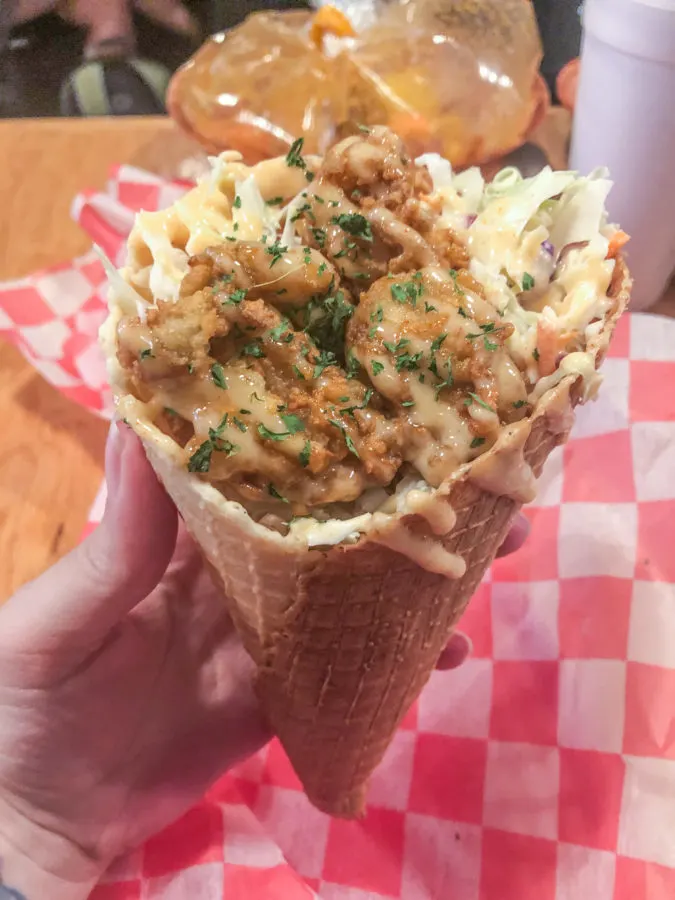 And it was just that! It took me a couple bites to decide if I really enjoyed the unexpected sweet flavor. Then, I was hooked. I even considered ordering a second (it's very light).
My husband ordered the Single Serving Low Country Boil which he'd planned to order long before we visited. In fact, he thought I was nuts to not order one for myself. After trying his, I must say that I agree.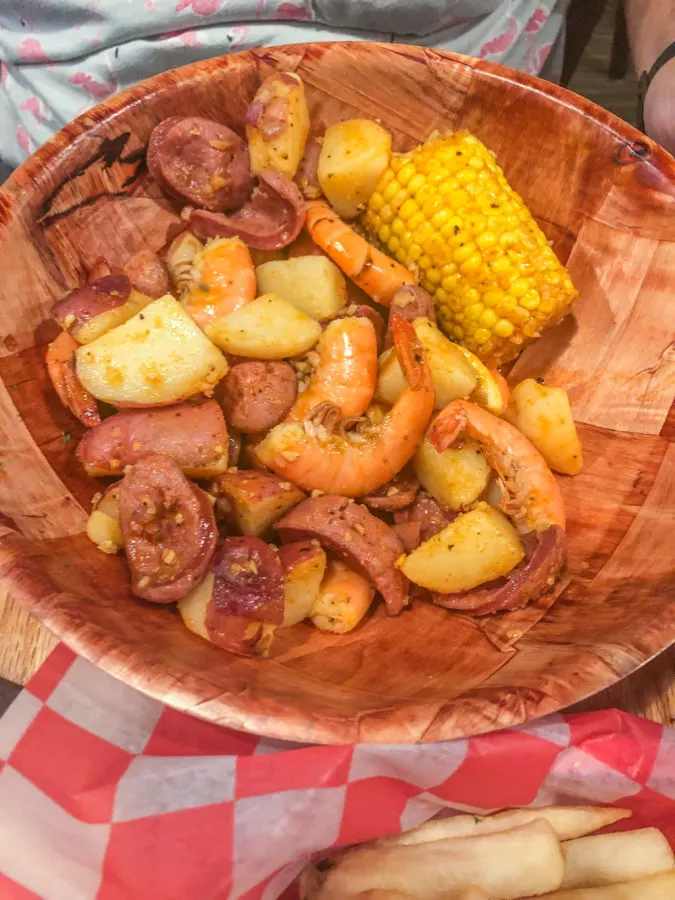 The low country boil comes in a bag, in a bowl. You dump the seafood into your bowl and dig in. It includes peel-to-eat shrimp, corn on the cob, sausage, and potatoes.
The flavor is out of this world. It has just enough spice! You'll only wish you'd ordered a second one!
3. Leopold's Ice Cream
Upon each Savannah visit, I hear whispers about Leopold's Ice cream. As someone who isn't a huge fan of sweets, I never made it a priority… until this summer.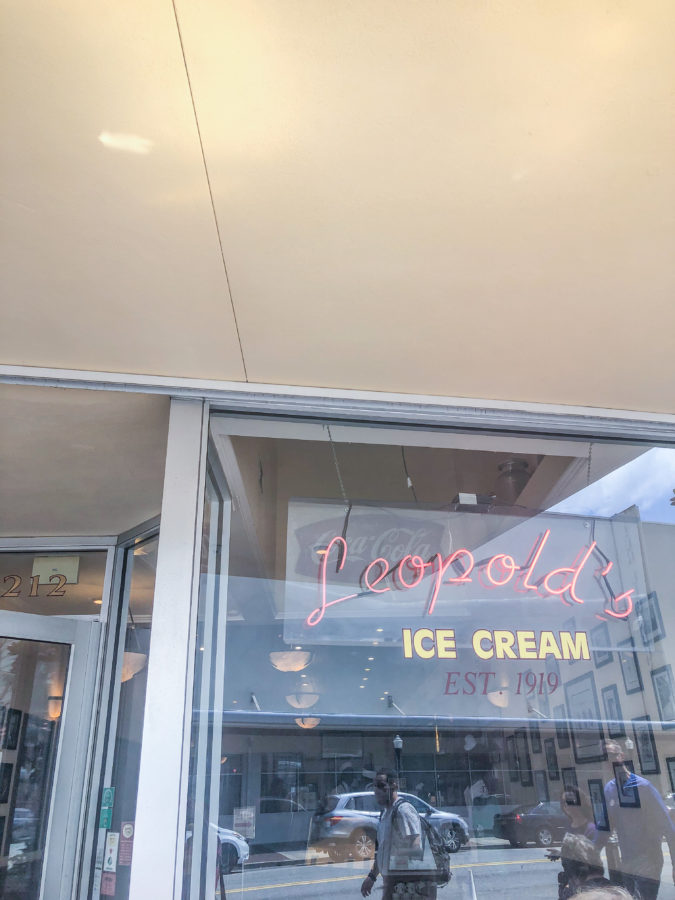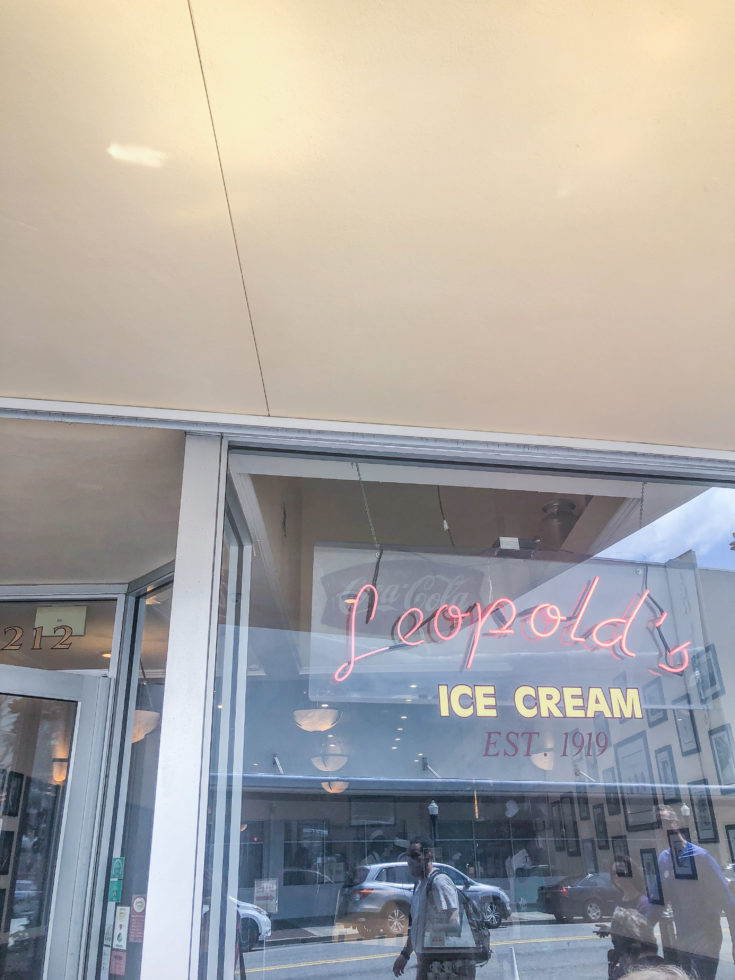 Traveling with extended family means everyone has a taste for something different. With the hot weather and yearning for something sweet, we worked this famous Savannah ice cream shop into our plans.
I was pleasantly surprised to see there wasn't a line around 1pm at Leopold's. Apparently, we got lucky because the line was literally out the door by the time we left.
Is it the best ice cream ever?
This Savannah Ice Cream Shop has a variety of classic and unique flavors to choose from. My husband ordered a plain vanilla cup and I couldn't resist the blueberry cheesecake.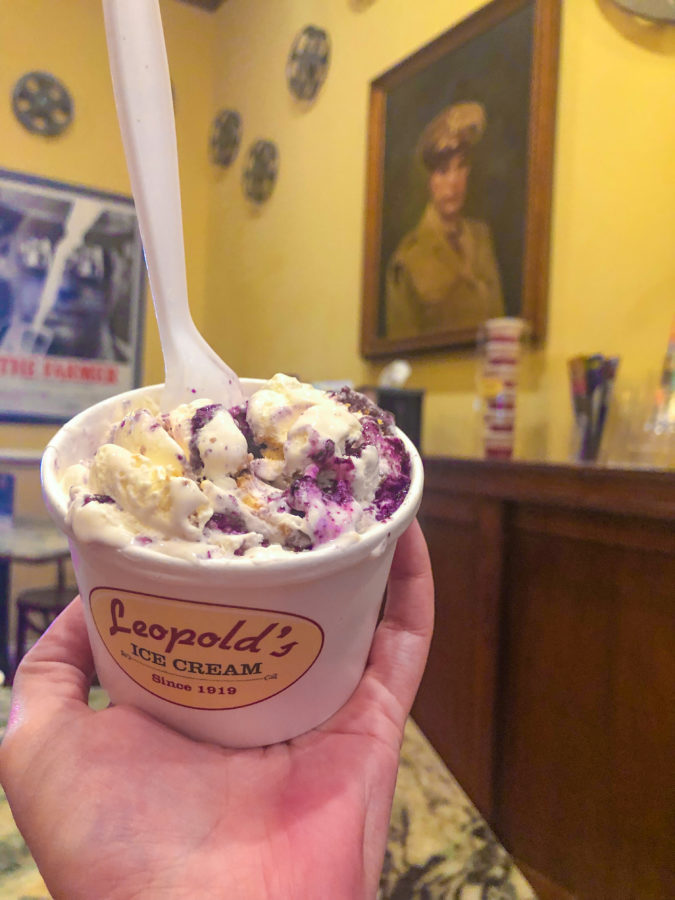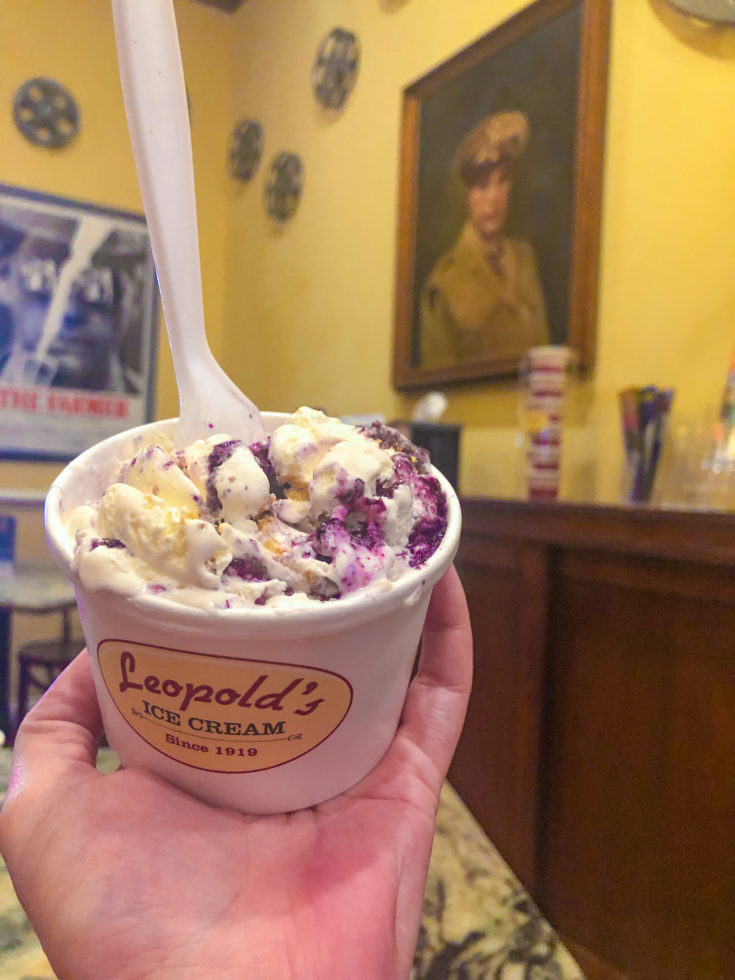 I must say, the toasted coconut stout ice cream was very tempting. Actually, I had a hard time choosing one flavor because the few I tried were crazy good.
My husband said it was the best vanilla he's had which is really saying something as that's his favorite flavor.
Dare I say that this is the best ice cream I've ever had? YES! It is! It's creamy and delicious. I never eat all of my ice cream but I enjoyed every last bite and I even craved more!
Don't skip this Savannah food joint when you're in town because as far as the best places to eat in Savannah – It's a Georgia must-try!
4. The Pirates' House
The Pirates' House is a very popular location in Savannah, GA and now I understand why. Not only is this one of the oldest buildings in Savannah, it's the largest restaurant in the city.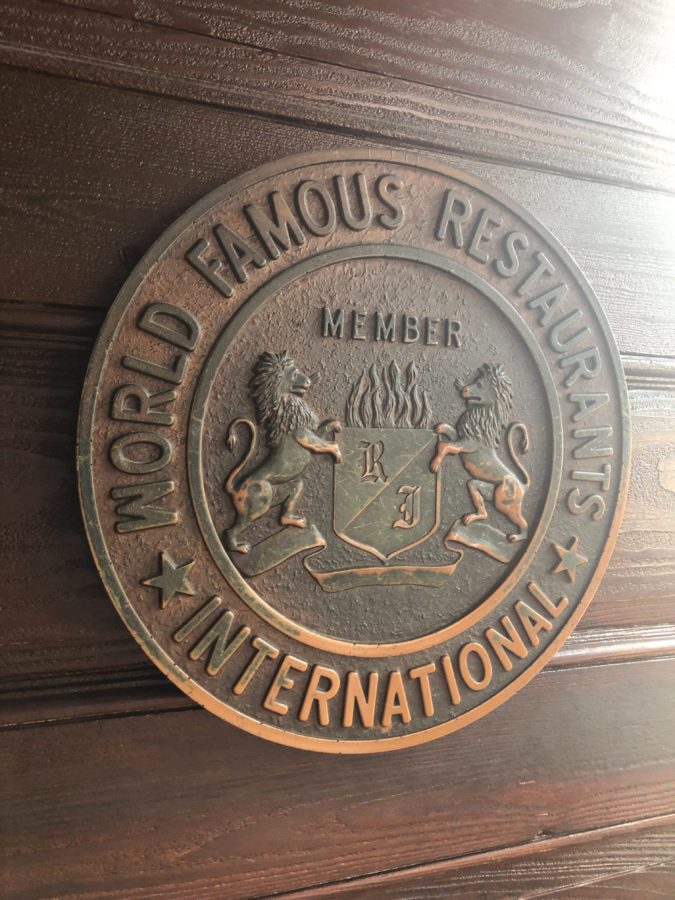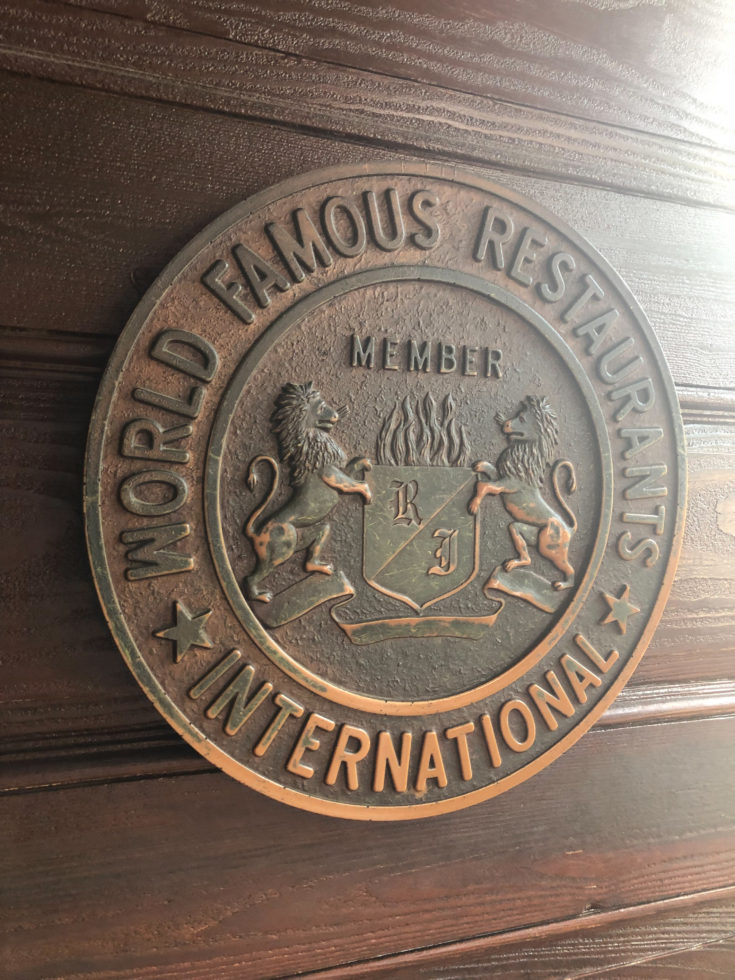 The Pirates' House is also rumored to be haunted. With the crazy history of smuggling illegal liquor into the building through underground tunnels, I could definitely see how it could be haunted.
Whether or not you believe in that sort of thing, it's fun to think about. It gives you something to think about, stories to tell, and fun for the kids' imaginations.
Enough about this history; let's talk about the food!
We'd considered eating here before but due to the popularity, it was nearly impossible to get in without a long wait. So, we made reservations. I recommend you do the same if you're planning a visit.
What to order at The Pirate House
As usual, we peeked at some reviews prior to our visit. Apparently the She Crab Soup is a signature dish to try. So, a few of us ordered it and I just say: it did not at all disappoint.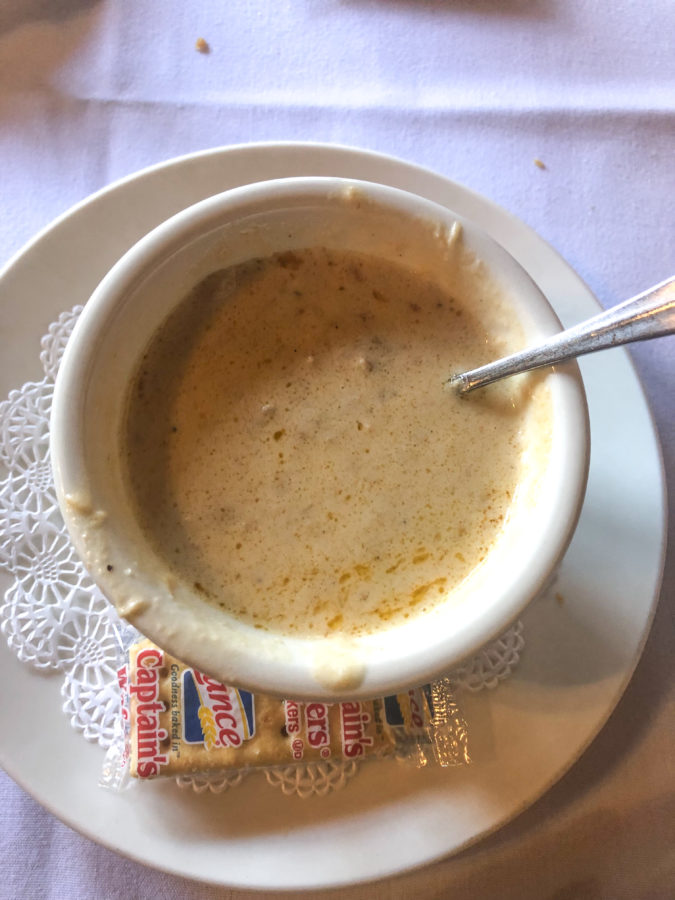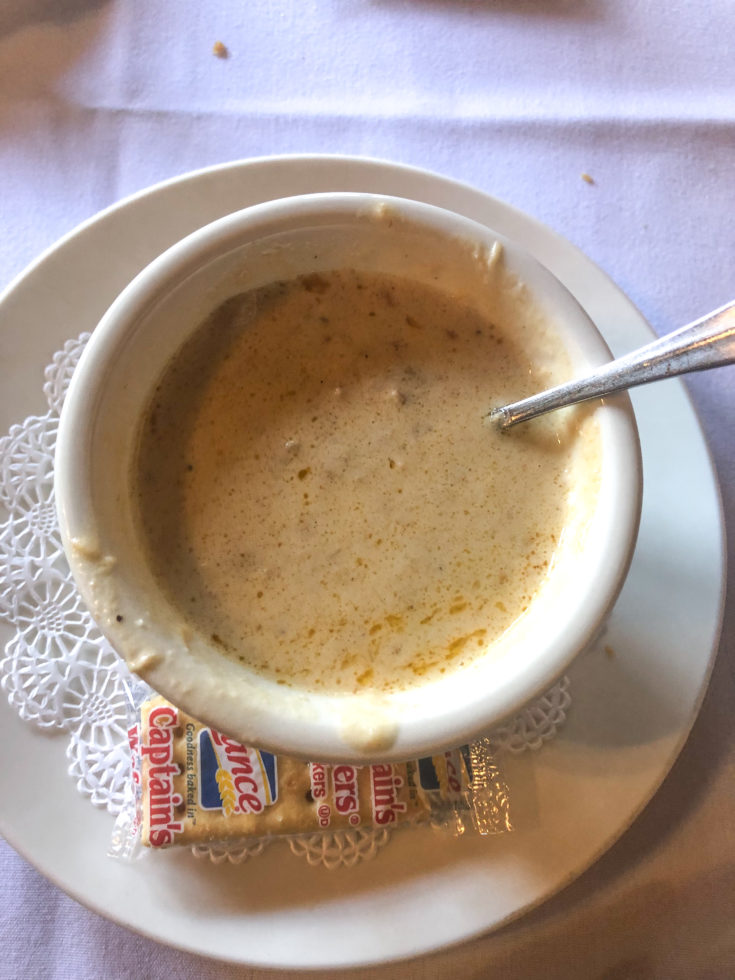 If you're expecting a typical bowl of clam chowder, think again. This is no chowder and it's not typical. The sweet and savory flavor is something special. I recommend trying a cup even if you aren't sure if it's your thing.
My husband ordered the Savannah Crab Au Gratin, which came in a hot dish. This is something I would have never ordered myself. It looked a lot like shepherd's pie which isn't my thing.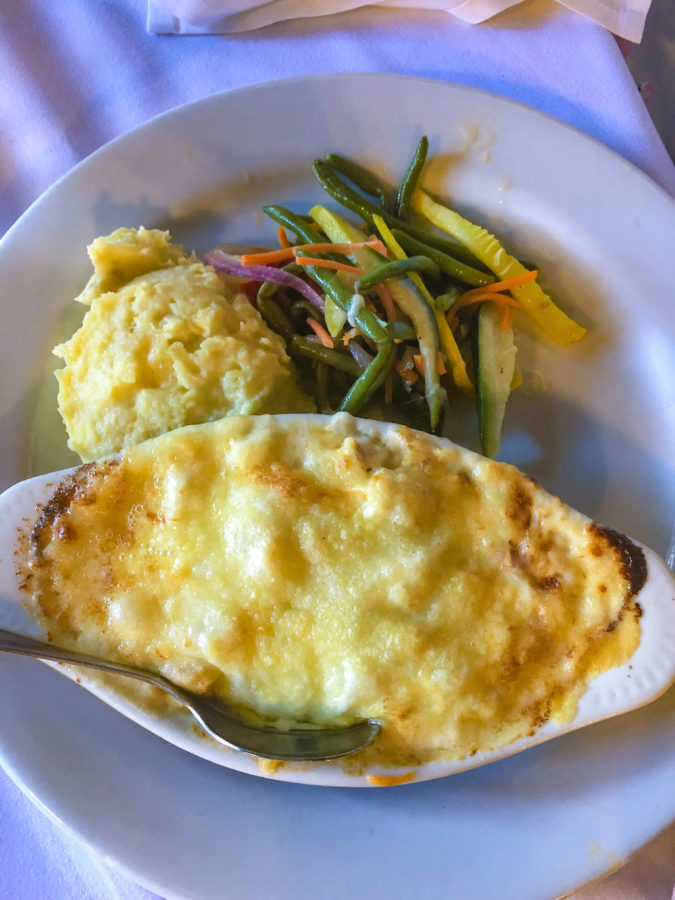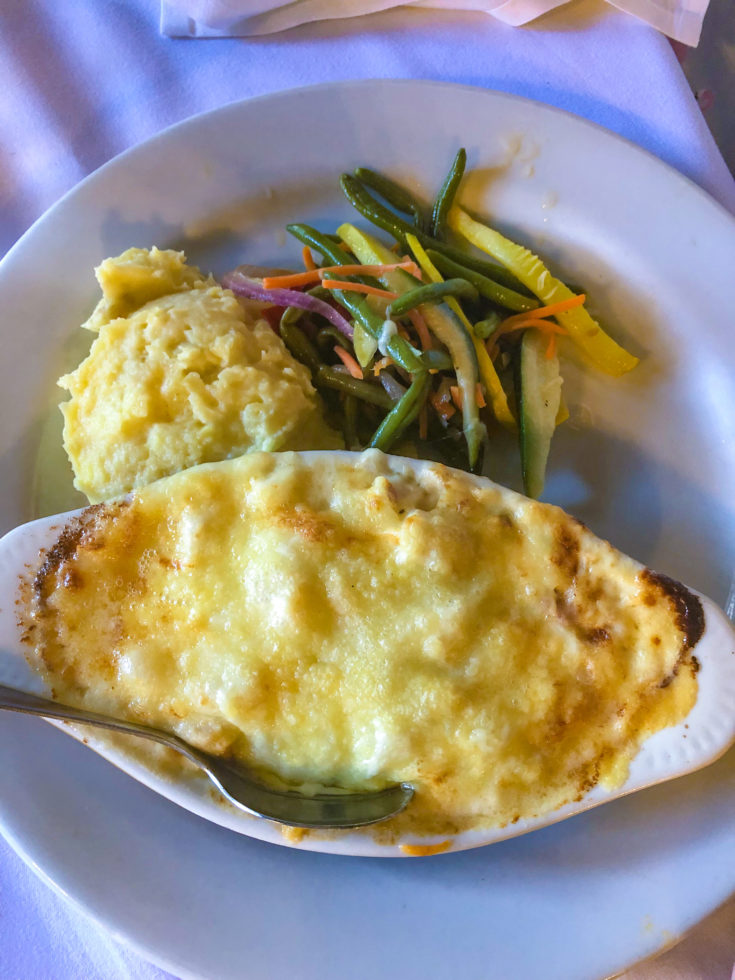 But, I tried it anyways.
I'm happy I did because my goodness it was delicious! I was actually jealous that I didn't order it myself.
I ended up ordering the Parmesan Tilapia with Jumbo Lump Crab on top. This came with mixed veggies and mashed potatoes. I was really happy with the veggie mix. I always enjoy seeing squash in a veggie mix. Plus, it was seasoned really well.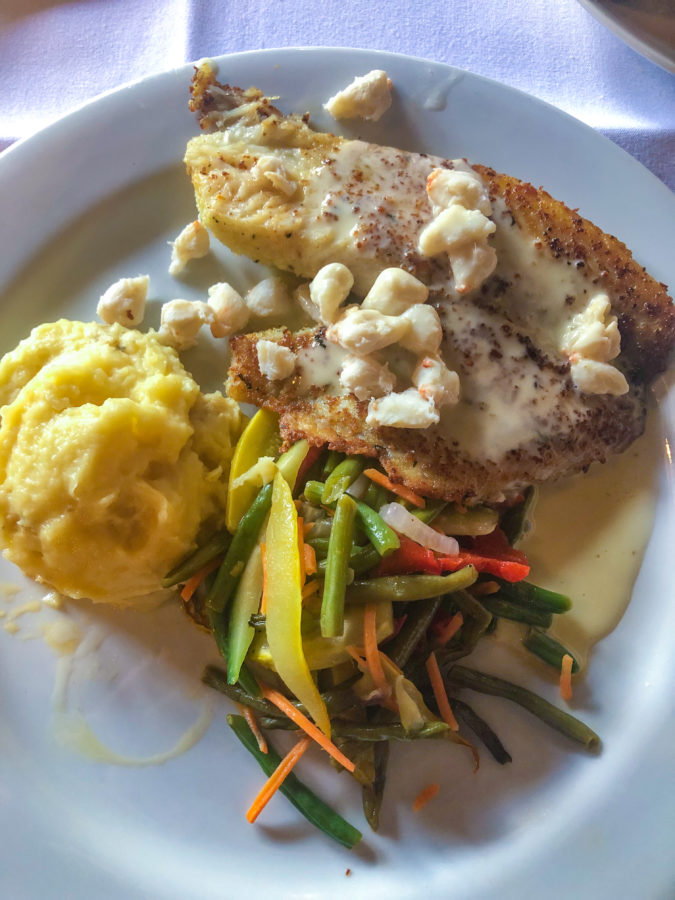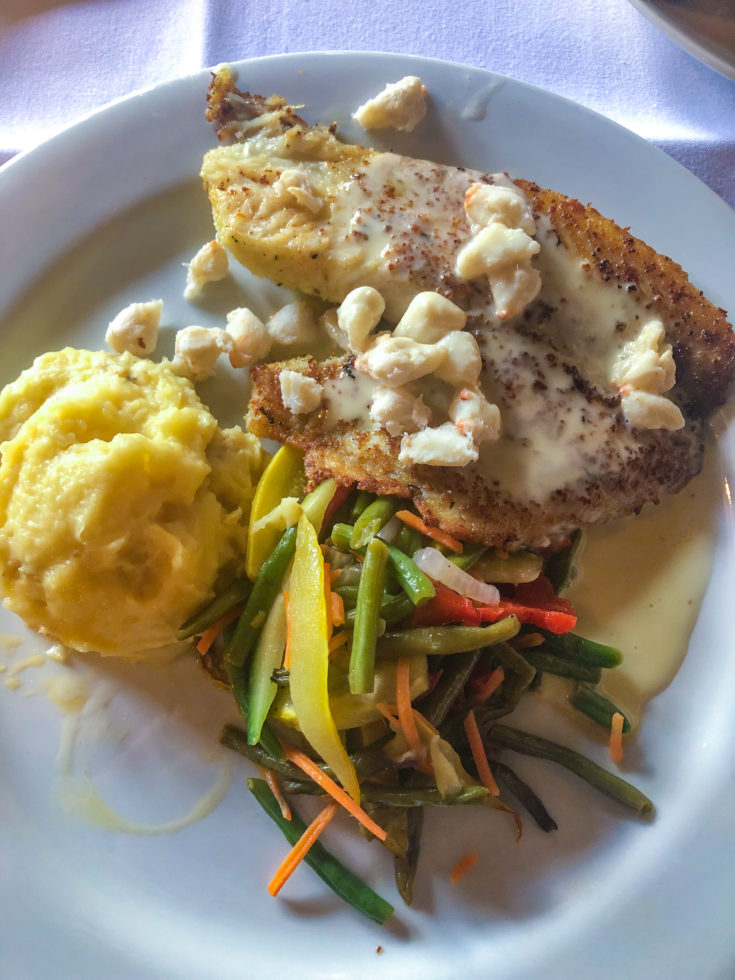 The tilapia was a bit bland but with the lump crab and citrus butter sauce on it, the combination was just right. Also, the mashed potatoes were really fresh!
My mother-in-law ordered the Award-winning Honey Pecan Fried Chicken which I almost ordered myself! According to my family, it was sweet, crunchy, and delicious! Also, the portion was very generous.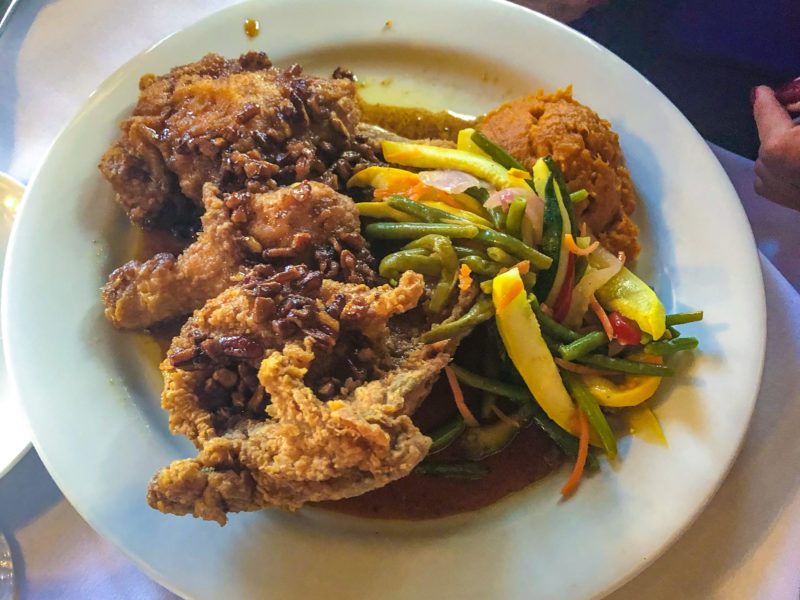 When you've finished your meal, head to the front and ask for your free tour. A lovely Pirate will give you a tour of the original house, tavern, and more!
Finish off your experience by strolling up the spiral staircase to the huge gift shop! There are some fun things up there!
5. Two Cracked Eggs Cafe
The Two Cracked Eggs Cafe is where you want to go for a good Savannah breakfast right on River Street.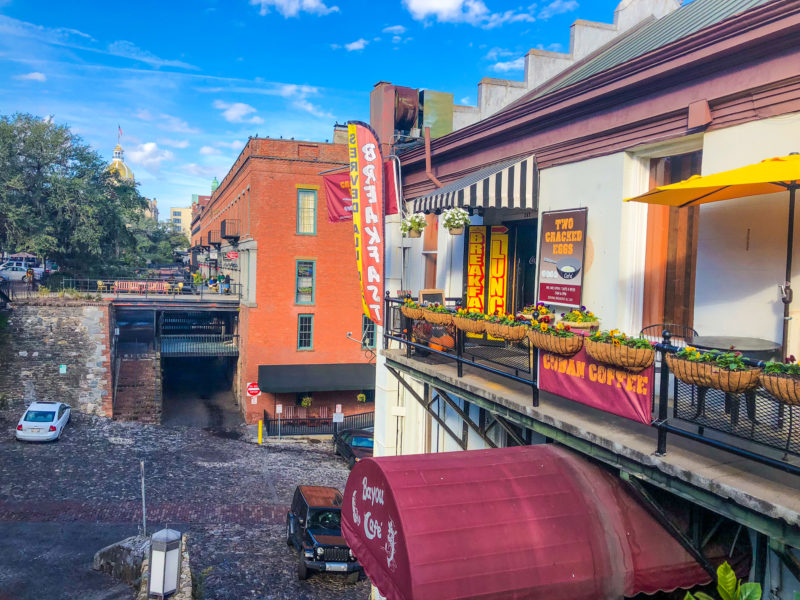 With large portions and comfort food, you'll definitely find something to start your day off right. I ordered biscuits, eggs, sausage, and skillet grits. It was traditional, yet it stood out to me.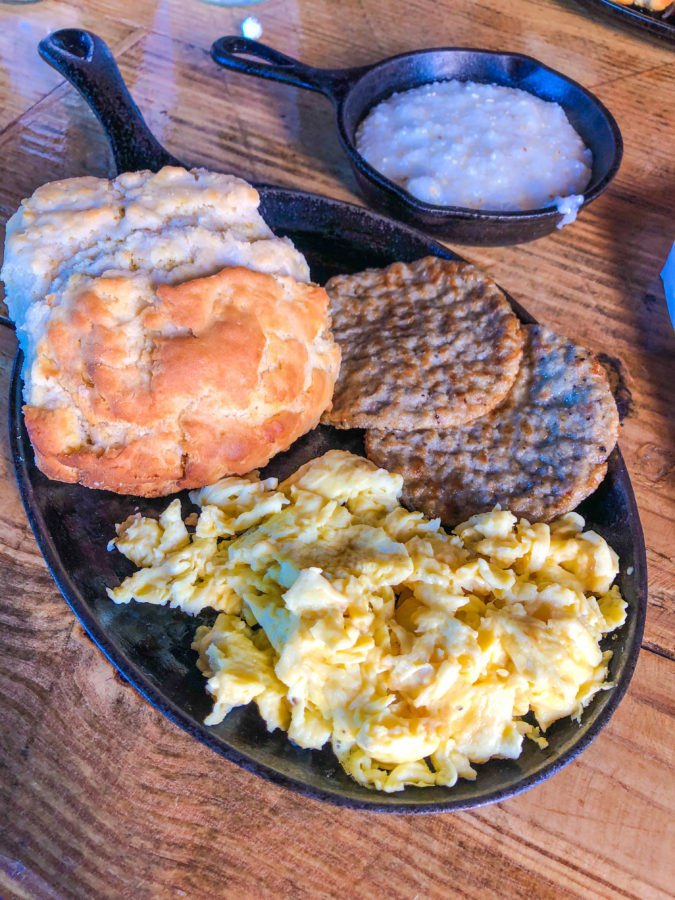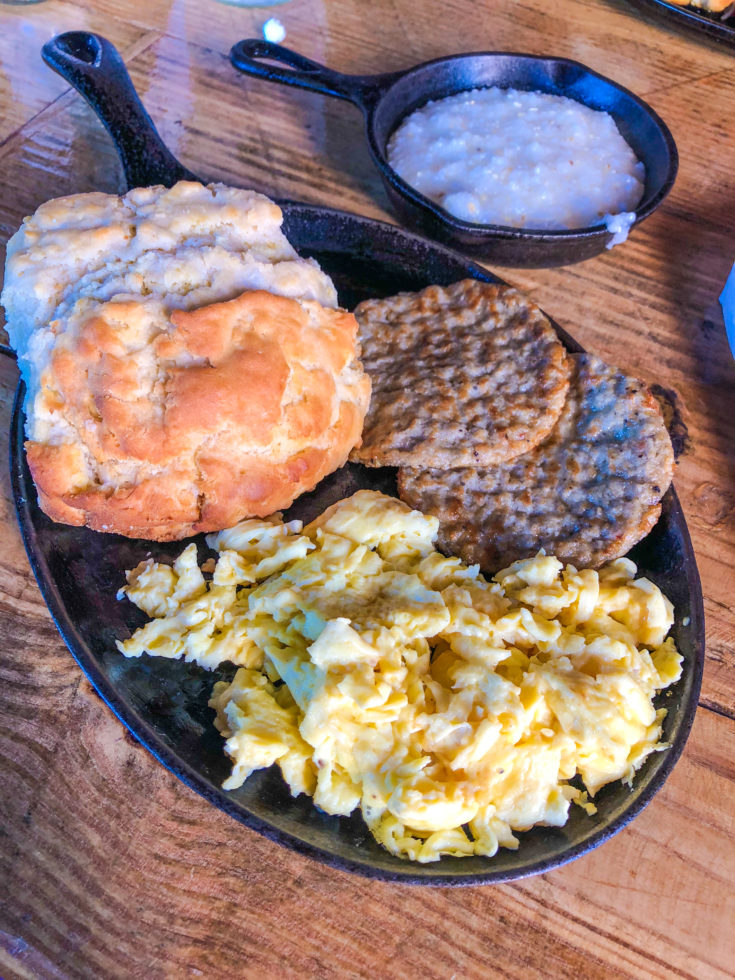 I'd love to visit again to try their Peach French Toast or River Street Rambler.
The atmosphere here is incredible! The service is friendly and you can't help but to feel like you're home at the Two Cracked Eggs Cafe in Savannah.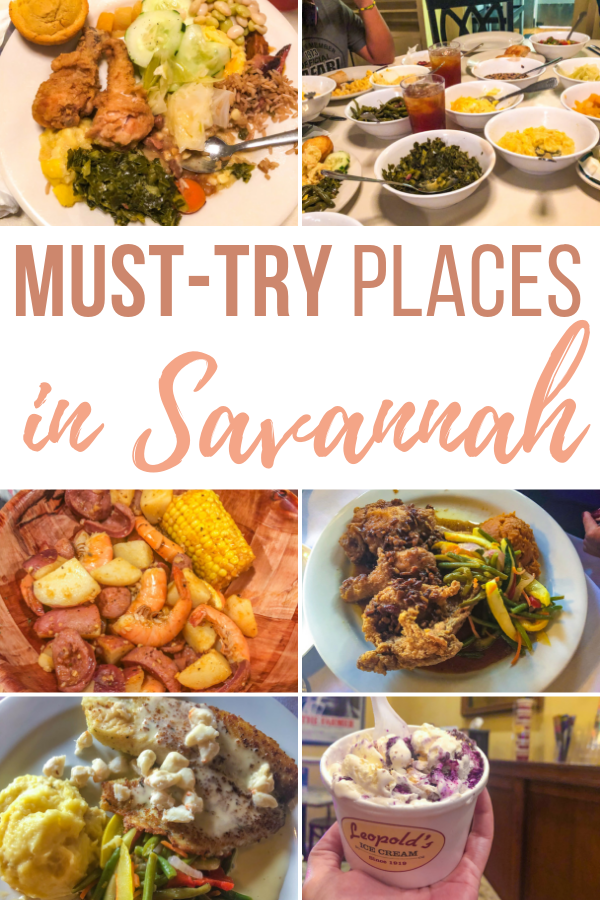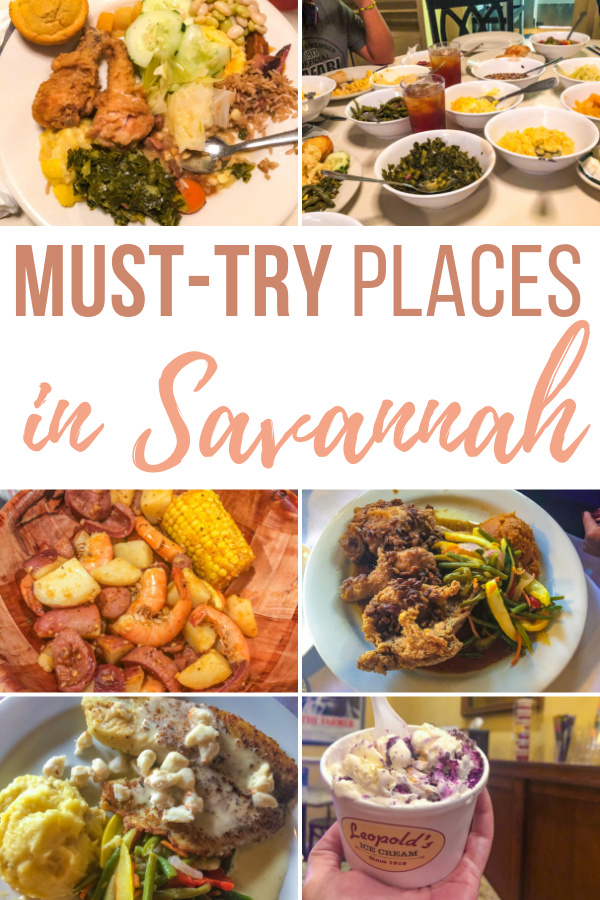 Do you recommend any other great places to eat in Savannah?
I hope this has helped you figure out exactly where to eat in Savannah, Georgia. Please let me know your best recommendations for our next visit!