Welcome to another Hopping Bloggers event! This is a particularly special event because we are doing something a little different and VERY fun! We are looking for 10 bloggers to join us in this "Spooktacular Adventure". This is a Halloween themed hop for Self-Hosted WordPress.org bloggers only (not .com). This is limited only because of the format of the giveaway. This is a
very
different hop than you're used to so
Please read everything
below to be a part of this new and fun adventure!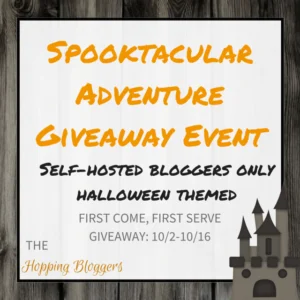 This is how it works
The image that you see below will have clickable graphics. Each element will be linked to a blogger's giveaway. The individuals who are entering the giveaway will be able to see what the prizes are in the list that will be sent in the html. This is a first come, first serve giveaway event. Meaning that the as soon as all of the places in the hop are filled, the sign ups will close. The hosts of this hop will be assigning the graphics that you are linked to, but feel free to request your preference. We will not be able to fulfill all requests, but we will definitely try!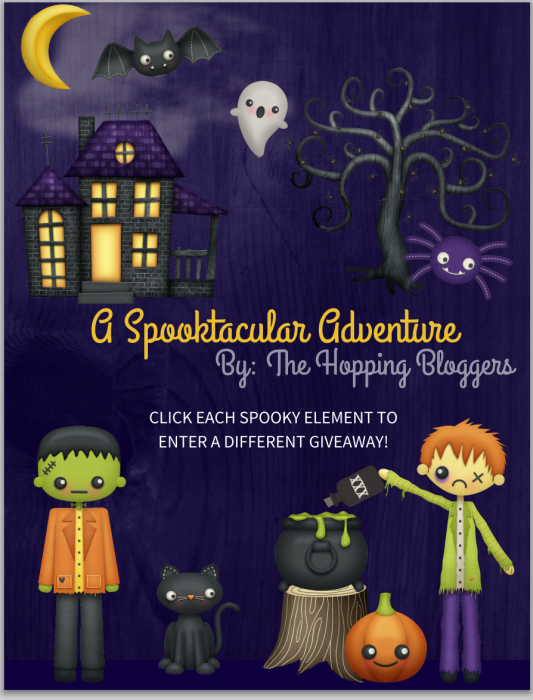 Hashtag: #SpooktacularHop
Sign Ups ARE NOW CLOSED
Theme: Halloween Themed
Prize Value: $20 min. value
Date: October 5– 19, 2015
Star Time: 10/5 – 12:00 am EST • 10/01 – 9:00 pm PST
End Time: 10/19 – 11:59 pm EST • 8:59 pm PST
Participation Requirements
Must have a self-hosted WordPress.org blog
Must post on time, considering the different time zones. So, we are looking for reliable and organized bloggers only.
Must submit your links by date in emails – a reminder will be sent via email, along with the HTML.
Post and Giveaway Requirements
Your giveaway MUST contain all of the html that will be sent to you after you sign up. You will receive the html via email by 9/29.
Each blogger is required to give at least one prize in the hop. You can multiple prizes that add up to the min. prize value ($20).
Your prize must be related to Halloween in some way. Ideas are: candy, creepy prizes, Halloween shop gift cards, Halloween decor, or any other creepy ideas that you come up with!
Your giveaway must include proper disclosure and be FTC compliant.
Please follow the TOS of a particular social media when adding your entries. If you are unsure whether or not an entry follows the TOS of a specific network then please see below: