Most ladies would love to receive makeup for Valentine's Day. The problem is that men are absolutely clueless when it comes to makeup. That's what I am here for ladies. Hopefully you can "hint in" to your fella about these awesome Bodyography makeup kits. Bodyography has a special place in my heart because they pride themselves on being a PETA certified CRUELTY FREE makeup brand! All of their products are infused with natural vitamins and nutrients, so while you are making up your face, the products are protecting and revitalizing your skin. There is nothing more reassuring than using vegan makeup.
Check out the @Bodyography Valentines Day Makeup Kits! They are great gift ideas! #ValentinesDay #GiftsForHer http://t.co/zgnMRyfLSg

— Joyce Duboise (@JoyceDuboise) February 7, 2015
So, I was given the opportunity to try two Bodyography kits that I believed would be perfect for the 2015 Valentine's Day Gift Guide. Each kit contains must haves for a date night with your love or for a girls night with your friends. I love the Bodyography kits because they include items that blend well with any complexion. I know you are curious about the kits, so let me tell you a little bit more about each one.
Love at First Sight Collection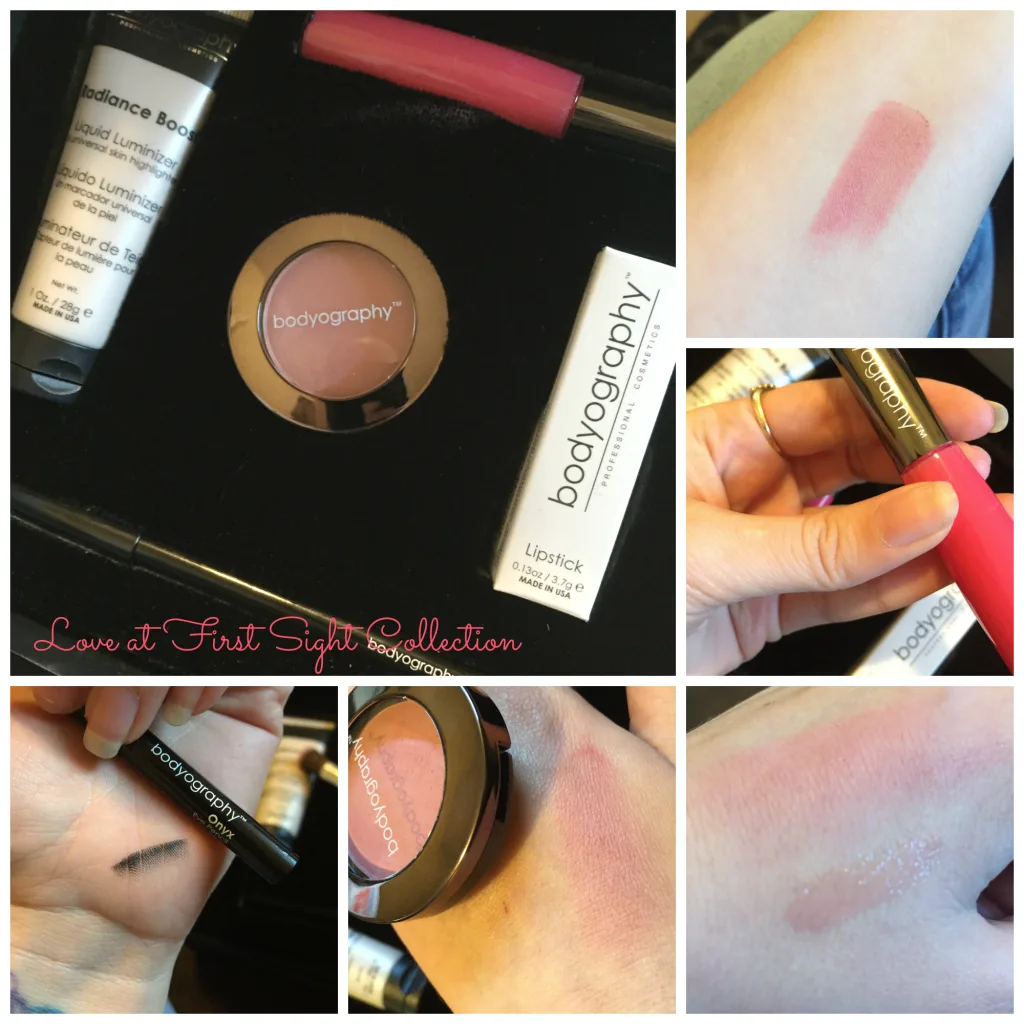 This collection comes in a nice black box, with a pretty pink label around it. Inside of the box contains 5 beautiful rose colored products that are great for a romantic and fun date night.
Flirt Powder Blush: This is a perfect blush for a romantic look. It isn't too pink, so it will go great with a nice smokey eye. It's not a bold color, so it really creates a natural look. The blush is soft and long lasting.
Onyx Eyeliner: This was my favorite piece in this box because it's a really nice pencil eyeliner. The black is very dark, yet draws on smooth and lasts long. It's great for drawing a cat eye or a winged look. I would love to check try their other eyeliner pencils. View them all here.
Radiance Boost Highlighter: I was thrown off by this highlighter. I guess I expected it to be less shimmery. It is definitely radiant and is really beautiful on your skin, just make sure you remember that a little goes a long way. This is perfect for under the brows or even for your body, if you want to add a little shimmer. I use it on my cheek bones very lightly for a flirty and fun look. It is a moisturizing highlighter too, so it is thinner than you may anticipate.
Tease Lipgloss: This is not a pigmented gloss, so the color that you see in the tube is different than what you will see on your lips. It is a very sheer, almost clear gloss. It is really pretty though. It is too thick or gooey, so you don't have to worry about your hair getting stuck on your gloss during your date night.
Unrequited Love Matte Lipstick: This was another favorite of the collection. I am obsessed with matte lipstick, so this was really beautiful. The color looks somewhat like a nude color, but on your lips it is more of a pink color. It's really beautiful and long lasting! I would wear this to work or for a night out because the color isn't too plain or too bold. I would love to see them introduce a matte lip collection!
Purchase the Love at First Sight Collection Here
---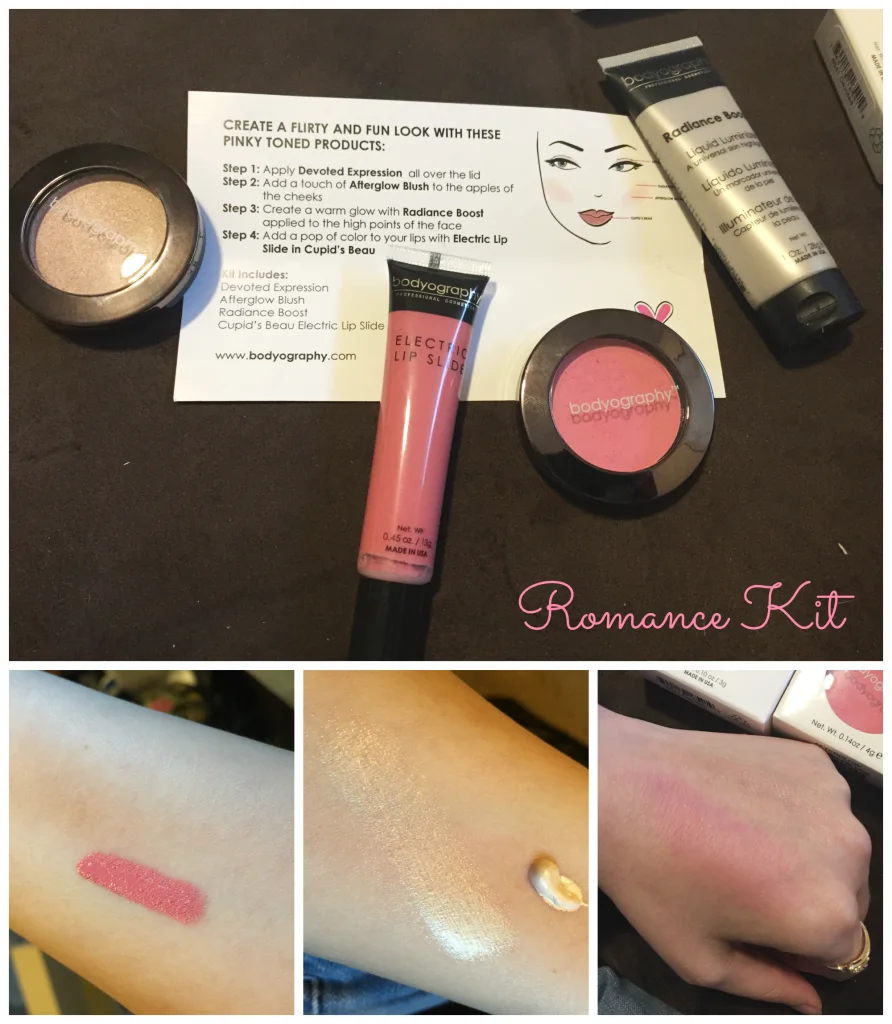 This is a nice kit. I actually prefer this one over the other kit. I feel like the colors are great and all mesh well with each other. It even includes a guide to applying each item in this look.
Devoted Expression Eyeshadow: This shadow is really beautiful. It is light and shimmery. It is perfect to wear with a smoky eye look, under the brow, or alone with eyeliner. It's so beautiful and definitely romantic, which fits well in this kit.
Afterglow Creme Blush: This is a VERY pigmented blush! A little goes a long way. This blush is great for a bold and flirty look. Be sure to swipe this on your cheeks very lightly because it is very bright. I love a bright pink blush on occasion. I would wear this for a girls night out.
Radiance Boost Highlighter: I described this above. It is in this kit as well. It's a great addition to the kit because it blends beautifully with the blush.
Cupid's Beau Electric Lip Slide: I was pleasantly surprised by this lip side. I thought this would be a lot like a shiny gloss, but it's more like a lip stain. It has a matte finish and is very pigmented. This was my favorite piece of the box. I am in love with this color. My boyfriend even commented on how pretty the color is.
Purchase the Romantic Kit here
---
Visit Bodyography.com to see all of their cosmetics and kits.
Connect with Bodyography on Social Media: Facebook / Twitter
Thank you for reading Bodyography Valentines Day Makeup Kits. If you liked this review, you will love some of my other cosmetics review. Read them here.