Before we know it, A Monster Calls will be on the big screen. I cannot wait to see this film. I've been dying to see it ever since the first trailer! I literally just interviewed Felicity Jones about Rogue One and I was dying to ask her questions about A Monster Calls. This movie has an incredible cast! Check out this new A Monster Calls featurettes! I cannot wait for Christmas to be here already!
'The Story Behind the Story'

'The Making of A Monster Calls'

In select cities on December 23rd, 2016 and nationwide on January 6th, 2017
Directed by J.A. Bayona ("The Impossible," "The Orphanage")
Written by Patrick Ness, based on his novel A Monster Calls
Starring Sigourney Weaver, Felicity Jones, Toby Kebbell, Lewis MacDougall, and Liam Neeson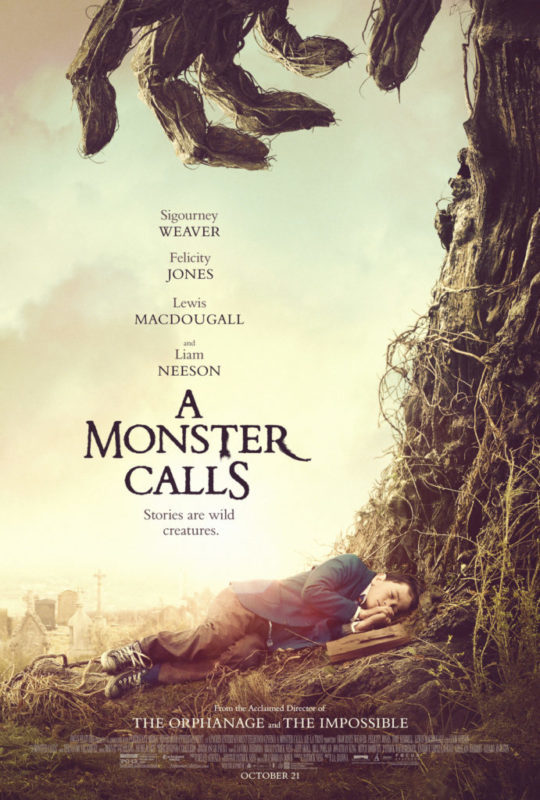 A visually spectacular and unabashedly emotional drama from director J.A. Bayona ("The Impossible"). 12-year-old Conor (Lewis MacDougall) is dealing with far more than other boys his age. His beloved and devoted mother (Felicity Jones) is ill. He has little in common with his imperious grandmother (Sigourney Weaver). His father (Toby Kebbell) has resettled thousands of miles away. But Conor finds a most unlikely ally when the Monster (portrayed by Liam Neeson in performance-capture and voiceover) appears at his bedroom window one night. Ancient, wild, and relentless, the Monster guides Conor on a journey of courage, faith, and truth that powerfully fuses imagination and reality.
For more info:
Official Site I Facebook I Twitter I Instagram
#AMonsterCalls