SinfulColors is a stylish, up-to-date, and trendy nail polish company. Every season or holiday they release a new collection with some of the most beautiful nail polish colors that you could imagine.One of my favorite things about SinfulColors is that their polish is only $1.99 a bottle!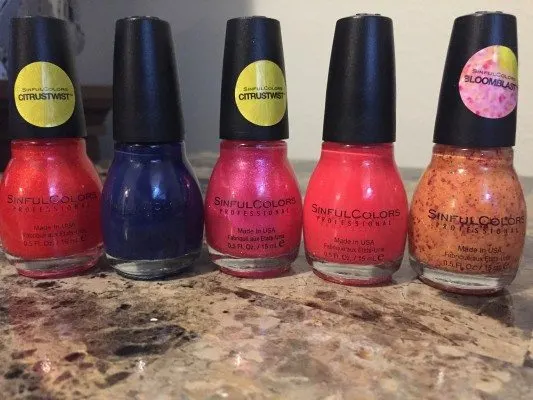 They just released their "Catch Spring Fever" Spring 2015 polish collection and I am loving these bright and sparkly colors! This collection has 15 beautiful colors that would sweep any girl off of her feet! These aren't just your average solid colors either. They have opalescent trend toppers, bright jelly toppers, and speciality glitters. Basically, they have a little something for every girl.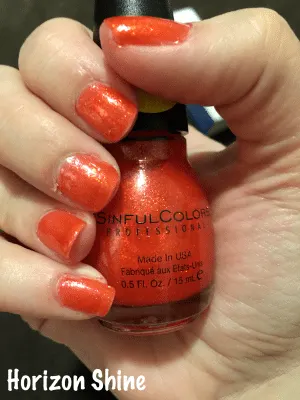 I tried something new with the colors that I used for my first Spring Mani. I couldn't choose one color above another, so I painted one hand with the Bright Jelly Topper color Horizon Shine. This ended up being my favorite color of the ones that I tried. It is described at a high-shine crimson red, but it looks more like a deep orange to me. What I love about it is how beautiful it shines! The shimmer in it is so beautiful and really stands out. This is definitely a Spring/Summer beach color! I painted 2 coats to get the deep pigment that I was look for.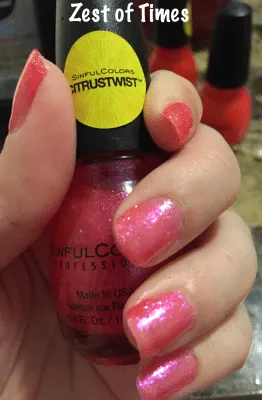 I painted my other hand with another shimmery color. What can I say? I am a sucker for anything shimmery. I am a girl! What do you expect? haha. So I painted my other hand with the bright jelly topper Zest of Times. This is described as a lustrous magenta. Since this is a jelly topper, I think it is suppose to top another color, but I painted my plain nails with it. It is not pigmented. I used 3 coats to get the look that you see in the photo. It is a bright pink color with a lot of shimmer! I love the idea of using this color for Easter! It reminds me of an Easter pink.
So far, I love the Catch Spring Fever with SinfulColors 2015 Polish! The colors are favorable and beautiful for everyone. My only complaint is that they wear off within a week and they take quite awhile to dry. Would I still purchase them? Heck yes! I think that they are a great deal for only $2.00!
You can purchase SinfulColors at Walgreens or at other retailers listed here.
Check out my other SinfulColors Reviews Here
Connect on Social Media: Twitter / Facebook