If you're sick of buying your children the same toys as every other kid gets every year, then I've got the gift guide for you! You know how it goes – you spend weeks hunting for the gift that ALL the kids want. They are either sold out in stores or the prices are hiked up online. These techniques totally take the fun out of holiday shopping! Make 2018 the year you buy gifts that are unique, fun, and exciting! This year, YOU start the trend.
Are you looking for a list of new books to pickup this Christmas? Visit my latest post: 30+ New Books to Buy For Christmas – For babies, kids, and women!
Best Gifts for Babies & Toddlers

Lovevery Play Kits are so great for children of many ages. These kits are made for very targeted age ranges and are meant to teach children a variety of skills. I can personally attest to the fact that these kits will keep children occupied much longer than your average toys!
Don't forget about your little one during the ugly Christmas sweater party. The Baby Starters "Ugly Sweater" Bodysuit is the perfect outfit for the holiday season. Made of 100% cotton so it is super cozy and soft.
The tiniest, cutest, most KICK-BUTT Bluetooth speaker on the planet wants to come home with you! This little guy will bring the fun and joy of music and dance back into your home. It's perfect to play baby's favorite songs every night!
Bright and colored, the Mülti is the only playmat you'll ever need for your child! It's a safe and durable mat to promote learning and motricity from the very first months and for many years to come. Made from non-toxic and easy-to-clean material.
One-size swim diaper with snaps that adjust around the waist and tummy offering three different sizes of width and length of the reusable swim diaper. Waterproof, adjustable, reusable swim diapers that fit any infant between in diaper sizes N through 5! Designed to keep solids in the swim diaper and keep others safe from accidents.
Easier than getting the whole family to smile nicely for the camera! Select each family member's stick figure outline, personalize clothing colors, expressions and hair, then update your preview to see your family portrait. This is the PERFECT gift for a nursery!
Yes, your little one (or grand-little one) can be safely buckled AND warm – without all the struggle! Bright, adorable colors with the softest winter fleece keep little trend setters toasty warm all winter long. Fall in love with the charming kangaroo pocket – perfect for hiding little treasures or giving cold hands a warm place to snuggle.
Beautiful simplicity stacks up into endless possibilities! At first glance, it's a stacking toy. But look a little closer – feel, explore, and experiment a little further – and quickly you'll discover… This is truly art at play! Roll them and race them across the playroom. Stack them into any configuration you can imagine. Push your creativity to the absolute limits the laws of nature will allow. Delightfully finished with a uniquely soft texture and bursting with stunning hues that look gorgeous in any arrangement, these Spoolz are sure to inspire a new passion for play.
AGES: 10+ months
Little fingers can't resist these beautiful buttons! Built safely into the sturdy ABS plastic frame are five vibrant silicone bubbles in varying sizes and colors. It's so simple, yet oddly, so brilliantly fun, fascinating, and impossible to put down. Push them all the way in to pop them through to the other side. Delve into the simple delight of poking them with your fingers. It's a perfect sensory adventure kids can take with them everywhere they go! Inspire loads of giggles and hours of sensory exploration with the adorable, playful, and wonderfully durable Dimpl sensory toy.
AGES: 10+ months
Precious, adorable, and totally show stopping! Check out this Knit Suspender Romper, for when you want your little one to steal the show. This piece is designed in a seed stitch knit with ribbed edges, with over-the-shoulder suspenders and cute little buttons accenting the waist. The romper is available in coral, blue, and tan, and looks perfect on boys and girls alike! We love this outfit and know you will too! See it on my Instagram here and here!
This adorable two piece suspender set will turn your little prince into the star of any show! Available in adorable little-boy-blue and sophisticated navy, this two piece is a must for any special occasion, outing, or family get-together. With precious little fagoting around the collar and cuffs, and charming buttons holding the suspenders in place, any child would look simply adorable in this vintage set from Feltman Brothers.
These are 100% genuine leather oxford moccasins. They are super soft, safe, durable, and adorable. These moccs are handcrafted to last with your sweet traveling baby in mind! The soft soles make walking easy for the little ones and once they are on – they stay on! You'll want to pass these beauties down from generation to generation! Check these out on my Instagram here.
This beautiful white plush horse proudly stands at 14″ tall and has exquisite detailing including a chenille rainbow colored mane and pink tail that can be finger combed and braided. Featuring a embroidered eyes and glittery star appliques, shiny pale blue hooves with padded corduroy feet and of course a detachable horn and wings allowing this darling horse to double as a unicorn or Pegasus!
AGES: 18+ months
Dance! Sing! Move! Elmo's got the Groove! Get ready to move and groove to Elmo's World Song and more, with LET'S DANCE ELMO toy! This fun, musical Elmo encourages kids to engage in up and active play, dancing along with Elmo as he swings his arms, tilts his head, and shakes his hips! His heart even lights up to the beat! Elmo's headphones activate 3 musical modes: Colors, Animals and Music Remix. Let's Dance Elmo's headphones can also be used as a handle to take the fun on the go! 4 AA batteries included.
AGES: 18 months – 4 years
Time to enjoy the great outdoors! The BRIO Camping Toy Set is a small wonder of playful design, with features and functions that your child will love. All family members fit in this caravan toy when it's time to go. The canoe fits neatly on top of the car – and even has room for the dog when you paddle off.
AGES: 18+ months
It's time for the youngest train drivers to track down some new fun! With this playful train, tunnel and clever connection magnets that always connect in every direction, there are more things to explore than just the tracks ahead. Perfect for the inquisitive toddler.
AGES: 18+ months
Greta is a lovely alligator featuring dreamy embroidered eyes, soft accents and a sweet green flower – ready to dream near the water with you!
AGES: 12+ months
100% cotton muslin and all natural beechwood deer antler lovey. Unprocessed wood and super soft muslin. This is great for teething babies! My baby boy adores his teething blanket! We keep one in the car so he will never be without it when we're on-the-go!
Little Jack-Jack is full of surprises and no one knows what to expect from him, especially when he can go from spontaneously combusting and shooting lasers from his eyes to just being adorable in the blink of an eye! Recreate the most epic battle of all time as Jack-Jack takes on the Backyard Invader! Press on Jack-Jack's tummy and watch him "attack" with all his might!
AGES: 3+
Cuddle + Kind Knit Dolls are hand-knitted and cuter than anything I've ever seen. Each doll is made of top quality materials with trend and style in mind. There's something so classic about a knit doll for boys and girls. My favorite thing about Cuddle + Kind is that each doll purchase feeds 10 children! It's a company that gives back and honestly, what more could we ask for?
The Step2 Play Ball Fun Climber provides a never ending adventure for your little ones! It allows toddlers and preschoolers to enhance their gross motor skills as they climb, slide and crawl through the play set and develop their sensory skills by grabbing and squeezing the play balls as they throw them through the activity center. The play balls can enhance cognitive skills as children pair the balls by color and count them as they go through the maze.
AGES: 18 months – 4 years
Welcome home, kiddo! With lots of hands-on play and "high-tech" activities all around, this interactive playhouse helps your baby learn about numbers, shapes, the weather, and more, with rewarding music, lights, and sounds as they explore. And, as little homeowners grow, they can engage in super fun role play, pretending to "work" in the office or whip up something delicious in the kitchen! Where development comes into play Academics: Playful songs and phrases introduce numbers & counting, shapes & colors, weather, opposites, and more. Gross Motor: With interactive activities in and around the house, your kiddo won't want to miss a thing. They'll be crawling, standing, and walking all around to explore! Creativity & Imagination: The realistic design and play features encourage early role play and imaginative fun as your little one pretends to make this playhouse their home!
AGES: 6 months – 3 years
Bring the ultimate in luxury vehicles to your little one with the McLaren 570S push sports car by Step2. This modern and stylish kid's push car features the innovative design and styling of today's McLaren 570S sports car. Mini Speedsters will have a blast as they accelerate full speed through corners with the quiet-ride whisper wheels. While shifting gears, Junior car drivers can use the interactive steering wheel to rev their engines. This dream car is sure to turn heads on long walks through the neighborhood or park.
AGES: 18 months – 4 years
Tito the Turtle leisurely moves along with his shell rolling and twirling as little ones learn to walk and balance. Features a delightful turtle pull along toy, which is great for developing children fine motor and strength skills. Watch the water swirl as he moves, or use the shell separately as a great learning opportunity. Natural wood inspired design and friendly graphics. Recommended for ages 12 months and up. Durable child safe paint finish and solid wood construction make this a toy your child will love for years to come. Hape toys stimulate children through every stage of development and help nurture and develop their natural abilities. All Hape products sold in North America meet or exceed all applicable safety standards.
Who's ready to rock? This musical octopus sure is! With three ways to play, Think & Learn Rocktopus helps kids explore a variety of musical styles while learning about different instruments, rhythmic patterns, and more. Rocktopus comes with 15 musical instruments for preschoolers to mix (and remix) and let their creativity flow! Download the free Rocktopus app and let your mini-maestro create their own music videos with their new composing pal! Inspiring little learners to be big thinkers.
AGES: 36 months – 6 years
You'll also like: 28 Cheap Christmas Books for Babies Under $6 – with FREE Amazon Prime Shipping
Best Christmas Gifts for Kids
Love our Barbarian styles, but need something a little smaller for your kiddo? We've got you covered! Introducing our new line of kids-sized versions of our most popular Beard Heads! Our new Kid Viking Beard Head is styled exactly like our popular Barbarian Looter. Now the whole family can wear their beards together!
"Whiff" up 20 experiments that give your nose a workout with this wacky chemistry lab. Comes with a kid-friendly book with 20 odorous science activities. Only toy with a fun machine that lets kids create, mix, and disseminate smells easily Whimsical "smell-u-lator" machine makes learning the science of scent into a game for one or more players
AGES: 8+
Get ready to yell for YELLIES! the cutest, fuzziest pets that respond to your voice! These spider pets are sound-activated and respond to talking, yelling, clapping, singing, and even music. The louder you yell, the faster they go! Kids will love to discover all the fun surprises that YELLIES! have in store for them. Watch their eyes light up and legs move as they respond to your voice. Talk softly to your YELLIES! and they will move slowly or yell louder and get them scurrying faster across the room! Each character has a personality and unique look that kids will love to collect! Play with more than one YELLIES! spider pet at a time to see them scurry around together. Ten YELLIES! to collect in 2018. Each sold separately.
AGES: 5+
Unlock 24 LOCK STARS surprises with the pull of a tab! Kids will discover 4 decorative locks (including a special fuzzy one), 8 keys, 4 mini clippable pals, and 8 charm accessories. The LOCK STARS figures are assorted from 24 characters, exclusive to this collection. Use the key to open the lock figure and reveal its hidden surprise! Collect more or trade with friends to pair mini lock pals with their Lock Star figures. * Image doesn't show Mega Pack.
AGES: 4+
Little heroes can pretend to help IRON MAN power up his team as they discover character-themed quarters, such as the HULK'S Gamma Lab and SPIDER-MAN'S Web Launcher! This action-packed playset lights up and includes interactive features including a hidden-reveal motorcycle ramp, launching web net, trap door, and more! Includes playset, 2 power up figures, motorcycle vehicle, and 2 additional power up arms.
AGES: 3-7
Animoodles are soft, fully magnetic, and lovable building toys that provide endless fun and enable kids to see themselves as creative makers. Within each animal is a unique element of surprise – neodymium rare earth magnets – designed to provide mix-and-match fun for young animal lovers! These magnets make all Animoodles' parts fully interchangeable and rotatable, so kids can make their own cuddly creations by combining Iris Unicorn, Randy Orangutan, Miguel Frog, Hazel Sloth, or Brady Lion! Animoodles launched in 2018 after a successful Kickstarter campaign in 2017; the products are the creation of veteran artists and designers from Apple, Disney and Pixar.
AGES: 3+
Cut it! Create it! Show it! With the Cutie Stix Jewelry Maker you can create customizable jewelry out of colorful two-sided beads. Using the Jewelry Maker is easy and fun; you simply choose your Cutie Stix design, cut it, and core out the center to make fashionable beads for your bracelets or necklaces. The combinations are endless!
Food shaped toys are the latest craze when it comes to all things like collectible squishies and accessories. Radz is right on-trend with their all new Smoosy Mushy Besties 3in1 blind boxes!
Each blind box comes with a 0.7 oz of yummy candy, a pop-out collector card, and a surprise charm. Plus, find a colorful bracelet for your charms in every box! Collect all 13 bestie charms and over 100 collectible cards of your favorite Smooshy Mushy characters! These super sweet blind boxes can be found with the confectionary items at the check lanes of all Walmart stores nationwide
Trouble is erupting across Metroville, but The Incredible can save the day! Work together to stop the crimes before it's too late! As the alarm goes out across the city, tiles are flipped over in the game board, revealing new problems and even changing the game board paths. Each player has a unique power, so strategize who will take on each challenge. If you can defeat the villains and save the citizens before time runs out, you'll be the heroes of the city!
AGES: 6+
Playing as favorite evil-doers like Maleficent, Ursula, and Captain Hook, players will take on the role of the Disney Villain and plan their schemes methodically in the way of their Disney Villain to reach their objective before everyone else. Set traps, wield curses, leverage your allies, and most importantly, be cunning!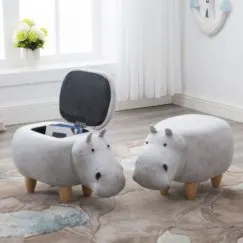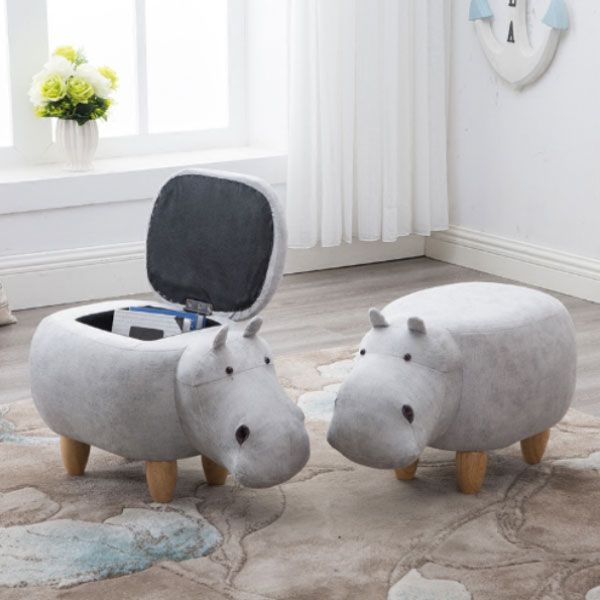 This happy hippo loves to kick back with you and your family. Not just a pretty face, he comes with a thick foam padded seat and storage cubby. This stool is made of the best quality materials. You'll buy it for the kids but you'll want one for yourself. It's just so darling!
The STASH Folding Kids Sofa Chair is soon to be your child's favorite chair. Lift the seat to reveal a hidden, built-in internal storage compartment that's the perfect place to store toys. The back folds down converting the comfortable children's' sofa chair into a fun ottoman that's great for sitting, propping your feet up and can be the launchpad for your child's next adventure.
Chomp-Itz® Crocodile Dinner is the crazy action game where putting on your Game Face gets a whole new meaning. Put on the crocodile mask and get ready for a feeding frenzy. As soon as you see the fish flying locate your fish and pick them up with your crocodile snout. As always, go for the gold! The first person to collect all of their fish and the gold fish wins!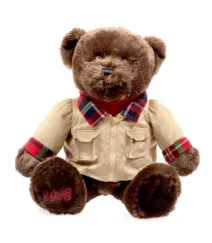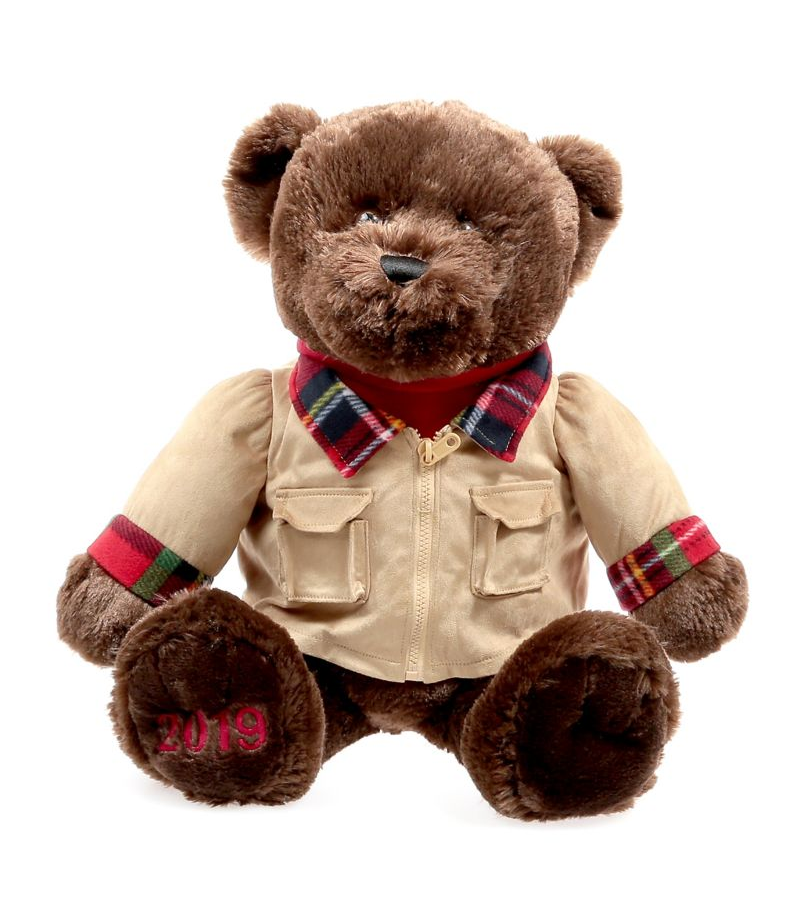 AGES: 5+
The Red Shed Holiday Bear in Barn Coat is a fun and friendly gift that's sure to bring chuckles to your holiday dinner. This adorable plush bear can be appreciated by just about any child. Red Shed is Tractor Supply Company's exclusive home decor line, with products only available at its more than 1,750 stores nationwide or online.
The MACK lorry, like the original, has a loading crane mounted behind the driver's cab. The loading crane is equipped with a log grabber to move the logs. The log grabber can be locked in the open position. When it is time to pick up a log, the log grabber can be lowered to the log and automatically closes around it. You can find this product at Tractor Supply Company.
Find us Scruffy, Make us Fluffy! These unloved and abandoned pets are in need of your help! When buying your Pink Scruff-a-Luv, they arrive as a sad ball of matted fur, but once you bath them, dry them, brush them and love them, you will discover what kind of pet they really are! Who will you rescue? A Pink Puppy, Kitten or Bunny? Only by saving a Scruff-a-Luv you will find out. In return, they will be your FFF (Furry Friend Forever).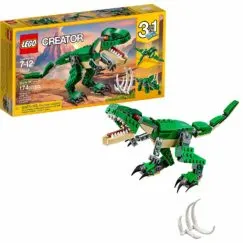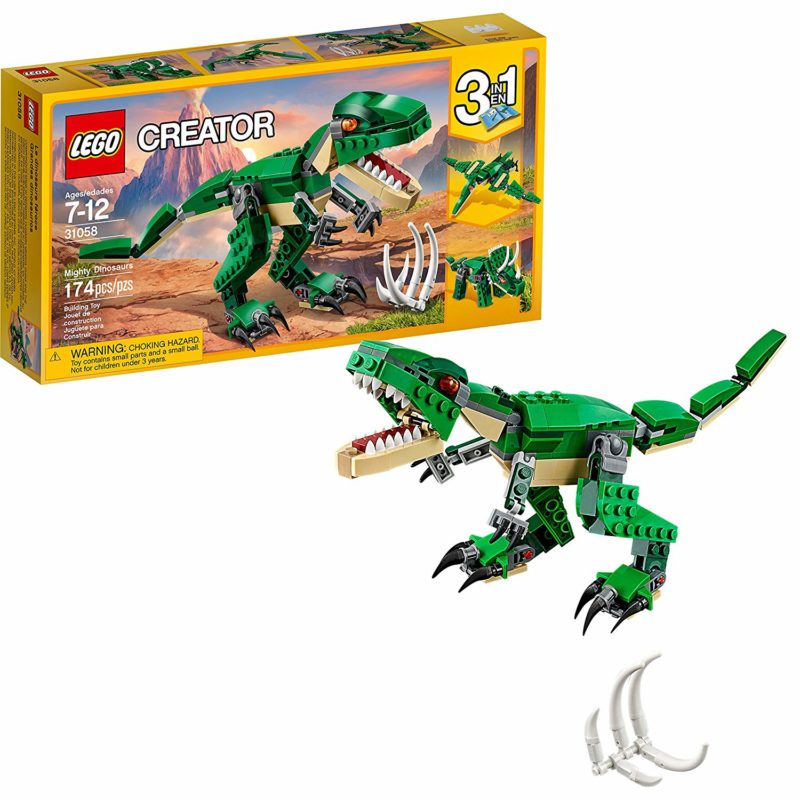 AGES: 5-15 years
Have fun with the awesome T. Rex, featuring a dark-green and beige color scheme, bright orange eyes, posable joints and head, large claws and an opening mouth with pointed teeth. Also includes the dinosaur prey in the form of a buildable rib cage. Rebuild this 3-in-1 LEGO Creator mighty dinosaurs 6175243 to create a Triceratops or a Pterodactyl.
AGES: 7 – 12 years
Build and recreate a magical fantasy realm from the Harry Potter movies with this detailed 4-level LEGO 75954 Hogwarts Great Hall Harry Potter castle building kit, featuring a fireplace, benches, tables and reversible house banners, plus the Grand Staircase tower with a spiral staircase, potions room, treasure room, sorting hat, Mirror of Erised and lots of magical artifact accessory elements. This fantasy role-playing castle toy includes 10 minifigures and buildable Basilisk and Fawkes creatures, plus Hedwig and Scabbers figures.
AGES: 9 – 14 years
Mix, Match, and Stack to Build the Ultimate Playset! Discover, collect, build, and display your favorite Disney themed playsets with the Disney Doorables series of collectible mix and match, stackable playsets. Reveal the hidden slide, skate with Elsa, or open the secret doors to uncover even more surprises!
AGES: 5 – 15 years
The Disney Frozen Elsa styling head holds endless snow Queen hair play possibilities! Elsa features beautiful, shiny blonde hair that is perfect for brushing and styling. The Elsa styling head comes with 13 fun, wear and share accessories including: 1 snowflake hair brush, 4 snowflake hair clips, 1 snowflake hair tie, 3 hair spirals, and 4 elastic bands. Kids can use Elsa's brush to brush her hair and create lots of fun hair styles! your little one will love using the adorable hair clips to style and decorate Elsa's shiny, flowing locks. Kids can even use the hair clips in their own hair for even more fashion fun! ages 3+
AGES: 3+ years
Create colorful art without the mess! Crayola color wonder magic light brush lets kids create amazing mess-free art in a magical way. While color wonder paints are clear—and therefore won't mark or stain furniture, carpet or skin—the color magically appears when applied to the special paper. But kids don't need to know the color of clear paint because the magic light brush lights up in the color of paint they're using! it changes color from blue to green to red whenever you change paints.
AGES: 2-6 years
Kids can play out their favorite adventures from Disney movies with this complete collection of 12 Disney Princess dolls with dresses and shoes. The royal collection includes Disney's Ariel, Aurora, Belle, Cinderella, Jasmine, Merida, Mulan, Pocahontas, Rapunzel, snow white, and Tiana. Also included is Disney's Moana of Oceania! each doll in the set comes dressed in their beautiful, movie-inspired outfit. Complete their looks with dazzling fashion accessories, including 2 belts, 3 headbands, 2 necklaces, 1 tiara, and 11 pairs of shoes. This complete Disney Princess doll collection makes a great toy for kids 3 years old and up who love Disney movies. Collect other Disney Princess dolls and playsets (each sold separately) and pretend to journey to worlds where adventure and imagination reign!
AGES: 3+ years
Bring the fun and excitement of an amusement park right into your home as you build with the K'NEX Thrill Rides Cobweb Curse Roller Coaster Building Set This engineering education toy consists of 473 colorful parts and pieces with premium-quality construction. This lets your children explore endless possibilities and develop their creativity as they build a real-life replica of a roller coaster. Build your own ride and watch it come alive! This toy set features a battery-powered motor that gives life and action to the connected K'NEX rods and pieces. A track that serves as a railway for the coaster car is also included. Go beyond your imagination as you build and rebuild models that will take you on a wild amusement ride. An alternative roller coaster model can also be built by following the downloadable instructions.
AGES: 9+ years
The Crayola Fabulous Art Set for Kids unleashes everyday creativity, and is the perfect activity for any party or event. This art kit features: 16 glitter crayons, 6 washable glitter paints, paint brush, 10 coloring pages, Color your own sticker sheet, school glue, 8 fine line Pip-Squeaks markers, 12 short colored pencils, 12 colored chalk sticks, 25-page construction paper pad, 24 regular crayons, and organizer tray, all in a reusable storage container!
AGES: 5+ years
The Hot Wheels Corkscrew Crash Track Set is the ultimate set for speed and motorized boosted action! The unique corkscrew design sends cars flying around the track at dizzying speeds and crashing and smashing through the triple loop with 3 high-action crash zones and 3 high-speed boosters. This interactive, skill-based set drives problem solving with exciting Hot Wheels action as kids try to launch their cars without crashing out. Kids test their skills by timing a launch into the corkscrew madness without wiping out in one of the three wild crash zones! Send more cars into the action with the drop-in ramp to increase the fun and the challenge. This massive set is great fun for one or two players. Comes with 1 Hot Wheels car. Connects to other Hot Wheels sets for an epic world of Hot Wheels thrills.
AGES: 5-9 Years