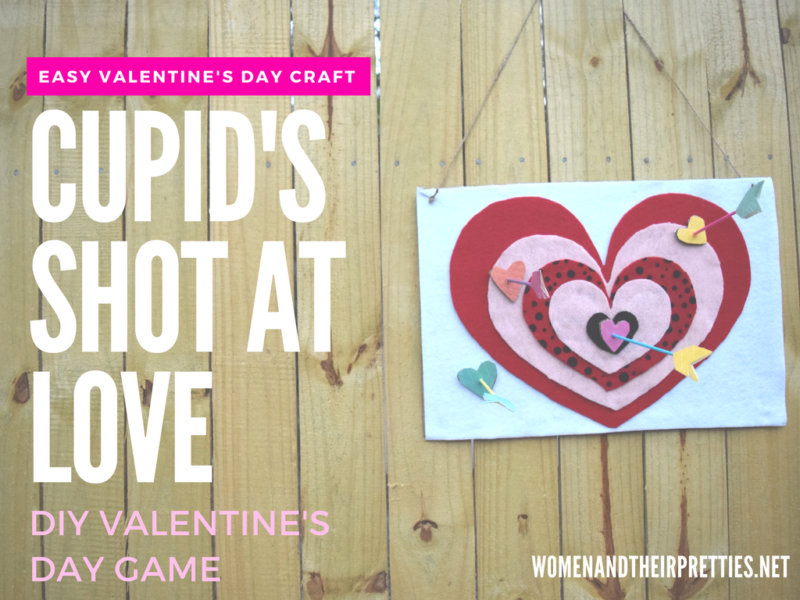 On of my New Year's goals was to enjoy the things that I love and crafting is one of them. I decided to come up with a Valentine's Day craft for older kids and adults! This craft just happened to be a DIY Valentine's Day Game that was inspired by my mom's love for darts. She's always been big on bar games and this is her favorite. I thought I'd put a festive spin on this traditional game – and make it safe for children to play indoors or outdoors. I made it from supplies that you probably already have in your home.

DIY Valentine's Day Game
I am so excited about this super fun and easy DIY Valentine's Day Game! Most of my project was cut with my Silhouette Cameo (which is the holy grail of craft machines) but you can just as easily use scissors. Most of the stuff I already had around the house, but I did pick up a few things. I always keep a few large pieces of cardboard in the house. I typically use them as a hard, flat surface while crafting or wrapping gifts. You can even cut pieces from a box, if needed! Almost everything can be bought right on Amazon. This Valentine's Day craft was super cheap and easy to make! I hope you enjoy it as much as I did!
DIY Dartboard HEARTboard Supplies:
1 large piece of cardboard – 12×18
(2) 12×18 pieces of felt – different colors (not the stiff felt)
(4) pieces of 9×12 – multiple colors/designs
5 different sizes of heart stencils – feel free to cut your own like I did.
Marker
Scissors – I use these because they are great for fabric!
DIY Cupid's Arrows Supplies:
HEARTboard Instructions
Swiftly apply hot glue around the inner edges of your 12×18 cardboard. Make it quick because hot glue dries quickly. Apply the 12×18 felt of your choice to cardboard. Press down on the felt where the hot glue is located. Be sure the cardboard isn't showing. Feel free to trim the cardboard, if needed.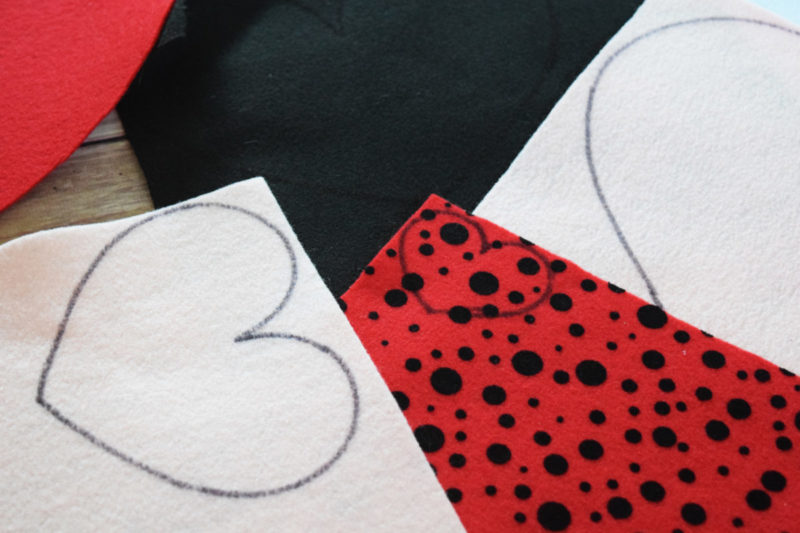 Using your marker and heart cutouts, stencil the hearts onto each piece of felt. No two should be the same size. Then, cut out the hearts from the inside of the stencil line. Be sure there aren't marker lines on your hearts. One idea is to flip the heart over, so marks aren't showing or trim the marks off after.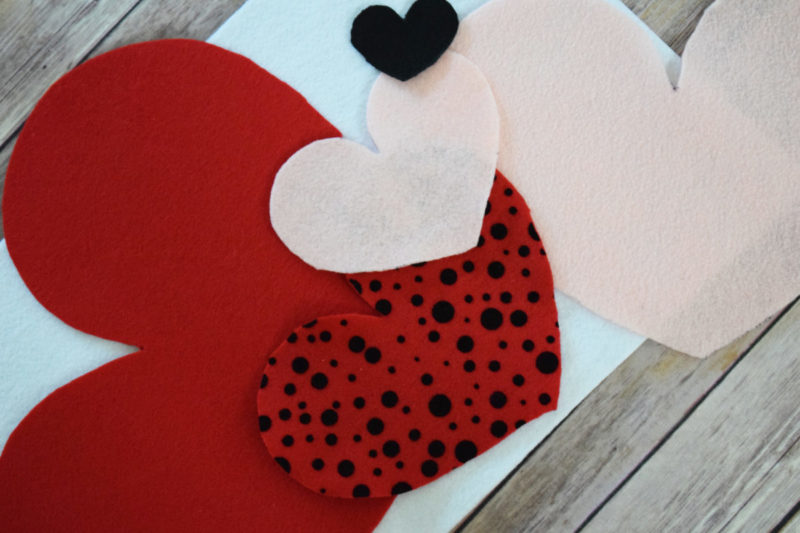 Hot glue around the edges of your hearts and quickly apply them to the felt board you made. Be sure to order them from largest to smallest and press down on each piece of felt to make sure the glue holds.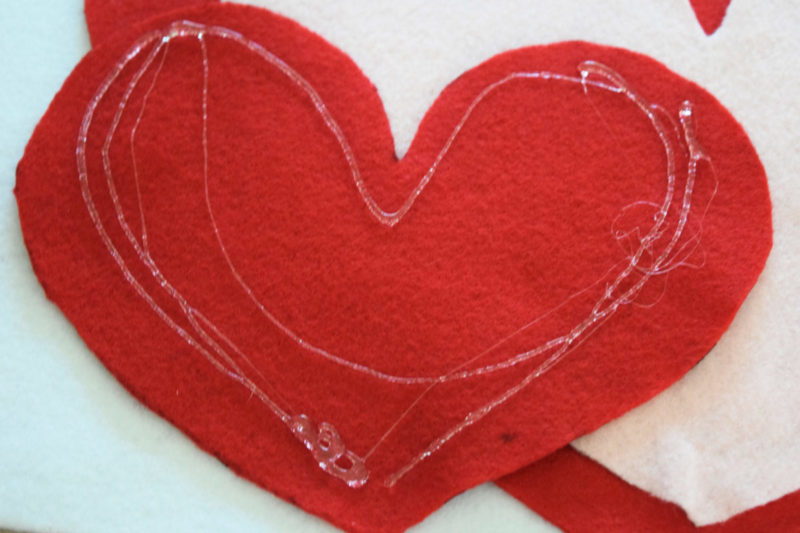 Next, cut a small diagonal slit into the two top corners of your board.
Double knot a large piece of twine on both ends and carefully place the twine into the slits, so you can hang your Cupid's Shot At Love DIY Valentine's Day Game.
Cupid's Arrows Instructions
Cut multiple small hearts out of scrap pieces of cardboard. Don't worry about the shapes. The imperfect hearts are actually quite cute.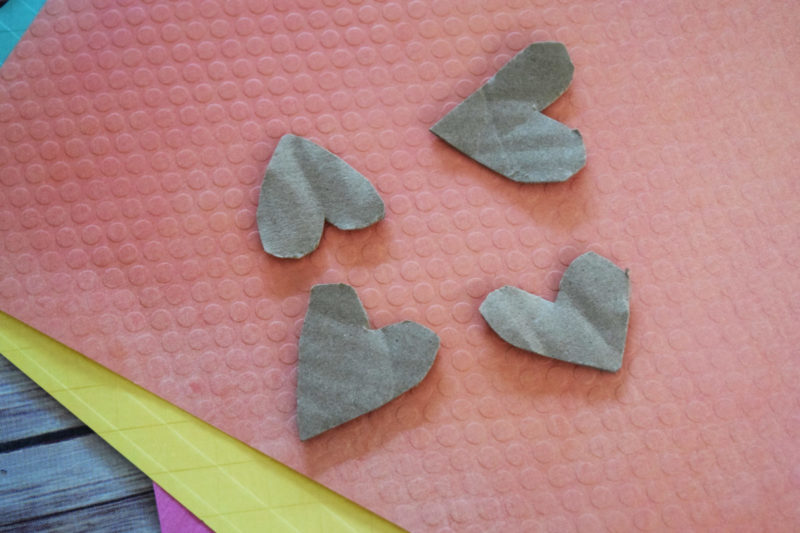 Hot glue a piece of your colorful scrapbook paper onto each side of the heart, trimming each side into the shape of the heart – one side at a time. If you choose to apply scrapbook paper to only one side of the heart, that's fine too!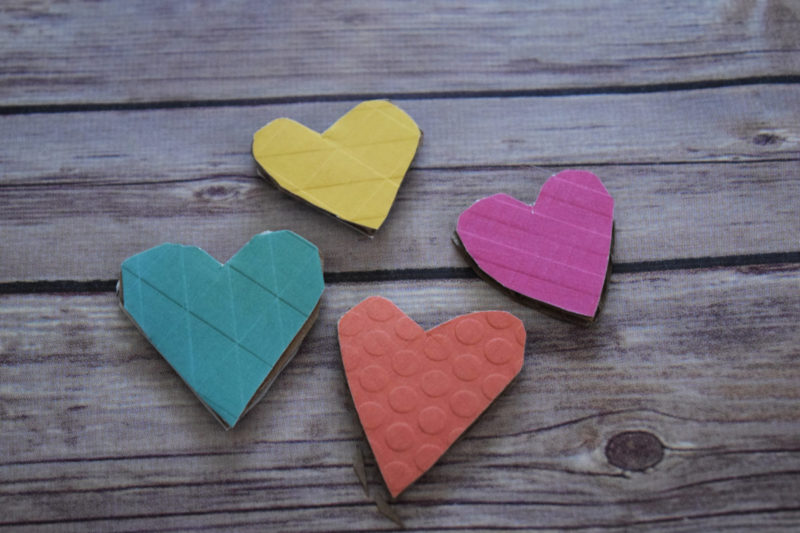 Apply a small dot of hot glue onto the middle of the colorful side of the heart. Press a lollipop stick (choose a color that's different than the heart color) into the glue and hold in place until dry. At this point you should be able to drop your arrow without it falling apart.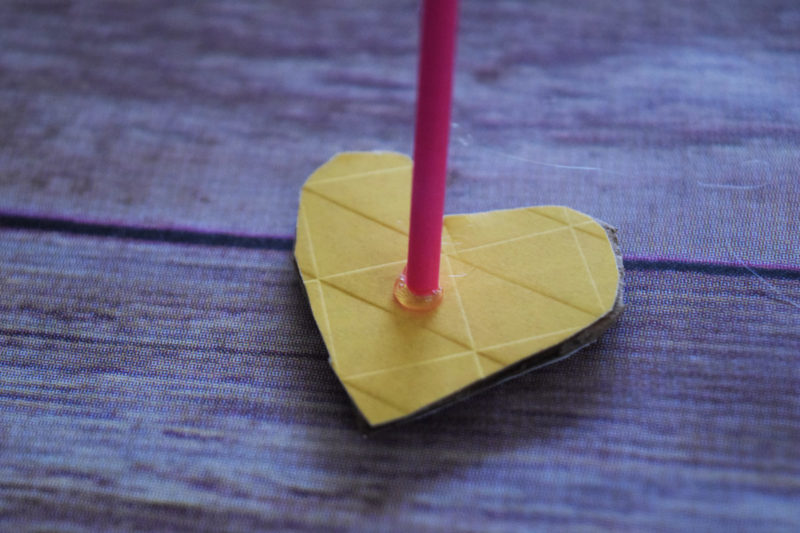 Cut small pieces of velcro (the stiff side, not the soft side) and glue onto the other side of the heart. Be sure the velcro is glued on thoroughly, so it doesn't come off with on the felt during the game.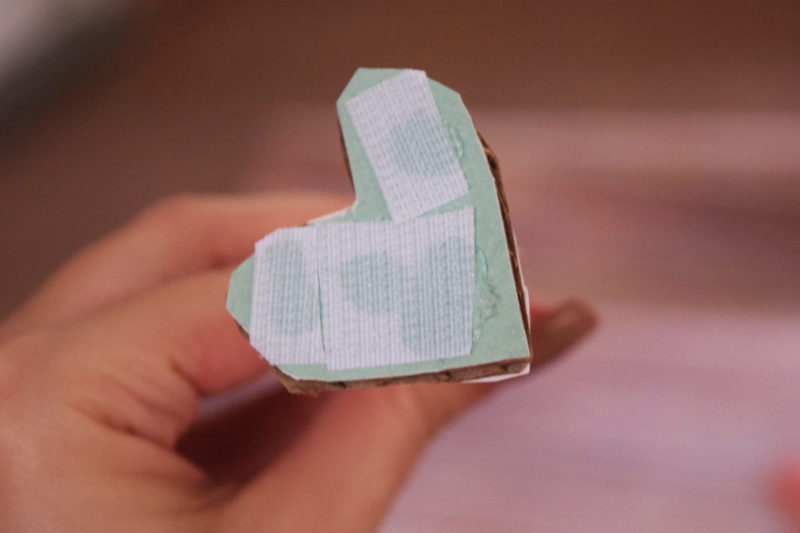 Now, pick a scrapbook paper of your choice, cut a rectangle (3×4 should be a good size). Fold the paper in half. Cut the shape below, with the point at the opening of the folded paper. Be sure to cut slits on the sides to give it the feather effect.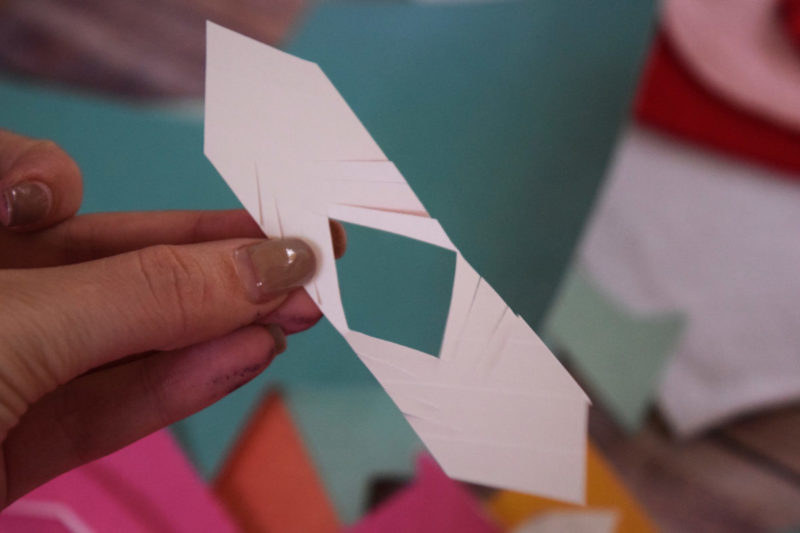 Open your fold, place a dot of glue on the inside of each point. Now, place the end of a lollipop stick into the fold and glue it closed. Make 4 arrows per child. I wrapped twine around 4 arrows to make it more presentable for a gift!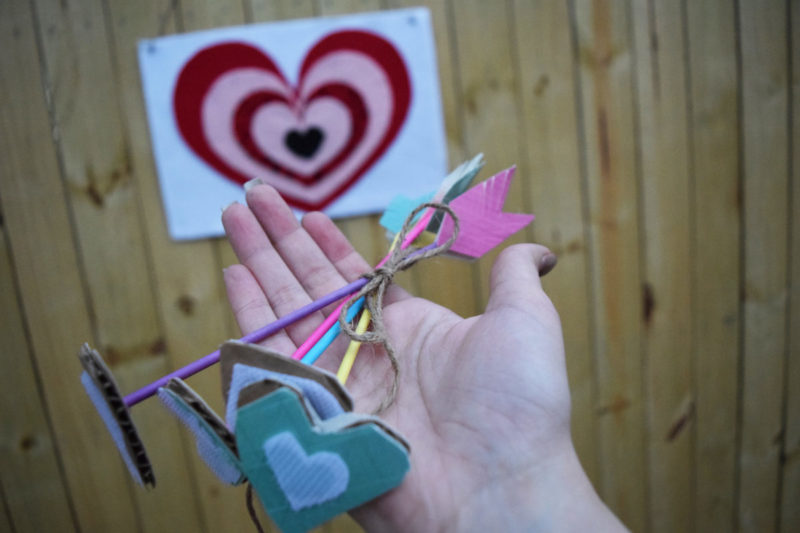 Cupid's Shot At Love – How to play
Ideally, your children will help you make the Valentine's Day craft because it will nourish their creativity and keep them busy without screen-time for awhile. Then, it's time for them to play "Cupid". Each child will get 4 arrows. They will stand 3-5 feet from the HEARTboard (you see what I did there?) and they will do their best to score a bullseye! Every shot on the HEARTboard gets them a score. The first player to 50 points wins the game!
White backboard: 1 Point
Red heart: 5 points
Pink hearts: 10 points
Black/Red Polka Dots: 20 points
Black heart/Bullseye: 25 points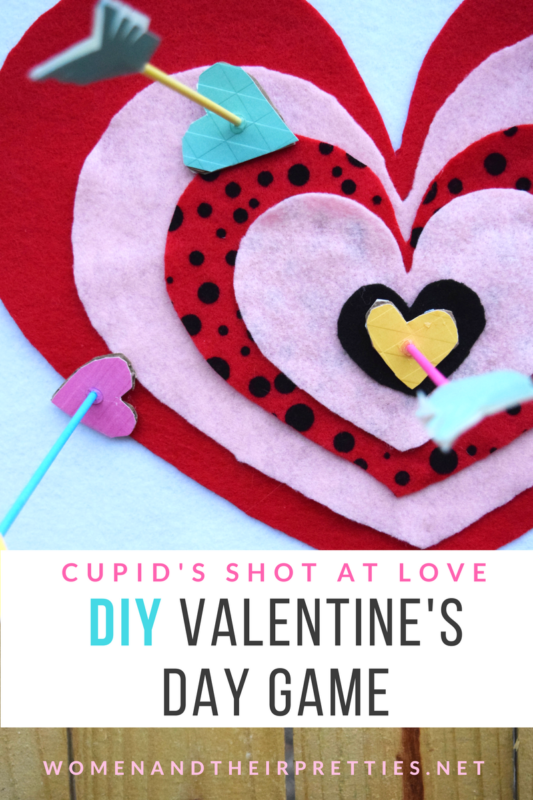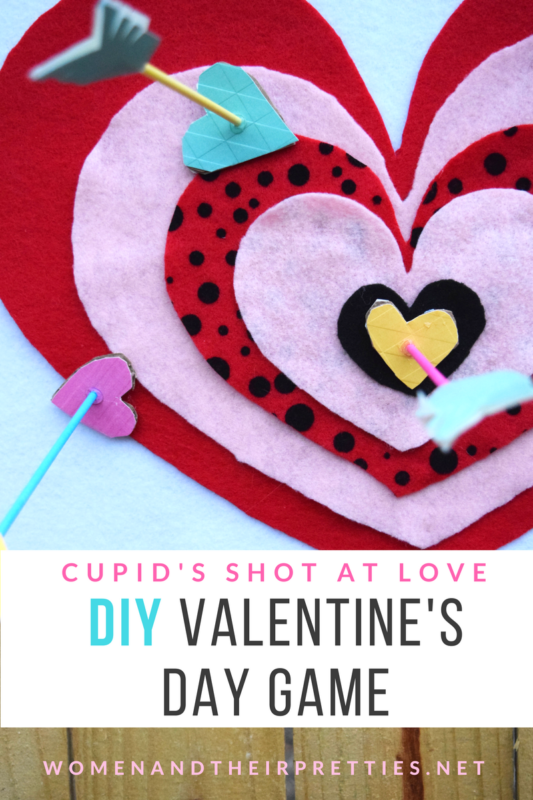 Alternative playing methods
You can really incenticize the game by offering a gift each heart they land on. For example, the outer red heart could be a few pieces of candy, while the bullseye could be a dollar bill or a larger gift of some sort. You could even make the polka dot heart something very special.
Another idea is that each player has to do an activity based on which heart they land on. For example, they have to do a funny dance if they land on the red heart or speak in an accent if they land on the pink. Get creative with it!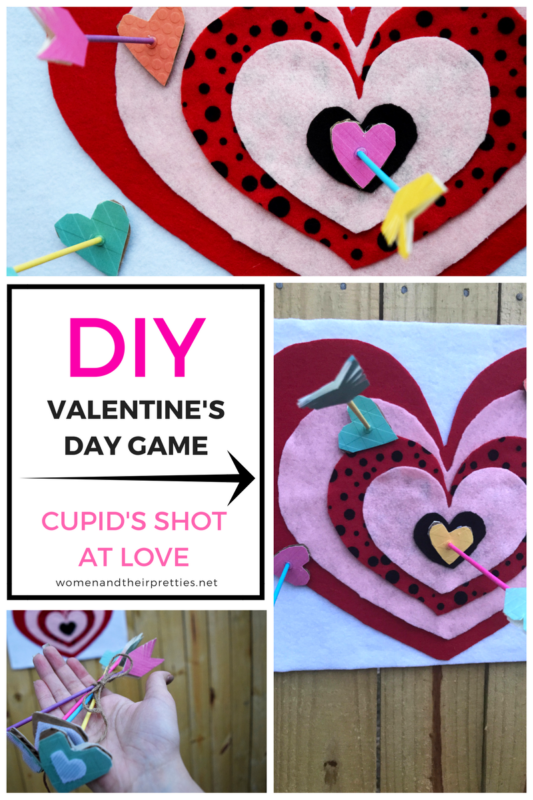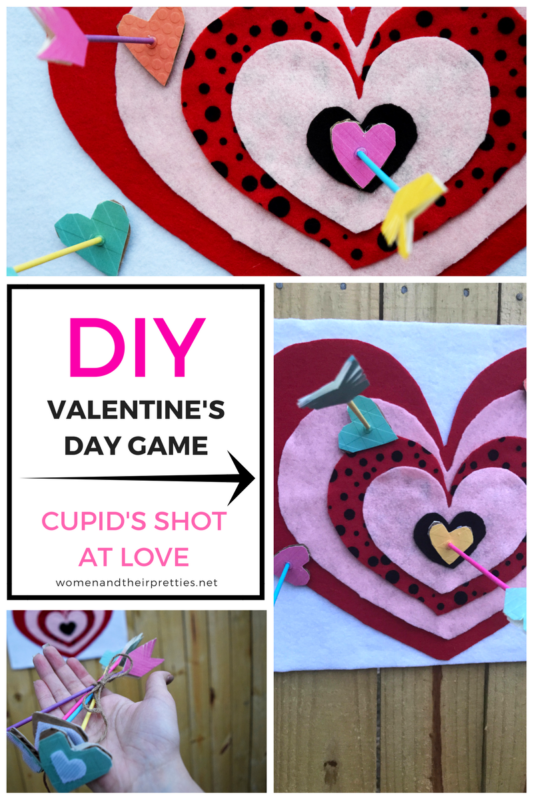 Who will you play Cupid's Shot at Love Valentine's Day game with?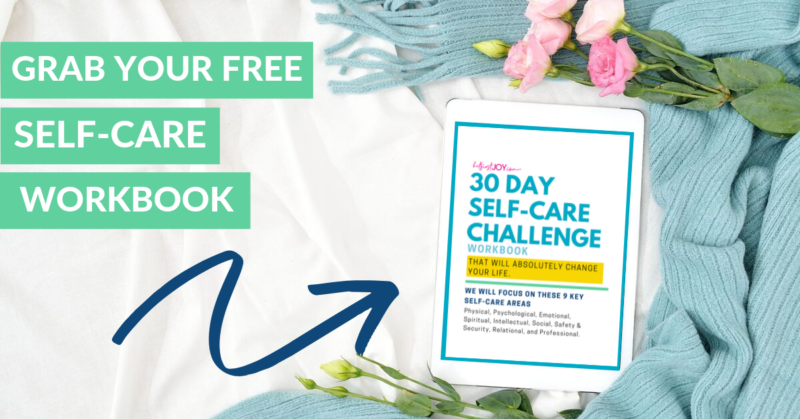 DISCLOSURE
As an Amazon Associate I earn from qualifying purchases. This post may contain affiliate links and/or promotional products, all opinions expressed are that of But First, Joy only. Read my full disclosure.