Sometimes, the start of a journey to self care and confidence means a change in your wardrobe. I partnered with DAILYLOOK to talk about my self care journey and to give my honest opinion of their clothing subscription box. All opinions are my own!
I started the journey of a lifetime almost 8 months ago. I became a mother! As many first time moms do, I lost a little bit of myself along the way. I put self care on the back burner because that's what you do when you're putting a child first, right? Wrong. I quickly realized that it isn't selfish to make yourself a priority.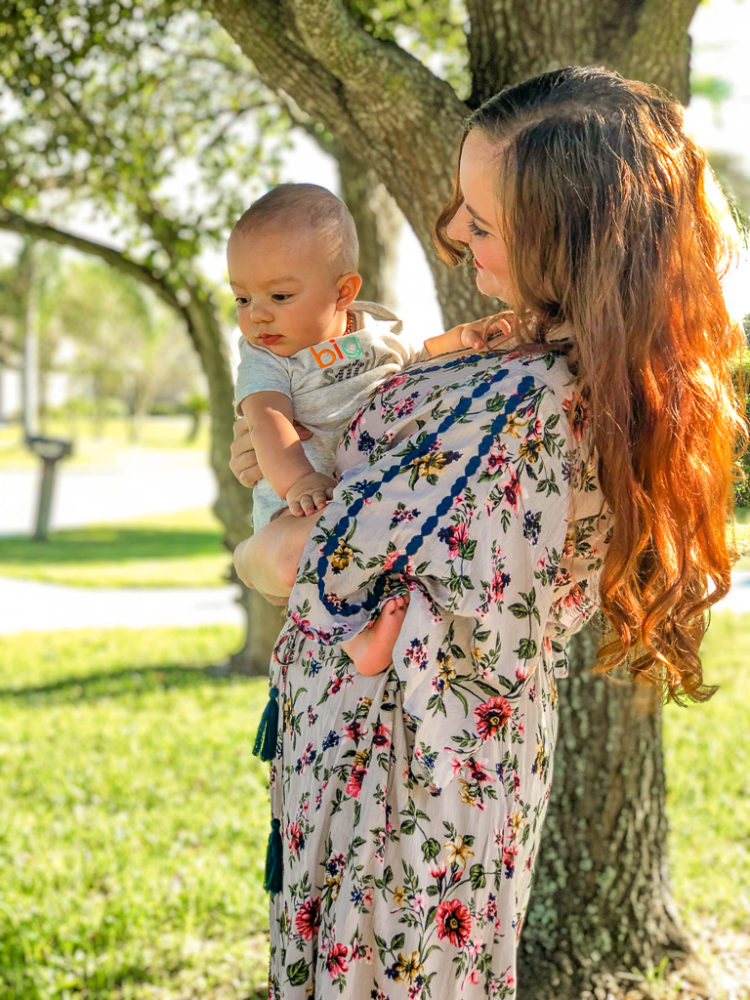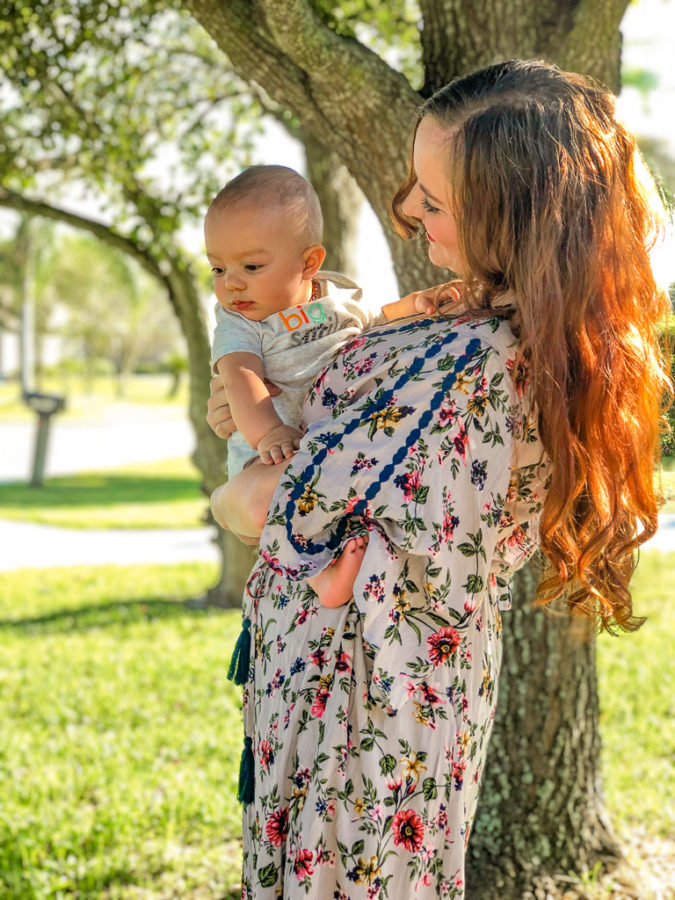 The journey to loving myself again started with doing things that made me feel good. I read books, I drank my favorite coffee, and took long baths whenever my husband was on Daddy Duty. Listening to motivational podcasts and watching educational YouTube videos played a big part in getting my confidence in check. After I was happy on the inside, the next step was to work on myself physically.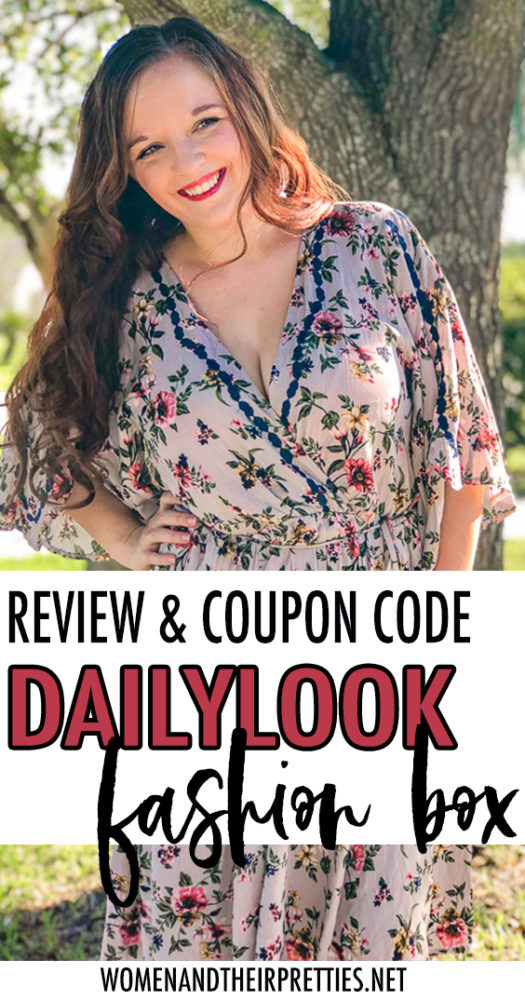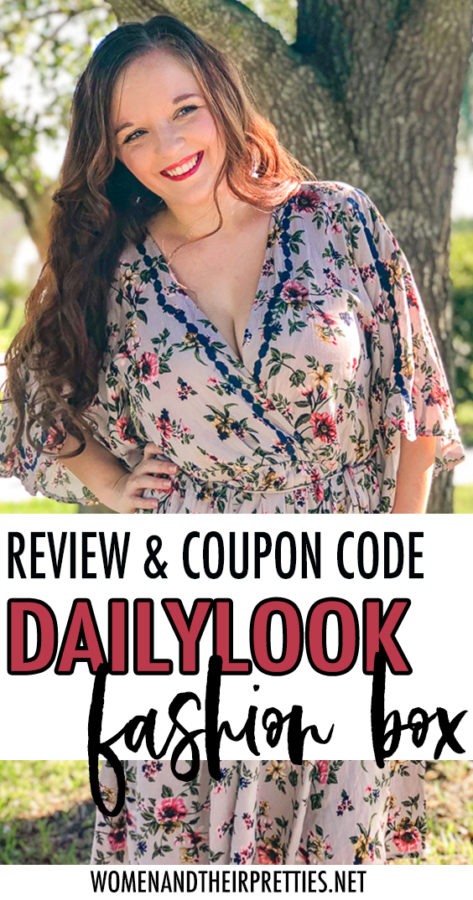 New skincare products
and deep conditioners were added to my routine. I started to eat healthy, with a goal to reach my pre-pregnancy weight. Which has been a success, by the way! After I was body confident, it was time to work on my wardrobe. First of all, I completely cut leggings out of my wardrobe because they were cramping my style. Then, I felt stuck. I had fail after fail when searching for a look that I loved. Finally, I decided to leave it in someone else's hands: a
DAILYLOOK stylist
!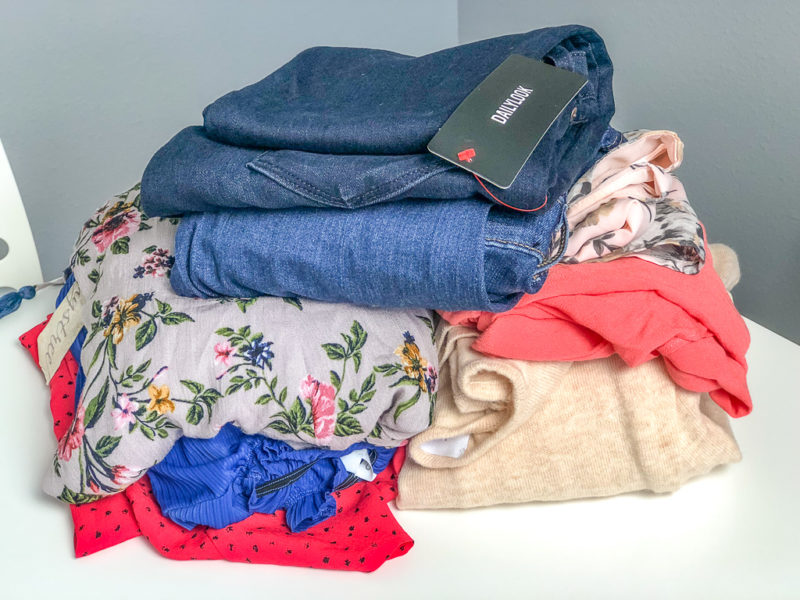 My DAILYLOOK review
What is DAILYLOOK?
DAILYLOOK is a
clothing subscription service
that sends clothing right to your door based on a style profile that you fill out upon sign up. For a $40 styling fee (which is credited to your account), you're promptly assigned to a stylist who will handpick 7-12 items just for you! The stylist will write notes explaining why she chose these pieces for you and you'll have 24 hours to preview your box and request an exchange for up to 3 items that you'd rather not try.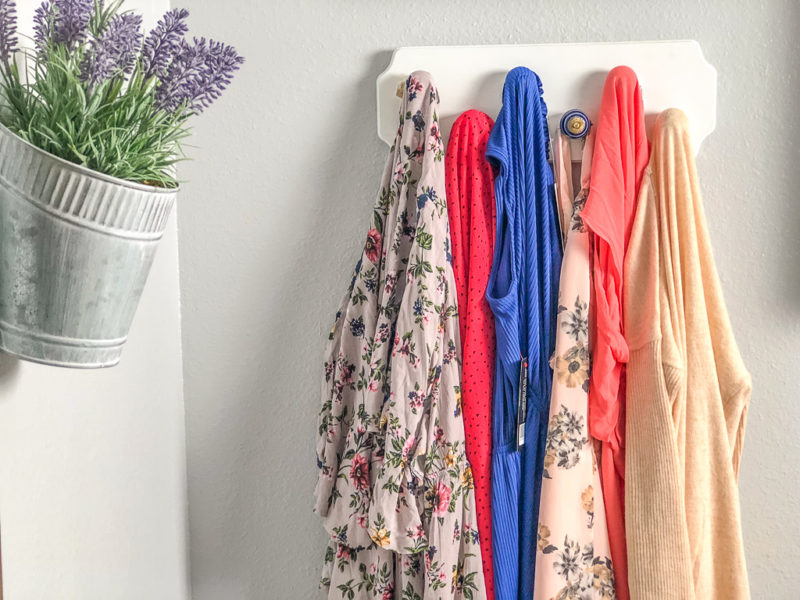 When your box arrives, you'll have a few days to try your pieces on and decide which ones you love and which you don't. Then, using the
DAILYLOOK
prepaid return label, you'll send back the pieces you don't want. Basically, you'll only pay for what you keep! Also, your package includes a price list for each item so you know exactly what you're in for! Keep in mind that you put your budget in your style profile when you fill it out. This is a fantastic feature because you'll never fall in love with something that's way out of your budget! Plus, you have that great $40 credit on your account that you paid to get your box styled. Think of it as a prepayment for a piece of clothing.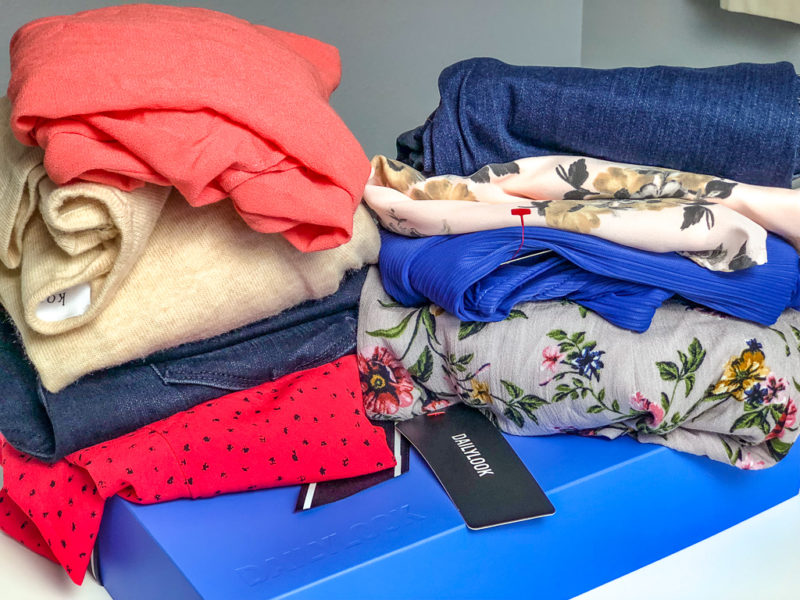 When you checkout online, you can add notes for your stylist about each item. You'll tell her your thoughts on the fit, price, and quality of every piece. So, every box you receive will be better than the last!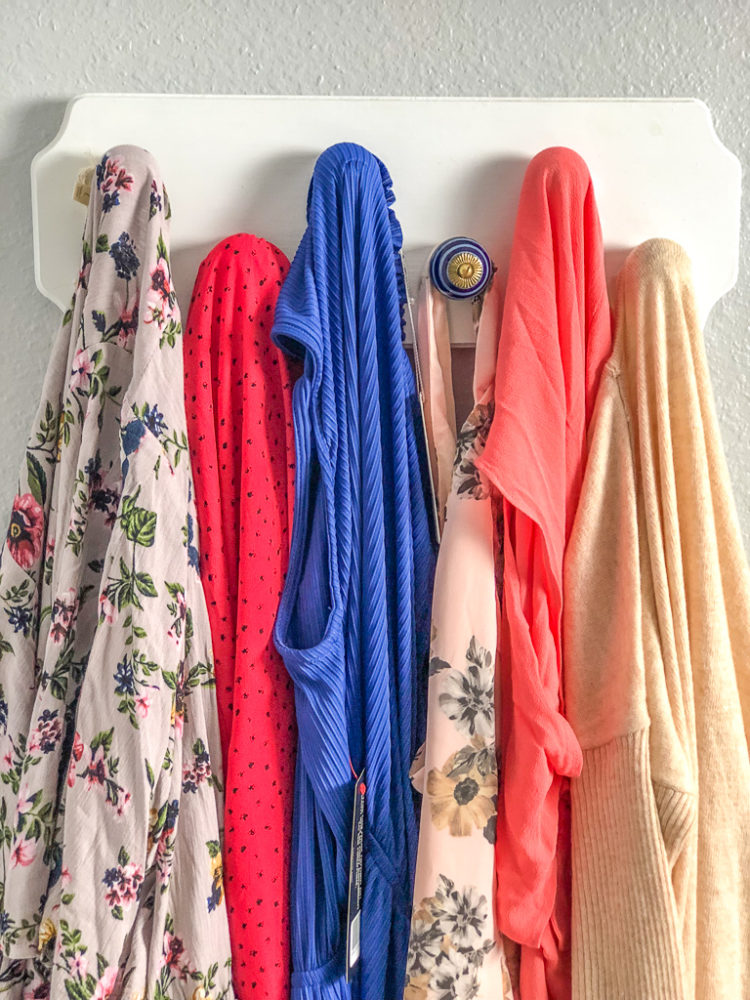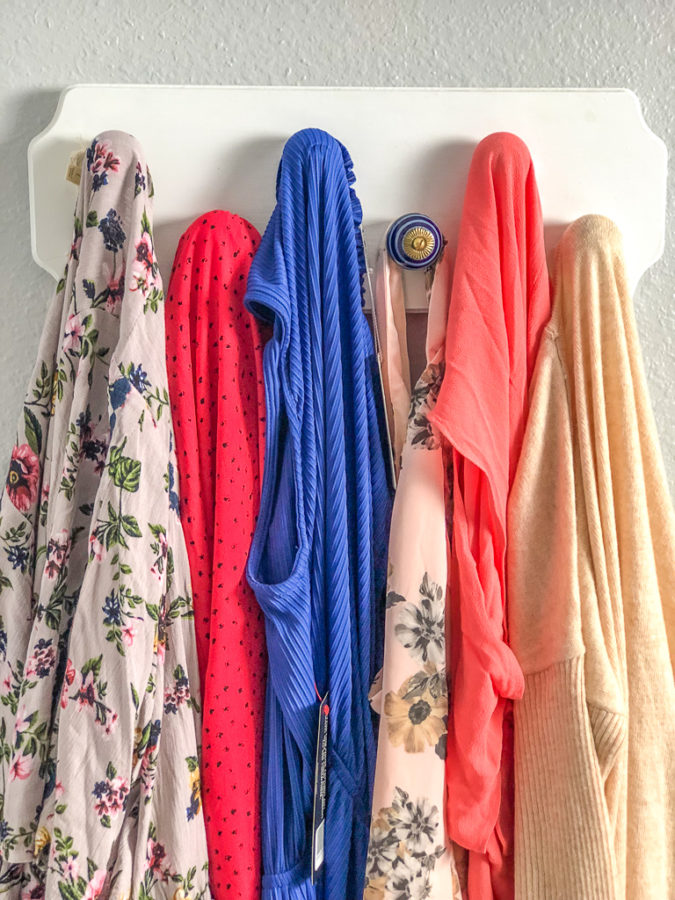 My first DAILYLOOK box
I hadn't waited this anxiously for a package since I bought my first iPhone! After previewing the pieces online, I was dying to try them on! I was super excited to try on things that I wouldn't necessarily have picked for myself, but also things that are absolutely my taste! My stylist must have totally stalked my life (or maybe my Instagram) before picking out these pieces. There were 2 pieces that I asked to be exchanged but at no fault of the stylist. As women, there are just some things you know won't be flattering on your body! Nobody knows our bodies quite like we do.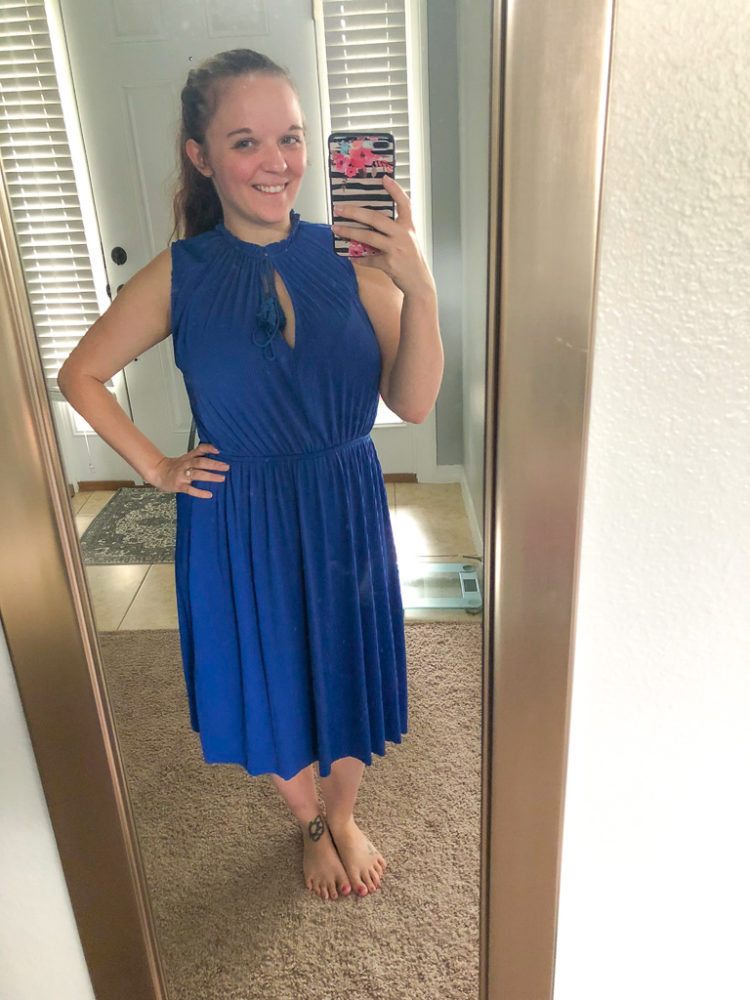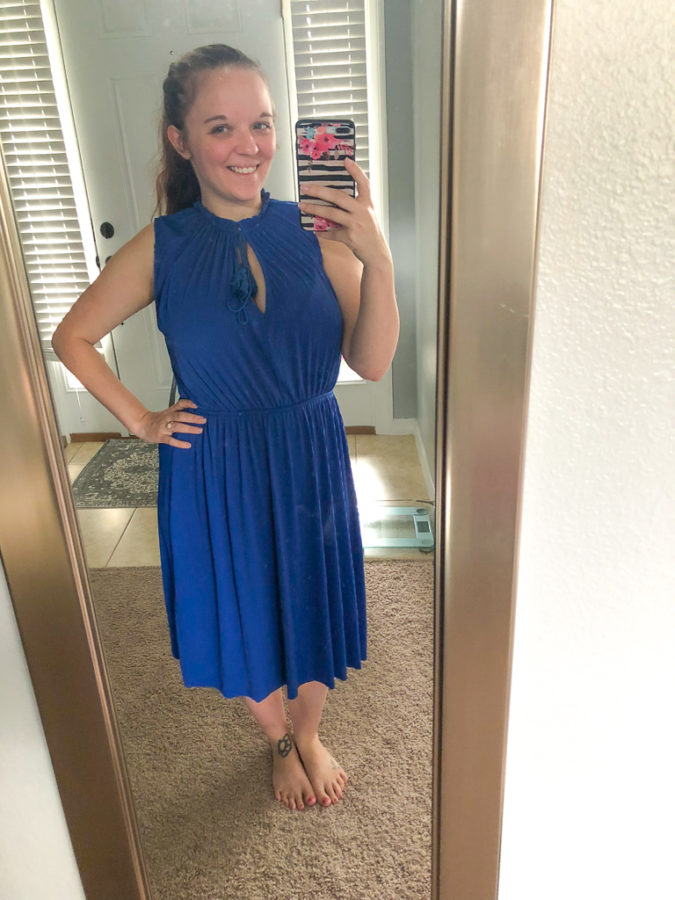 1. SINGLE STITCH WAIST DRESS
So, my stylist replaced the items I exchanged with this beautiful Cobalt
dress
. It's soft and feels incredibly cool against your skin, especially in the Florida heat (which I mentioned to my stylist). I love the tasseled neck tie!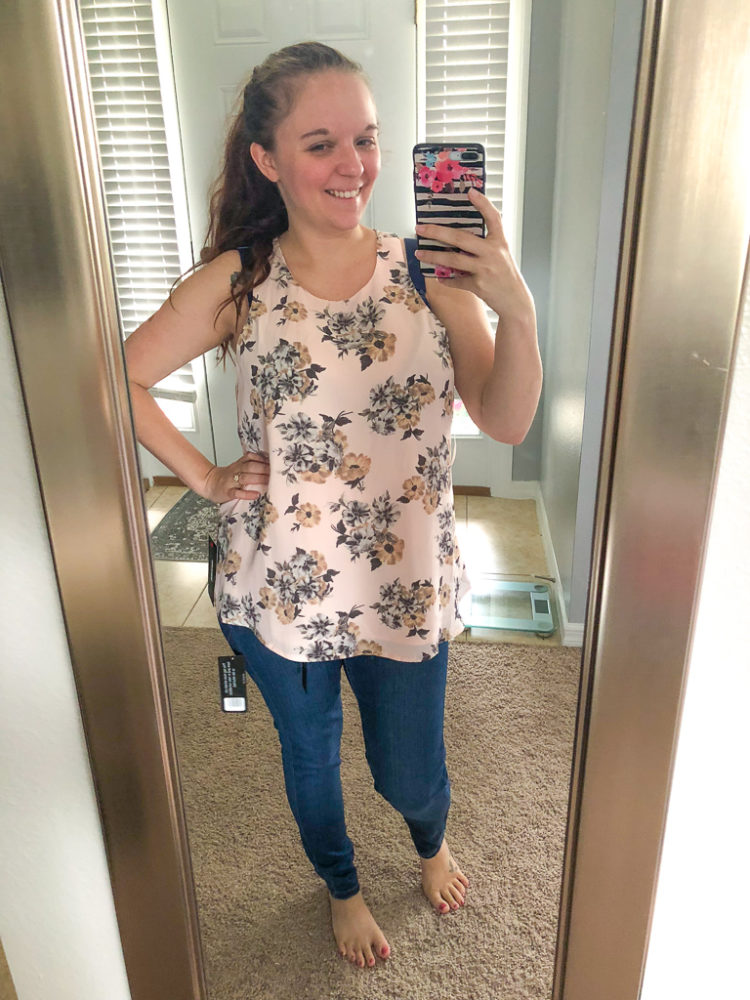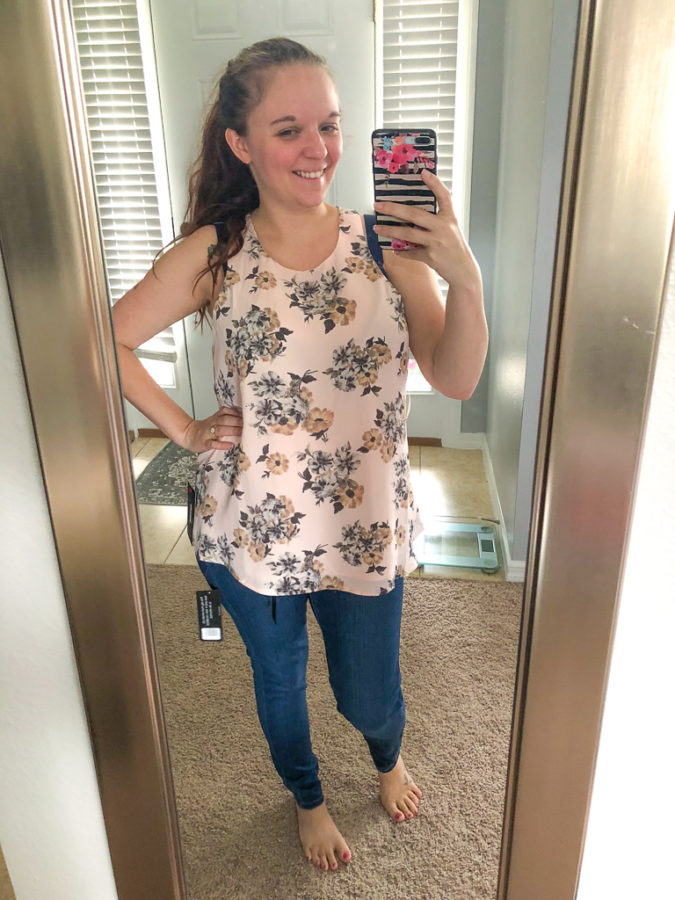 2. SOFT & SWEET FLORAL TANK
Then, there was this floral top. It's everything that I love about clothing. The light pink and floral design is totally my style. In fact, floral 
anything
 is my weakness. I love the cut of the sleeves, even though it will require a special bra. Boo! I like easy, but this is a
beauty
so ill forgive. The quality is incredible. I'd absolutely see myself wearing this top to a work event or on a date with my husband.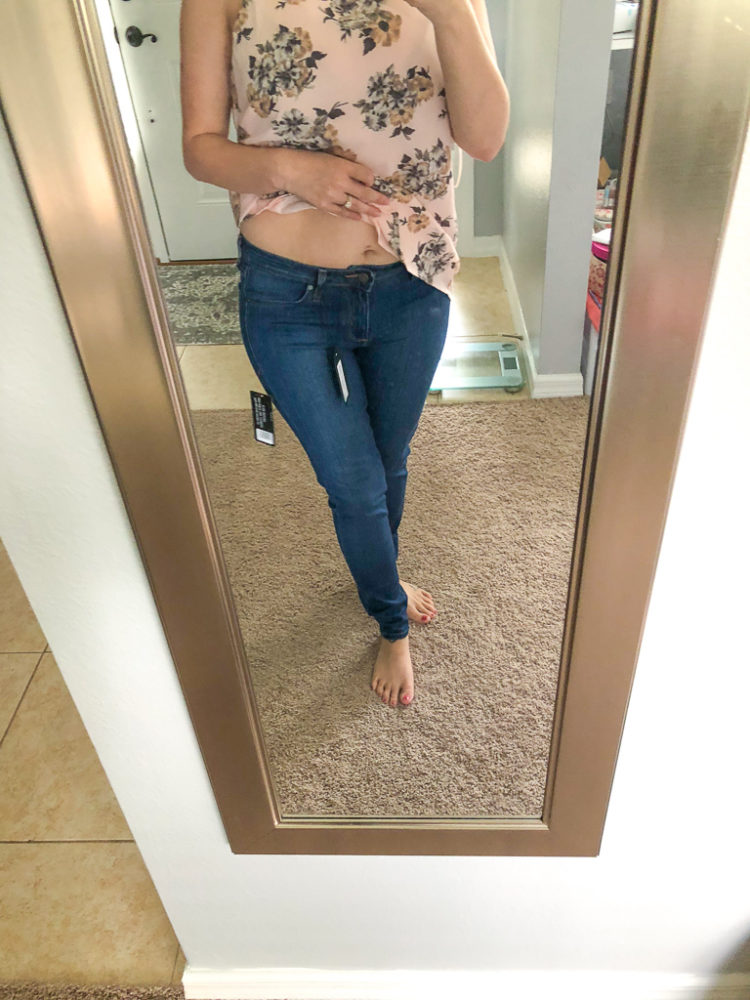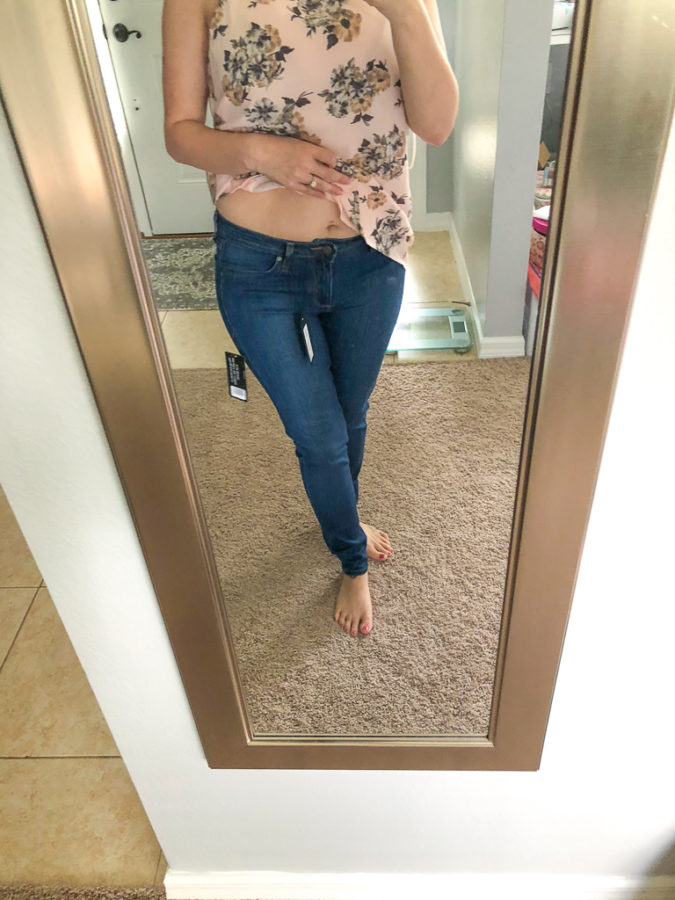 3. JUST BLACK KARLY MID RISE CROPPED SKINNY JEANS
I paired this with these super skinny jeans. Like floral designs, jeans are my weakness. Maybe it's my country roots, but a good-fitting pair of jeans is something I can't resist. These fit me in all the right places, weren't too long for my 5'0 self, and are so slimming! My husband instantly made a comment about how skinny I look in those jeans! Win!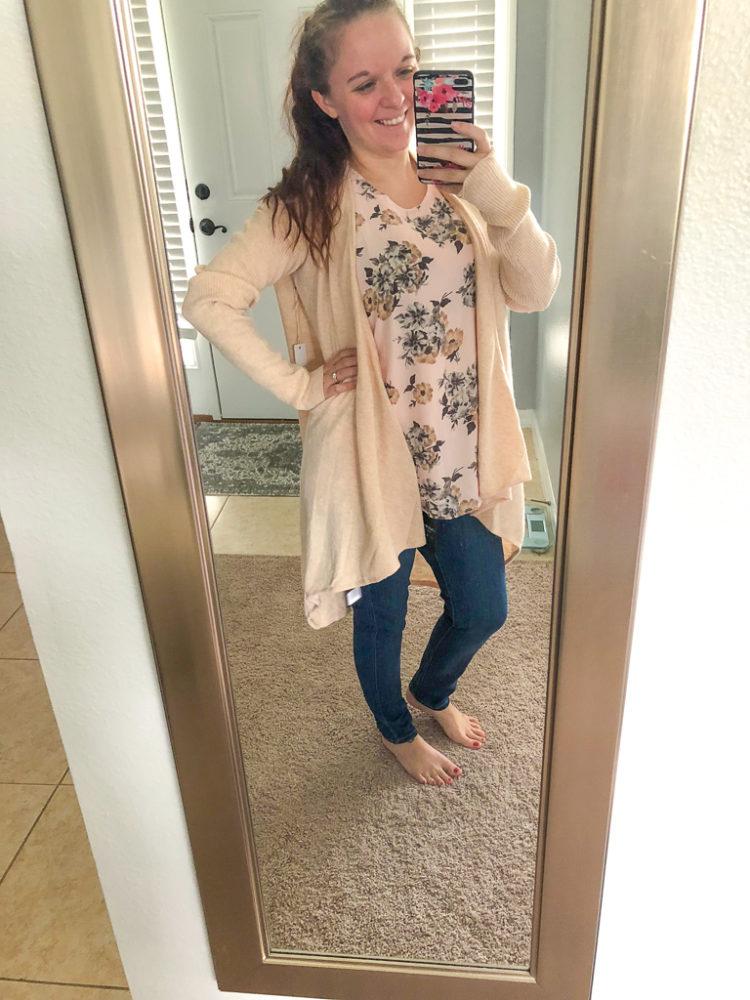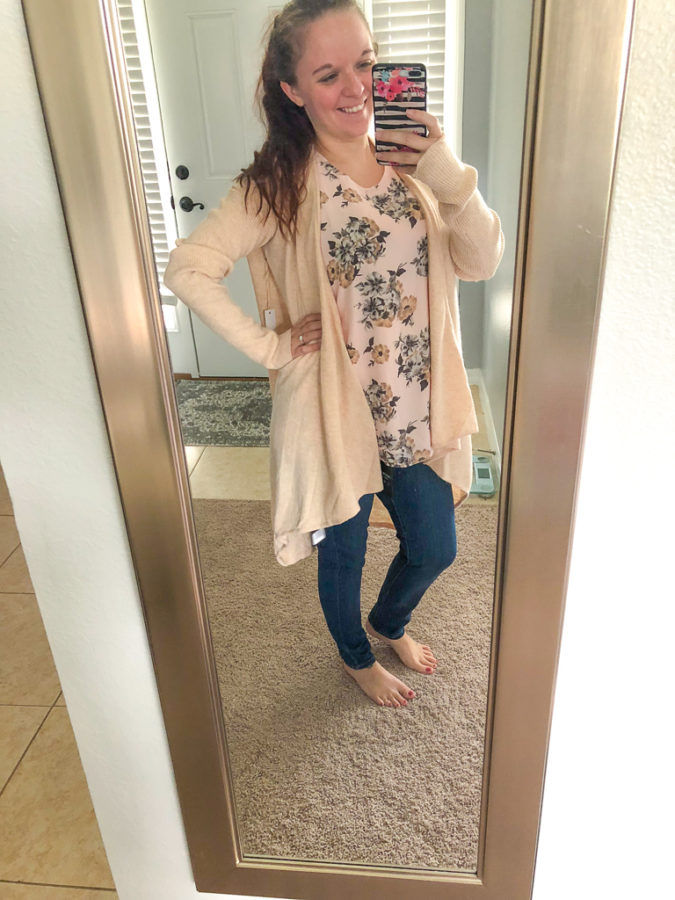 4. UNEXPECTED WATERFALL CARDIGAN
This taupe cardigan was another piece I was really looking forward to. I threw it on over the outfit above and it's a match made in heaven! It's the softest cardigan I've ever felt in my life and a great fit on me! I recommend something that I could layer but something that wasn't too heavy and my stylist totally delivered!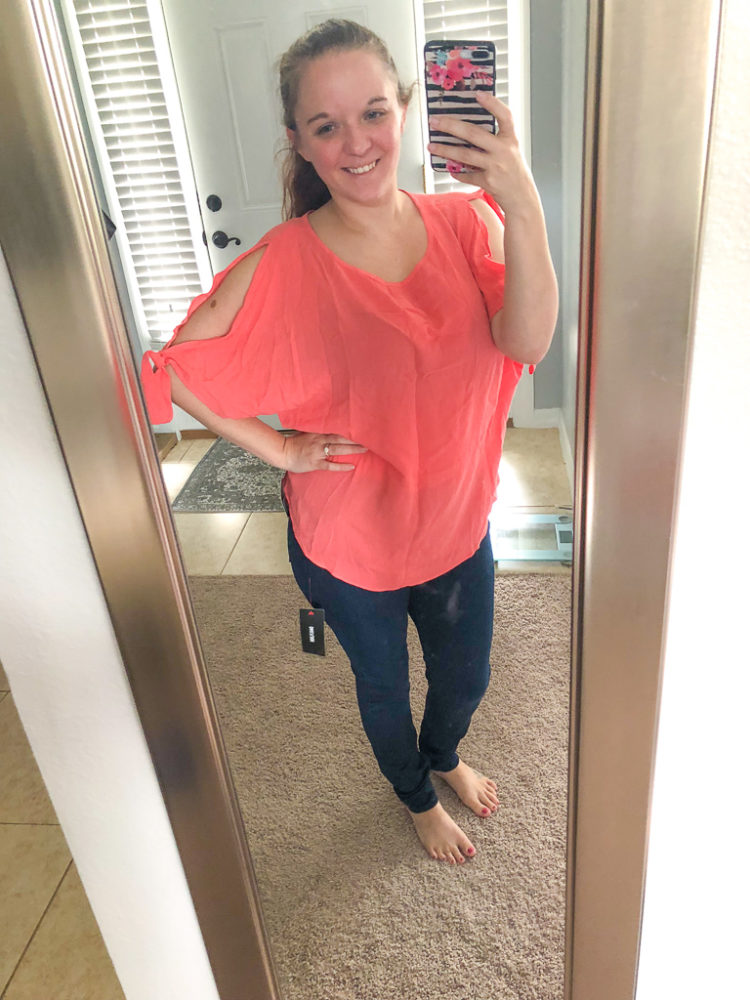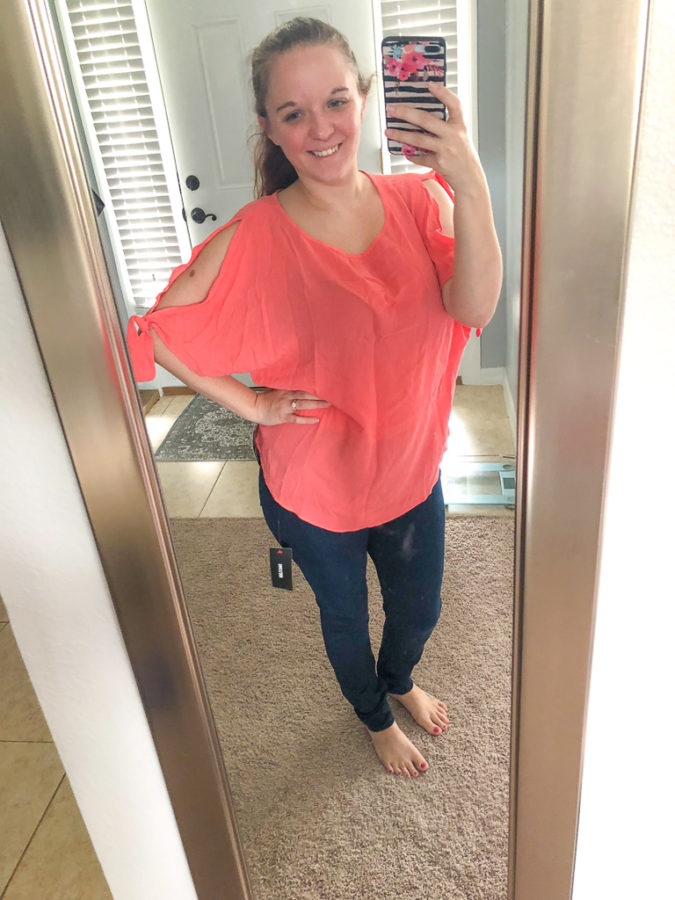 5. SANDY S/S TIE SLEEVE TOP
My stylist picked this coral date open sleeve top specifically to wear on date nights. I almost asked to exchange it because I'm not a big fan of open sleeves because they tend to make me look boxy, but I decided to give it a try. The bow-tied sleeves really got my attention! The top is very lightweight and a bit sheer. It's another great piece for Florida!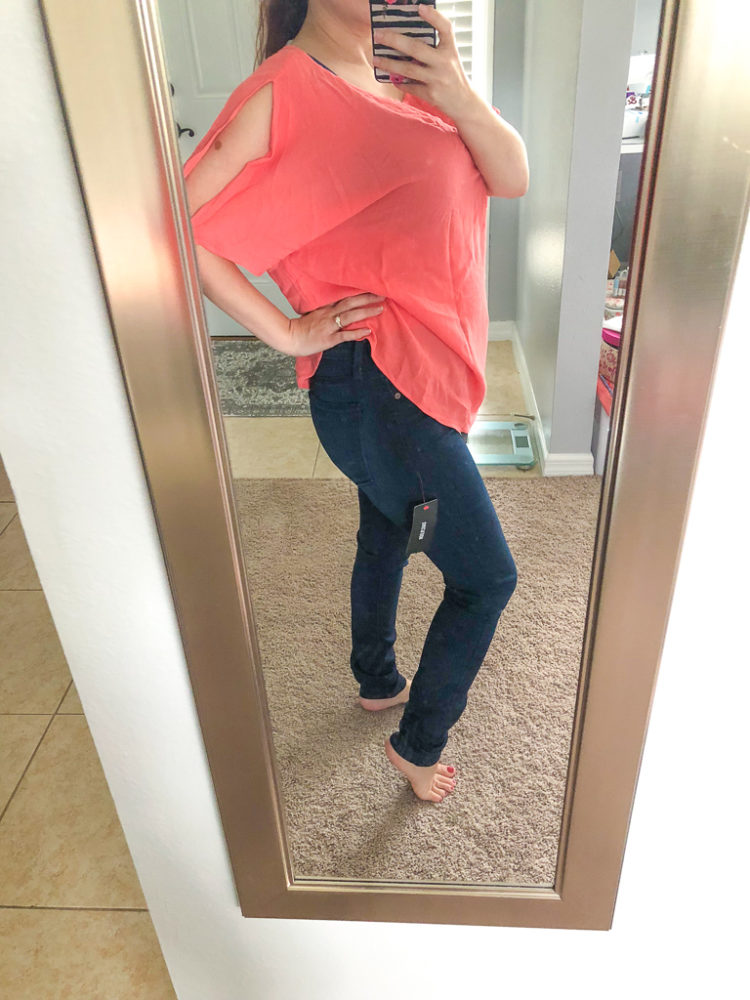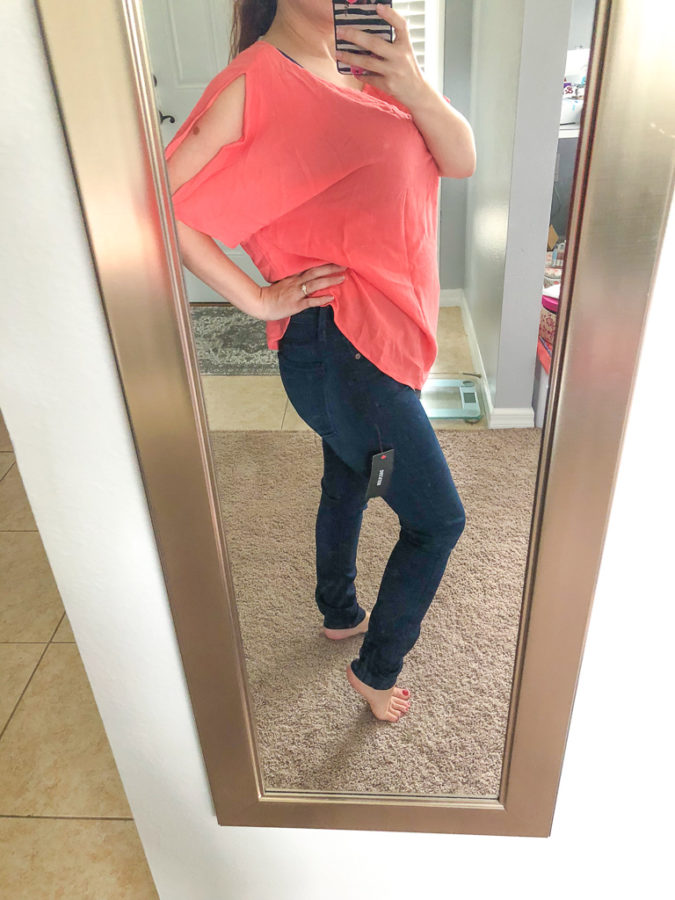 6. JUST BLACK UPTOWN HIGH-WAISTED SKINNY JEAN
My lovely stylist recommended that I pair the top above with these dark wash jeans. She said every girl needs a good pair of dark wash jeans and she's right! They were a very nice pairing with both tops and would be fantastic for fall.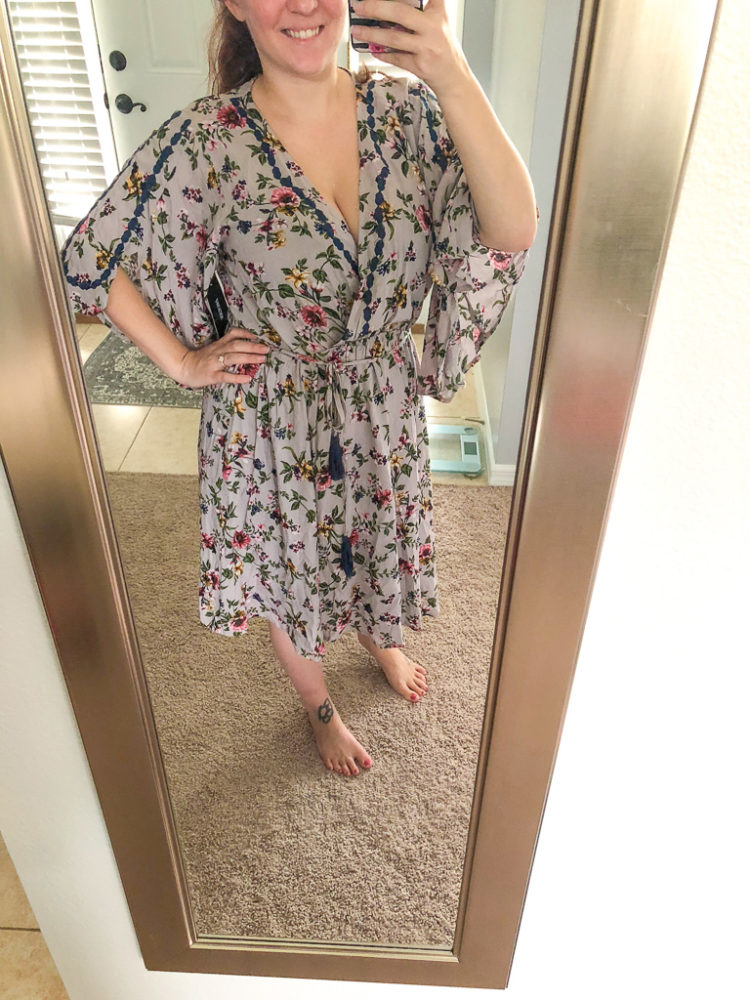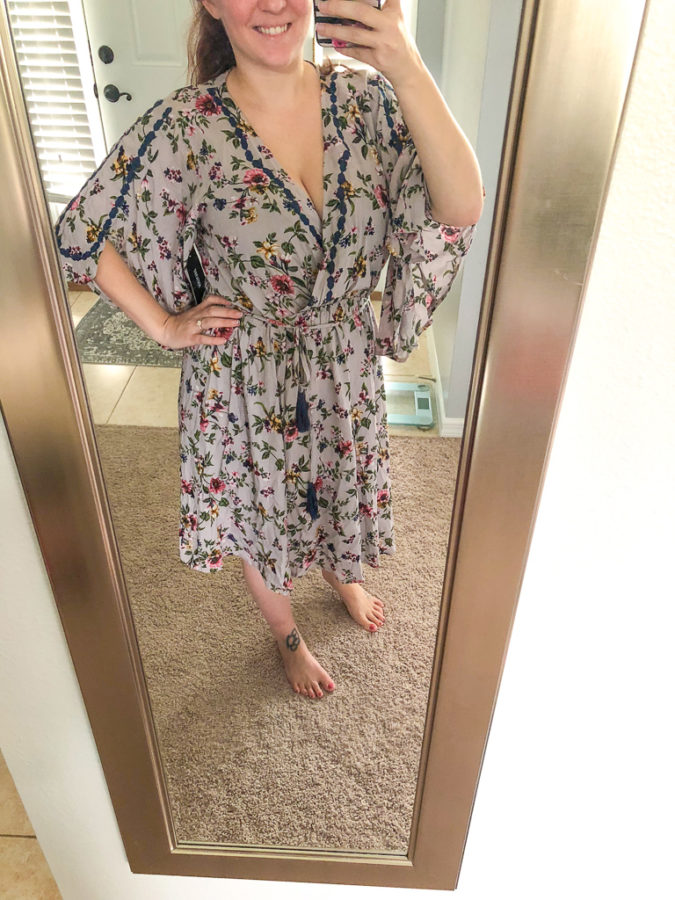 7. MYSTREE 3/4 SLEEVE SURPLICE DRESS
I was the most excited about this beautiful boho dress. The design, the color, the fit – it was everything I was dreaming of! I requested a good dress and I'm so happy she found one that was right for me. There's an embroidered design along the neckline and down the open, droopy sleeve. Which are absolutely gorgeous! This dress just has so much character. The sleeves, the tassel ties, and the overall fit is just perfect!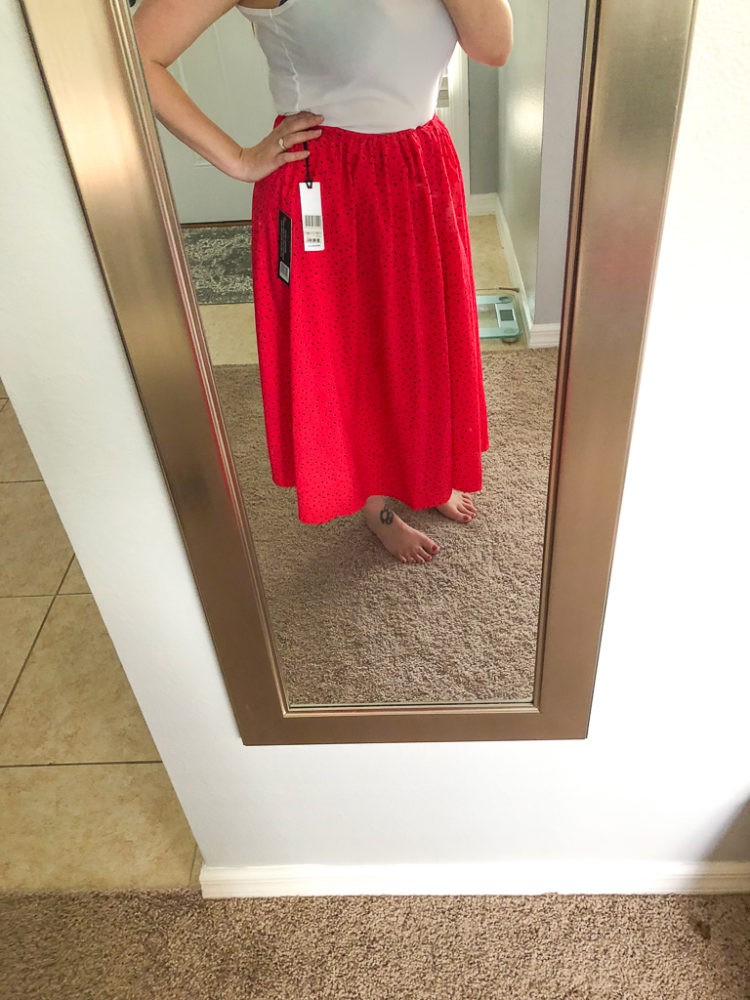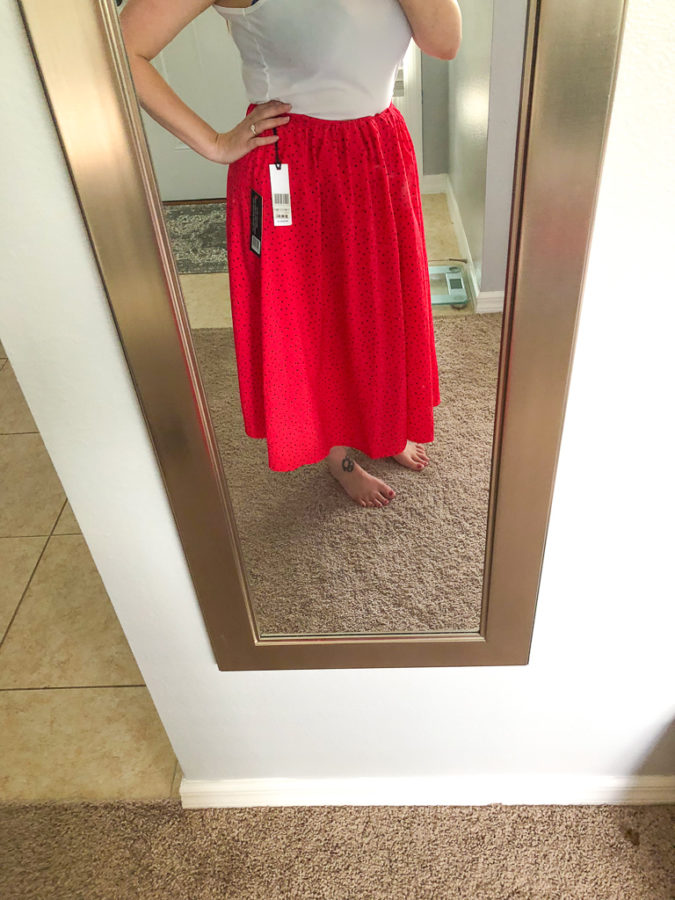 8. BB DAKOTA RAQUEL CHIFFON BUTTON UP MIDI SKIRT
One more piece in the box was this red skirt. I don't have the best luck with skirts but I loved the style of this one. The buttons down the front with the red & black polka dots had my attention. As recommended by my
DAILYLOOK
stylist, I paired it with a solid top. Unfortunately, this one was a bit too snug around my waist.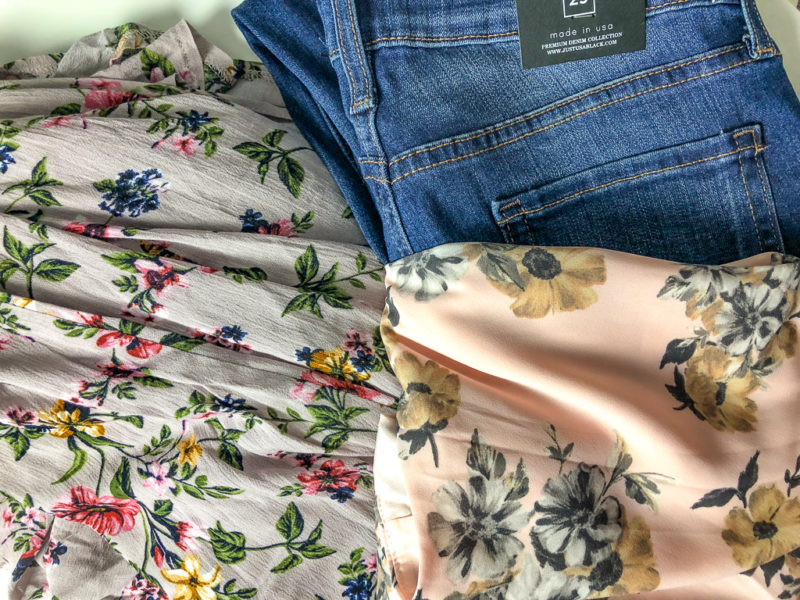 So, what did I keep?
This is the big question in everyone's mind right now! Especially, on Instagram after I invited my audience to vote in InstaStories. Honestly, it was an easy choice for me to keep these 3 items: floral top, skinny blue jeans, and boho dress. I almost kept the cardigan, too! The great thing is that DAILYLOOK gives a 50% discount on 1 item of you keep 3 or more!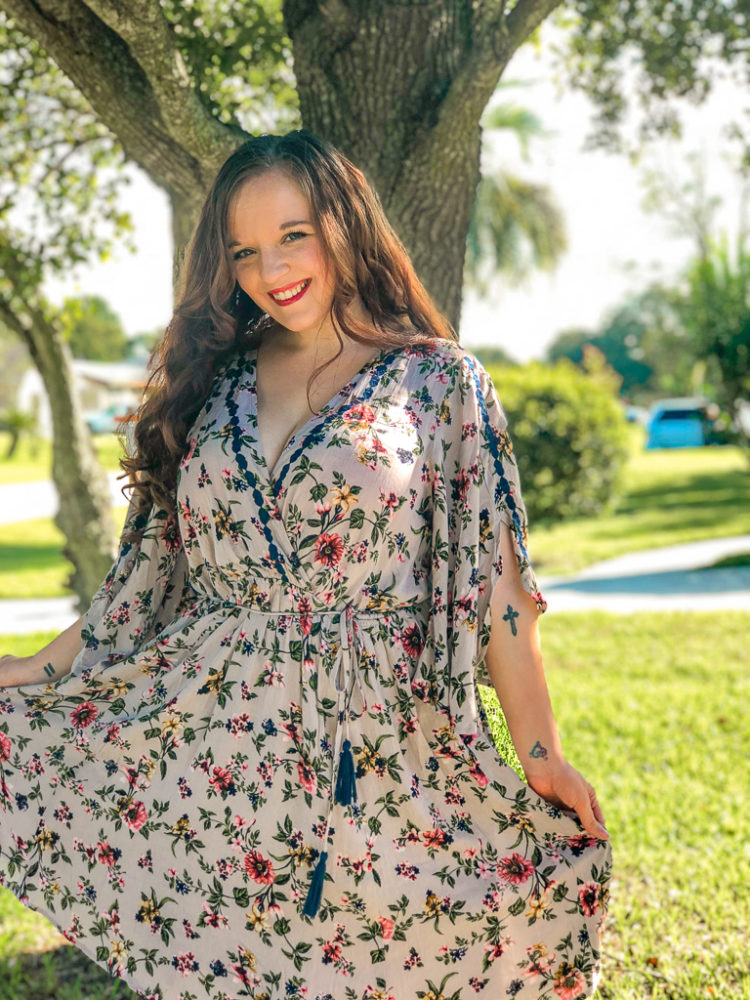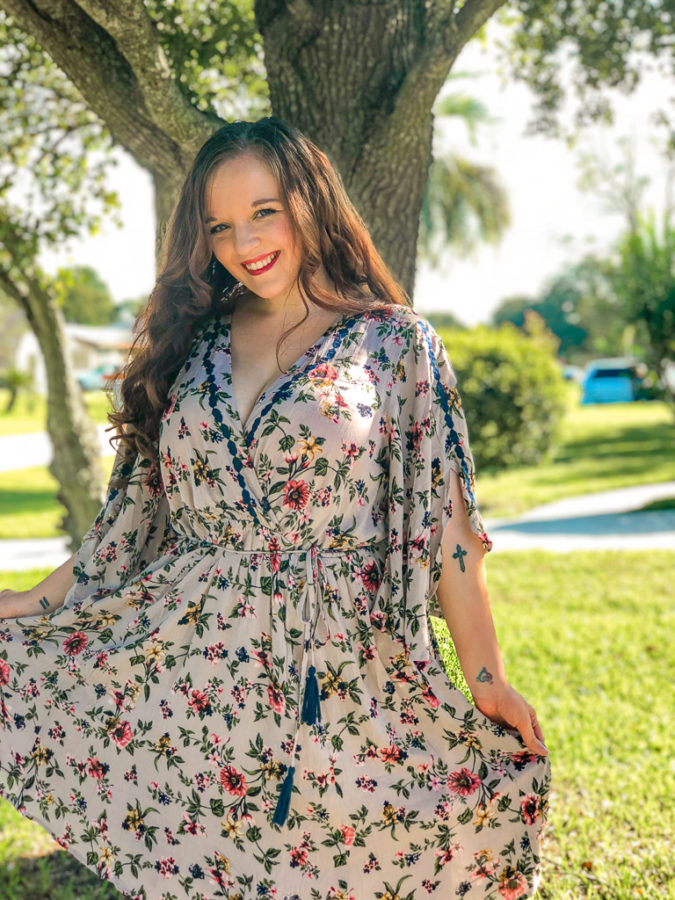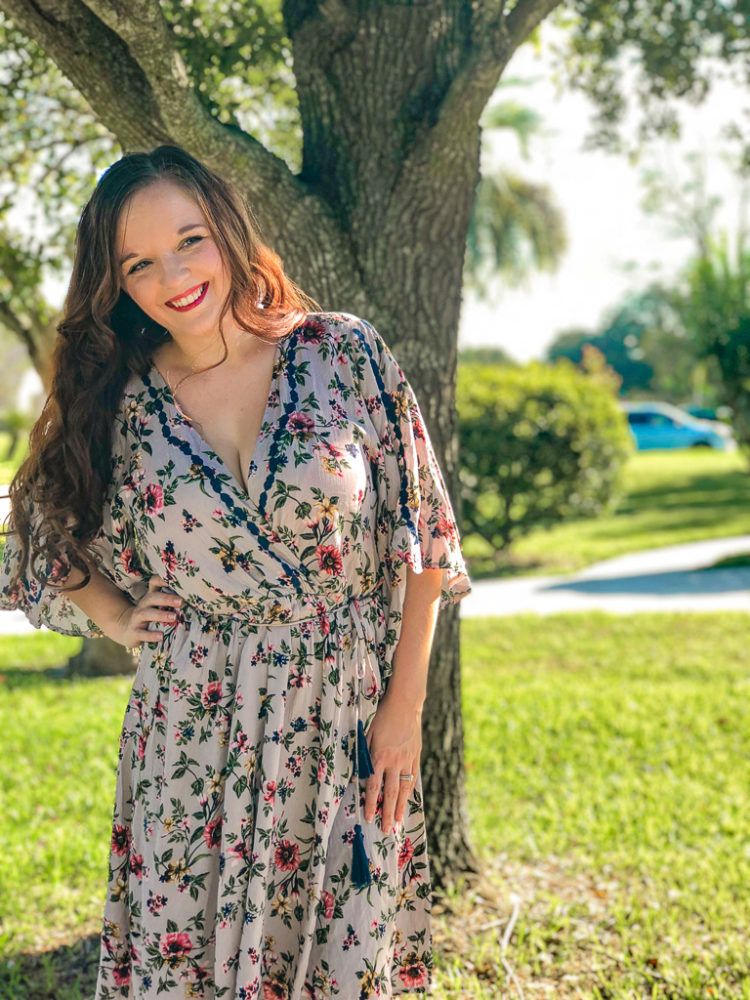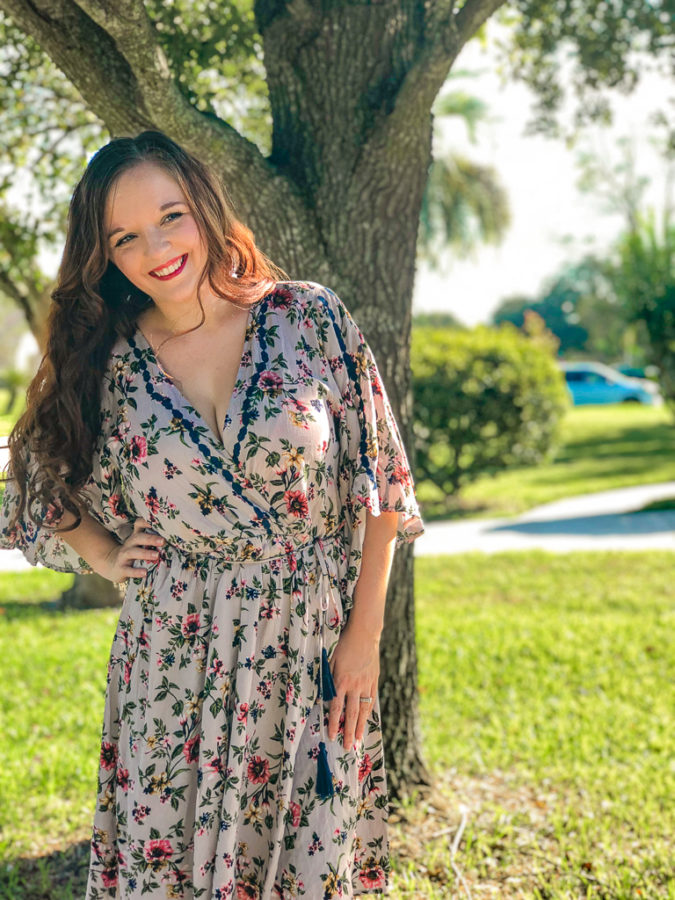 Final thoughts of my DAILYLOOK box
My
DAILYLOOK box
had 8 beautiful items. Every single one was great quality and a style that I loved! We only had 1 fit issue, which was likely my incorrect measurement on my profile. My stylist surpassed my expectations! She gave me pieces that fit and flattered. If I could afford it, I'd order a new box every week, haha! After my failed attempts at other style/ fashion subscription boxes, I wasn't sure how this would turn out but as you can see, I'm happy! How could I not be when these pieces fit so good?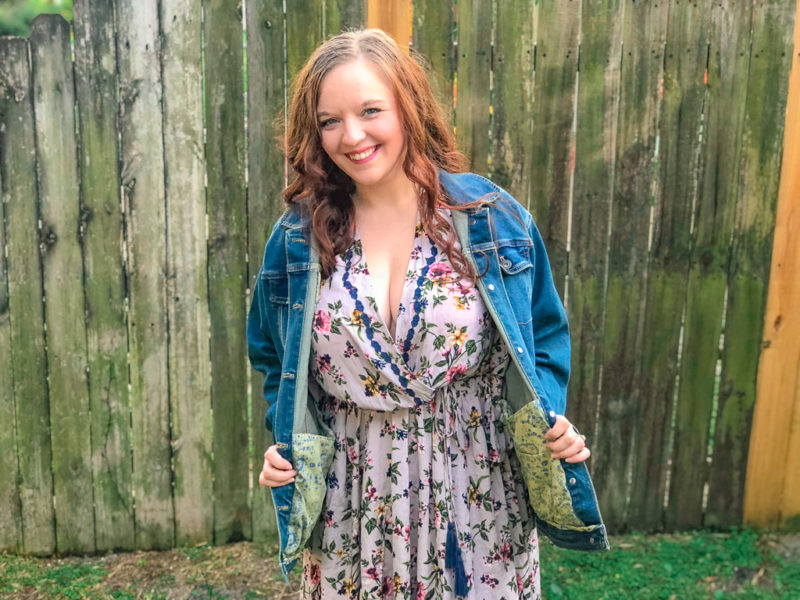 DAILYLOOK has totally helped me regain my confidence and love myself again. Don't let anyone tell you that self care can't include all the little things that make you happy.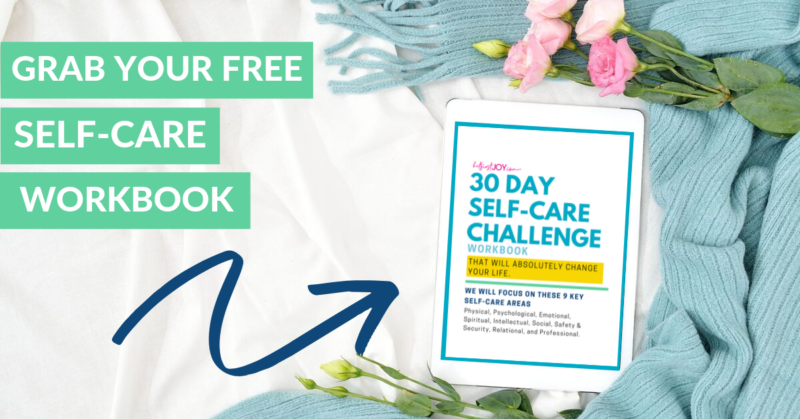 DISCLOSURE
As an Amazon Associate I earn from qualifying purchases. This post may contain affiliate links and/or promotional products, all opinions expressed are that of But First, Joy only. Read my full disclosure.