This post is sponsored by Digle. All opinions are my own.
I was just speaking to a friend today about online shopping. We were discussing how she always seems to get ripped off with faulty products or deals that are too good to be true. I told her that I'm am pro at online bargain shopping. I know where to read the best reviews, find the best details for products, and who to trust with my purchases. I've been an online bargain shopper for over 10 years – I think I know a thing or two by now. So, when it comes to shopping for my budget wedding, I am going to be pinching pennies!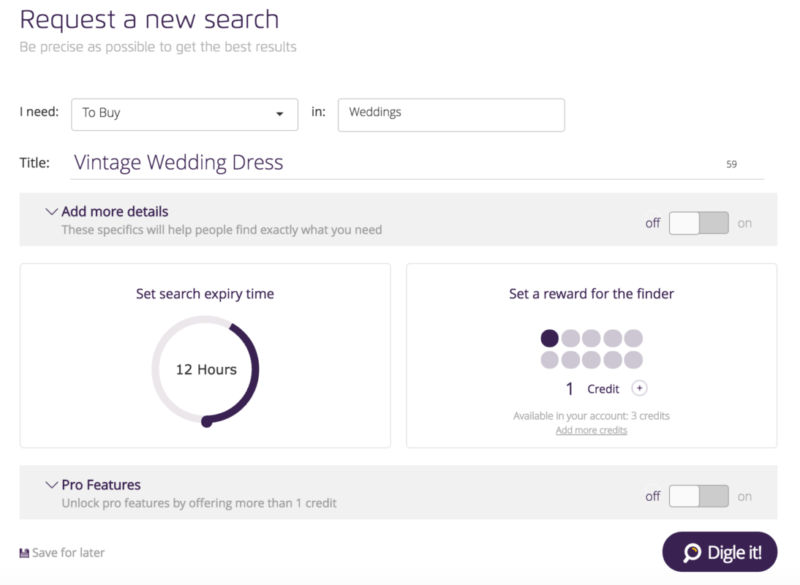 If you're a bargain shopper then you know about the thousands of coupon sites that are all over the internet. There are coupons for just about anything these days and there are travel sites that show you the best deals among all of the competitors. Digle is basically the Kayak.com of everything you could ever think of. The only difference is that it's a people powered search engine. The days of frustrating (and sponsored) search results are over! Digle gives you the most accurate results with the most competitive prices. 
Prepare to be mind blown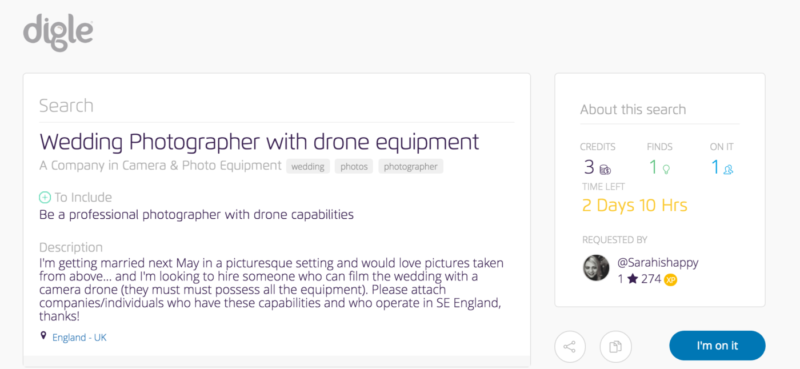 Here's where Digle gets really exciting. The "people powered search engine" is powered by regular people, like you and I! Basically, you can (completely optional) help people help people find exactly what they are looking for and if you find what they want – you win!
Earn cash and other benefits, and boost your karma by finding what other people need. Be the best, and get recognized and rewarded for your hard work as an expert Finder. Deliver more accurate and sophisticated results by becoming an international search specialist in your chosen field.
I've always felt like my internet investigation skills were better than most. I could definitely see myself becoming addicted to Digle. It's a search engine, a hobby, a side income, and somewhat of a game.
Win badges, take part in fun tasks, network with other users, and earn XP to unlock new levels and enjoy tons of extra features. Challenge the best with your search skills, and you could reach the Digle hall of fame. Who said finding stuff wasn't fun?
Not only do I use Digle for my very specific, budget wedding shopping. I use Digle as a way to kill some time without feeling like I'm wasting time. It's almost like I am getting to know the individuals I'm searching for. I put myself in their shoes by paying very close attention to their specific needs. I actually have found a few things for myself while searching for others. Basically, it's a win-win.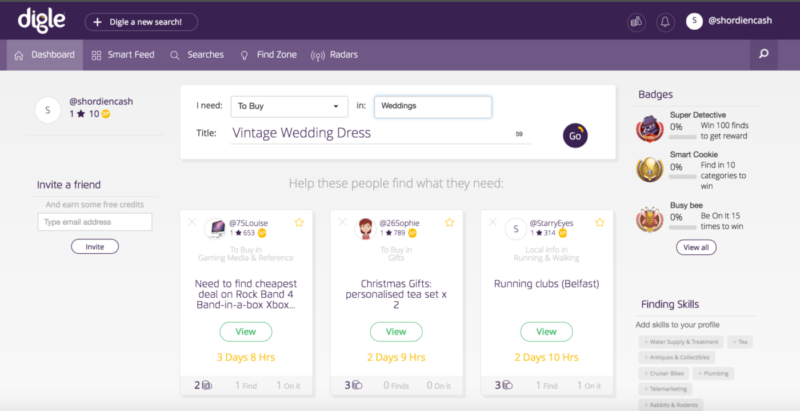 More about Digle
Digle is a people powered finding engine, connecting people around the world; those who seek information with those who know how and where to find it. We help you find the results you really need, not just those from organisations with the highest SEO or advertising budget. Digle is a powerful searching tool, an income source for people with great finding skills, crammed with fun with a beautiful innovative interface.
Within the Digle app you can:
– Create searches and have people find what you need
– Help other people find and earn money
– Manage your Digle profile and finding skills
– Organize your searches and finding tasks
– Earn XP, Win badges and climb the leaderboards
Download Digle on your devices: Apple Store / Android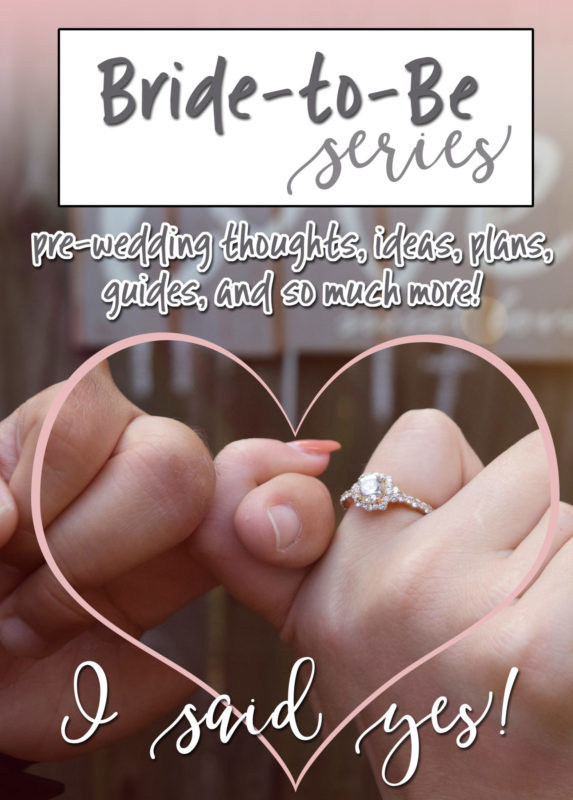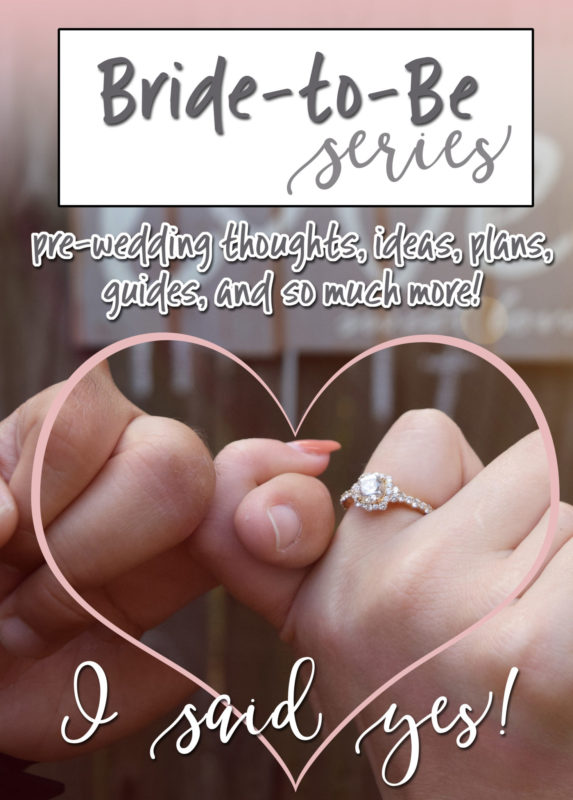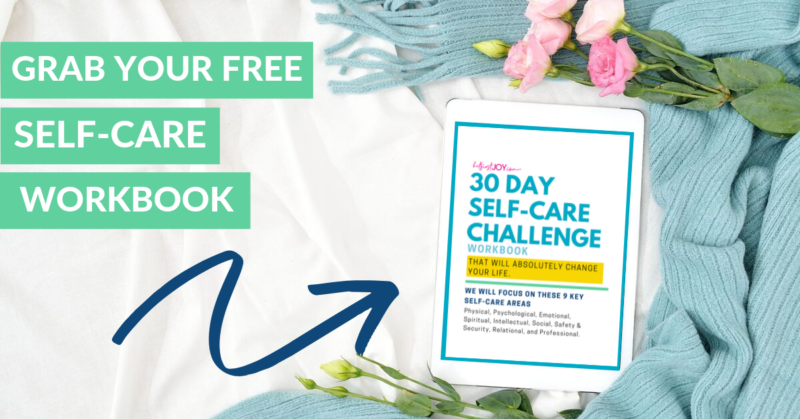 DISCLOSURE
This post may contain affiliate links and/or promotional products, all opinions expressed are that of But First, Joy only. Read my full disclosure.