If you want to make the most out of your Disney Water Park day, then I've got a few insider Blizzard Beach tips for you. From the rides to the food to the BEST shaded areas – I've got you covered. As a Disney Partner, I was invited to attend with my family to share my personal experience. All tips and opinions are true and real. 
Disney's Water Park, Blizzard Beach is full of splashes and fun! It's a water park fit for all ages. If you don't believe me, just check out the different sections that are specifically designated for different ages and stages. There's Tike's Peak for babies and toddlers (which I loved for my 5-month-old). Then you'll find Ski Patrol Training Camp for older kids and teens. There aren't height limits for all of the rides, so most are for all ages.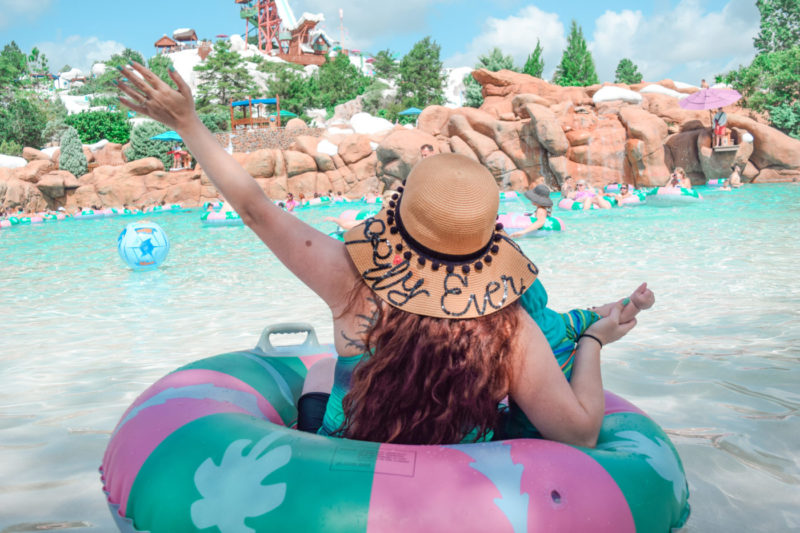 The General Manager told us that as long as a child can sit up and hold on by themselves, then they can ride (with the exception of a couple rides). The Lazy River and Wave Pool are fit for everyone! You can even relax on the nice sandy "beach" in a beach chair. Yes, it's the only waterpark with beach sand! All that aside, I have a few Blizzard Beach tips that I'd like to personally recommend to help you prepare for your day at the park. Good luck and have a splashing good time!
15 Blizzard Beach Tips to make the most out of your water park day
1. Get a great parking space by arriving before the park opens.
I know you've heard the saying, "The early bird gets the worm." As far as Blizzard Beach is concerned, the early bird gets the best parking space! Unlike the other Disney Parks, Blizzard Beach allows self-parking. This means you can park right at the entrance. Literally, you're right there, which is totally unheard of these days. Don't worry about a monorail or tram. Get to the park 30-40 minutes early and you'll get a really great parking spot. Oh, and there's FREE PARKING!
2. Arrive 30 minutes early to grab a good, shaded spot under a covered shelter.
I'm all about showing up early to everything. Nothing bad ever comes from being a little bit early – especially at Blizzard Beach. Not only do early birds get to see the Ski Captain take the first plunge on Blizzard Beach's epic water slide, Summit Plummit, you can line up to be one the first into the park. I personally recommend lining up to the right of the park in front of Tike's Peak. There are covered shelters all throughout the park but the areas in Tike's Peak seems to be more private and give you a quick exit to the restrooms!
3. Bring an appetite and some spending money.
Disney Parks are known for their food and Disney Water Parks are no different. Blizzard Beach has chefs who take great pride in their creations. You can find everything from vegetarian dishes to hearty rice bowls. There are light sandwiches and foot long specialty hot dogs. Salads, fruit, ice cold water, and yes – tropical adult beverages!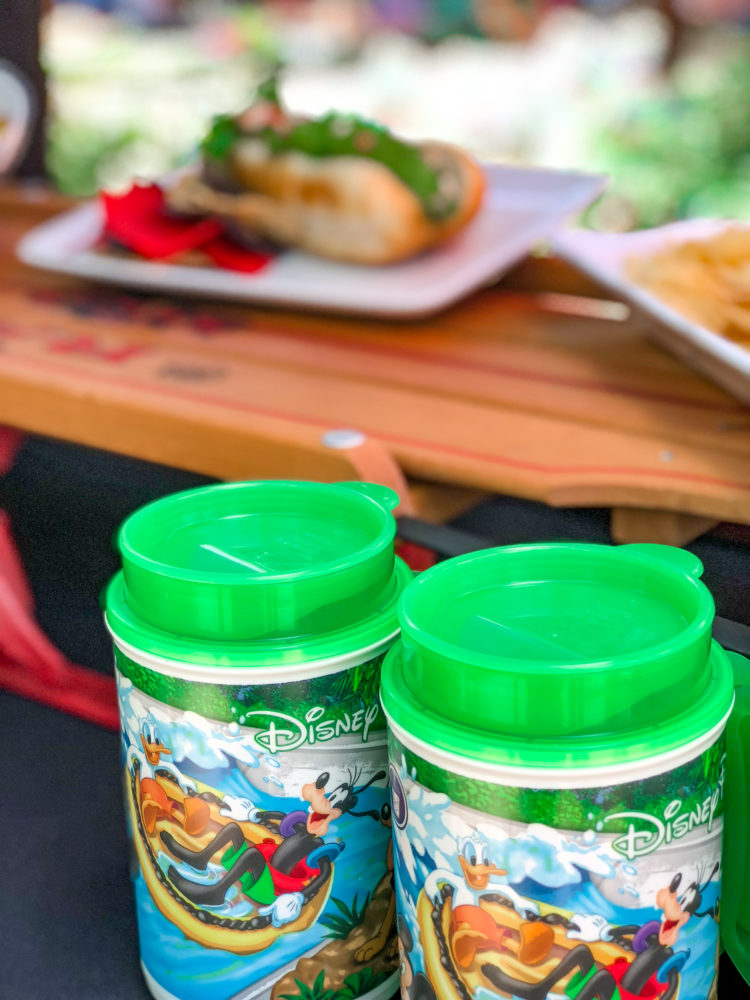 I personally recommend the Barbecue Slaw All-Beef Foot Long Hot Dog. It's loaded with flavor and is enough to share with two people. My husband and I enjoyed this with a fresh fruit cup (which wasn't as impressive as I'd hoped, but refreshing none the less). My favorite indulgence was the Piña CoLAVA, which is Bacardi Black Razz Rum blended with Piña Coloda Mix and Raspberry Purée. It's dangerously good so don't drink too many of them!
Don't forget to grab an All-Day Refillable Mug for free refills all day! When I visited, it was only $11.99! Totally worth it!
4. Don't expect a lot of family rides.
Out of all the Blizzard Beach tips, I wish someone had shared this with me: don't expect to ride in the same tube as your family and friends. With the exception of the double tube in Cross Country Creek (lazy river), there's only 1 ride with a raft for families to ride together (5 people) and that's on Teamboat Springs. While that ride is lovely, it's the only one that isn't single rider. However, you can expect a couple of racing rides like Downhill Double Dipper and Toboggan Racers but each rider is on their own raft. If you have scared riders, then I'd recommend sticking to Teamboat Springs, the lazy river, and the wave pool.
5. Plan to climb a lot of stairs!
Unlike any other water park in the world, Blizzard Beach has a chair lift that lifts park goers right to the top for a few rides. It's an extra special feature that I wish every park had. However, the ski lift isn't for all rides. All the rides on the left side of the park have A LOT of stairs! If stairs aren't your thing, then don't even try it. Admittedly, I was compeltely exhausted after climbing all those stairs. The rides are really great though and they just might be worth the walk. The discretion is yours.
6. Rent a Polar Patio for some privacy.
If you're visiting with a group, a Polar Patio is a fun way to make the most out of your Blizzard Beach day. the price is a bit steep and I personally believe some patios are in better locations than others, but it does come with a lot of benefits. I'd recommend requesting a patio the lazy river toward the left side of the park as they seem to be the most secluded, less trafficked.
Website description: Renting a Polar Patio is a great way for your group to relax together during your day of way-cool fun. Each reserved area accommodates up to 6 Guests and comes with a variety of premium amenities including towels, cushioned seating, a locker, refillable drink mugs and a cooler stocked with ice and bottled water. Plus, Attendants are on hand to help Patio Guests get the most out of the water park and to take your food order (separate dining charges apply).
7. Bring your own towels or rent your own for $2 a towel.
If you live near by, bring your own towels! There's no use in spending the money to rent a towel if you can bring towels from home. However, renting a towel isn't as expensive as other water parks. At only $2 a towel, you can rent one and leave it as you go. There's not deposit required or return refund.
8. Stay after the rain!
Take it from a local, staying after the rain is the best decision you can make at a theme park or water park. We're in Florida so an afternoon rain is almost guaranteed. This is your time to take advantage of the park.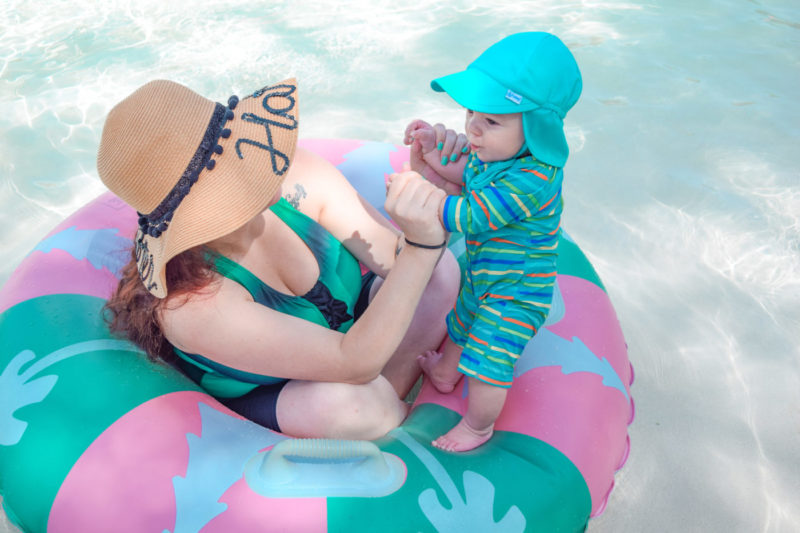 Many families with small children and tourists will leave at this point. When the rain stops and the rides open back up, there are little to no lines! It's a complete WIN for you!
9. Visit in the First 2-3 weeks of August.
If you have the chance, visit in the 2-3 weeks of August. This is the time when Floridians go back to school, making the park much less crowded than at any other time of the year.
10. Carve out time in your day to relax in the lazy river and Melt-Away Bay.
If you're anything like me, you don't relax on vacation. You typically feel like you need a vacation from your vacation because you do as much as possible. I totally get it! However, making the most out of your day at Blizzard Beach means takign the time to relax. Grab a free tube and float down the longest lazy river in the country or let the ocean motion in Melt-Away Bay soothe you to sleep. Just don't forget the sunscreen!
11. Snap a picture with Goofy near the entrance/exit on the way out!
You can't visit a Disney park without getting a pic with a character. Goofy will be located near the entrance/exit of the park. I'm not entirely sure of his hours, but he was waving goodbye as we left around 3pm on my last visit. As far as Blizzard Beach tips go, I'd say one of my best is to wait until you leave to get a photo. The line will be short!
12. Buy a Blizzard Beach pin at the gift shop.
If you're a pin collector or you want a nice souvenir, don't forget to get a Blizzard Beach pin at the gift shop on your way out. There are two to choose from and the price is reasonable: $12.99.
13. Use the FREE lifejackets at the park.
If you are visiting with a swimmer who isn't confident, then take advantage of the lifejackets at the park. The lifejackets seem to come in adult and children sizes and are located near all bodies of water.
14. Pack shower essentials for a refreshing shower in the changing rooms after your day at the park.
Refresh yourself before leaving the park by hopping in the showers located in the dressing room/restroom areas. The showers do have a soap dispenser, but I recommend bringing a small bottle of shampoo and your loofa. Don't forget your water shoes!
15. Choose your swimwear carefully.
One of the most important tips for Blizzard Beach that you dress appropriately before visiting. Wearing the wrong attire can completely ruin your experience as many rides don't allow for certain objects on clothing. Please visit the Know Before Your Go section of their website or take a look at the requirements below:
Swim attire must be appropriate for a family environment, and without buckles, rivets, zippers or exposed metal. Inappropriate swim attire, swim attire with buckles, rivets, zippers or exposed metal, and other sharp objects are not allowed on any of the attractions.
Bring actual swimwear and skip the jeans, wetsuits, etc. Swim shoes and Beach Shoes are okay just prepare to hold them in your arms on the slides.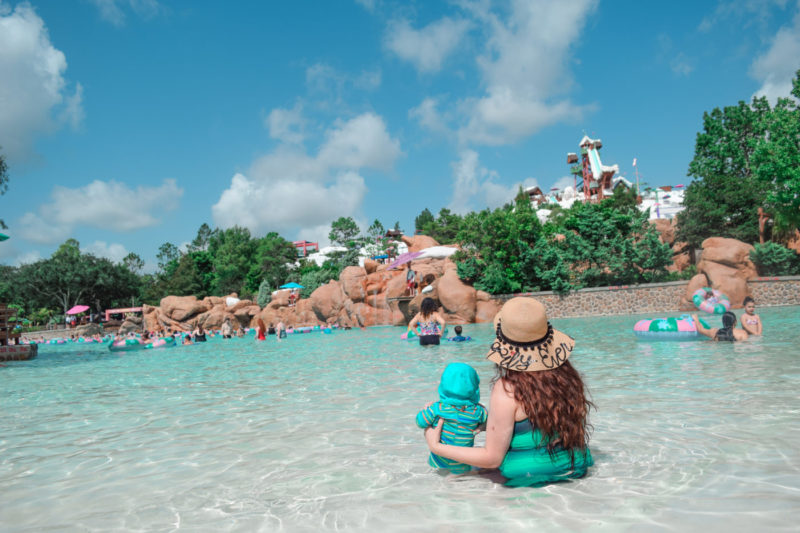 What other tips for Blizzard Beach do you have for new visitors?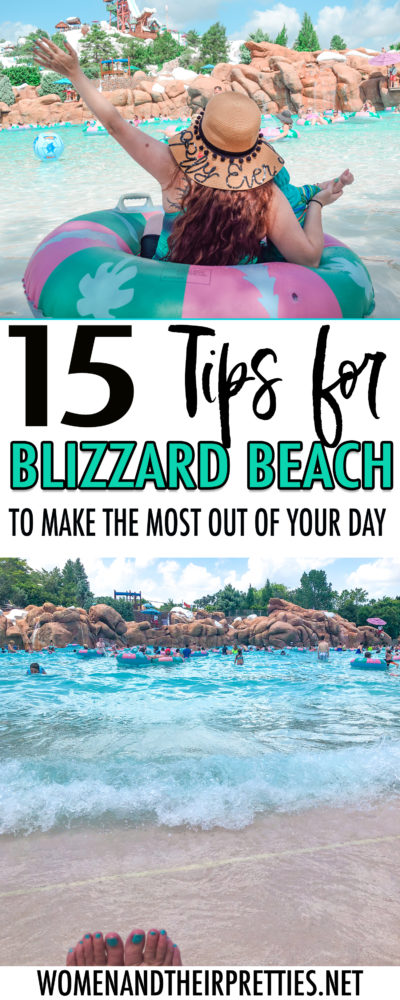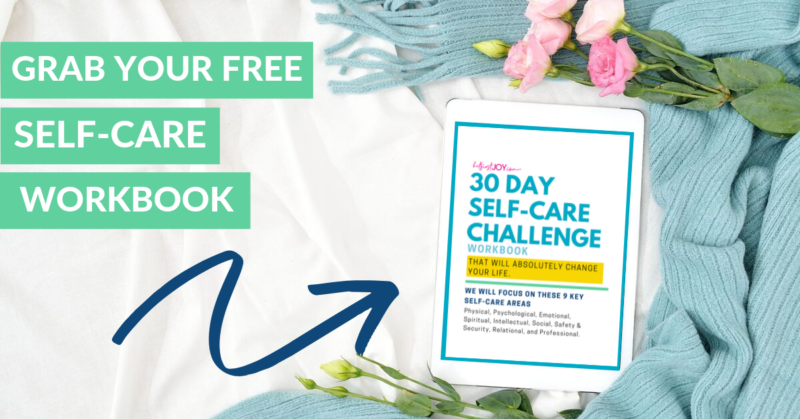 DISCLOSURE
As an Amazon Associate I earn from qualifying purchases. This post may contain affiliate links and/or promotional products, all opinions expressed are that of But First, Joy only. Read my full disclosure.