Many people don't know about the Disney Conservation efforts that happen behind-the-scenes. I had the pleasure of chatting with Dr. Anne Savage, Conservation Director at Disney. She gave us an insider's scoop at all the things Disney does inside their parks and around the world to protect wildlife. This event was hosted by Disney, but all wild opinions are my own.
I've loved animals since before I could talk. A couple of my dreams careers as a child were a marine biologist and a veterinarian. While my career took a very different path, my love is still deep for creatures of all kinds. I have an empathy for animals that many don't understand. Maybe that's why I love Disneynature's Born In China so much. It's so interesting to see wildlife in their natural habitats and even more interesting to see how delicately Disney approaches filming the wildlife.
That's how Disney approaches their conservation efforts – in a very careful manner that benefits the animals, as well as the communities that surround the wildlife. Dr. Anne Savage, Conservation Director gave us the inside scoop at everything Disney does to protect wildlife. These are things that the average person doesn't know about, so I hope you enjoy!
7 Really Cool Facts about the Disney Conservation efforts
1. It all started with Walt!
A common misconception is that the Disney conservation efforts started and end at Disney's Animal Kingdom, but that's far from the truth. Walt's love for wildlife was a huge part of his legacy. I think he'd be very proud of the Disney Conservation efforts.
Conservation didn't just start when we opened this park (Animal Kingdom). It actually began with Walt. You know Walt has a long history of caring for wildlife. It started out with a lot of the movies that were part of our company years ago and continue to this day.

I love this quote from Roy Disney.  "Animals in the natural world are just as important to the legacy of the Walt Disney Company as Snow White and Mickey Mouse." And that's something that we live, eat and breathe each and every day!
2. Many of Dr. Savage's colleagues that work with Snow Leopards have never seen them in the wild!
If you've seen Born In China, you've watched the first footage of Snow Leopards in the wild. Disneynature's Born In China filmmakers worked long and hard to get that incredible footage. It was the first time the filmmakers had ever seen Snow Leopards in the wild. Dr. Anne Savage told us that her colleagues work with Snow Leopards but have never seen them in the wild! That's how difficult it is to capture footage of them.
A lot of our colleagues that work with Snow Leopards have never seen a Snow Leopard in the wild. They're in their habitat. They might see paw prints, they might see scatt, but the number of times that they've seen Snow Leopards is– you can probably count on one or two hands.

And when they saw this film and they saw the footage they were just completely blown away. And you know that's what– to me is just so exciting. Being able to share these sort of intimate moments with nature at such a level because it's these type of moments that can really change your life.
3. There's a Sea Turtle Conservation Program at Disney's Vero Beach Resort
As I previously mentioned, Disney's Conservation doesn't stop at the parks. It carries on around the world and one examples is the incredible Sea Turtle Conservation Program at Disney's Vero Beach Resort. This program not only protects sea turtles, it educates guests of all ages on the importance of protecting wildlife and gives them an opportunity to help out!
We've had young guests that had joined us on the beach and been part of our education programs. And they have turned to say, "You know that experience is what made me wanna' become a Marine Biologist." And so for me that's one of the most gratifying parts of the job that I have; the opportunity to share this exciting work that we do around the world.
How can guests at Disney's Vero Beach Resort get involved?
We have a team of folks that are on the beach that are monitoring all of our Sea Turtle nesting activities.

But what makes us different is that we engage all of the guests that staying at the resort and all the visitors that are on the 7 miles stretch of beach that we're working to care about Sea Turtles. So you can come join us at 7:00 in the morning and look at a Sea Turtle Nest that was laid the night before or even see a nest that had just hatched, which is really fun.

And then in the months of June and July you can join us on a guided Sea Turtle light walk so you can see a female lay her eggs. And what's so cool about this is that we've been able to find that Sea Turtle's come back to where they were born, where they were hatched.
4. The Disney Conservation Fund has given over $65 million to protect wildlife!
I think it's so incredible that Disney puts such a grand effort into protecting wildlife. They donate money, time, and lots of heart to conservation! It's truly a beautiful thing.
What I'm really excited about is the commitment that the Disney Conservation Fund and our company has made to protecting wild life.

If we look at just our Asian species that might feature some of the species featured in this film. You can see that we protected more than 100 species in 34 Asian countries. So how does the Disney Conversation Fund work? Well we will give funds to leading non-profit organizations that are working to protect animals in the wild.

And so it's working, not only to protect species, but to protect habitat because we know that animals need places to survive.
5. Disney works with communities around the world to help protect species
Protecting wildlife takes a lot more than you may think. Disney doesn't like to take species out of their natural habitat, so to truly protect them – they must work with the communities around them. Many of these communities are very small and in poverty, so they don't necessarily have the means to protect these creatures. The poverty is one sad reason why poaching occurs. The Disney Conservation Fund is committed to doing whatever it takes to protect the wildlife and so they've place a special effort on community outreach.
We also do a lot of work with communities because a lot of times these places that we're trying to protect are right at the edges where people live.

When you're looking at a lot of these countries many of these folks are living in poverty so we want to be able to work with communities to do the right thing to help them and to save wild life.
6. Disney's "Reverse The Decline" program works with Animal Kingdom's Conservationists and Scientists to save 10 at-risk species.
Disney has this incredible program called "Reverse The Decline". While this program sounds new to us, it's been around for awhile. This program is dedicated to working on 10 very high risk species. Dr. Anne Savage gave us the insider's scoop on this program:
We've launched this program, called Reverse The Decline. Where we're really featuring work on 10 at-risk-species and we have made a commitment to work long term on these species so that we can really help leading NGO's reverse the decline species.
What does this mean?
We work with the NGO's to create a strategic plan of really addressing what are the key threats to these species and how are we going to help solve them.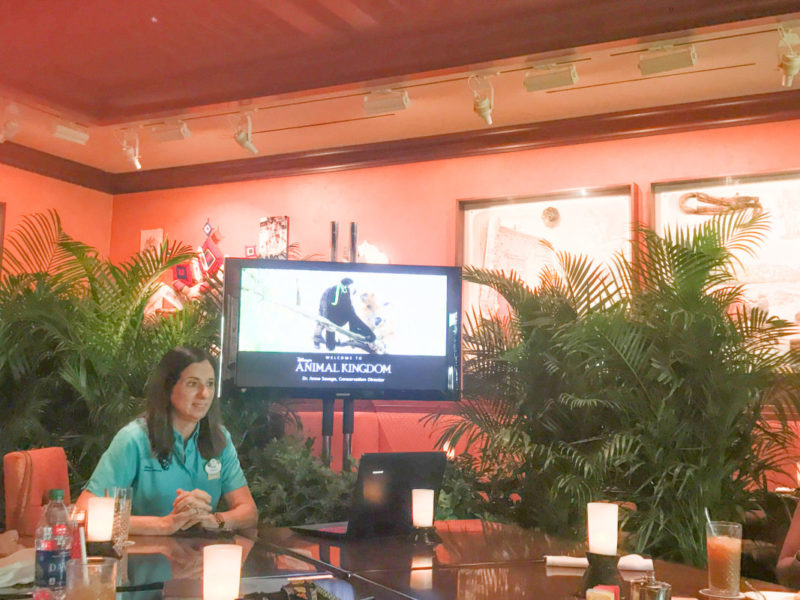 7. Animal Kingdom has a variety of Conservationists, Scientists, Educators, and Animal Keepers that keep the wildlife safe.
Behind-The-Scenes at Disney's Animal Kingdom are specialists working around the clock to protect the animals in the parks and around the world. That's an interesting little tidbit that many of us visiting the park, don't realize!
So in addition to the funds given by the Disney Conversation Fund the other thing that we do is leverage the talent that we have here at Walt Disney World. Again, most people when they come to Disney's Animal Kingdom don't realize that we've got Conservationists, Scientists, Veterinarians, Educators, and Animal Keepers that, not only have great specialization with the animals that they work with here in the park, but also lend their expertise to protecting animals in the wild. And so we look for ways to leverage what we do best, right, and help these groups.
How can you support the Disney Conservation efforts?
Okay, now you know a lot about the Disney Conservation efforts – but how can you and your children get involved? There are actually a lot of ways average people like us can help out! All of these ideas were presented by Dr. Anne Savage:
Help spread the news: Visit DisneyAnimals.com or Nature.Disney.com to grab some incredible educator guides! This will help you, help others and will help to improve your own life.
Contribute to the Disney Conservation Fund: Any donations help to protect wildlife!
Lessen your impact on the planet: Recycle, use less energy, and use less water.
Pay attention to what you purchase: Try not to buy things that come from protected forests. Pay attention to you sustainable seafood choices.
Purchase things in the parks that support the Disney Conservation Fun: There are a variety of things in Disney's Animal Kingdom that will directly help Disney Conservation, as some of the proceeds go directly toward protecting the wildlife. Just check the tags or ask a cast member to help with your purchasing decisions.
Grab Born In China on Blu-ray 8/29/17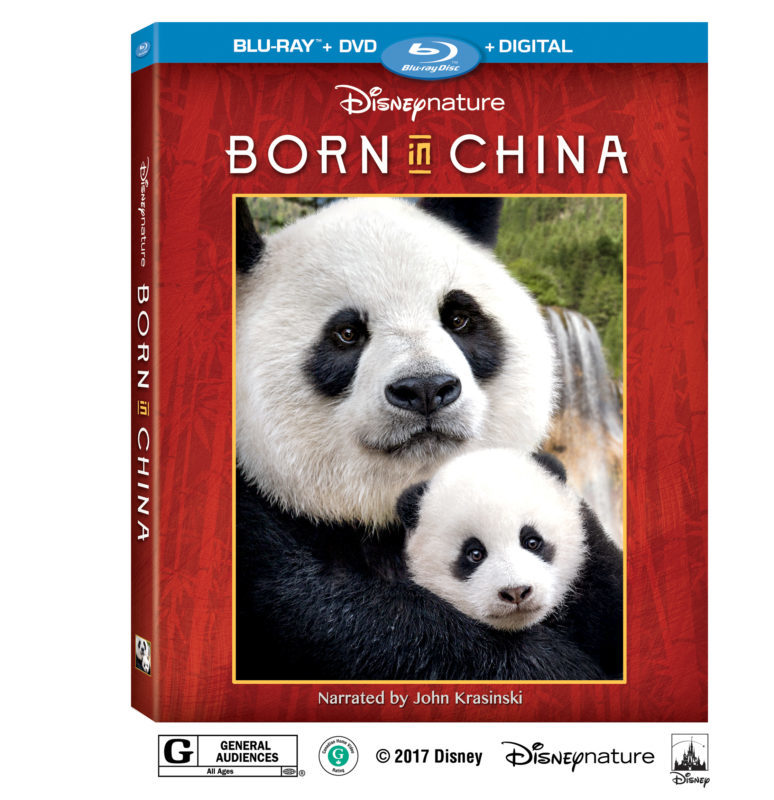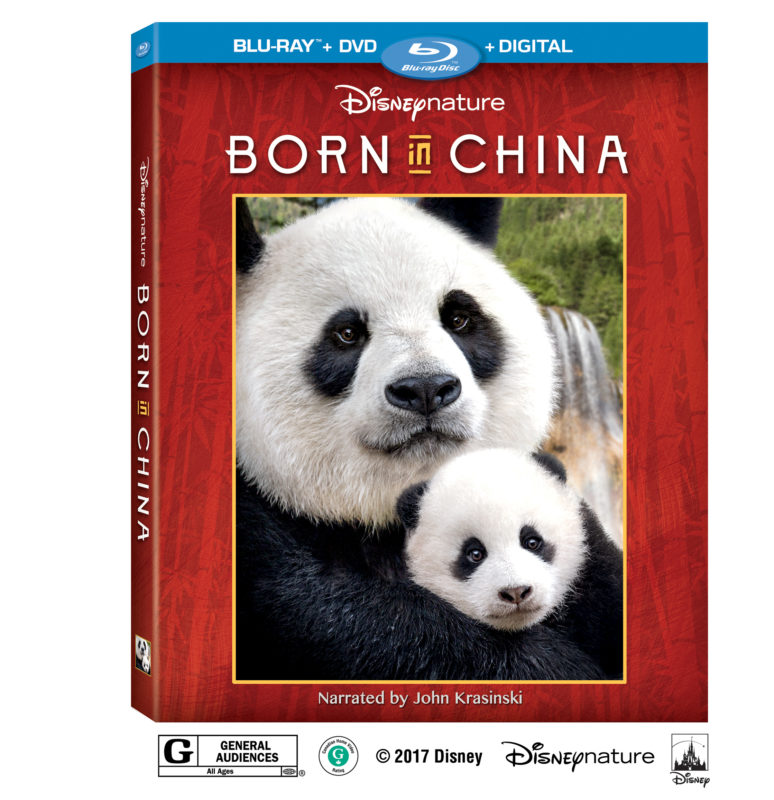 Disney's Born In China, narrated by John Krasinski, transports audiences to some of the world's most extreme environments of China where few people have ever ventured to witness wildly intimate and adorable moments in the lives of three animal families – a doting panda bear mother, a 2-year-old golden snub-nosed monkey, and a mother snow leopard. It is the seventh theatrical release from Disneynature, which brings the world's top nature filmmakers together to share wildlife stories that engage, inspire and educate. The breathtaking footage and high-definition quality picture is captivating for audiences of all ages and is a must-add to the in-home collection. Disneynature's newest true-life adventure film "Born in China" journeys into homes on Digital and Blu-ray™ Combo Pack on Aug. 29.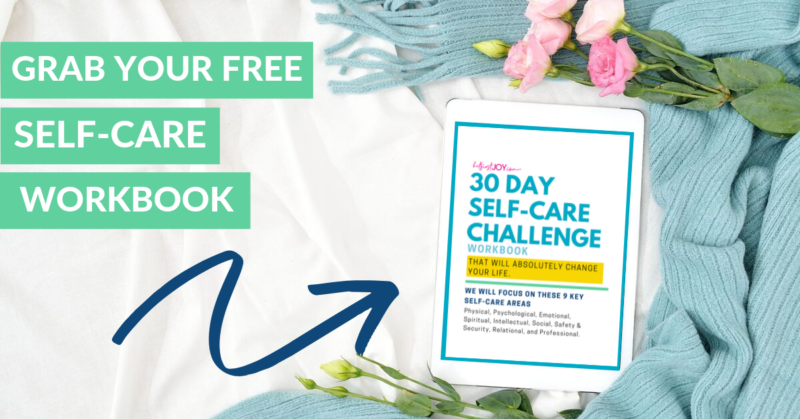 DISCLOSURE
This post may contain affiliate links and/or promotional products, all opinions expressed are that of But First, Joy only. Read my full disclosure.