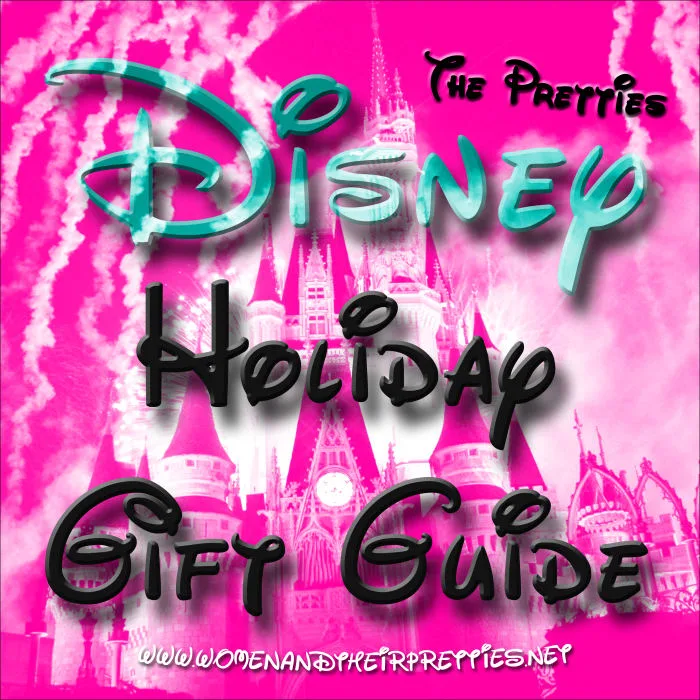 Welcome, my pretties. We have just launched our 2015 Holiday Gift Guide. There are a ton of great gifts in this guide for everyone in the family. Being the Disney lover that I am, I figured that a Disney Themed Holiday Gift Guide was in store. Who wouldn't love Disney Gifts for the holidays? I have collaborated with some of the best companies to bring to you the Disney Holiday Gift Guide. These Disney gifts are separated into different price categories. These are gifts for adults and children! Enjoy!
Shop these awesome guides: Superhero Gift Guide / 2015 Holiday Gift Guide
This article contains affiliate links

American Experience: Walt Disney DVD
Walt Disney was uniquely adept at art as well as commerce, a master filmmaker who harnessed the power of technology and storytelling. This new film examines Disney's complex life and enduring legacy. Features rare archival footage from the Disney vaults, scenes from some of his greatest films, interviews with biographers and animators, and the designers who helped turn his dream of Disneyland into reality.
---
Ravensburger Disney Pixar: The Artist's Desk Puzzle
Relax from your busy life and build a beautiful image and a new memory. Since 1891 we've been making the finest puzzles in Ravensburg, Germany. It's our attention to detail which makes Ravensburger the world's greatest puzzle brand. We use an exclusively developed, extra-thick cardboard and combine this with our fine, linen-structured paper to create a glare-free puzzle image for a quality you can feel. Our steel cutting tools are designed and crafted by hand. This ensures that no two pieces are alike and guarantees a perfect interlocking fit.
---
Walt's Wonderful World Candle
Purchase here – $12.50 (Price varies depending on candle size)
Named for the magical clean scent of a Disney resort, Walt's Wonderful World is the fresh, unisex scent of Green Clover and Aloe. The scent makes your entire house smell fresh and clean. It burns slow and lasts long!
---
Serafina and the Black Cloak Book
Purchase here – $10.38
This an exciting new book from Disney Hyperion about an unusual girl who lives secretly in the basement of the grand Biltmore Estate. Serafina has strange amber eyes, a mane of streaked, lion-like hair, and other peculiar characteristics. Her pa has warned her to keep herself hidden from the fancy folk above, so she prowls through the darkened corridors at night, sneaking through the hidden doors and secret passageways of the vast house. The night is her domain and hers alone. But one night, she sees a sinister stranger in a black cloak capture a little girl. When other children at the estate start disappearing, Serafina faces a difficult decision: Should she step out into the light to save these children? Should she risk everything by approaching the young Vanderbilt boy? To battle her black cloaked enemy, Serafina must not only face her darkest fears, she must delve into the mystery of her own identity.
---
Limited Edition Frozen Designed Kleenex
Find out where to purchase here – Prices Vary depending on product – under $5
These are perfect gifts for the Disney lovers in your life. Pick up the multiple packaging for Disney's Frozen. These tissues are limited edition, so get them while you can!
---
Disney Themed Band-Aids
Find out where to purchase here – Prices Vary depending on product – under $5
Princesses feel better fast when you treat them like royalty. Each box of Band-Aid® Disney Princess Bandages contains 20 bandages; 10 small and 10 large bandages that feature Princess favorites like Aurora, Belle, Jasmine and more! These bandages are latex-free, however, their packaging does contain latex. Stock up with Princess-themed bandages to make your patients smile.
---
Wish Upon a Star Music Box
Purchase here – $5.98 (Use code PRETTIES15 for 15% off orders of $20+)
This classic tin music box plays the 1940 iconic Disney classic from Pinocchio "When You Wish Upon A Star"! Place the instrument on a hard surface like glass or wood and wind the crankshaft to amplify the song. What a happy, optimistic gift in our classic black gift box! "When you wish upon a star -Makes no difference who you are – Anything your heart desires – Will come to you"
---
Minnie Mouse Chia Pet
Purchase here – $12.98
Chia Pet Minnie Mouse is a fun and amusing gift for any age and any occasion! This beautiful handmade decorative planter will leave any Disney fan swooning over this cute little mouse. Comes with a convenient plastic drip tray and chia seed packets for 3 plantings! Planting and care instructions included. Expect to see a luxurious chia coat in about two weeks.
---
Trrtlz Disney Bracelets
Find out where to purchase here – $2.00 ($1.00 at Wal-Mart)
Trrtlz, the symbolic, colorful and must-have accessory for everyone from ages 6 – 60. Trrtlz has partnered with Disney who will be releasing Disney themed (think Frozen, Minnie Mouse, Mickey Mouse, and Cinderella's Carriage!) bracelets this holiday seasons! Each bracelet retails for $1 and these Disney themed ones will be available for purchase Target, Wal-Mart, 7 Eleven and Michael's. The first design was a turtle, hence the name, but now the bracelets come in an arkful bracelets of animals, including pandaz, elephantz, dragonz and more! Trrtlz have become a form of currency for gift giving and embody who you are – each style is available in multiple colorways and each color represents an individual concept and attribute, ranging from balance and bold, to loyal, love and friendship. .
---
Spa Wars Celebriduck
Purchase Here – $11.99
In the bath you are. Need to be clean you do. MAY THE BATH BE WITH YOU! The Costume Quackers are all dressed up with SOMEwhere to go: Your bathtub!Guaranteed to float upright! Sealed to keep water out.

Holiday Greeter Mickey Mouse & Minnie Mouse
Purchase at a Sears near you – $35 ARV each
Greet your holiday guests at the door with this large plush Mickey Mouse and Minnie Mouse. These 26 inch mouses are guaranteed to make your holiday decor stand out! These are perfect for your own homes or as Disney gifts for others.
---
Cinderella's Horse Pillow Pet
Purchase here – $29.99
A super-soft chenille plush folding stuffed animal. So cuddly you'll never want to put it down! Starts out as your pal, then un-velcro its belly, and it quickly becomes your pillow. This is a perfect Disney Gift for adults or children.
---
NEW Star Wars 3D Lights
Purchase here – $40.00 ARV
The Star Wars Fandom is going crazy for the new Star Wars: The Force Awakens movie. Companies everywhere are releasing new Star Wars merchandise and 3DlightFX is right on board with them. Pick up the Kylo Ren and BB-8 lights, among others. These will be great gifts for Disney and Star Wars fans.
---
Disney's Descendants Headphones
Purchase here – $29.99
The Descendants Headphones have soft comfortable ear cushions, gold metal detail and a rope style audio cord. They are bright, beautiful, and great for the Descendants fans in your life!
---
Home At The Castle Shirt
Purchase Here – $32.00
Is there a certain place that feels like home to you? Then The Home T limited edition Home at the Castle shirt has your name all over it. It's the perfect reminder of fun and family. Let the memories begin. Like the classic Home T crew neck Ts, this shirt is unisex sizing and fits both men and women. As with all of our products, a portion of profits is donated to multiple sclerosis research. This is probably the softest shirt I have ever felt. It's very beautifully made and fits great!
---

Cinderella's Carriage Bluetooth Speaker
Purchase Here – $70 ARV
Bring your favorite music to the ball. This portable rechargeable Bluetooth speaker is in the shape of Cinderalla's carriage and escorts the music you love in an elegant design. It connects wirelessly to most devices and has up to a 30′ range. Plus, SRS TruBass audio gives this speaker a little bump! From KIDdesigns.
---
Black & Red Minnie Mouse Die Cut Quilted Crossbody Bag
Purchase Here – $53.00 (currently on sale)
Add an extra dose of cute to your look with this fabulous black matte, die cut quilted faux leather Minnie Mouse crossbody bag from Loungefly! Featuring a darling chain handle interlaced with black faux leather for an extra pop. A red and white dotted bow and Mickey head stud embroidery top off this Disney delight!

The Disney Christmas Carousel Tree
Purchase here – $199.95
This is the tabletop Christmas tree that shows more than 50 beloved Disney characters celebrating the holidays with movement, music, and lights. Topped by a rotating sleigh with Mickey Mouse at the helm and Pluto leading a team of reindeer, the intricate decoration depicts 10 hand-painted illuminated scenes unfolding along four tiers of snowy boughs. Children and parents alike will delight as they discover their favorite Disney characters cavorting throughout the tree, from Daisy and Donald Duck exchanging gifts, to Bambi sporting a wreath collar, to Peter Pan surveying the crowd from the rooftops. Meanwhile, a model train chugs around three levels of the tree as favorite royal couples, including Beauty and the Beast and Snow White and her prince, revolve to the strains of classic instrumental carols. The tree is capped with Cinderella's castle, secured on an elegant wood-finished based, and softly illuminated by 20 colorful LEDs. Plugs into AC or runs on three AA batteries (not included). 16″ H x 10″ Diam. (9 1/2 lbs.)
---
Walt Disney Records – The Legacy Collection
Purchase here – Available for purchase 11/13
Walt Disney Records' newly created line of collectible CDs, Walt Disney Records The Legacy Collection, will celebrate the anniversaries of Disney's most cherished and classic properties that have been enchanting audiences for generations. Through 2015, Walt Disney Records will celebrate 12 anniversaries including "Pinocchio" (75th), "Fantasia" (75th), "Cinderella" (65th), "Lady and the Tramp" (60th), "Sleeping Beauty" (55th), "Mary Poppins" (50th), "The Lion King" (20th) and "Toy Story" (20th), among others. To honor these musical landmarks, Walt Disney Records The Legacy Collection will feature the beloved original soundtracks, plus valuable documentary content that tells the story behind the music. Each album will feature newly created artwork from Lorelay Bove, a visual development artist at Walt Disney Animation Studios ("Tangled," "Winnie the Pooh," "Wreck-It Ralph"). The illustrations, inspired by the original properties, will celebrate Disney's rich heritage and create a unified look for the entire collection.