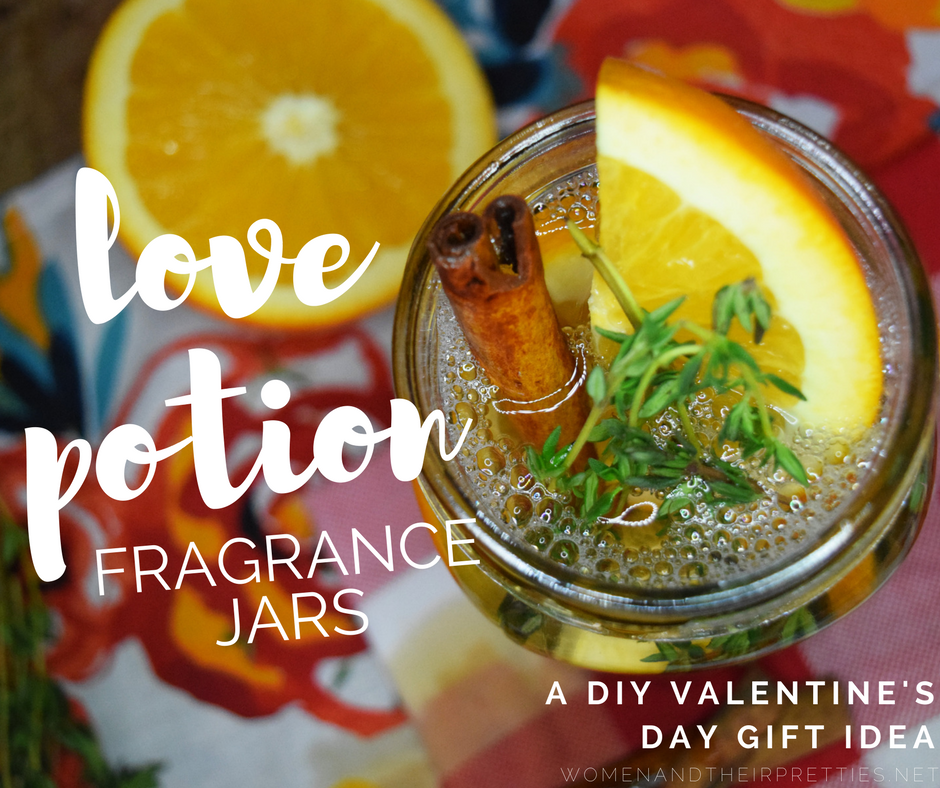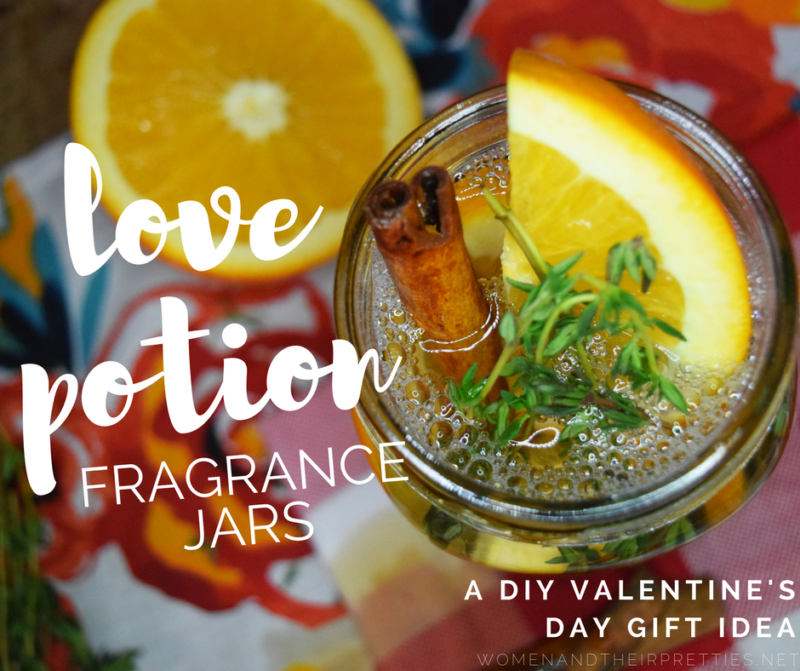 I'm sure we've all wished for an effective DIY love potion in our lifetime. This year – I'm no longer wishing for it. I am making it happen! Every year, I try to come up with an easy handmade Valentine's Day gift for my boyfriend. This time around, I wanted something more practical and unrestricted – a Valentine's Day gift I could give to anyone. In the midst of brainstorming different ideas, I thought of my mother. Every time she visits, she makes a pot of handmade potpourri for me. Then it dawned on me: why not make a scented love potion? Instead of dry potpourri, I wanted to use fresh ingredients and to utilize my love for jar crafts.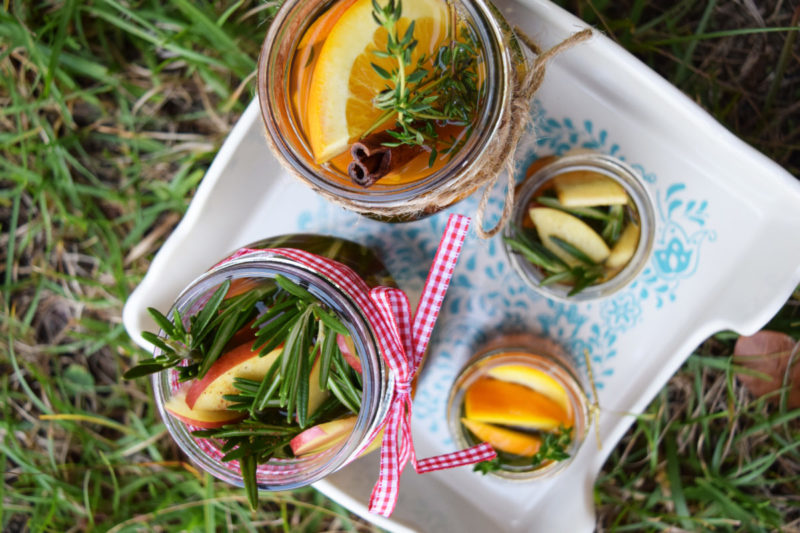 These love potions can be personalized to your (or your recipient's) liking. Have fun with your love potions! Experiment with essential oils, fruits, flowers, herbs, and spices to come up with the perfect scent jar. You can also be adventurous with different types of vessels: mason jars, milk jugs, wine bottles, etc. Just be sure to stick with something transparent because the fresh, natural look of the love potions are incredibly inviting.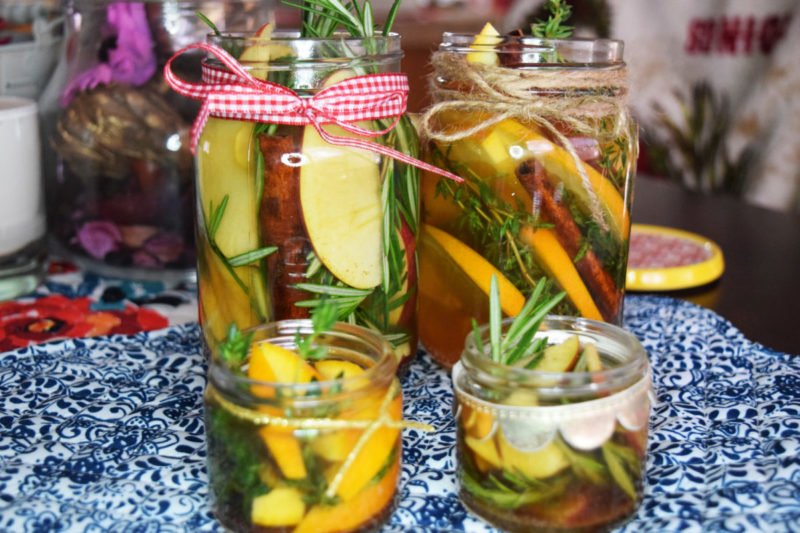 I knew I wanted my love potion to really smell romantic. But what exactly does romance smell like? To me, romance can be sweet or spicy. So, I decided to combine a little bit of both for a DIY love potion that's so magical I swear that love was in the air.
DIY Love Potion Fragrance Jars

Pick a liquid scent to fill your jar. Choose a few fresh fruits, fresh herbs, and fragrant spices. Think about scents that pair well together or you can do like I did: pick up a little of everything, hold them to your nose at the same time, and if you like it – keep it. I came up with two different fragrance jars. You can follow my ingredient list or come up with your own!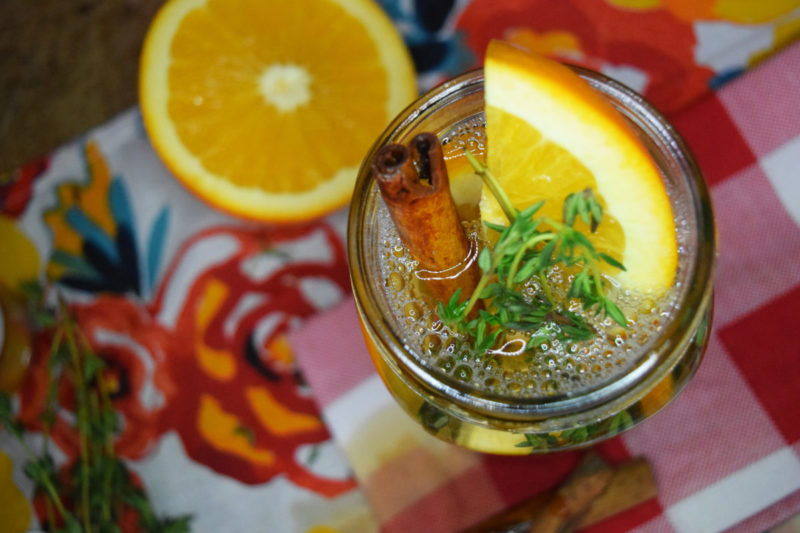 Sweet Love Potion Ingredients: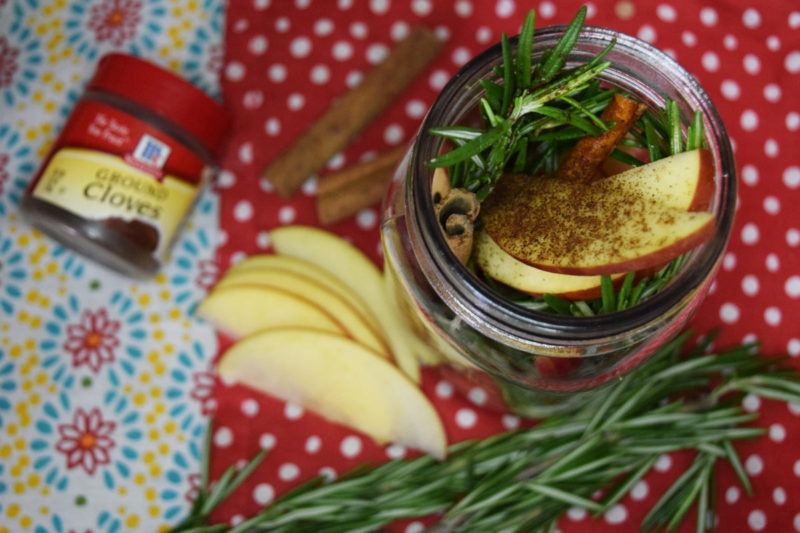 Spicy Love Potion Ingredients:
Make your love potion:
You can use any size vessel, but keep in mind that the ingredient measurements will vary depending on your vessel. Just be sure the size of the opening can fit your ingredients. So, you'll start by slicing your fruit. Make them look as pretty as possible. You can event cut your apples into little hearts. I totally wish I'd thought of that before making these jars. When you place your slices in the jar, I recommend lining the walls of the jar so you can see the fruit easily. Stuff the jar with as many ingredients as possible. Wait until the end to add your liquid potpourri.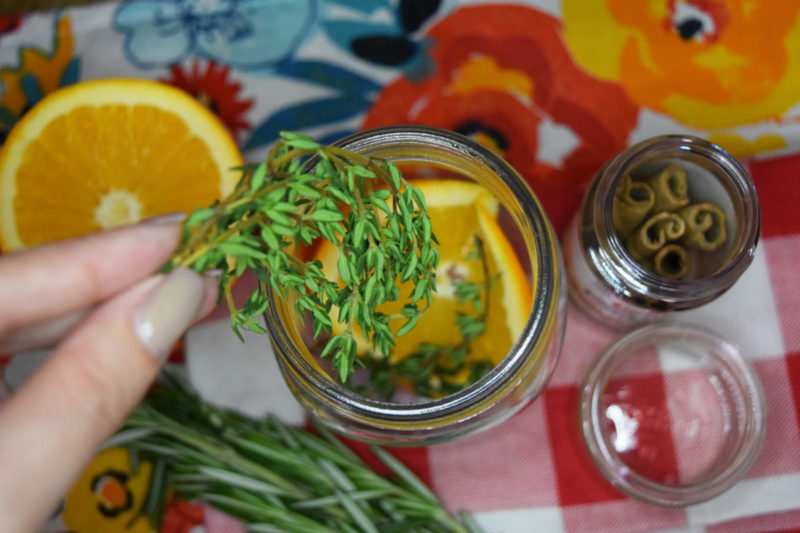 Be sure not to pour too much liquid into your jar, as the ingredients will rise. Be very mindful of how you stuff your jar! Your goal is to make sure all your ingredients can be seen, because not only is this a fragrant gift, it's quite the looker! We use our unused love potions as home decor.
Spruce it up:
After you have the perfect concoctions, it's time to decorate them! Get creative. Make them your own or customize them based on the person you're giving them to. Wrap your ribbon, twine, or lace right under the lid of your or right on the lid itself. Just be sure you're able to unscrew the lid of the jar without ruining your beautiful creation. If you have a mason jar, place a square piece of fabric or burlap on the flat part of the lid and screw with ring around it. The jar will still be secure and it will have an adorable, country feel to it.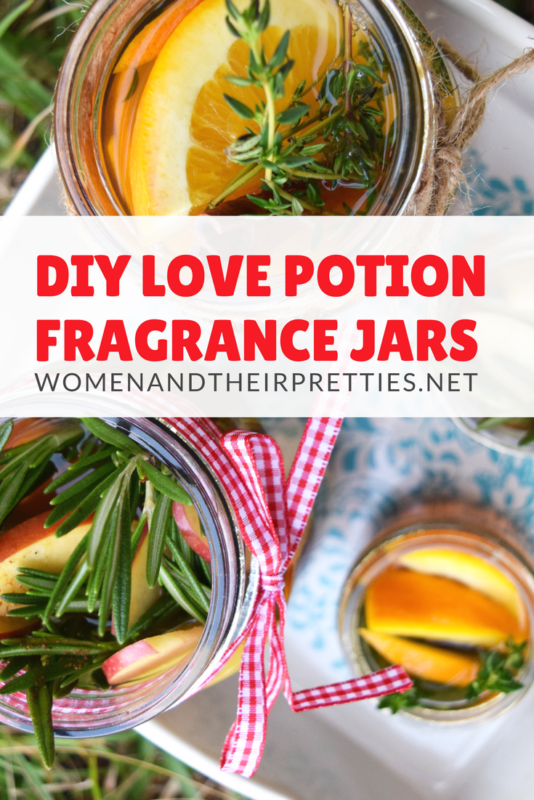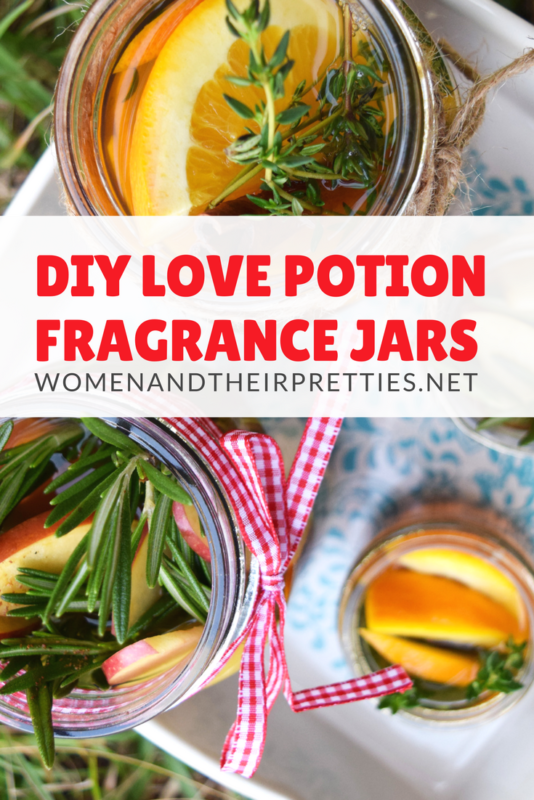 What you might need: 
Ribbon
Colorful scrapbook paper
Burlap or Fabric
Lace
Scissors
Write a fun quote on your scrapbook paper and hot glue it onto the jar. Feel free to use this witty little quote that I came up with.
Let this love potion linger in a room, romantic scents will bring love to a bloom. Unscrew the lid to set the love spell free, And you'll find a love that's meant to be.
I actually used my Silhouette Cameo cutting machine to cut the design and the Silhouette sketch pens to draw the beautiful script you see here.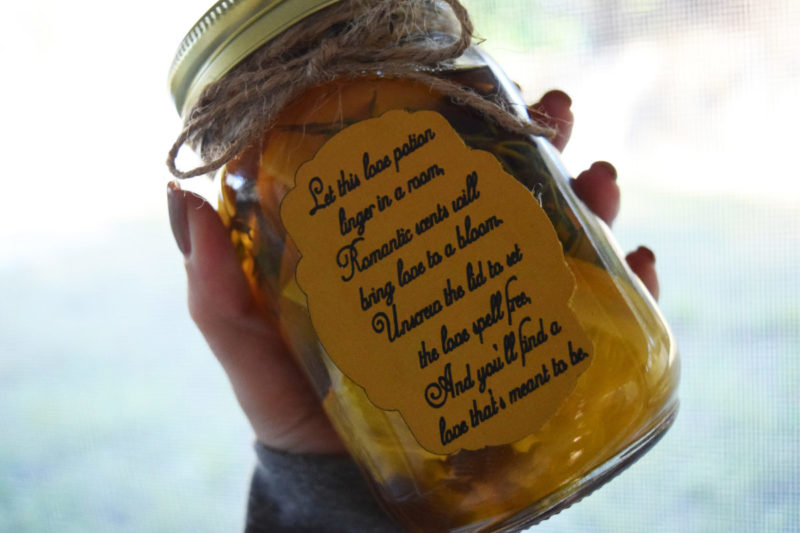 To use:
Give these as gifts within a week of making them. You want them to remain as fresh as possible, even though the rotting fruit actually smells great! The color of the liquid changes as the love potion sits – so giving it sooner, is better. To use this magical DIY love potion, simply unscrew the cap and let the potion fill the room! If the scent starts to dull you can stir the jar, close it and shake it up, or pour it into a pot on low heat.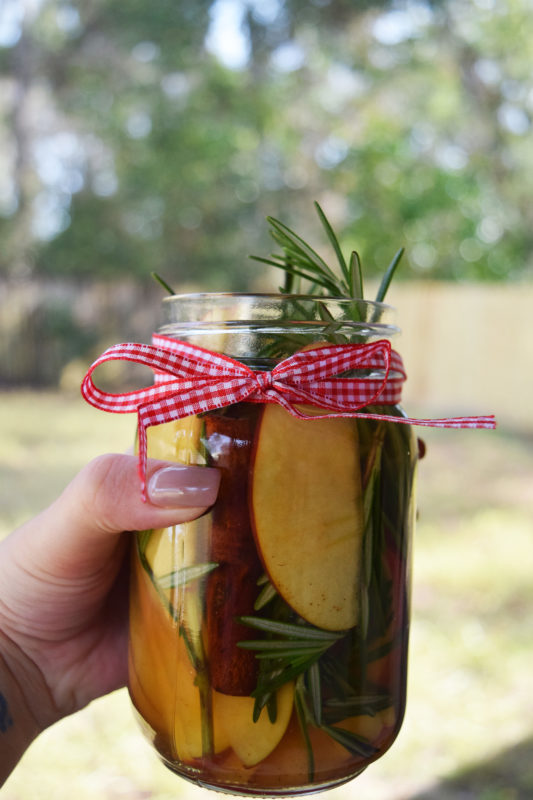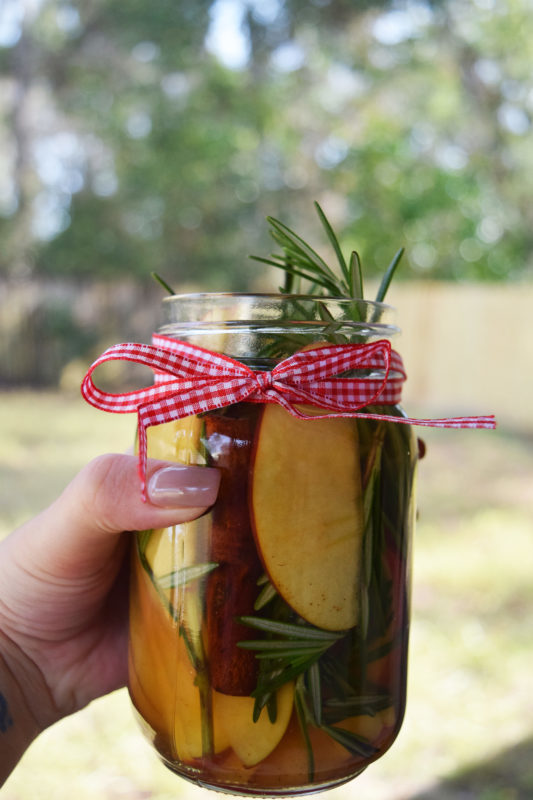 You can give this as a gift to anyone in your life. Include a romantic quote for your significant other, come up with a witty phrase for your best friend, or put a sentimental quote for a relative. It's fun to keep up with the love potion theme because it makes this the perfect handmade Valentine's Day gift!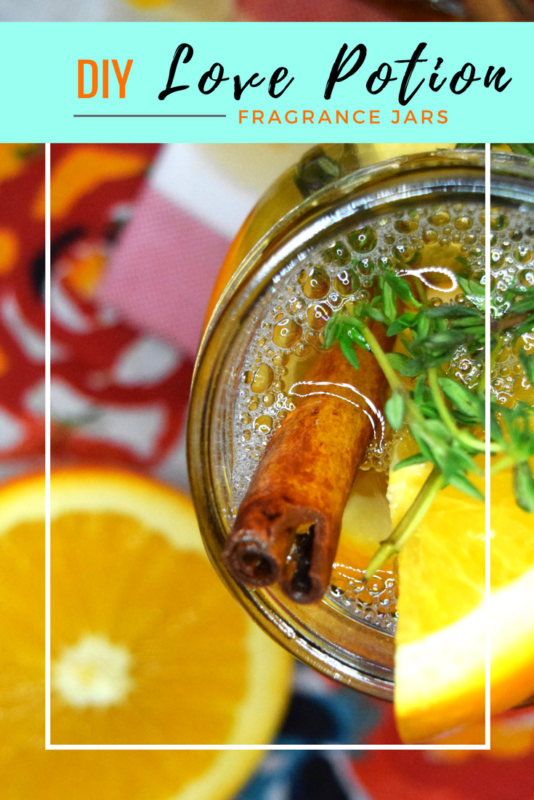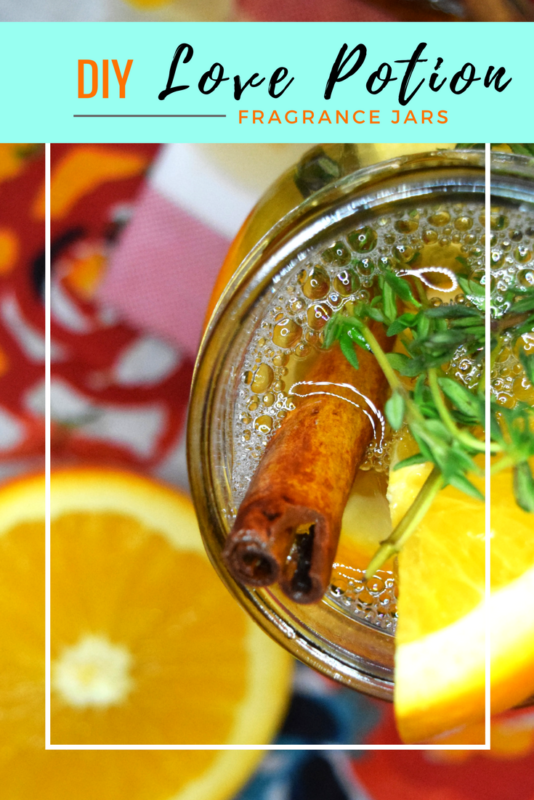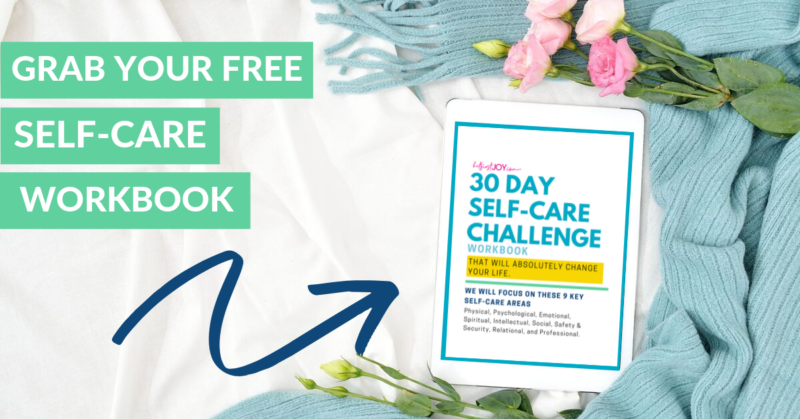 DISCLOSURE
As an Amazon Associate I earn from qualifying purchases. This post may contain affiliate links and/or promotional products, all opinions expressed are that of But First, Joy only. Read my full disclosure.