This DIY Seasonings Greeting Jar Gift idea is great for anyone who enjoys cooking. This budget-friendly gift idea includes FREE Gift Tags to print at home.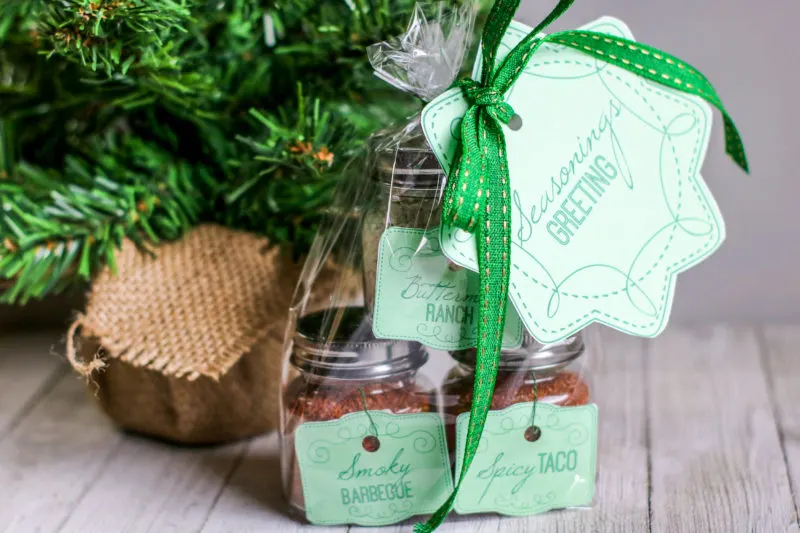 This year, I'm going to put a little more creativity into the gifts I give. I love shopping for friends and family but making gifts can be more budget-friendly.
Also, there's not greater fear during the holidays than giving a gift that someone else has already bought someone.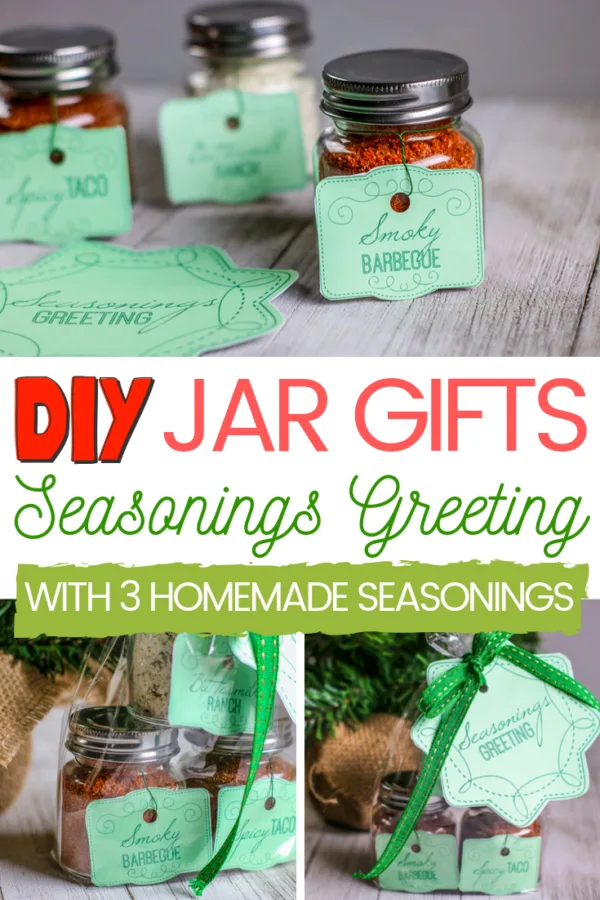 I am excited to dive into the gift-giving process this year and if you know anything about me – I've already started planning. If it weren't for my family, I'd skip the fall decorating and jump right into Christmas.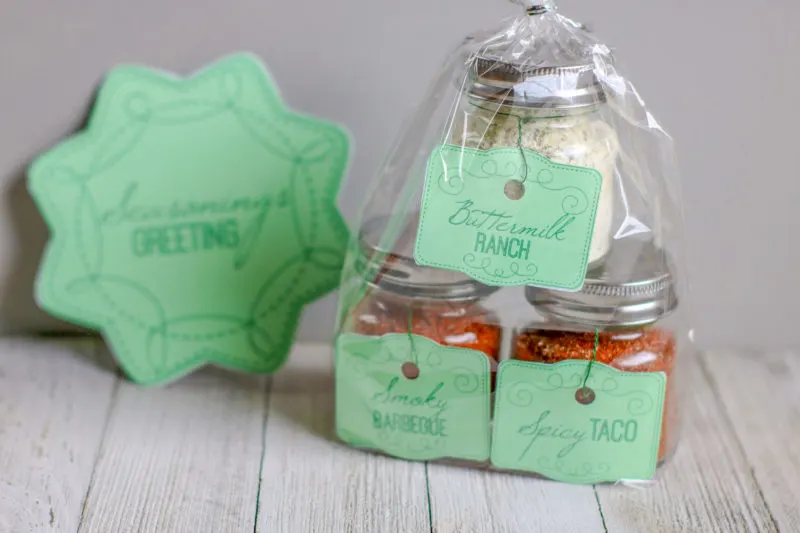 DIY Seasonings Greeting Jar Gift:
To make this, you'll need some small jars which can easily be found at your local craft store. However, I prefer to purchase right from Amazon.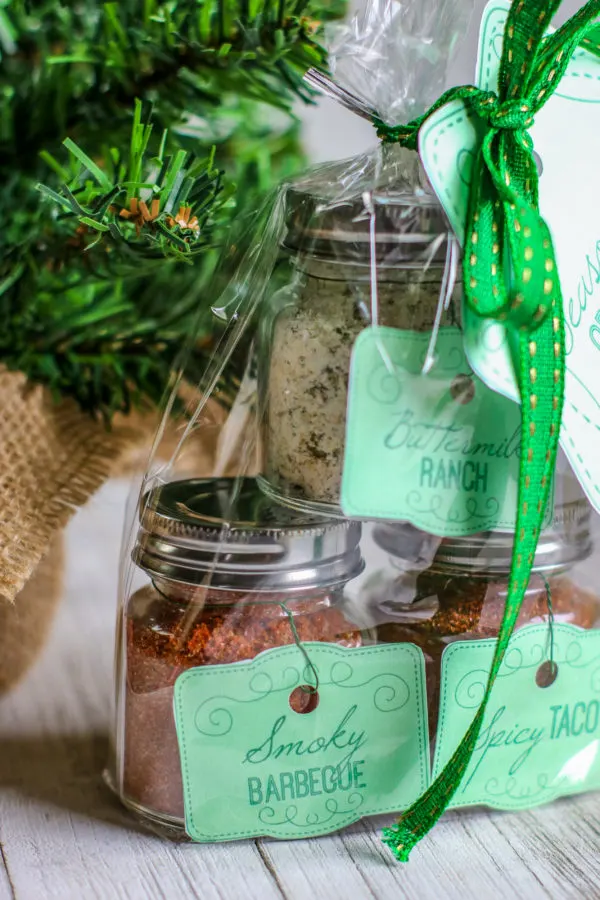 What I love about these is that you can make a variety of seasonings or even buy pre-packaged seasonings. I won't tell.
However, I prefer to make my own seasonings simply so it will be nothing like the recipient can buy themselves. You can theme the seasonings sets if you'd like. For example, you can give Christmas seasonings: Nutmeg, Cinnamon, and Rosemary.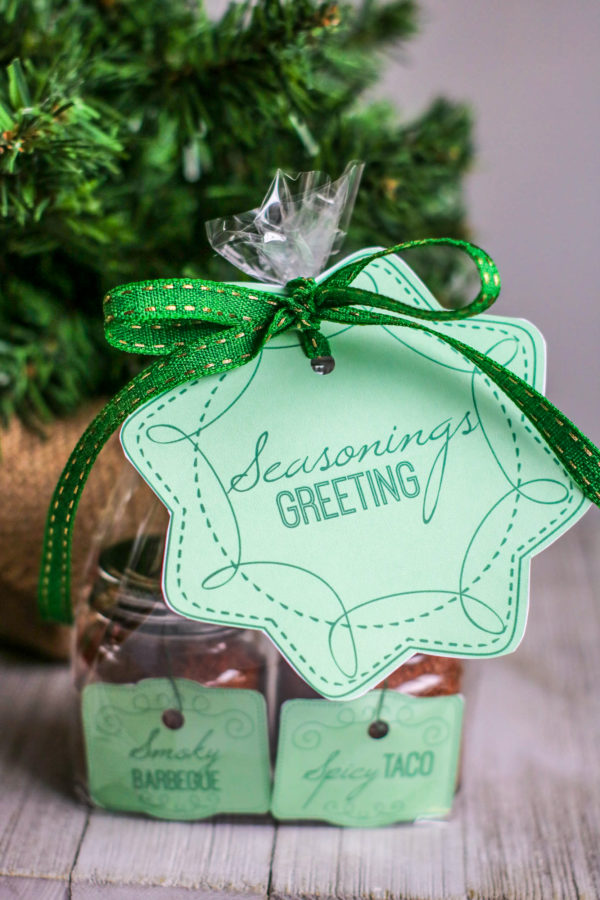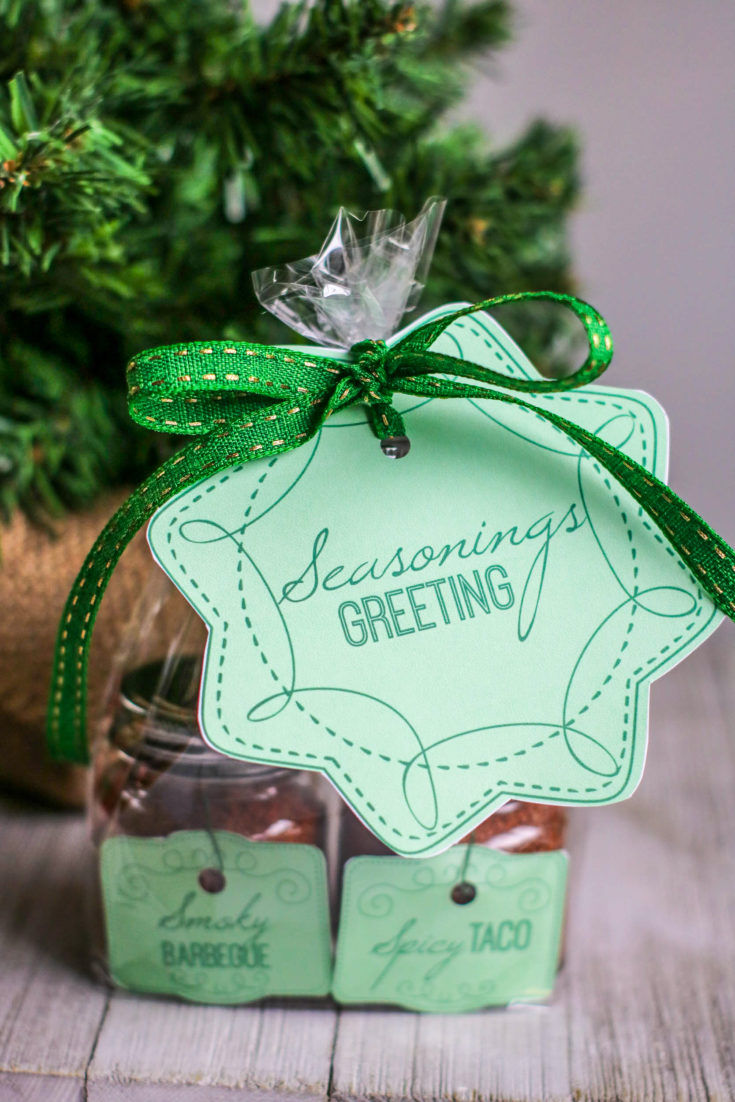 Be creative! It's easy to find seasoning mix recipes online. I love the three flavors in this tutorial, though. These give variety, flavor, and may not be something the giftee has in the home.
Plus, the free gift tags are specifically made for these flavors: Smoky Barbecue, Spicy Taco, and Buttermilk Ranch. Isn't this a fun DIY Christmas Gift in a Jar?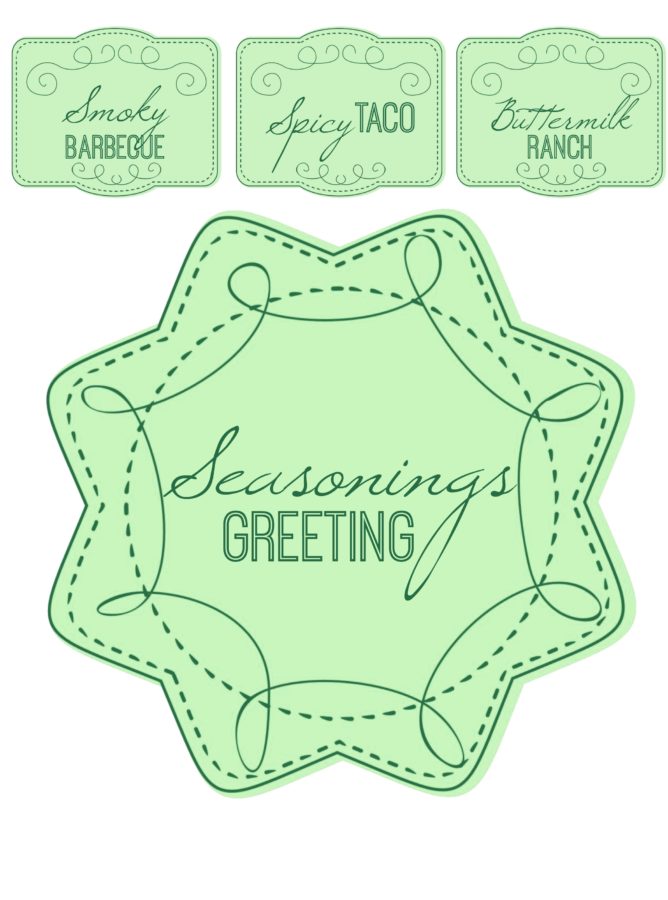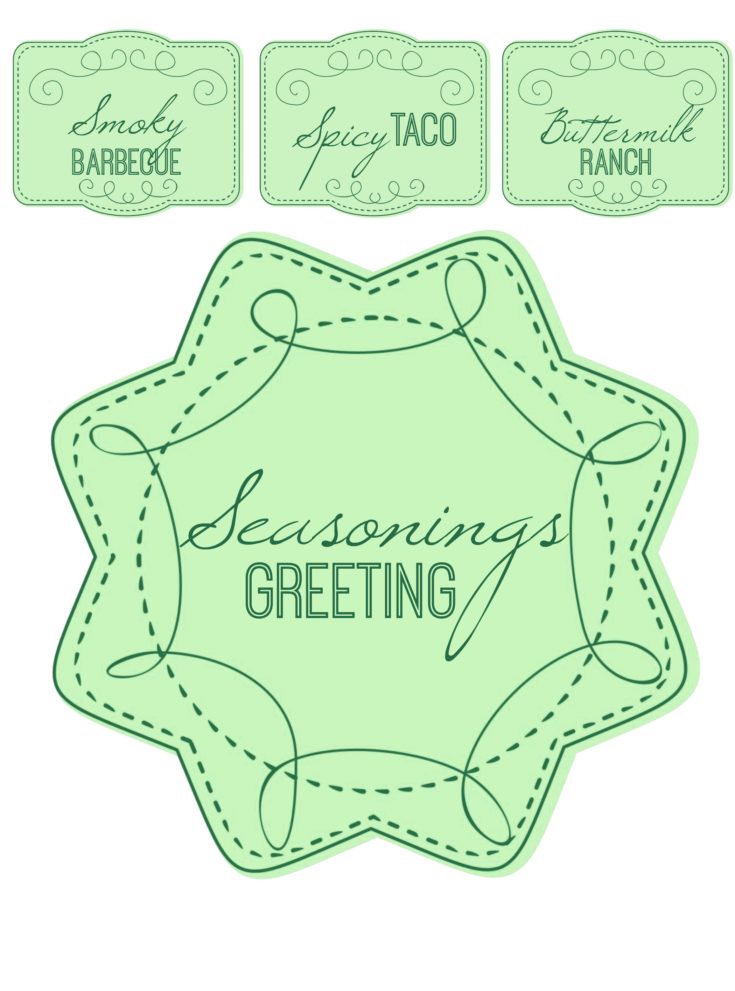 PRINT YOUR FREE GIFT TAGS HERE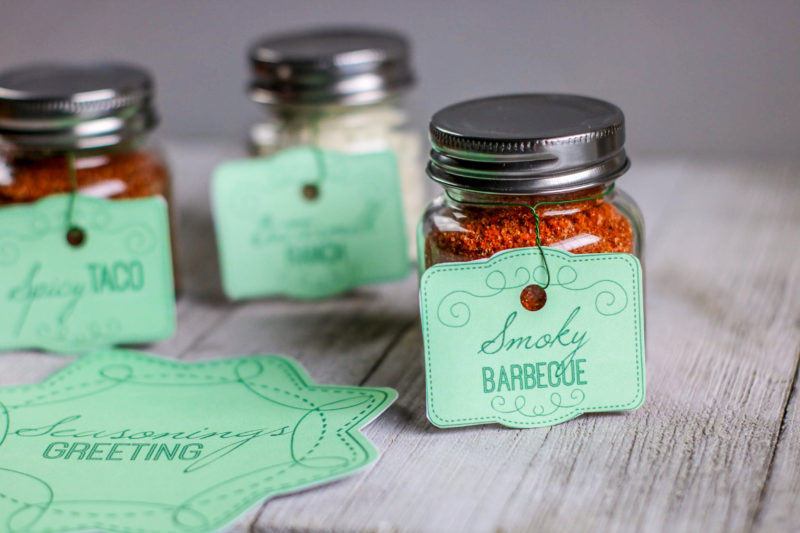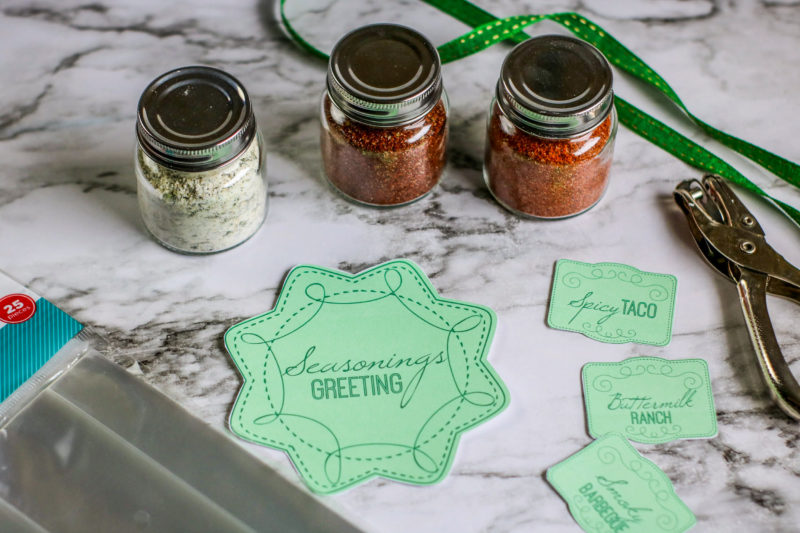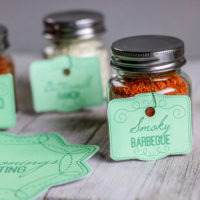 DIY "Seasonings Greetings" Jar Gift
These DIY Jar Gifts are great for moms, home cooks, and anyone who loves a little flavor. They are easy to make on a budget!
Materials
Buttermilk Ranch Seasoning Mix
⅓ cup dry powdered buttermilk
1 ½ teaspoons dried dill
2 teaspoons garlic powder
2 teaspoons onion powder
2 teaspoons dried minced onion
2 tablespoons dried parsley
1 teaspoon black pepper
1 teaspoon dried chives
1 teaspoon salt
Spicy Taco Seasoning Mix
2 tablespoons chili powder
1 tablespoon ground cumin
1 teaspoon paprika
½ teaspoon garlic powder
½ teaspoon onion powder
½ teaspoon dried oregano
½ teaspoon red pepper flakes
2 teaspoons salt
1 teaspoon black pepper
Smoky Barbecue Seasoning Mix
2 teaspoons smoked paprika
1 teaspoon black pepper
½ teaspoon ground ginger
2 teaspoons salt
1 teaspoon granulated sugar
1 teaspoon dry mustard
2 tablespoons brown sugar
1 teaspoon garlic powder
1 teaspoon ground cumin
Tools
3 Mini Glass Jars with Lids
Twine
Gift Tags
1 Clear Gift Bag
Instructions
Begin by printing gift tags which can be found here!
Combine EACH seasonings mix in individual glass jars with airtight lids.
Wrap twine around lids of containers and add gift tags.
By stacking 1 seasoning jar on top of the other two in a pyramid-like fashion, add to the clear gift bag.
Tie with twine and add gift tag
Recommended Products
As an Amazon Associate and member of other affiliate programs, I earn from qualifying purchases.
What are you favorite gifts to make in a jar? I'll have more coming soon! I hope you enjoy them!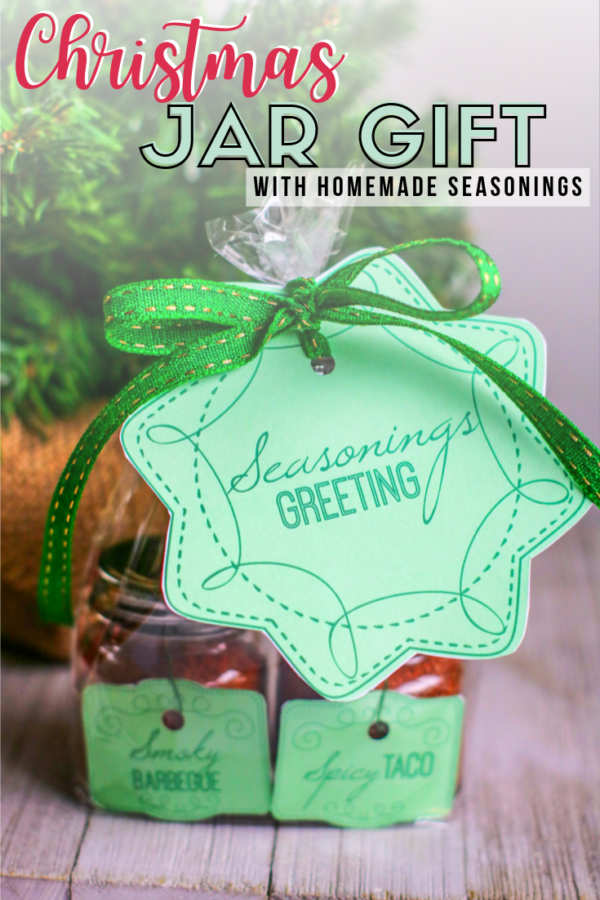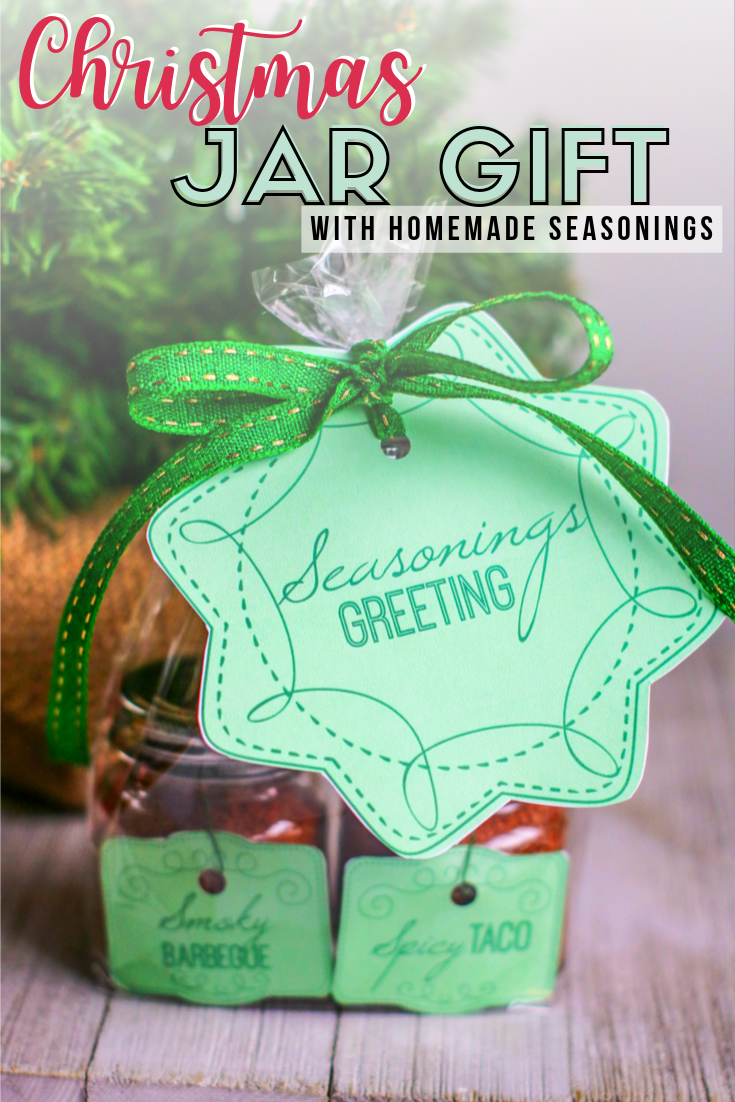 Additionally, if you're looking for gift ideas to buy, please keep an eye on my Gift Guides blog section!