Doctor Strange is coming to Blu-ray is just a couple of days. Let's be real, I've never read the comics. Sometimes I feel guilty for being such a girly girl. When I was a kid I was a huge tomboy, but as I've grown older I've become more feminine, I guess you could say. My interests involve makeup, looking cute, and romance. I do have a geeky side, though. I'm obsessed with tv, movies, books, and all of my favorite fictional characters. Okay, this is beginning to sound like a dating profile. Let's get to the point – Doctor Strange is legendary! I'm shocked that I haven't seen any Doctor Strange outfits floating around yet, especially with all the Comic Cons lately. I wonder if we'll be seeing any Doctor Strange Cosplay while we are there. Either way, here are some fun Doctor Strange outfits that may inspired you for some comic con cosplay!
Doctor Strange Outfit #1 – Live Action Movie Inspired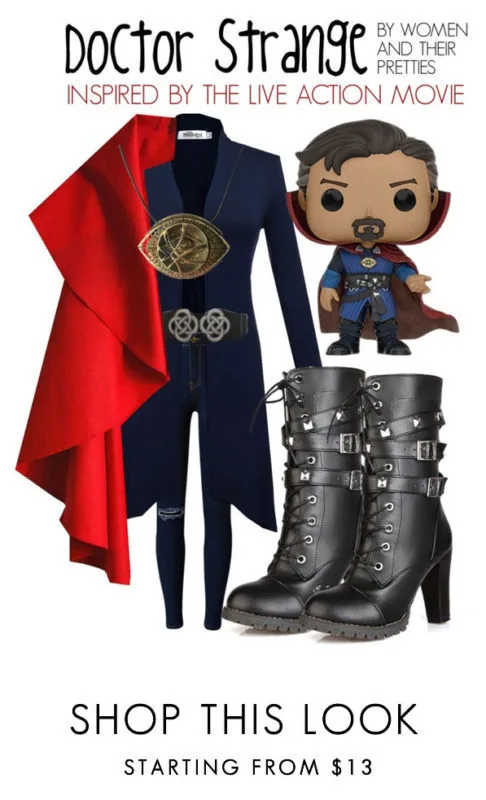 This look is specifically inspired by the Doctor Strange costume in the upcoming Doctor Strange live-action movie. I seriously want to wear this Doctor Strange cosplay to New York Comic Con or even as a Doctor Strange Halloween costume! It's so cute. What's your favorite piece?
Doctor Strange Outfit #2 – Comic Book Inspired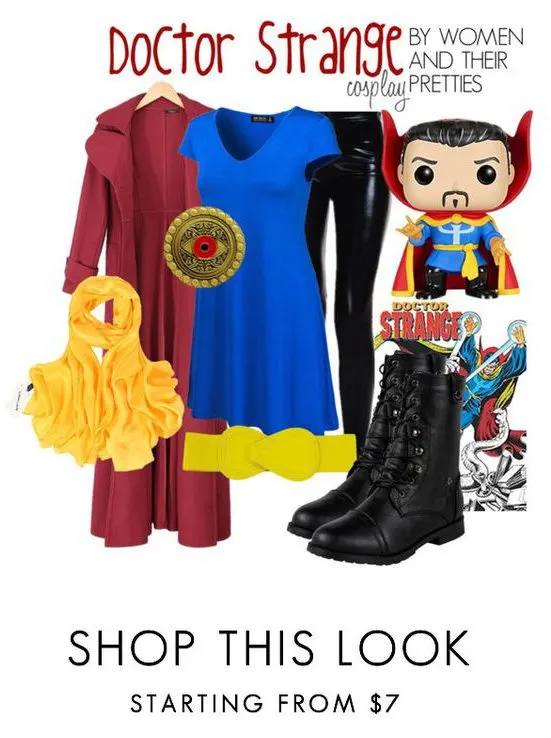 A look inspired by the Doctor Strange comic books that I never read. I know, I know. Who am I to create a look inspired by a comic that I've never been familiar with. Well, I don't know the comic, but I know fashion and this Doctor Strange Outfit is cute… so cute that I would wear. So cute that I want you to buy it for me. Good news for you – you can buy every piece on Amazon. Just use the links below. Go for it. You know you want some Doctor Strange cosplay in your life.
Doctor Strange Outfit #3 – Cute & Casual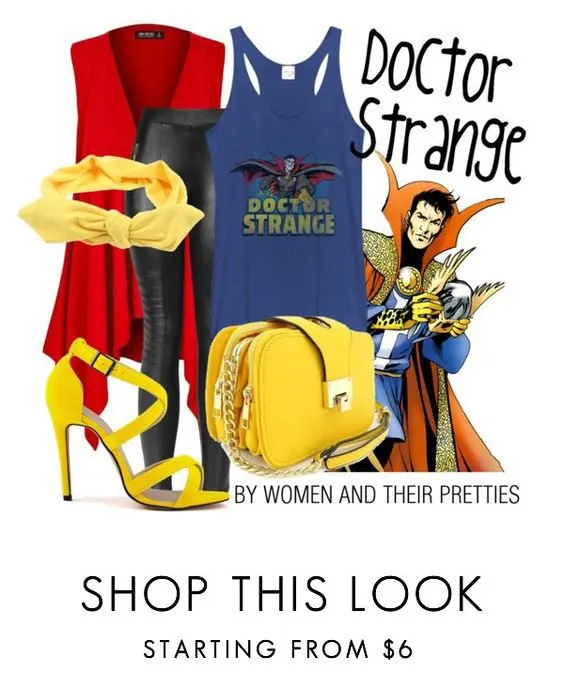 While I adore the other two Doctor Strange outfits, this is probably the one that I would actually wear. I'm a casual type of girl. Jeans and tank tops are sort of my thing. Plus, this would probably be really comfy – especially at a comic con… just sayin'!
Doctor Strange Gifts



Grab Doctor Strange on Blu-ray & DVD 2/28/17
From
Marvel
Studios comes Doctor Strange, the story of world-famous neurosurgeon Dr. Stephen Strange (Benedict Cumberbatch), whose life changes forever after a horrific car accident renders his hands useless. When traditional medicine fails him, he travels to the remote Kamar-Taj in search of a cure, but instead discovers the mystical arts and becomes a powerful sorcerer battling dark forces bent on destroying our reality. Bring Home The Mystifying, Mind-Bending Journey on Digital HD Feb. 14 and Blu-ray™ Feb. 28.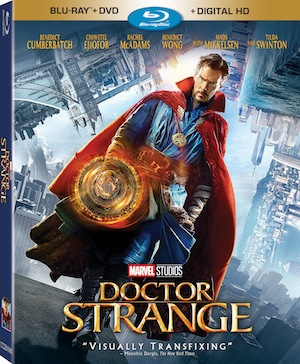 Bonus Features (Bonus features may vary by retailer. The DVD does not include any bonus materials.):
Featurettes

A Strange Transformation – Open your eye to a new dimension of the Marvel Cinematic Universe, and see how the filmmakers brought one of comic books' greatest characters to life.
Strange Company –

Find out what it's like for the cast to work on a Marvel film, and how Director Scott Derrickson engineered one of the most ambitious, imaginative films ever.

The Fabric of Reality –

Take a closer look at the movie's extraordinary sets, meticulously crafted costumes and amazingly detailed production elements.

Across Time and Space –

Explore the countless hours of dance and fight choreography the actors endured in preparation for their physically demanding roles.

The Score-cerer Supreme –

Join Composer Michael Giacchino and a full orchestra during live recording sessions, and experience the movie's mind-bending music.

Marvel Studios Phase 3 Exclusive Look – Get an early peek at Marvel's spectacular upcoming films, including Marvel Studios' Guardians of the Galaxy Vol. 2, Thor: Ragnarok, Black Panther and Avengers: Infinity War.
Team Thor: Part 2 – See more of the hilarious partnership between Thor and his roommate Darryl in this satirical short.
Deleted Scenes

Strange Meets Daniel Drumm

Kaecilius Searches for Answers

The Kamar-Taj Courtyard
Making Contact
Lost in Kathmandu

Gag Reel
Audio Commentary by Director Scott Derrickson
Through the Keyhole: The Science of the MCU

– Discover how Marvel grounds all its films in real science, and explore the connection between science, magic and imagination.